HubSpot CMS is an excellent tool for marketers and content-focused web pages, with some unique limitations.
If you're in the marketing or sales world, you likely know that HubSpot is a major player in the game. While HubSpot's CRM may come to your mind first, thanks to their vast array of marketing tools, you can also use HubSpot's content management system (CMS) to build your site.
One of the downsides that's frequently mentioned is how HubSpot CMS doesn't use traditional templates or coding language and instead uses its own language called HubL. It's not hard to learn, but can be a drawback for more experienced builders looking for something familiar.
If you aren't a website builder by trade, however, HubSpot CMS offers easy navigation, plus a step-by-step approach to building your website, making uncharted territory a bit easier.
---
Who is HubSpot CMS for?
HubSpot CMS, since it's explicitly designed with a marketing angle, is a top choice for web building newbies, content creatives and marketers, sites with a simple e-commerce slant, and basic web pages.
So if you're in the market for a tool that is user-friendly and allows you to edit and publish without needing to dig into learning coding or backend technicals, you'll likely get a lot of mileage out of HubSpot CMS.
The HubSpot website platform is also an excellent choice for e-commerce businesses and ones that implement inbound marketing. The CMS is superb at capturing leads, as well as reporting on web traffic data, enabling you to nurture sales and have insight into your customer and audience analytics.
---
HubSpot CMS features
Building off customer management and marketing backbone, HubSpot has managed to create a CMS with a robust list of features that directly create a smooth user experience. If your aim is to work with an intuitive builder, the HubSpot CMS features go a long way to making that happen.
A/B testing
One place where HubSpot CMS really shines is in its basic belief in A/B testing. While this is a concept that, if you're like me, you think of first for emails, then you know how insightful that data can be when formulating an email marketing plan.
HubSpot takes that thinking to the next level by allowing you to create A/B tests of web pages right off the bat.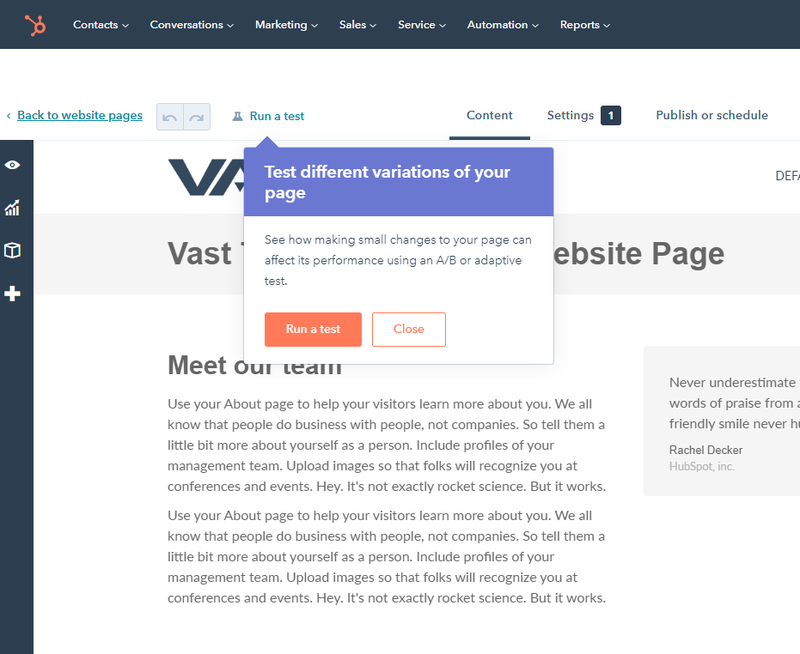 SEO coaching
As you're building your pages, HubSpot CMS takes care of the ranking, analyzing, and algorithms for you.
With its integrated tips and coaching, HubSpot helps you tweak and complete the right fields, as you are building out your content, so you will align with what Google tends to rank on. And the more Google-optimized you are, the more chance there is that customers will see your site.
Customer communication
What really stands out, especially for e-commerce sites, is HubSpot's built-in customer service integrations.
When starting a website, additional research for third-party apps is sometimes the straw that breaks my back. Not a problem with HubSpot CMS. Straight out of the box, it provides valuable feedback like customer satisfaction (net promoter) scores.
Other features include managing customer requests or messages. Also, you can use customer behavior and questions to build a help page that meets their needs — and saves you from answering the same questions over and over.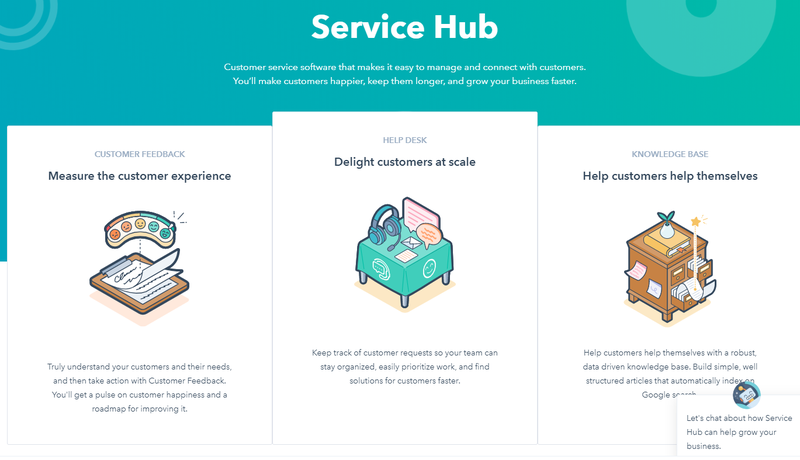 These multiple options of tracking and communicating make sense when you consider the fact that HubSpot began as a CRM, so the CMS is naturally good at managing leads and sorting customers. This is where that sales dashboard background really shines.
Analytics
One of the most essential parts of building and running a website actually comes after you press "publish," and that's monitoring and maintaining it. Once all the legwork of creating a page is done, you need to measure how your pages are doing.
From search engine ranking to traffic channels to number and time of sessions, having that data is invaluable to managing a website and definitely worth its monthly fees.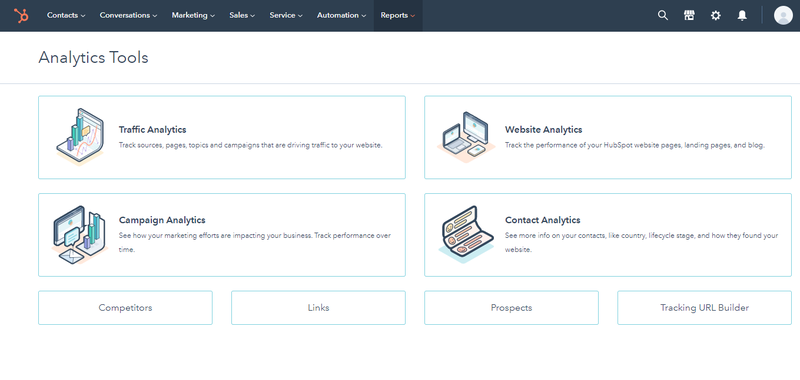 Without leaving the HubSpot CMS, you can have a look at and analyze your traffic, campaign success, contact lists, etc.
Hosting
If you don't have the time to worry about sourcing hosting, then the fact that HubSpot hosting is a standard feature is a bonus. Though some freedom is sacrificed, efficiency is increased, as you can create and host all-in-one platform.
Stress-free moving
Building on their ease of use, HubSpot CMS makes it easy to transition, too. So not only is it a great CMS for a brand new site, it's also excellent for moving an existing website.
You can have the HubSpot internal team transfer your current site and content to their CMS, automatically building the necessary templates for you.
Smart content
A new conversion tool, this feature uses dynamic content and personalization to help tailor your content to specific audiences, depending on behaviors and target characteristics. It gives you much more flexibility in attracting attention and connecting with qualified leads.
Ad management
HubSpot, as a CMS, really makes a case for being an all-in-one stop by allowing you to manage and run ads straight from the builder. The navigation toolbar is super straightforward, so you don't have to actually leave HubSpot to find what you're looking for.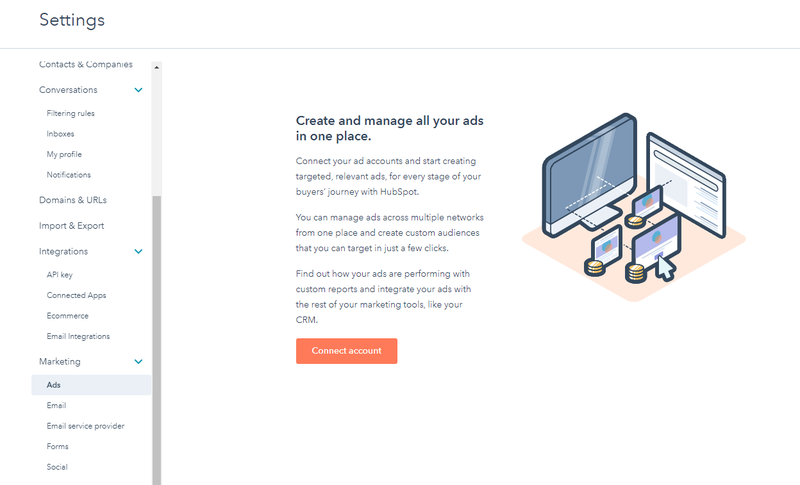 Similar to the included Google Analytics functionality, you can plug right into Google Ads and run and manage paid ads, seeing everything tie back through into your website.
---
HubSpot CMS ease of use
HubSpot is streamlined and efficient. The fact that it is mostly built by marketers for marketers means that it's not going to be a super complicated tool to learn.
In both pricing and design, it's a bit like iPhone v. Android — it costs a bit more, but it's more non-techy and user-friendly. You can get a lot done and look very sleek without getting your hands dirty on the backend.
The analytics are easy to understand, customer communication is built-in, and the lead lifecycle is so intuitive, you hardly need to think.
Even building the pages themselves is well thought out, and you're coached on everything you need to create a beautiful site, with the best chance at ranking with Google.
---
HubSpot CMS pricing
Though HubSpot may seem more expensive when compared to free, or baseline priced builders, it's actually pretty cost-effective when you look at it as a whole.
While WordPress' free CMS is hard to beat, depending on how in-depth you need your leads' journeys to be, it requires an additional spend for other pieces you'll need, such as hosting fees, domain name registrations, and a variety of plugins.
To compare, HubSpot is, at first glance, a bit pricier. The cheapest option is a $400/month cost for the website plus a $1,000 onboarding fee. If you want to be able to take advantage of all customer lifecycle features and CRM sync, too, you have the option of also purchasing another marketing package, with monthly fees of anywhere from $50/month (plus a $600 onboarding fee) to all the way up to $3,200/month (with a $5,000 onboarding fee).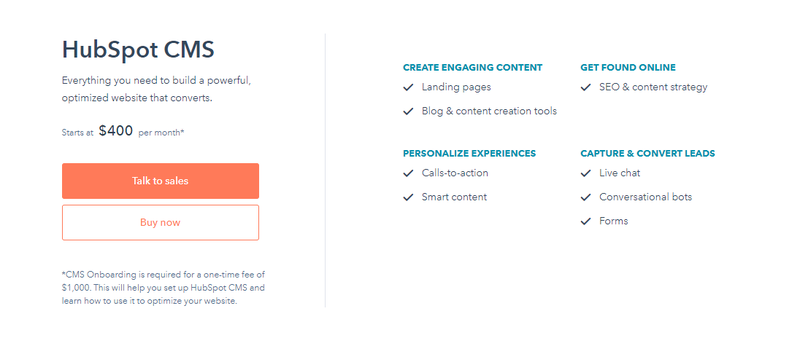 For example, Yoast SEO comes standard, which is a blessing if you want to quickly know if your content is easily readable and SEO friendly. Mailchimp for email marketing, Google Analytics, and e-commerce integration are also included.
Though HubSpot CMS is certainly more expensive than most other options out there, you get a lot of bang for your buck. The returned value makes it well worth the price.
Think of it as investing in more than one tool, just with one combined price point: you get a content creator, content manager, customer lifecycle tracker and marketing campaign manager all with one tool.
When you think about it that way, essentially dividing up the total cost over three or four tools, it makes the price tag a little less scary.
---
Working with HubSpot CMS support
HubSpot, thanks to its size and ubiquity, has a pretty robust community of users, guides, and crowd-sourced assistance.
Plus, you get access to not only the HubSpot support forum, but you can actually chat with US-based customer service reps, which is especially helpful if you run into a problem you can't research your way out of.
Personally, there are times when I can get stuck on some of the more technical aspects of website building, and no amount of forum reading is going to help me when I need someone to explain it to me and take me through something step by step. The security of a support rep is a great feeling.
---
Benefits of HubSpot CMS
HubSpot sets out to create a CMS designed for efficient use and streamlined building.
When a successful website includes meeting marketing KPIs, the HubSpot CMS is your best friend. It makes SEO easier, thanks to its ability to guide you through filling forms and pieces of pages out to be Google-friendly. Plus, including Yoast as a standard plugin gives you a real insight into readability and SEO readiness.
It's also super intuitive and made for people who are content managers, not web builders, which is a big plus in my book. Similar to why I opt for an Apple iPhone over Android, I want my technology to work for me, and ready to use out of the box.
Minimal coding and minimal extraneous customization is a benefit when your end goal is a sleek, professional website that not only ranks for keywords but also allows you to have oversight and control over your leads database.
---
HubSpot CMS is a beneficial breeze to use
At the end of the day, web builders are asked to be a few important things: easy to use, customizable, SEO ready, of professional quality, and cost-effective. While the HubSpot website builder may be a bit on the expensive side, if you can swing it, the benefits are certainly worth it.
With its quick website builds (or transfers) and an ability to have an almost oligarchical control of and insight into your consumers' behaviors, ads, and web performance, HubSpot CMS is a great all-in-one option.
---
Frequently Asked Questions
Is HubSpot CMS worth the price?
Thanks to its tidy sum of a price tag, the cost may kick HubSpot CMS out of the running for some. If you need a site that is tied to driving sales by looking at user journeys and inbound marketing, then it's worth it. Otherwise, though, you'll be better off getting similar usability and professional-looking sites with a cheaper (or even free) option, like WordPress.
It is. One of the drawbacks of some other builders, such as Wix, is that they have slow-loading pages, which can decrease your Google ranking. HubSpot has taken that to heart and worked hard to make website pages that load quickly.
Do you need to build from scratch?
While not as varied in options as some other web builders, HubSpot CMS offers you the option to transfer over an existing site or build a brand new website using templates and forms to get the job done without having to do backend coding.

HubSpot CMS is universally praised for being easy to learn and implement quickly. If you're looking for a website builder product built for marketers, check out Hubspot CMS.
HubSpot CMS is universally praised for being easy to learn and implement quickly. If you're looking for a website builder product built for marketers, check out Hubspot CMS.
The Motley Fool has a Disclosure Policy. The Author and/or The Motley Fool may have an interest in companies mentioned.