Choosing a new CRM software platform is intimidating. You've got to totally overhaul how you or your sales team approaches the sales process itself, which can have a big impact on your bottom line — and if you make the wrong choice, the stakes are high.
Salesforce CRM software is a safe choice, but what if you want an alternative?
You've probably heard a lot about HubSpot CRM, another big player in the CRM space. But what sets these two platforms apart?
---
HubSpot CRM vs. Salesforce CRM: An overview
The big question when it comes to choosing between these two software options is, do you care about how many CRM features each platform offers, or about its ease of use? Is customer support more important than a low price? And do you have a lot of third-party apps you expect to integrate with your CRM platform?
Who is HubSpot CRM for?
HubSpot CRM is a great option for businesses that just want a CRM solution that is easy to set up and/or something that is free to use, making it perfect for small businesses and sole proprietorships.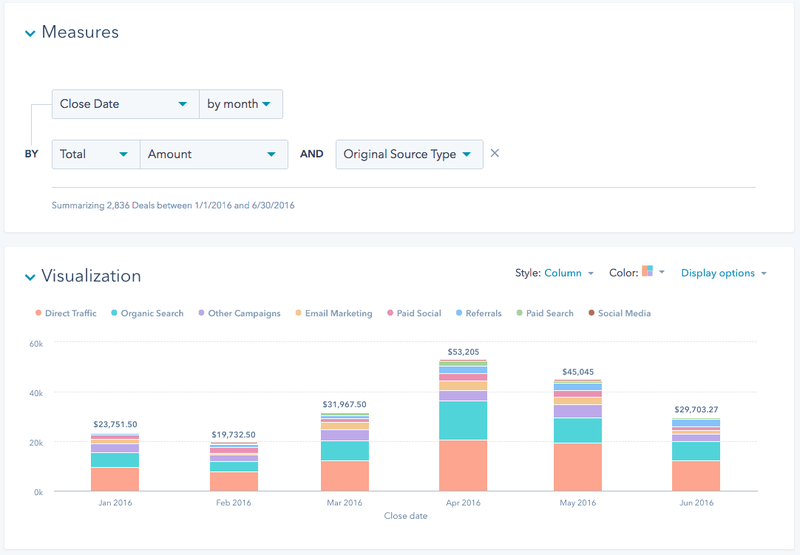 But it also has a huge list of features that can make it good for larger businesses but a bit intimidating for smaller companies who want to take advantage of all its functions.
Who is Salesforce CRM for?
Like HubSpot, Salesforce aims to cater to all types of businesses, customizing its solution depending on the customer's business size and needs. This solution offers a lot of features, so it has a pretty big learning curve.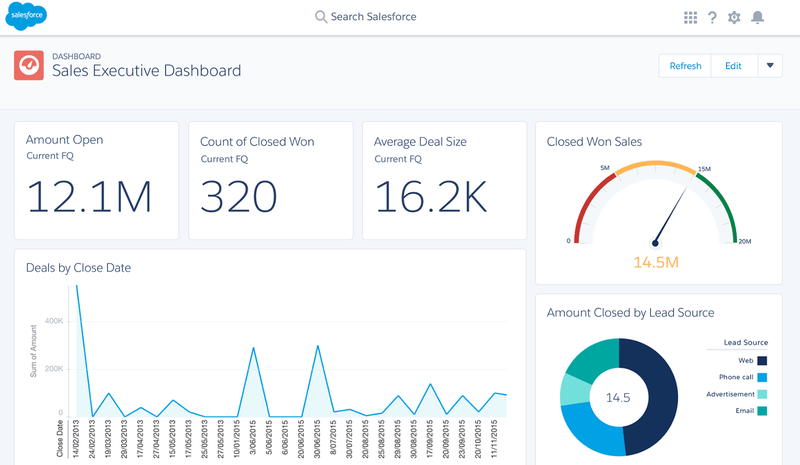 Salesforce solves that challenge with solid support and its Salesforce University. All-in-all, it's a powerful piece of software that any business can use, provided that they are willing to take the time and effort to implement it.
---
HubSpot CRM vs. Salesforce CRM: Features
Features can make or break a CRM option when it comes time to make a purchasing decision, so this is not something to take lightly. Here are the key differences between these two options when it comes to tools.
What HubSpot CRM offers
HubSpot offers a suite of sales and marketing tools aimed at helping salespeople simply and effectively manage their leads and synchronize with the rest of the team.
This powerful platform can also automate marketing activities, and it has a lot more marketing tools than most CRM platforms. It offers an intuitive sales pipeline dashboard that is easy for a sales team to follow and understand.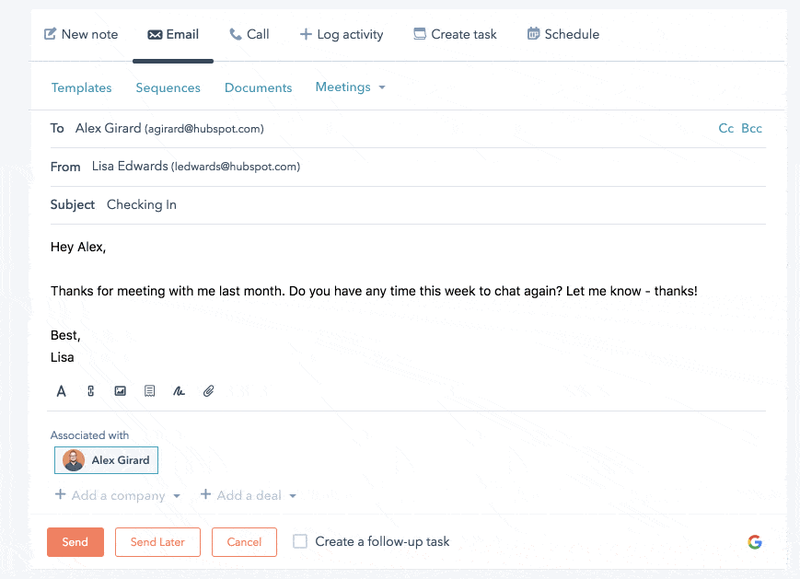 The sales dashboard shows stats in real time so your team is on the same page, which is helpful so you know where you stand and if you need to step up your game to hit sales quotas.
It also offers a chat function so leads can quickly contact you, and you can respond immediately.
What Salesforce CRM offers
Salesforce offers a powerful range of features to manage your sales pipeline, such as:
Opportunity management: Funnel leads through your sales pipeline and use analytics to forecast future sales.
Account management: Track lead progress through the sales funnel and share with your team using an organized list of contacts.
Task management: Assign and manage schedules for the entire sales team.
Contract management: Organize all contracts and other important documentation, like conditions and negotiations, centralized in one place.
Case management: Expand customer support beyond the phone to social media to increase customer engagement.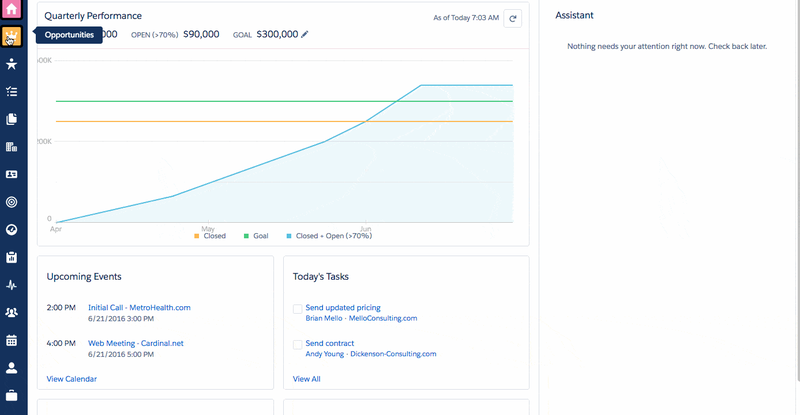 Results
Winner: Salesforce
With a perfect 10/10 in our review, it's going to be tough to beat Salesforce in this category, and HubSpot comes close but not quite close enough.
---
HubSpot CRM vs. Salesforce CRM: Support
Both HubSpot and Salesforce will give you great customer support, provided you are willing to pay for it.
What HubSpot CRM offers
Like most software solutions, the first place HubSpot sends customers looking for support is to their database of documents, articles, and resources to help them find answers.
However, the company also offers support via email, phone call, and even Twitter. You can also click the in-app Help button to get answers.
The downside is that support is not available to those who use the free version of their CRM software, so you'll have to be a paying customer to get help. Plus, a thriving HubSpot community allows you to get help from other HubSpot users.
What Salesforce CRM offers
Salesforce also only offers one-on-one customer support to paying customers, although they will provide assistance in the case of "severity one" issues to everyone.
If you are willing to pay for it, their support is excellent. They have an extensive self-help library to help you, and you can also enroll in Salesforce University to help you master the software, although that comes at an extra price.
Results
Winner: Salesforce
Salesforce gets the nod here, but only just, because both offer excellent customer support. Salesforce's extra resources and their assistance with severe issues regardless of a customer's status push it over the line.
---
HubSpot CRM vs. Salesforce CRM: Ease of use
HubSpot and Salesforce both do well here, but there are some key differences you should be aware of.
What HubSpot CRM offers
One thing you will notice right away with HubSpot is that its dashboards are well-designed and they do a great job of reporting the performance of you or your sales team.
The sheer volume of features offered by HubSpot can be intimidating, but you will not have trouble jumping right in and using this CRM system.
It also does a good job of visualizing the flow of your leads from start to finish with the pipeline dashboard, keeping you centered on where you stand with each potential client. This helps your team immediately know what to do next.
What Salesforce CRM offers
Salesforce CRM can be a little tricky at first, if only because of the huge amount of features offered. However, once you're up and running, it is a breeze to use.
Also, if you are willing to pay for the privilege, you can attend Salesforce University to get a week's worth of training to get the most out of the software.
While this software is aimed at all sorts of businesses, from very small ones to huge enterprise operations, there is a lot of customization available to make it work for you.
Results
Winner: HubSpot CRM
HubSpot does such a great job at creating a plug-and-play solution so salespeople can immediately start using it that we have to give it the nod here.
---
HubSpot CRM vs. Salesforce CRM: Pricing
The two CRM options approach pricing differently, with Salesforce's cost based on users per month (Salesforce Essentials being the least expensive option), while HubSpot's pricing is based on access to its various hubs.
What HubSpot CRM offers
HubSpot offers a free version, and breaks down its paid versions according to different hubs based on your needs:
Marketing hub: $50-$3,200 per month
Sales hub: $50-$1,200 per month
Service hub: $50-$1,200 per month
HubSpot CMS: $300 per month
What Salesforce CRM offers
Salesforce pricing includes the following options:
Essentials: $25/month per user
Professional: $75/month per user
Enterprise: $150/month per user
Unlimited: $300/month per user
Results
Winner: HubSpot CRM
This is a tough call since the pricing options are quite different, but we believe you're more likely to save money on HubSpot's pricing model by only signing up for the hubs you need.
---
HubSpot CRM vs. Salesforce CRM: Integration with other software
Integration is a must for any good CRM system. Your team is probably already using lots of popular software that you expect they will continue to use after you change your CRM platform.
What HubSpot CRM offers
HubSpot offers a huge list of third-party integrations, calling it their "HubSpot App Ecosystem" with more than 200 integrations with more added each month.
These integrations run the gamut from content (WordPress, SnapApp) to email (Mailchimp, Outlook) to productivity (Slack, G Suite). HubSpot works with just about every big or small tech name in any field involving sales and marketing.
What Salesforce CRM offers
Salesforce works with some of the best third-party applications out there, whether you're talking about G Suite, Mailchimp, or Quickbooks. These integrations work seamlessly with the platform to enable a smooth transition for your team.
Results
Winner: HubSpot CRM
HubSpot is unmatched in the sheer volume of integrations they offer, so they get the edge here.
---
How They Compare: HubSpot CRM vs. Salesforce CRM
| | HubSpot | Salesforce |
| --- | --- | --- |
| Free version | | |
| Free trial | | |
| Phone support | | |
| Advanced marketing tools | | |
| Integration w/third-party apps | | |
---
HubSpot gets our nod over Salesforce
This is a close matchup, but our ultimate winner here is HubSpot due to their superior ease of use, pricing, and integration, which overcome Salesforce's edge in support and overall features.
However, if your business places a higher premium on features or support, Salesforce might still be better fit.
At the end of the day, many small- and mid-sized businesses just want a CRM software option that is easy to set up and already works with a lot of different third-party platforms like G Suite, Mailchimp, and Outlook. They already use many of these apps, and the HubSpot solution really gets the job done when it comes to connecting to them.