Did you know that CRM software is the biggest software market in the world? It's true: the CRM market is expected to hit $80 billion in revenues by 2025, according to SuperOffice.
It's not terribly surprising, if you think about it. Sales are the lifeblood of any company. Without them, the company ceases to exist, so having a CRM software that can help a sales team close deals is absolutely vital.
So owning CRM software is a no-brainer, but which? You've probably heard of Zoho CRM and HubSpot CRM, two big players in the market. Here's how they compare.
---
HubSpot CRM vs. Zoho CRM: An overview
HubSpot and Zoho are actually very similar platforms in many ways. They target similar types of businesses and have free versions with options to upgrade to more feature-heavy paid tiers.
Who is HubSpot CRM for?
HubSpot CRM is aimed at all sizes of firms, but it's great for small businesses and sole proprietorships who want something that either offers a free version or is easy to set up, or both.
HubSpot offers a large number of features, which makes the higher-tiered paid versions more attractive to larger firms.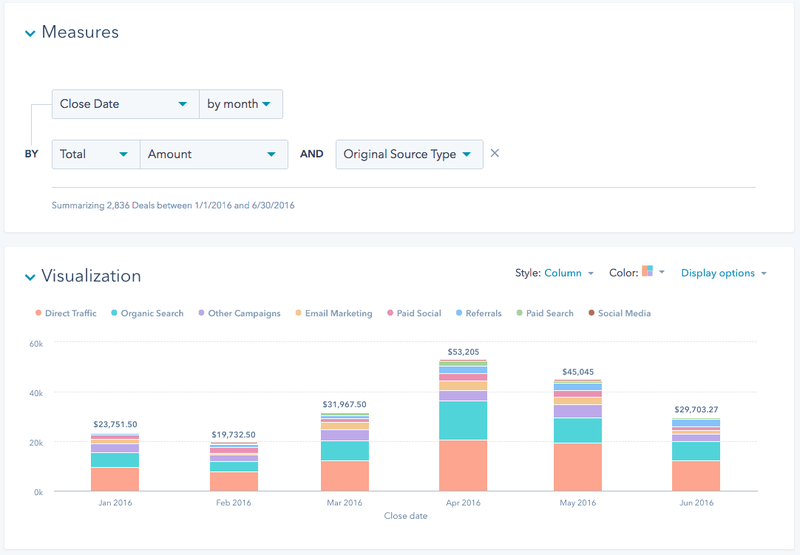 HubSpot focuses on both sales and marketing, so firms that need to marry the two better will get a lot of value out of this software. It also does a good job presenting metrics to firms that want to get insights out of their data.
Who is Zoho CRM for?
Zoho CRM is a flexible, web-based platform ideally suited to small and mid-sized businesses. It's not an overly techy platform and has an intuitive design while still offering a solid range of features.
So if you're looking for a straightforward and inexpensive platform, this is a good solution to consider.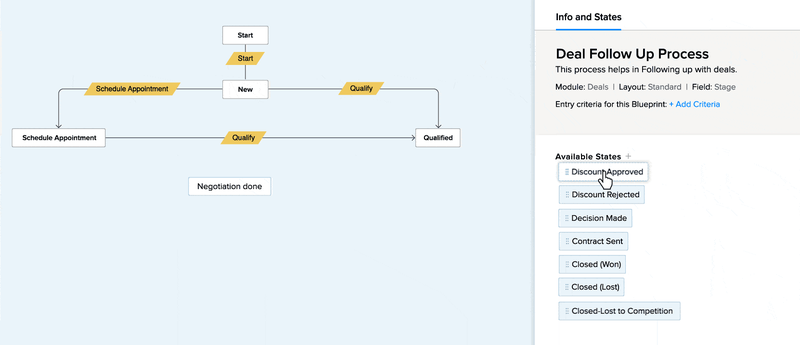 Like HubSpot, it also offers a lot of features, which gives your business room to grow. Zoho also offers a free option for businesses that are on a budget and just want a simple, free CRM.
---
HubSpot CRM vs. Zoho CRM: Features
Automation, sales forecasting, social media lead generation, and lead organization are some of the features you'll get with these platforms, depending on which you choose and what you're willing to pay for.
What HubSpot CRM offers
HubSpot's suite of sales and marketing tools are a big plus when it comes to features.
When you can organize all your leads and share with the rest of the team so everyone is on the same page, it takes your efficiency and profitability to the next level.
HubSpot does a good job at this. It has some great automation tools that can take a lot of the tedious manual work off of your team, freeing up even more time for doing the thing that makes them money: picking up the phone and calling customers.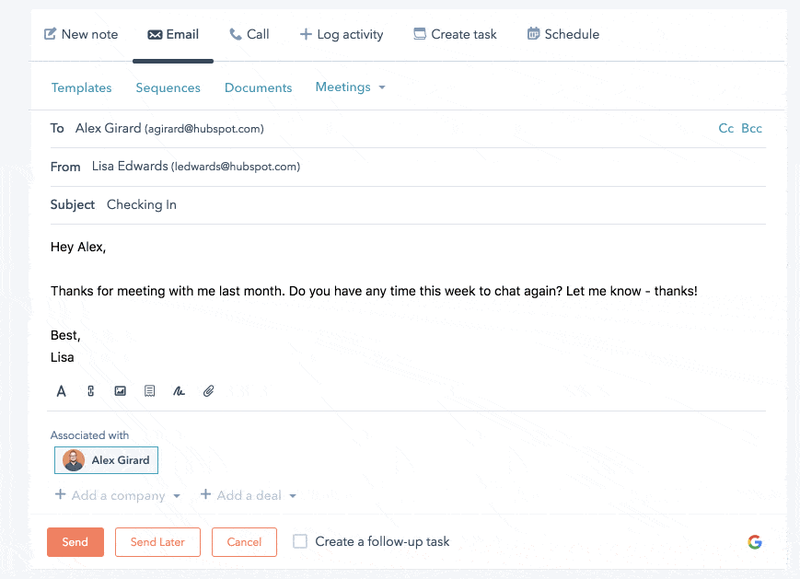 HubSpot's dashboard shows how your team is performing in real time, helping everyone keep their eye on the ball and helping you manage the team more effectively as well as spot opportunities to improve.
What Zoho CRM offers
Zoho's free version has all of the basics you need in a CRM, including management of sales tasks, call logs, notes, events, and social media integration.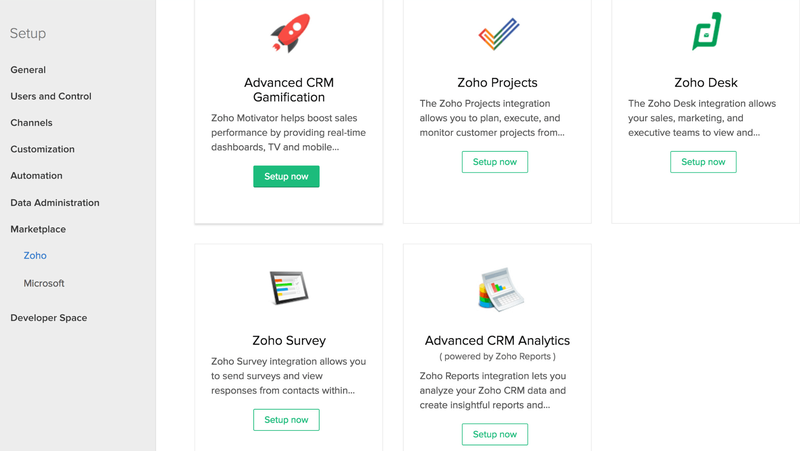 After that, you'll need to upgrade to various tiers to get access to more features, such as sales forecasting, visitor live tracking, and social media lead generation. For the highest paid tiers, you'll get features such as customer support, custom modules, reports, and enhanced storage.
Results
Winner: Zoho CRM
Both of these platforms impressed us when it came to features, earning a near perfect score in our reviews. However, we give the slight edge to Zoho, thanks to its many customization options.
---
HubSpot CRM vs. Zoho CRM: Support
Both options are similar in their support offerings, with some small wrinkles.
What HubSpot CRM offers
HubSpot CRM charges for support, but that's not uncommon, so we don't really penalize them for that. They make it easy to get in touch via email, phone call, or even Twitter.
There's also a Help button in the app, and they have a robust community of users who can help you with questions if you're not willing to pony up for the paid version of the software which includes support.
HubSpot also has a large articles database and other resources to help you troubleshoot on your own.
What Zoho CRM offers
Zoho requires you to purchase one of their higher-tier software versions to get access to support, which is limited to business hours.
Zoho also offers an articles database for customers willing to figure out issues on their own. And they also have an active community of users who can help with issues that come up.
Results
Winner: HubSpot CRM
HubSpot and Zoho are very similar when it comes to support, but HubSpot's extra channels through Twitter and the app convince us to give them the nod here.
---
HubSpot CRM vs. Zoho CRM: Ease of use
We thought both options were solid in this category, which is important because you don't want a sales team stumbling out of the gate with a difficult-to-use platform.
What HubSpot CRM offers
HubSpot really impressed us when it came to ease of use, particularly its well-designed and intuitive dashboards that help display everything you need to know as soon as you sign in.
HubSpot offers an enormous amount of features, which can pose a problem for some platforms in the ease-of-use category, but HubSpot has designed their software to prevent this from becoming an obstacle.
You can observe your leads moving through the funnel so your sales team is never lost when figuring out where a potential customer stands.
What Zoho CRM offers
Zoho gets big points for having an intuitive design and for integrating with social media, but we did find that it needs a lot of customization at setup. However, the design makes sense and you won't have any trouble using it as soon as setup is finished.
And we like how the software integrates with social media in a way that doesn't cause your sales team to get lost in the details.
Results
Winner: HubSpot CRM
HubSpot does such a good job of presenting a clear, intuitive dashboard and enabling you to jump right in that we have to give them the win here.
---
HubSpot CRM vs. Zoho CRM: Pricing
HubSpot and Zoho costs both come in fairly low, although they use fairly different pricing models.
What HubSpot CRM offers
HubSpot offers a free version and breaks down its paid versions according to different hubs based on your needs:
Marketing hub: $50-$3,200 per month
Sales hub: $50-$1,200 per month
Service hub: $50-$1,200 per month
HubSpot CMS: $300 per month
What Zoho CRM offers
For those who want more than the Zoho CRM free edition, their pricing includes the following options:
Standard: $12/month/user
Professional: $20/month/user
Enterprise: $35/month/user
Ultimate Edition: $45/month/user
Results
Winner: Zoho CRM
Both offer a free version, but Zoho's paid versions clearly come in under those of HubSpot CRM.
---
HubSpot CRM vs. Zoho CRM: Integration with other software
When you're using a CRM, integration with tools like G Suite, Outlook, and Mailchimp are a must, and these two options don't disappoint.
What HubSpot CRM offers
We really loved the "HubSpot App Ecosystem," a huge database of 200-plus third-party integrations, a list they add to every month.
You can find all of the popular apps you're almost certainly already using, such as WordPress, Mailchimp, and G Suite, as well as a ton of other apps you aren't using but might find useful.
What Zoho CRM offers
Zoho integrates with the big names like Google, Quickbooks, and Microsoft Outlook, and the software also integrates with Zoho's other platforms, which is super helpful if you're a customer using some of their other apps.
As mentioned above, it also integrates well with social media, which is a big deal if you're a firm that does a lot of marketing through Facebook and Twitter and wants to do a better job of it.
Results
Winner: HubSpot CRM
The sheer volume of integrations offered through HubSpot's App Ecosystem makes this the better platform when it comes to integration.
---
How They Compare: HubSpot CRM vs. Zoho CRM
| | | |
| --- | --- | --- |
| | HubSpot | Zoho |
| Free version | | |
| Fast onboarding | | |
| Community support | | |
| Free customer support | | |
---
HubSpot's ease of use and integration gives it the win
All-in-all, despite their tremendous similarities, we give HubSpot the win in this matchup.
HubSpot is a bit easier to use and has an impressive list of third-party app integrations. This makes it a great choice for sales teams that need something they can use right away and will work immediately with a lot of the third-party tools they already use.
However, that doesn't necessarily mean it's right for your business: if you're looking to save money on the paid version and want something that can integrate with social media, Zoho might be the optimal choice.
The best way to find out for sure is to give both versions a try.