---
Who is Hubstaff for?
Hubstaff is a time clock software created by a distributed workforce company, so its main focus is on distributed teams, both large and small. If you're a startup looking to connect employee schedules across time zones, provide tools for team members and contractors to track hours, and manage timesheets, Hubstaff offers tools to do all of that.
---
Hubstaff's Features
Hubstaff offers so many cool features that cater to so many aspects of your business (scheduling, client management, project management, payroll). However, most of them are not available in a basic plan.
Scheduling
Scheduling is a premium feature in Hubstaff that can help you keep track of weekly schedules for shift work or just manage time-off requests and vacations (more premium features).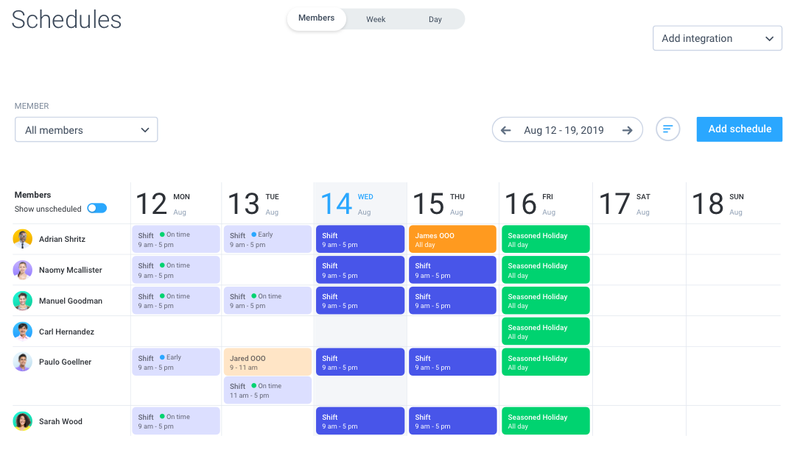 Through Hubstaff, you can allow employees to request time off, and you can approve it with the click of a button. You can also set rules and limits for PTO and create holidays or non-working days that apply to your entire staff.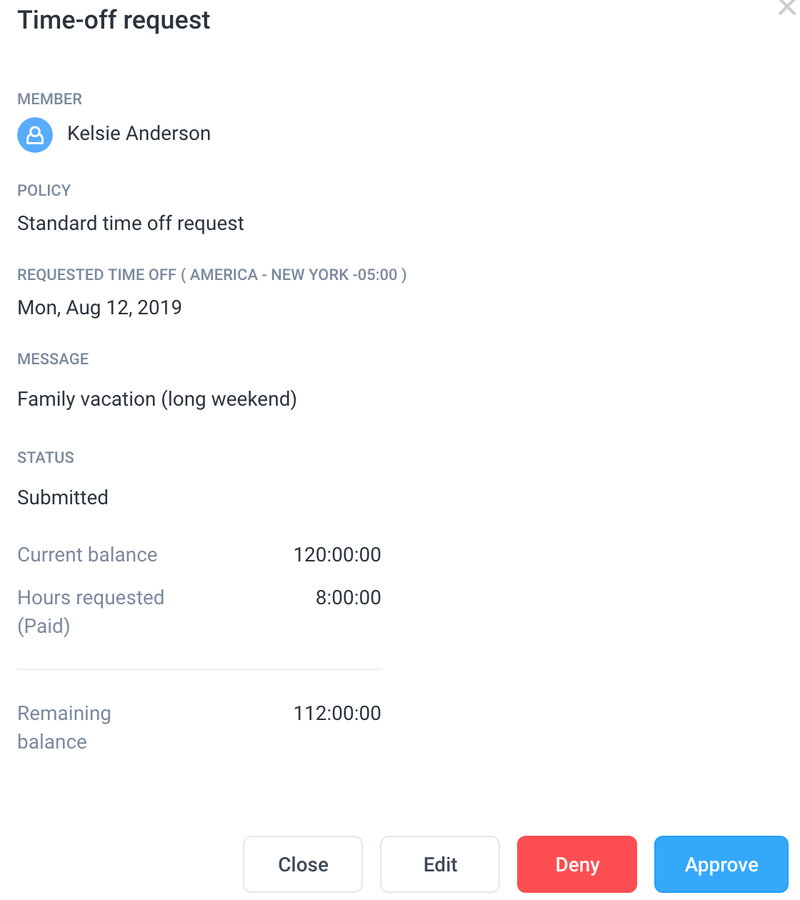 Accountability
Hubstaff's product is more of a time-tracking app than a traditional time clock. However, you can set up geofencing rules that prompt employees to start tracking their time on the job as soon as they arrive at a worksite. Hubstaff is also working on providing a more traditional time clock option where employees can clock in from a workstation or kiosk.
To track time spent on tasks and projects, employees can use desktop and mobile apps, as well as a browser extension. To verify that employees are spending their time on work tasks, you can also choose to collect screenshots and track the apps and URLs your employees access while on the clock. This capability is included in all Hubstaff plans and is the core feature that the system revolves around.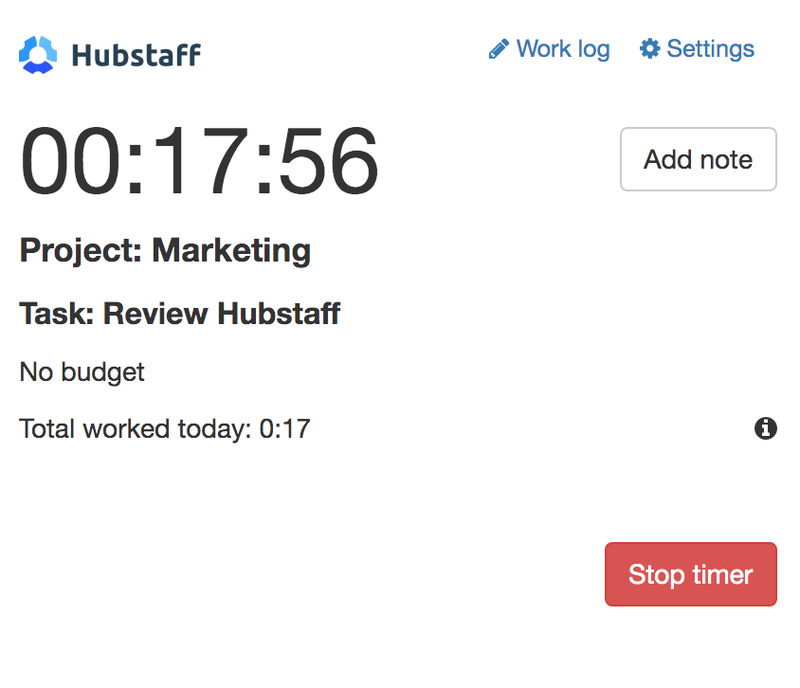 If you decide to upgrade to Hubstaff's scheduling tool, you can also track attendance to see whether your employees are showing up on time for their shifts.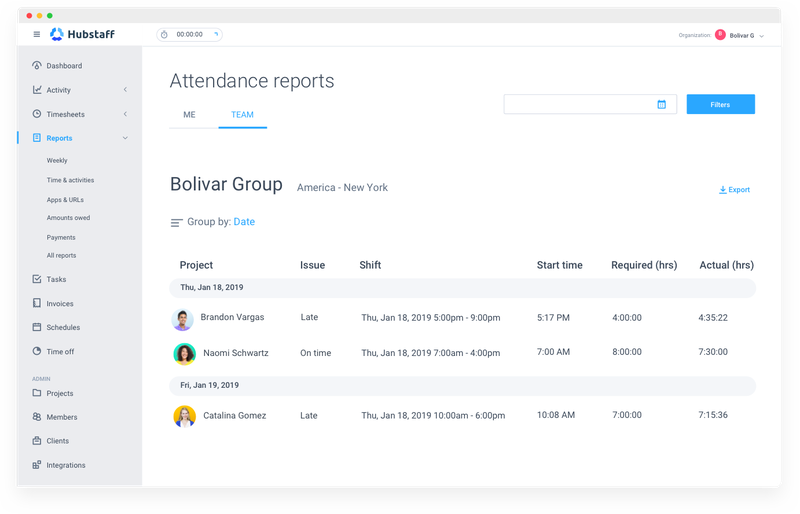 Budgeting
If employees or contractors use Hubstaff's app to track their time, their hours worked will sync with their timesheets. After approving timesheets, you can also choose whether you want to automatically send payments or send them manually via integrations with several payment apps. You can do this in a "Basic" plan, but you'll be limited to a certain number of payments in a given period. To track those payments, Hubstaff's payroll tool integrates with most popular accounting softwares.
While your employees are working, you can easily ensure that your payroll costs are staying on track with client and project budgets. You can also easily invoice clients from Hubstaff based on tracked hours and billing rates for different team members and tasks.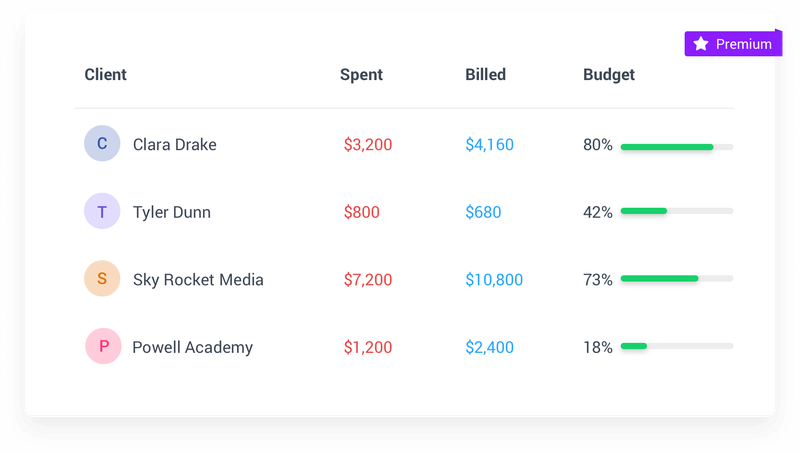 Teamwork and collaboration
Hubstaff has its own project management tool, but it also integrates with popular tools like Asana, Trello, and Wrike so you can track employee time and project progress from Hubstaff. If you're using Hubstaff for scheduling, you can set up the system to send updates and alerts to both management and users.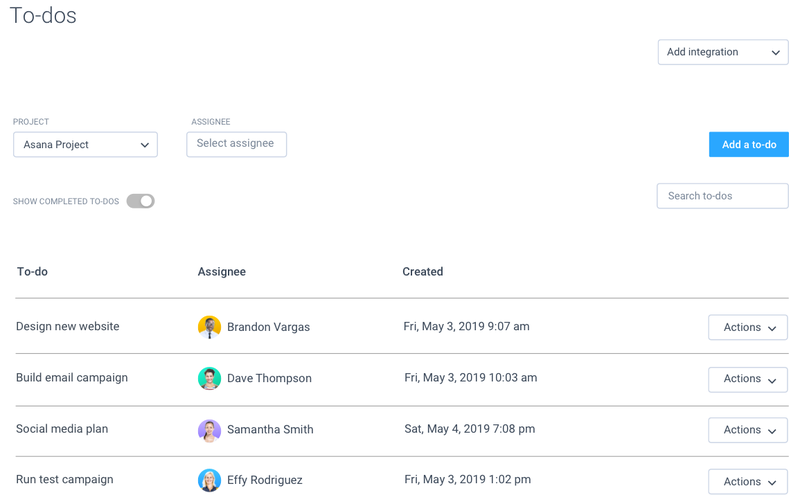 ---
Benefits of using Hubstaff
Using Hubstaff, you'll be able to make sure that your distributed team stays on task. If you employ hourly employees or contractors, you'll be able to accurately and fairly compensate them for their work. However, I think you'll see the most benefit out of using Hubstaff's "Premium" package, where all tools (time tracking, scheduling, payroll, budget management) are integrated in a central solution, saving you time (and therefore money) you might otherwise be spending toggling between systems. But to see those benefits, you'll have to decide if you want to pay more for the privilege.
---
Hubstaff pricing
Hubstaff is free for one user, which includes time-tracking, activity levels, limited screenshots, and limited payments. If you want more users and more features — such as integrations, payroll, and unlimited job sites — you'll need to upgrade to Basic ($7/month per user), Premium ($10/month per user), or Enterprise ($20/month per user).

A 14-day free trial is available for all pricing tiers if you want to try out the software first.
---
Hubstaff's ease of use
For employee time-tracking purposes, Hubstaff is very easy to use. Just download a desktop or mobile app or their Chrome extension, press a button, and start tracking time. On the managerial side, you can easily toggle on or off the different time-monitoring methods, such as recording apps and URLs access or taking screenshots, in the settings.
While Hubstaff's time-tracking tool is pretty straightforward, you might find you need help setting up the more feature-rich trial or plan of the system. Those who need help navigating the solution will find that Hubstaff's self-help library is extensive. However, if you're looking for more hands-on help, you can also access Hubstaff's help desk or get in touch via their in-system live chat tool.
Getting started
All you have to do to get set up in Hubstaff is add and invite team members (including yourself) to use the system and then download a time-tracking app. You can then create projects and tasks for your team to work on to get more specific information on how employees are using their time.
I think the only issue with getting set up in Hubstaff that people might run into is how often you run into "premium" features and tools that are only accessible in a more expensive plan. Simple time tracking is available in all plans. However, if you want to streamline time tracking, schedules, client management, and payroll, you'll have to upgrade to the "Premium" version of Hubstaff, which starts at just under $10 per user, per month for smaller teams.
---
Frequently Asked Questions
Does Hubstaff have a free plan?
Yes, but only for a single user. So if you're only tracking your own time, you don't have to pay a dime. But if you're looking to manage your team, you'll have to start shelling out.
Which industries does Hubstaff cater to?
Because of its flexible usage as a time-tracking and scheduling tool, Hubstaff could be used for any industry. However, for its basic plans, it caters more toward project-based teams. By upgrading to a premium plan with more capabilities, though, you can also use it to track shift work.
So does Hubstaff have a time clock or not?
Hubstaff doesn't currently offer the option to set up a traditional workstation on a desktop or tablet (but it's working on that). However, you change the settings in Hubstaff to prompt employees to start tracking their hours at a certain time or when they arrive at a specific location. So in that respect, it functions more like a traditional time clock tool than most other time-tracking systems.

Check out Hubstaff if you need a tool to track employee time on different projects and tasks.
Check out Hubstaff if you need a tool to track employee time on different projects and tasks.
The Motley Fool has a Disclosure Policy. The Author and/or The Motley Fool may have an interest in companies mentioned.