Rarely is one person responsible for every step associated with a project. Collaboration brings together diverse skill sets and talents to achieve a specified outcome.
But group work can only be effective when there is a clear definition of roles and a process for communicating to share updates and roadblocks and to track progress. Collaboration apps are designed to bring these functions together for improved efficiency and increased productivity.
There's a long list of collaboration apps available at varying price points. A relatively new option is Hubstaff Tasks. Part workflow coordination, part project management, and part kanban board, Hubstaff Tasks is a collaboration app that offers a seamless method for keeping track of essential details.
---
Who is Hubstaff Tasks for?
This project management software is the perfect fit for companies already using the Hubstaff and Hubstaff Talent time-tracking and employee-monitoring systems. All three apps sync workflows to keep all team members updated in real time.
The collaboration app may also be a solid option for small businesses looking for a budget-friendly solution. Templates make it easy to get started without having to build a project roadmap from scratch. Launched in 2019, Hubstaff Tasks is an alternative to other task management tools such as Trello, Asana, and others.
---
Hubstaff Tasks' features
The agile project management app includes features that are common among project management software tools. Here's a look at some of the core features Hubstaff Tasks offers users.
Collaboration channels
Skip long email threads for project updates or to find answers to pressing project questions. The built-in communication channels allow users to post comments, ask questions, share updates, or tag teammates as it relates to a project schedule.
Easily attach files, images, and other project documents so that all team members have instant access to the latest information.
Pre-made and customizable templates
Save time establishing project management steps and jump into creating teams and assigning tasks with predesigned templates.
There are more than 40 pre-built templates to choose from, ranging from creative project management to employee management and customer experience management. Here is just a sampling of the templates offered.
Project Management
A/B Testing
Website Design
Blog Management
Hiring
New Hire Onboarding
Sales CRM
SEO Planning
Event Planning
Customer Support Process
IT Support
And several others
It's also possible to choose a template with a limited theme. The To-Do List and standard kanban template offer the opportunity to create your own project workflow.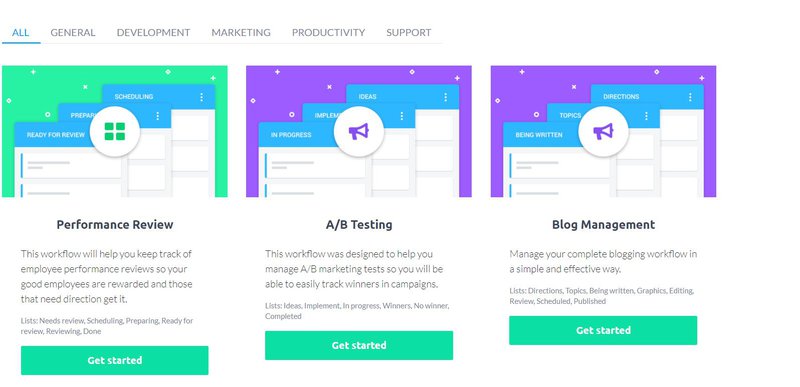 Prioritized projects
The "Sprints" feature allows teams to fast-track priority projects. A secondary dashboard provides a progress overview of a narrowly defined set of work tasks within a specific time period. The scrum management tool supports an agile methodology for projects with fixed iterations via a dashboard that's simple to use.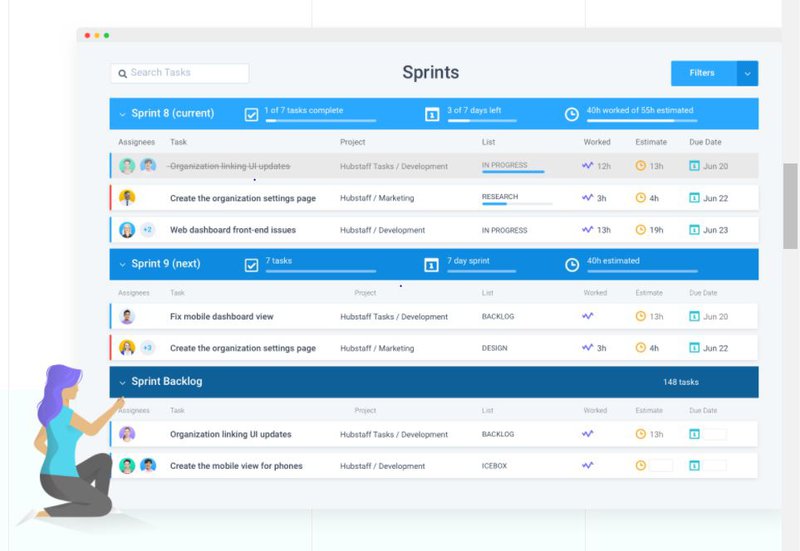 Timeline View
The newly released timeline view is only available with a premium subscription, but it offers a visual snapshot of project progress. Within the dashboard, you can see tasks by day, week, month, or quarter. This function also makes it easy to see which team members have been assigned to specific tasks. Views can be sorted by group or by individuals for a concise overview of project progress.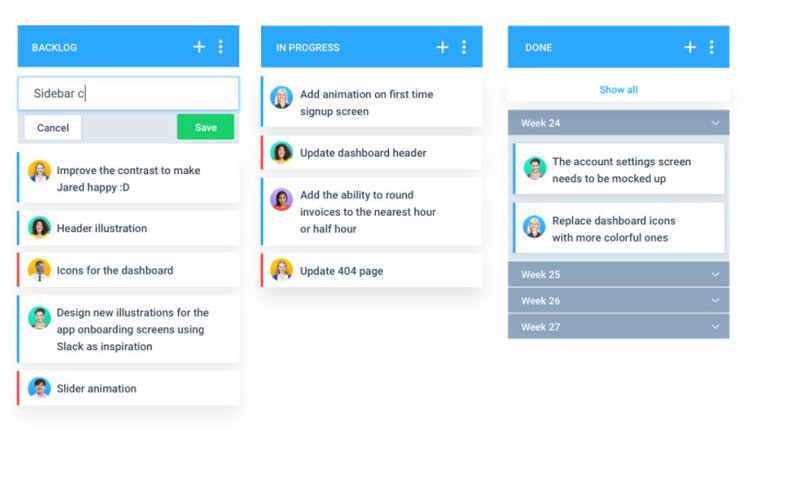 Brief check-ins
Stand-ups is a feature allowing for brief daily check-ins with team members. This tool sends each member an email prompt at the same time each day. The email contains a few simple questions, and the responses are sent to managers.
Questions can be customized, and Hubstaff Tasks offers these three as a starting point.
What did you work on today?
What will you work on next?
What roadblocks are you currently facing?
Stand-ups are more than a way to check up on staff. It gives project members a focus for the day and offers them an opportunity to flag problems before they spiral out of control.
---
Hubstaff Tasks' ease of use
Getting started with Hubstaff Tasks is simple. It only takes an email address and a routine setup process. To establish an account, you must provide a company name even if you're only planning to use it for personal use.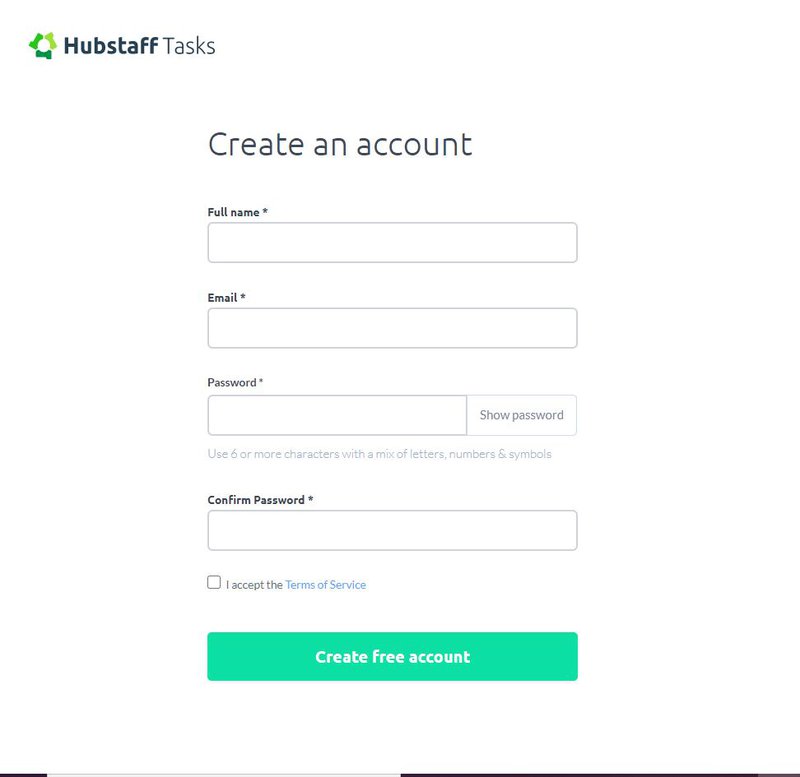 In less than five minutes, you can sign up, sign in, and start creating projects. Input tasks into each project, and invite, or assign, others to the project. Like all task-planning software, users are given roles.
Hubstaff Tasks has three specific roles.
Viewer: Someone who can work on the project and access details but is unable to modify the project.
Collaborator: This person can create and manage tasks.
Manager: This individual can edit, archive, or restore a project.
---
Hubstaff Tasks' pricing
With just two subscription options, pricing for Hubstaff Tasks is straightforward and affordable.
Smaller teams with limited users and fewer projects can leverage the power of the free version. However, the free version also limits the number of users and projects and storage capacity.
1 to 5 users
10 projects
100 MB storage/user
The premium version — which is $5/month, or $4.17/month for an annual subscription — is designed to scale up quickly as a business expands and increases the number of projects and staff.
Unlimited users
Unlimited projects
5 GB storage/user
Both versions of the online project tracker include core features. This is just a snapshot of the functions offered.
Kanban boards
Checklists
Due dates and estimates
Sprint planning
Custom project templates
Custom workflow actions
Filter and search
Comments and mentions
File attachments
---
Hubstaff Tasks' support
Extensive documentation and explainer videos are readily available on Hubstaff Tasks. Specific questions can only be answered by submitting a help desk ticket. Demonstrations and onboarding calls can be scheduled by request.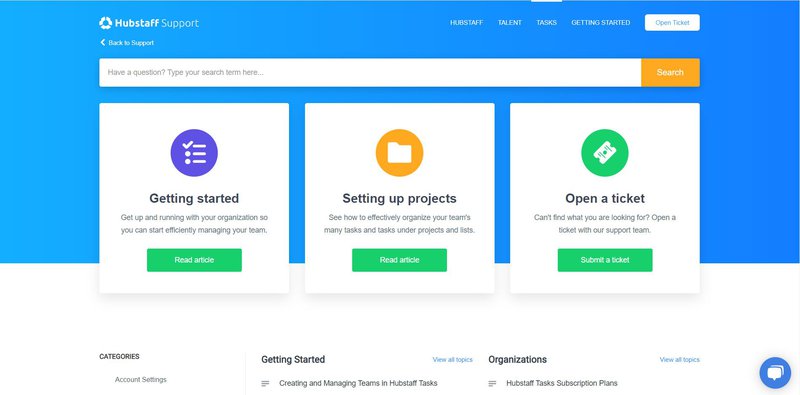 ---
Benefits of Hubstaff Tasks
Visual boards and dedicated tasks ensure managers can check in and get the status of a project at any time. There's no need to interrupt the workflow because all of the relevant information is attached to the task as it moves through the process.
Additionally, the Stand-ups automate the feedback collection from individual members without spending time knocking on doors, making phone calls, or typing an email.
The clean and simple design of the project boards provides clarity to the process, while only offering the features you need. The dashboard encourages efficiencies with these key benefits.
Offers a clear visual of all the projects that have been created or joined.
Supports organization by allowing for the creation of project folders that can be searched and filtered.
Includes drag-and-drop features and one-click moves to propel an entire project forward.
---
Simplicity supports user buy-in
The deployment plan for any new software must be strategic and have buy-in from users since, for acceptance, it's important to integrate it into the wider culture. Hubstaff Tasks makes it easy to embrace a new project management tool, thanks to the options it gives users, who can choose from more than 40 ready-to-go templates or blank kanban boards.

---
Frequently Asked Questions for Hubstaff Tasks
Does Hubstaff Tasks integrate with Hubstaff and Hubstaff Talent?
Yes. The three software platforms sync to share important project and staff information in real time.
Does Hubstaff Tasks integrate with other software?
Not on its own. Companies that also use Hubstaff can take advantage of integration with business software, such as Slack, PayPal, Zendesk, Salesforce, and others.
What roles can team members be assigned to?
As previously mentioned, Hubstaff Tasks has three roles for users.
Viewer: This person can work on the project and access details but is unable to modify the project.
Collaborator: This person can create and manage tasks.
Manager: This individual can edit, archive, or restore a project.

For small and medium-sized businesses wanting an affordable, easy-to-use project management tool — especially those using Hubstaff and Hubstaff Talent — Hubstaff Tasks is worth a closer look.
For small and medium-sized businesses wanting an affordable, easy-to-use project management tool — especially those using Hubstaff and Hubstaff Talent — Hubstaff Tasks is worth a closer look.
---
How Hubstaff Tasks Compares
The Motley Fool has a Disclosure Policy. The Author and/or The Motley Fool may have an interest in companies mentioned.