We all know what the Human Resources (HR) department is, but do we know what it actually does? Or more to the point, what it should be doing?
Small businesses often feel overwhelmed with the complexities of human resource or human capital management. It's difficult to know how and when to implement new facets of human resource management. And harder yet, how to make their implementation a success.
But they know human resources management is necessary, whether they have one or 100 employees. This guide to human resource management will help small businesses learn the core functions of the HR department, and tips to succeeding with them.
---
Overview: What is human resource management?
It's an umbrella term for the processes, practices, and policies of the human resources department that govern and manage a business and its employees.
Human resource management's goal is to make efficient use of employees to achieve business goals and objectives, and manage the relationship between the business and its employees.
The scope is far-reaching, and these processes, practices, and policies cover everything from recruitment and hiring, to compensation and employee relations.
---
What are the core functions of human resource management?
Knowing the core functions of human resource management early on sets your business up for success. Here are some of the key HR management functions to get you started.
1. Human resource planning
This involves making sure your business has enough staff — and the right staff — to meet your business needs today and in the near future. Human resource planning, sometimes known as workforce planning, is especially important in a business's early days.
Defining the skills and roles they'll need in order to scale up, and how to fill these roles, is critical.
2. Recruiting, hiring, and onboarding
Strategizing how to attract, select, and onboard candidates or contractors for the business is a core function of human resource management. From the moment a candidate applies or is sourced, to the day they're onboarded, HR owns these talent management processes.
3. Compensation and benefits management
HR management researches the field to determine the compensation and benefits your employees are entitled to — both those required by law and the others that you offer.
This includes bonuses, overtime pay, recognition rewards and sales commission, etc. Without a competitive compensation and benefits package, you'll have trouble attracting, and keeping, high quality, loyal employees.
4. Employee relations and corporate policy management
HR has a bit of a police and peacekeeping role too. Managing employee relations involves not only the creation of policies that outline compensation, working hours, codes of conduct, etc, but also acting as the enforcer of these policies.
Employee relations also refers to how the HR department helps to prevent and resolves disputes in the workplace.
---
6 HR management tips for small businesses
So, where should small businesses get started? Focus on these six tips and HR best practices to get your small businesses on its feet with human resource management.
---
1. Create an employee handbook
Without fail, you must compile your own employee handbook. It outlines your company's key policies, procedures, operating norms, value, mission, and your culture.
It also sets out mutual expectations on part of the employer and employee, and formalizes company policies to prevent misunderstandings.
These policies can range from dress code, working hours, and flexible working, to employee development, health and safety policies, legal and compliance policies, and equal opportunities commitments.
Employee handbooks are a great way of codifying all of this information in one accessible place.
Tips for creating an employee handbook:
Employee handbooks ensure that both you and your employees are well-informed with up-to-date policies. Generally, HR departments take on the task of creating employee handbooks, but smaller companies who are managing without much of a HR department can leave this task to senior leadership.
It's good to create both a hardcopy version and an online, easy to access copy.
Keep it short and sweet: Employee handbooks aren't intended to be jargon-heavy, corporate, and full of legalese. Of course, accuracy is paramount, but it should be highly readable and concise.
Make sure it's a living document: The handbook should be updated as policies change or are added, to make sure all employees are fully informed. Handbooks aren't supposed to be a one-time creation, but an evolving document.
---
2. Build a talent acquisition strategy
HR departments don't just recruit — they're also responsible to create a holistic talent acquisition strategy. A talent acquisition strategy centers hiring plans around long-term strategic goals.
What's more, with a well-defined talent acquisition strategy, businesses can proactively fulfill business needs by creating pools of talented candidates for the future, and by aligning workforce and staffing plans with business objectives and growth strategies.
Tips for building a talent acquisition strategy:
A dedicated hiring manager isn't required to create a long-term hiring plan. To build a talent acquisition strategy for your small business, follow these best practices:
Use software to help manage candidates: Talent management systems have all the features you need — recruiting, sourcing, tracking, and employee analytics — for a talent acquisition strategy within one solution.
Create a talent pipeline: Doing so will create a proactive pool of suitable candidates for future open positions. You'll save time and have the details of talented candidates when you need them.
Build your own employer brand: Attracting talent is as important as recruiting. Build up your employer brand by keeping your website and career pages up to date. Be sure they reflect your company's culture and brand. Employee testimonials and real pictures and videos, rather than stock business images, are a great way to showcase your company's unique qualities.
---
3. Get your people data in order
Organizations need a robust, secure, and efficient way of managing an employee database to not only keep ever-changing data up to date, but to make strategic talent-based decisions.
Don't have a dedicated HR manager? Not to worry: many HR software systems come with specific people analytics and employee databases to help you make data-driven decisions and maintain your data.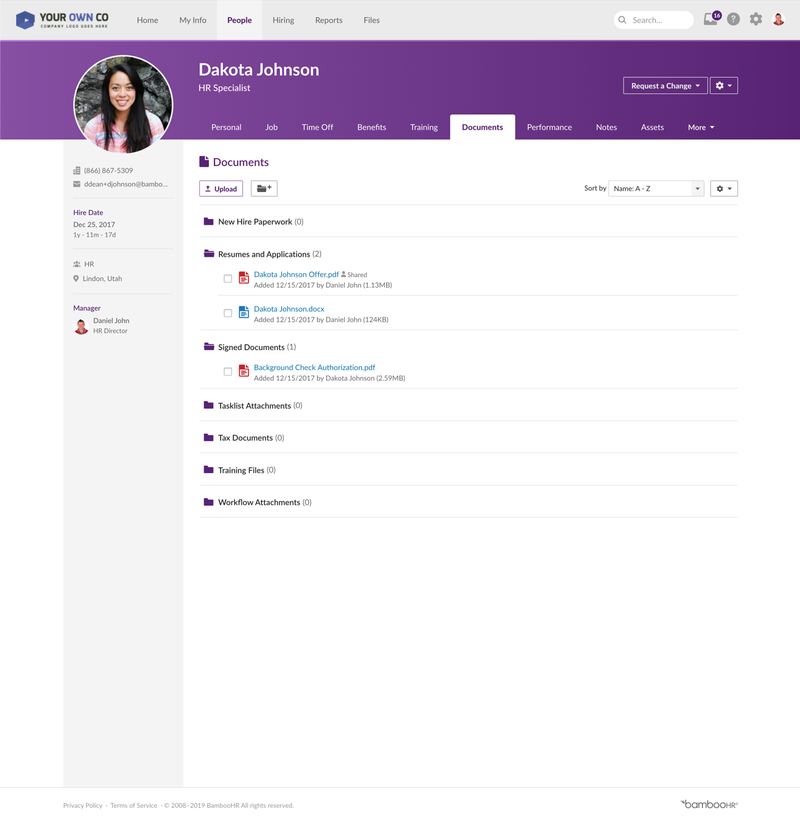 Tips for getting your people data in order:
Consider these tips to help successfully manage your employee data:
Identify your sources: Audit all your employee data sources to ensure all data is consistent and standardized across all records before investing in an HR system.
Research systems: Identify your company's specific needs are, and make sure any system you consider integrates with existing systems.
---
4. Measure HR effectiveness
You probably already know what HR functions you're performing, but do you know what effect they're having on the business? All businesses should be measuring a few HR metrics and human resources KPIs, whether they're using a human capital management solution or not.
However, many HR solutions can offer an even deeper level of insight with workforce analytics, performance metrics, and performance measurements.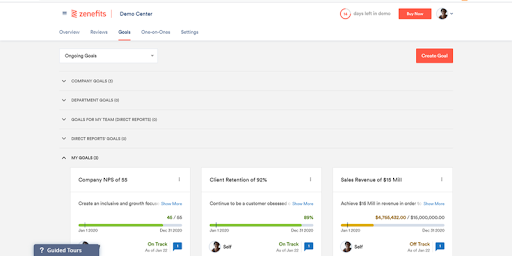 Tips for measuring HR effectiveness:
You can't measure and evaluate all aspects of HR functions out of the chute, but here are a few areas to focus on:
Employee retention: Measuring employee retention rates is a great way to identify where adjustments can be made to reduce turnover and make your company more attractive.
Employee satisfaction: Measuring employee satisfaction and engagement data helps you spot trends in your employees' experience. Survey your employees to collect this data.
---
5. Build solid compensation plans
Face it, money's a prime motivator. Building competitive compensation plans helps businesses attract and retain talent. But candidates and employees want more than just a salary, so put together a well-rounded benefits and compensation plan.
If you're unsure about appropriate levels of compensation and benefits, don't wing it. Research your industry and competitors to assess the marketplace. And remember, compensation plans also need to align with federal and state laws.
Tips for building solid compensation plans:
Here are a few ways that small businesses can get started with devising compensation plans.
Check out the competition: What are your competitors paying their employees in similar roles? If you can't match the salary, think about how you could get creative with perks and benefits.
Consider a total compensation plan: This is a plan that goes beyond just a salary, and includes other compensation such as bonuses, incentives, and wellness perks. You can also decide if you want to pay employees by the hour or provide salaries.
---
6. Learn how to communicate with employees
Effective workplace communication is essential to maintain trust and build loyalty and rapport. It may not come naturally due to hierarchical structures, but communication is fundamental to a business's success.
Communication should be a two-way street, and it's your job to ensure that you enact the right strategies to make it happen.
Tips for learning how to communicate with employees:
Here are a few ideas to get you started with employee communication:
Give regular company updates: Regular company-wide updates help foster a collaborative workplace, making everyone's contributions feel valued.
Don't overload on communication channels: Don't fall into the trap of using a proliferation of communication channels. This can cause messaging and updates to get lost by the wayside.
---
HR software can help your human resource management processes thrive
Managing HR as a small business can be a daunting task, but you can use HR software systems that help you manage both people and strategic human resource management processes affordably.
Human resource management software doesn't need to be costly, and HR software is constantly evolving and making human resource processes more efficient.