While gut feeling and experience can form the basis of a decision, it shouldn't be the only resource you use.
Take this example. I used to work in a publishing company where the director didn't think that online magazines would take off because he preferred reading paper copies. This wasn't based on any data, just his preference.
In HR, you need to use the data available to you to make better, more informed decisions. To do that, you need to collect and structure that data so it allows you to generate actionable insight you can put to work to improve your processes and best practices.
You need a human resources dashboard.
---
Overview: What is a human resources dashboard?
A human resources dashboard provides a visual overview of different HR metrics you are tracking. It provides insight into performance at different levels, whether that's individual performance, team performance, or the performance of different HR functions such as recruitment, performance management, and time and attendance.
The dashboard helps HR professionals:
Plan budgets and initiatives for the year or quarter ahead
Create processes and best practices
Understand strengths and weaknesses and optimize accordingly
Provide reports more easily to senior management
---
3 benefits of using a human resources dashboard
An HR dashboard allows your HR department to be more agile, make better decisions, and become a data-driven function. Here are the benefits of creating an HR and workforce dashboard.
1. Agility
When someone asks you why you are doing something, "because we've always done it that way" is not an acceptable answer. A human resources dashboard not only means you can explain why you are taking certain actions, it also means you can explain why you've stopped others, or why you're moving to a different strategy.
HR departments need to be agile and constantly optimize their processes. By organizing your data in a structured way, you can quickly see what is working and what isn't and rectify it. You also understand more about why something is working and the specific actions you should take to repeat the situation.
2. Competitive advantage
An HR analytics dashboard can bring together data from several sources to provide a complete picture of business performance, including data from your competitors.
The adage, "Keep your friends close and your enemies closer" applies in the business world. You can keep an eye on what they are doing and work out if you need to pivot your strategy to minimize threats or shift your strategy.
For example, if you know one of your competitors is about to launch a major recruitment drive, you might switch up the timeline of your hiring campaign so they don't coincide and you lose visibility in the market.
3. More detailed reporting
These days, the HR department is subject to as much performance scrutiny as other business functions, such as sales, marketing, and accounting. Quickly drawing together accurate information and analyzing it is important when reporting performance.
When you set HR key performance indicators (KPIs), whether as a department or for individual members of the department, you need to track these goals. An HR and employee dashboard not only collects and centralizes the data, it also creates detailed reports you can present to management to show progress toward your goals.
---
How to make a human resources dashboard in your business
Follow the four steps below to create an HR dashboard to get better insight into performance and understand what's working and what's not.
1. Decide which metrics you want to track
When you first create a human resources dashboard, you won't be able to track every metric that reflects departmental and individual performance. You need to create an HR metrics dashboard that aligns with your KPIs and allows you to tie departmental performance to company goals and performance.
Here are metrics you could include in your human resources dashboard:
Recruitment metrics, such as time to hire and number of open positions filled
Onboarding time
Employee satisfaction
Turnover rate
Training and development performance
Appraisal and employee performance metrics
Time and attendance
Workforce planning metrics, such as staff count
2. Collect the relevant information
Once you've decided which HR metrics you will track, collect the right information. You might already collect and organize this information manually through an HR scorecard or an Excel spreadsheet, but it's important your data be up to date and accurate.
Set up a process to automatically feed the data into your HR dashboard rather than manually entering information, which is prone to data entry errors.
3. Centralize your data
To analyze your data for actionable insight, make sure it's all in one place. Instead of using disparate, unconnected systems to manage your data, ensure it all resides in one place so you can get an accurate view of overall performance and how one aspect of the business informs another.
For example, you might find that poor performance scores are linked to employees not having enough time or resources to complete training.
HR solution Zoho People helps you bring together different data sources into one centralized dashboard to streamline your workforce analytics process.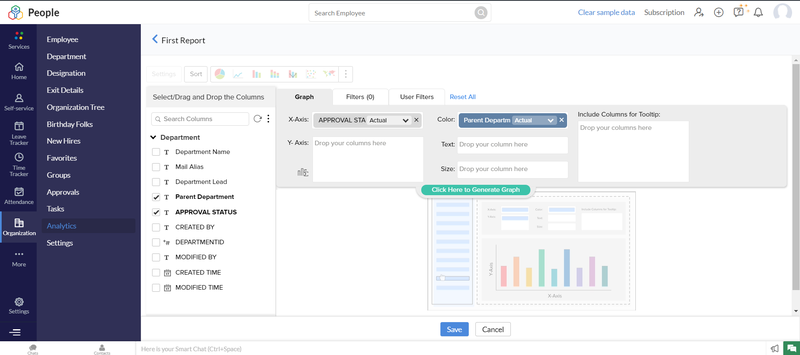 4. Use HR software
While it may be tempting to set up a dashboard using Excel, this is prone to data entry errors and a lack of version control. Excel and spreadsheets have their limits — as the British government found out — and aren't suitable for this job.
Instead, HR software can help you automatically collect all the necessary data, centralize it, make it accessible to all parties, and create detailed reports. Control access rights to ensure your data doesn't fall into the wrong hands.
HR solution Workday has a built-in dashboard that collects and centralizes your data and then produces insight into this information you can use to make business decisions.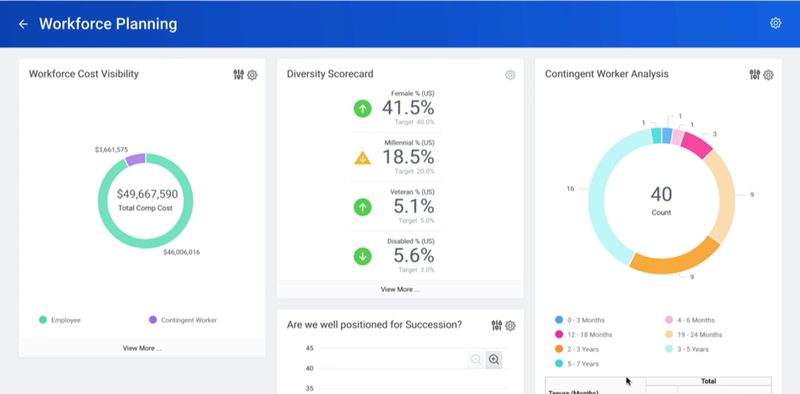 ---
Automation leads to more intelligent decisions
Businesses are increasingly taking a data-driven performance management approach across all areas of the business, so the sooner you get started with creating a human resources dashboard, the better.
The more you use the dashboard, and the more data you feed it, the more accurate it will become. You'll then be able to make more informed decisions more quickly that lead to better performance. If you automate creating an HR dashboard by using human resources software, you'll be able to speed up the process, get more intelligent visualization, and increase the metrics you track.