iContact markets itself as affordable an email marketing software. While it's not the least expensive email marketing service, its pricing is reasonable.
If iContact was a soccer team, it would be distinctly mid-table. iContact email marketing solution has a good range of features that will be more than enough for many companies, and its a great option for people looking for simplicity, but there's nothing about the product that makes it stand out from the competition.
It's a great solution for people who don't want to create very complex campaigns, but instead want to create good campaigns quickly, and want to be able to optimize those campaigns to produce the best results without having to spend all day working out how to use the software.
---
Who is iContact for?
iContact is ideal for people who don't want to spend much time learning how to use a complex email marketing solution, as the intuitive user interface and straightforward navigation mean you can get up and running straightaway.
It has a good range of features — including an excellent form builder — and provides all the basics you need to create, manage, and optimize email campaigns.
Because it is easy to use and doesn't overwhelm you with every feature you can think of, you can minimize the time you spend managing your campaigns.
---
iContact's features
iContact has a solid range of features, which makes it a good, but not great solution. It comes with a reliable email editor, basic segmentation capabilities, the ability to create basic autoresponder messages, a landing page builder, and good contact management functionality.
It has a great form builder, but its autoresponder functionality is more basic and difficult to use than other similar solutions.
Email creation
iContact has a pretty good, if not outstanding, email editor. It has a nice range of editable iContact email and newsletter templates, and you can create as many new templates as you like. iContact also includes many standard features, including the ability to:
Add content blocks, such as text, images and videos
Edit design attributes, such as colors, image alignment, font, borders and spacing
Send a test message
Spell check
Spam check
Create an A/B (otherwise known as split) message
Preview on mobile and desktop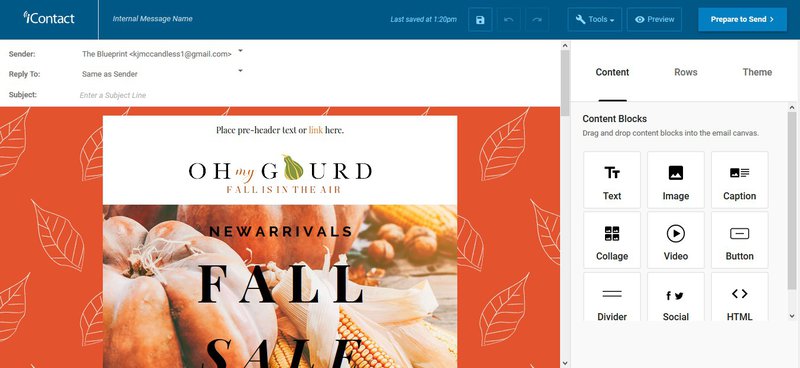 iContact has solid functionality, but nothing that would make it stand out above any of its competitors.
It lacks the personalization capabilities of Mailchimp, SendPulse's ability to build templates for individual content blocks, and ActiveCampaign's preview display options that let you see how an email would look according to email client.
iContact also only lets you schedule a message for right now or for a specific time in the future. Other software allow you to send messages according to the optimal open time or to send according to customers' individual time zones.
Contact management
Collecting as much data as you can on customers is key to being able to segment them into lists and personalize campaigns. iContact allows you to add as many custom fields as you like to your signup forms in the form of free text boxes, checkboxes, numbers, and dates.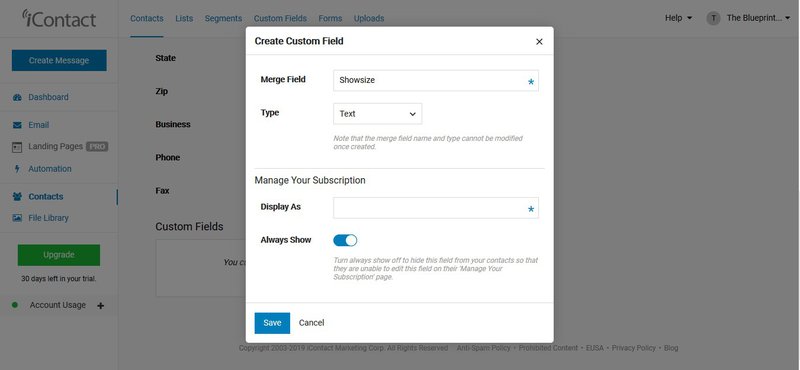 Segmentation
The segmentation functionality, which is important for ensuring you send only the most relevant messages to your email list, is rather basic. You can segment according to:
Contact field (name, location, custom fields, etc)
Message engagement (opens and clicks)
Date added to list
Date of last open and click
Other email marketing solutions such as GetResponse allow you to segment according to past purchase behavior and last actions taken.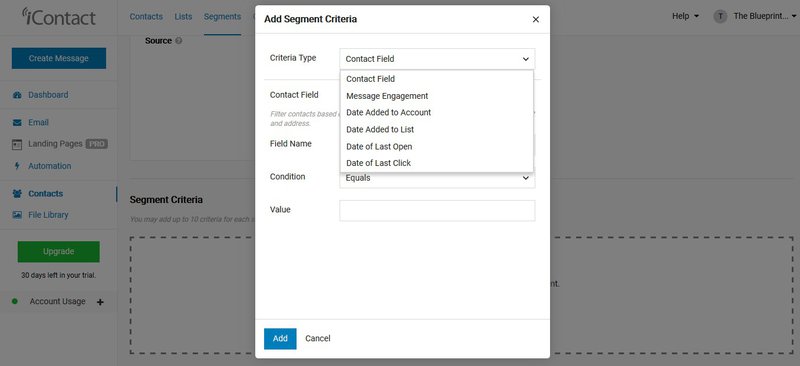 However, iContact allows you to add up to 10 conditions to your segment, which helps you target a much more specific audience.
Form creation
One feature that iContact gets very right is its form builder. If you want to successfully grow your email list, then you need to create forms that encourage customers to enter their details.
With iContact, you can customize the fields, as well as a multitude of design attributes, such as button size and color, theme, font, background, border, and alignment. You can also customize whether the entry field is free text, checkbox, or dropdown.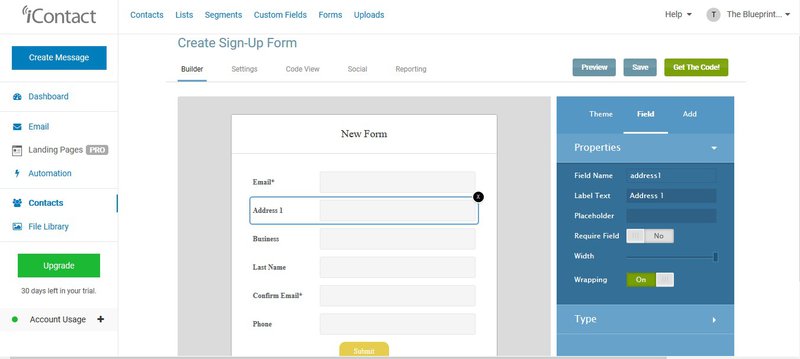 From within the same menu, iContact also lets you share your form on Facebook and access reports on how well your form has performed. If it isn't collecting as many customer details as you'd like, you can make edits and track what works.
Automation
iContact has solid automation functionality. It includes pre-built templates that trigger due to an event, such as a certain date, a customer signing up to an email list, or any time a person qualifies for a segment — for example, if they haven't shopped with you in six months.
It's quick and easy to create an automated email series, and you can choose specific segments to send each message to. For example, if you're running a winback campaign, you can choose to send a specific message only to subscribers who haven't opened your emails in the past six months.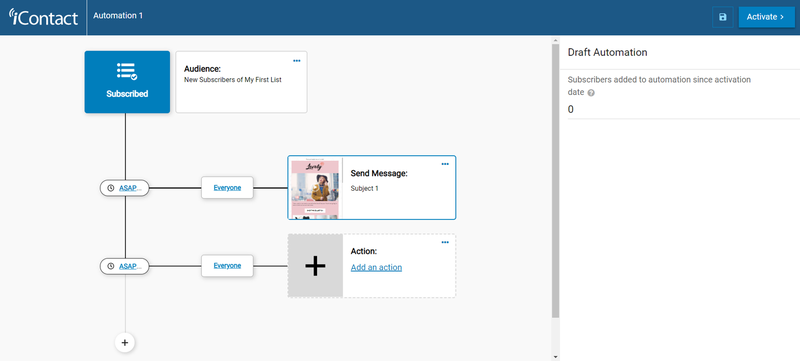 ---
iContact's ease of use
Making the signup process as smooth as possible is the first key step to winning customers.
But after many, many, many attempts at trying to use the single sign-on option to sign up with my Google account, and being redirected to the same page each time, I gave up. I eventually had to abandon that option and enter my details manually.
It's not a user-friendly process.
Once you eventually manage to complete the signup process, iContact helpfully presents you with two main options to kickstart your email marketing campaigns: Add Some Contacts or Create Your First Message.
Most of the features are self-explanatory, and there is no real learning curve when you first start using iContact. You can dive straight in and start creating email campaigns right away.
On one hand, iContact has a very well-organized main navigation that is clearly marked with the name of the feature. This is a jargon-free solution.
The horizontal sub navigations are similarly easy to use, which makes it very quick and easy to access any of the features.
The dashboard also updates according to your most recent activity, showing you personalized information, such as drafts you have created, emails you've sent, and reports on email campaign performance.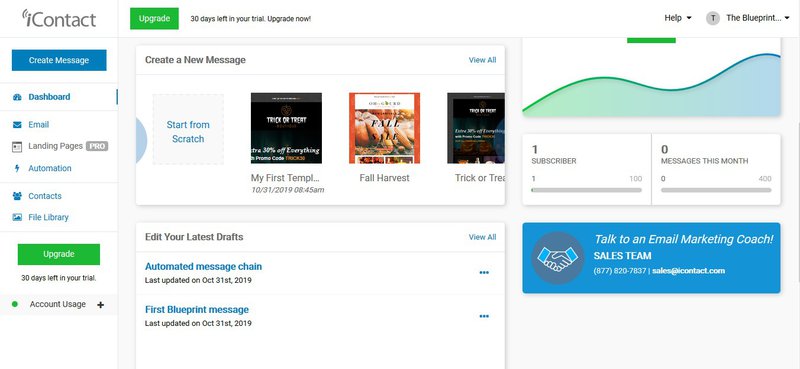 On the other hand, iContact is very slow at times. When carrying out an action — such as adding a new contact — or changing between menus, there is a noticeable lag of around 10 seconds.
That kind of delay is not what you'd expect from a leading email marketing tool and doesn't create a winning user experience.
There are also some features that are confusing to use, such as creating autoresponder messages. I had to Google the topic and it still took a lot of playing around to work it out.
---
iContact's pricing
The iContact free trial lasts for 30 days and has limited functionality — it doesn't include the landing page builder — but it doesn't offer a free plan.
The company has one paid price tier, which starts at $15 per month for up to 1,500 contacts if paid monthly, plus a 15% discount if you pay yearly. All features are included, no matter how much you pay. This is reasonably good value for the money since you get access to all of iContact's features, and it's also a predictable pricing plan that scales with your business.
The monthly price goes up incrementally as you expand your email list and add more contacts. It costs:
$25 for 1,501 to 2,500 contacts
$45 for 2,501 to 5,000 contacts
$80 for 5,001 to 10,000 contacts
$120 for 10,001 to 15,000 contacts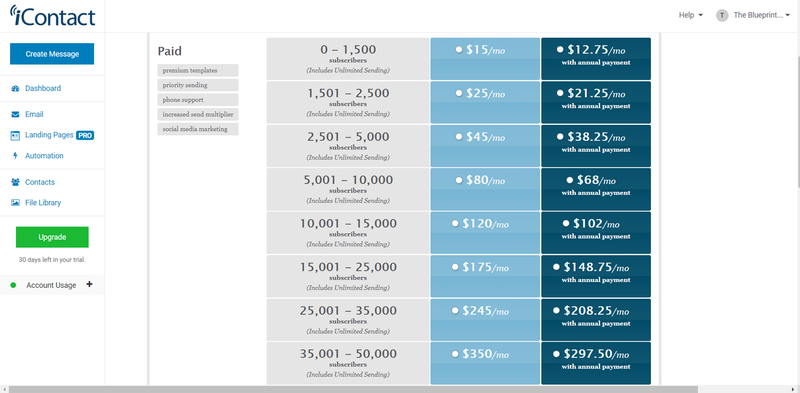 ---
Working with iContact support
iContact's support options are a breath of fresh air. Instead of trying to make you solve problems yourself all the time, it actively encourages you to get in touch with their support (or their email marketing coach as they call it) by putting their phone and email address in a big blue box on the main dashboard.
There is also a sticky help button in the main navigation that presents all the support options in one place, including:
Phone support
Live chat
Email support
A link to the help portal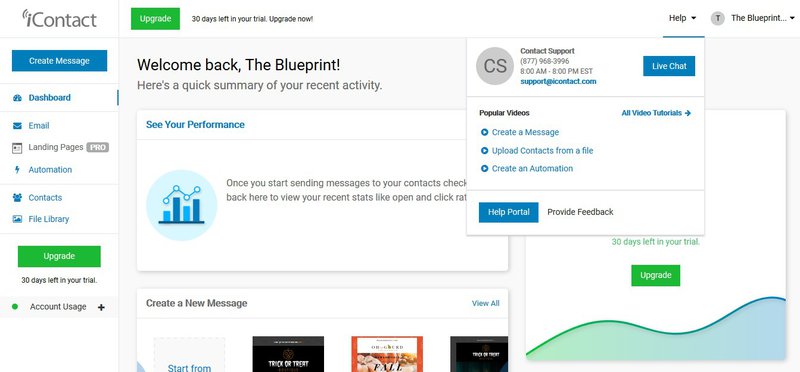 The help portal is well organized into different topics with a variety of iContact tutorials, with the only downside being that iContact only provides support between 8am and 8pm EST.
---
Benefits of iContact
iContact is straightforward. It has a well-organized user interface that lists all the main options you need to create and manage your email campaigns.
Its personalized dashboard helps you keep on top of your campaigns and quickly return to unfinished tasks.
It's easy to use, even for inexperienced email marketers, and most of its functionality is self-explanatory so you don't have to research features before you start using them.
---
A solid but slow option
iContact is a reliable option. While it is surprisingly slow to load pages and complete tasks, if you want a solid email marketing solution that makes useful features easy to use, then iContact won't let you down.
It makes it easy to create email campaigns. It provides a good range of templates.
It allows you to segment using up to 10 different conditions. It has great support options. It personalizes the dashboard according to your past actions.
It won't blow you away, but it will help you overhaul your email campaigns in no time at all.
---
Frequently Asked Questions for iContact
No. iContact provides a 30-day free trial, but no free plan. It offers one pricing plan that includes all features, with prices varying according to your number of contacts. This plan starts at $15 per month for up to 1,500 contacts.
Does iContact let you create A/B tests?
Yes, when you are creating an email message, you can click the "Tools" menu, which will let you create different versions of the same emails that you can then send to a segment of your audience.
Does iContact offer live chat?
Yes, iContact provides live chat support between 8am and 8pm EST to all customers. It also provides phone support, email support, and a help portal.

Use iContact to get your email campaigns up and running quickly without being bogged down by overcomplicated options and jargon.
Use iContact to get your email campaigns up and running quickly without being bogged down by overcomplicated options and jargon.
The Motley Fool has a Disclosure Policy. The Author and/or The Motley Fool may have an interest in companies mentioned.