In a fiercely competitive market, delivering a memorable and satisfying customer experience can set your brand apart and influence your existing customers to make more purchases. After all, customers are more likely to choose a brand that delivers excellent customer interactions over companies that don't.
To help transform your ordinary customer interactions into great customer experiences that exceed your clients' expectations, we lay out these eight tips.
---
1. Provide top-notch customer service
While it's crucial to ensure your customer care initiatives improve your bottom line, ultimately they should focus on your customers.
Evaluate every interaction your customers have with your brand and fix problematic areas to improve customer satisfaction and deliver exceptional customer experiences.
For example, if you're seeing low satisfaction scores from your customer support interactions, invest in training your support team more and offer practical, actionable, and effective customer care tips. Doing so equips your support team with the knowledge and skills to de-escalate customer concerns and make interactions more pleasant.
Invest in customer engagement tools. It's been said countless times, "Be where your customers are." This isn't just about sales. It's also a customer service philosophy that companies should take seriously if they don't want to frustrate their customers.
You can use tools, such as live chat, surveys, etc., to help your brand deliver more dynamic, personalized, and contextually relevant customer interactions and support service delivery.
---
2. Establish an omnichannel strategy
Deliver top-notch customer interactions by providing seamless customer experiences across multiple communication and service channels.
Implement an omnichannel experience strategy to provide a unified customer journey with your brand, regardless of which channels they use. Customer support platforms, such as Kayako, are great practical tools with omnichannel communication features.
Today's customer service software makes it easy for your customer service teams to manage conversations and requests across any connected channel, such as email and Facebook Messenger.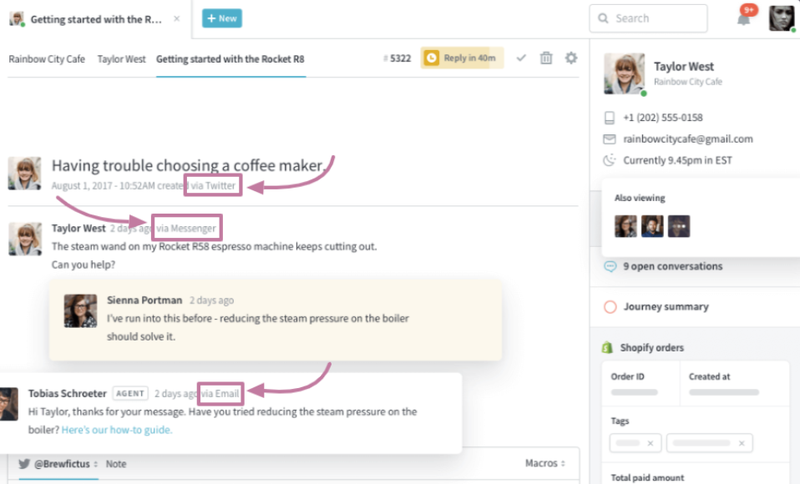 Offer omnichannel communication to provide better customer support, increase service delivery and consumer issue resolution efficiency, and generally improve the client experience.
---
3. Empower your teams to go above and beyond
Showing empathy in customer service is important. However, you need more than empathy if you want to succeed in your industry. Equip your customer service teams with the authority and resources to go the extra mile during interactions. This includes offering upgrades and discount coupons for customers on the spot.
It's a great way to deliver memorable and great customer experiences that encourage repeat business and brand loyalty. Consider these tips to empower your customer care agents and improve your service quality.
Boost your customer service team's motivation by establishing a shared purpose instead of behavioral rules. This way, your agents focus on actually helping your customers instead of sticking to canned responses and actions that don't address their concerns.
Use a customer service software that allows quick and easy access to your clients' history and interactions. For example, if a customer has been buying from you for five years, your CS or CRM software should allow your agents to see that info right away and offer loyalty rewards during a call.
---
4. Set clear customer expectations
Close the gap between what customers expect from your brand and what your business aims to deliver. This helps avoid misunderstandings that could ruin the whole customer experience.
For instance, if you're offering gift certificates for customer appreciation day, clearly communicate how to use them, where, and until when.
Provide readily available and transparent information about your products, services, and offers so customers know what to expect. This will also help protect your business and employees in case of any confusion and disputes.
---
5. Reward customer loyalty
Make the customer experience more memorable and satisfying by rewarding customers who are loyal to your brand.
Before running a customer loyalty program, identify your regular clients by analyzing how often they buy from you and the types of products they purchase. This gives you a good idea of which customers and behavior to reward.
You can also do interviews, run surveys, and monitor customer comments about your brand to help shape your loyalty program.
Expand your loyalty rewards program and include behavioral and social actions, such as referral points and rewards for user-generated content, to personalize the customer experience.
---
6. Provide self-service options
Offer a way for customers to proactively solve basic problems with your products and services through self-service options. Do this by providing a knowledge base, walkthrough videos, etc.
Not every customer wants to call your support desk or email your customer service team just to wait a long time to resolve common issues and queries.
Use customer service software, such as LiveAgent, that provides a customer portal for 24/7 support and includes comprehensive knowledge base articles.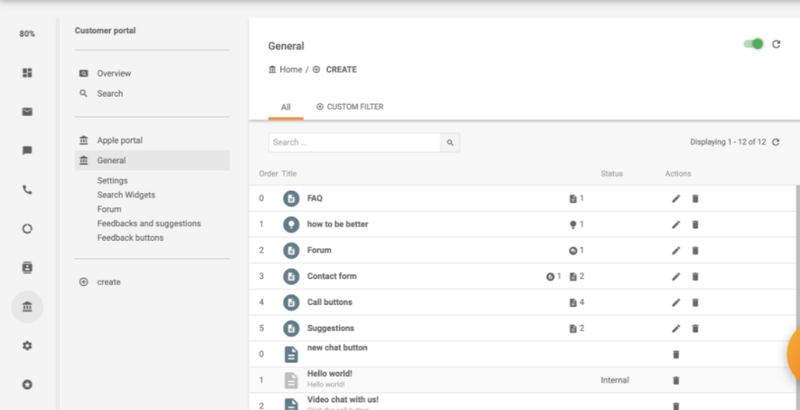 The software lets you create a knowledge base where you can add boatloads of informative articles that your customers can easily access.
Self-service portals save time. This enables customers to find the information they need quickly without needing to go through several hoops and hurdles or waiting until business hours to get it. This ultimately enhances their experience.
---
7. Train your customer-facing teams
Conduct regular training sessions to help your marketing, sales, and support teams deliver seamless services and assistance.
Deliver outstanding B2B and B2C customer experiences by equipping your customer-facing teams with the right product knowledge and soft skills.
A thorough understanding of your products and services is the core of every customer interaction. Without in-depth knowledge, your team is prone to giving inaccurate and faulty advice, which could further aggravate your customers' situation.
Extensive product knowledge and the right skills will help your business:
Understand your customer needs quickly and find the right solutions.
Build confidence in your reps when handling client issues, which can lead to more effective customer communication.
Learn your customers' problems better, allowing you to deliver support faster.
Personalize customer conversations and interactions to build trust and foster loyalty.
---
8. Gather customer feedback
Make it a customer service philosophy to listen to your consumers. After all, they're the best people to learn from to understand the kind of experiences they want from your brand.
Pick your customers' brains by running engaging surveys to gather feedback about your products, services, and brand.
Surveys are easy to implement and scale, and sharing the survey data across your teams can be quick and easy with the right tools.
Use surveys to get feedback about your product's features or latest updates, questions about your processes, and other relevant information. The data you obtain will contain invaluable information about how your customers truly feel about your products and services.
The more you learn about your customers, the better equipped you become at providing highly relevant solutions. All this leads your customers to have an exceptional experience.
---
Take the customer experience to the next level
Build your customer experience around your clients' and prospects' preferences and needs while personalizing interactions.
While the tips in this guide are far from complete, incorporating them into your customer-facing processes and strategies will set your business on the path to success.