Are you a small or medium-sized business in need of inventory and order management support? inFlow is designed to provide efficiencies for processing and managing your inventory monitoring, sales, reordering, and order fulfillment needs.
The inFlow cloud and app-based platform is used in 90 countries and provides a simple solution for solving all your inventory- and warehouse-related issues.
Continue reading for a detailed look at inFlow's online inventory management capabilities to discover where it really shines and see if it's right for your business.
---
Who is inFlow for?
inFlow will support any business that depends on an efficient management of products coming in and/or out of possession. It's a great fit for B2B wholesalers and distributors as well as for retailers, manufacturers, and especially online sellers who need to manage warehouses and order delivery and fulfilment.
---
inFlow's features
inFlow provides all the tools necessary to accurately track inventory in motion to or from your business. You can depend on inFlow for receiving and transferring orders as well as monitoring stock levels across your inventory database in real time.
Here's a full rundown of inFlows seven core features.
Inventory management
inFlow provides core inventory program management capabilities. Track inventory as it moves throughout your supply chain and order fulfillment. Gain clarity and context in your products and centralize management in one platform.
With inFlow inventory management, you can compare supply and demand across your stores, warehouses, and supply chain to appropriately administer reorders in the correct quantities.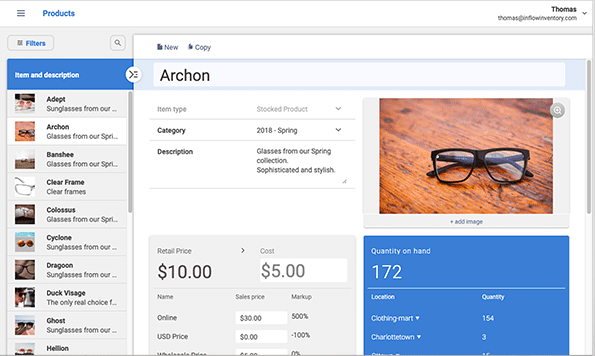 inFlow inventory tracking makes your life easier by recording every order your business receives and fulfills. This includes order details such as quantity, location, recurrence, cost, and margin.
If you're new to inventory management software, these records provide a benchmark on which you can measure performance and growth. And if you're switching from an old inventory system, you can integrate your existing data and metrics into inFlow.
Barcoding
Manually recording product numbers and inputting them into the system is a tedious waste of time. Barcode scanning offers a much more efficient way to record and input inventory counts, incoming and outgoing orders, and more.
It also reduces the risk of human error by eliminating the potential of misrecording or incorrectly inputting products and quantities.
inFlow supports bluetooth and USB barcode scanners, but you can simply use existing smartphones and tablets via their iPhone and Android apps. They also sell a smart scanner that blends real laser scanning with their app.
inFlow works with many different types of barcodes, including EAN, UPCs, and all 1D barcodes. This makes sure you can register whatever barcode system suppliers send your way. You can also use inFlow to print your own labels and barcodes.
Manufacturing
Manufacturing introduces a similar but slightly nuanced set of inventory management needs and pain points. Manual counting and processing raw materials for manufacturing and assembly is just as time-consuming, if not more so, than taking stock of ready-to-sell products.
inFlow automates manufacturing inventory and groups together the raw materials required for each finished product, showing what you have on hand for both as well as your ratio of raw material to sales value.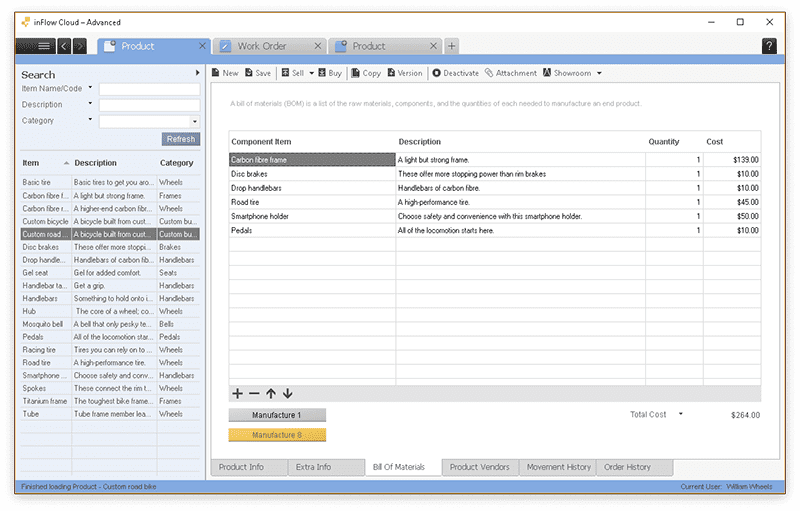 The tricky part about manufacturing is that it's more than the sum of its parts. It's not just tracking inventory but assembling raw materials into finished products.
That means unique labor needs and other unforeseen costs for you to monitor to deliver against margin goals. inFlow monitors these extra costs so you can monitor true costs and price accordingly.
Selling and invoicing
Most sales systems focus on the POS, or point of sale, and include base inventory as a nice-to-have. inFlow reverses this trend by building both inventory management and sales processing into the foundation of the platform.
This results in deep, unique, and highly valuable integrations that enable seamless communication from frontline and online sales to inventory managers, warehouse teams, accounting, manufacturing, and order fulfillment.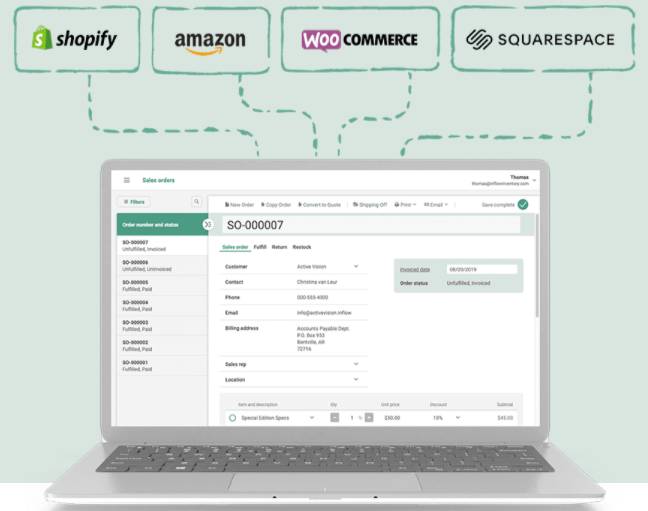 There are few worse things for an online store than "selling" an item which is no longer in stock. It's not the end of the world if it's a product just waiting for a new manufacturing run or for your next vendor reorder.
It just increases the time required to fulfill that order. But if the item is discontinued, you can't complete that order. inFlow monitors stock reserves and automatically alerts you when any item crosses the preset quantity threshold.
Real-time stock levels help everyone across your organization see what's ordered and what's available for order.
B2B portal
A B2B portal is essential for manufacturers and suppliers to easily showcase their inventory catalog to in-person and online stores. inFlow provides an online showroom for your business to display your products. It's easy to set up and include images, price, ordering options, and other details you want buyers to know.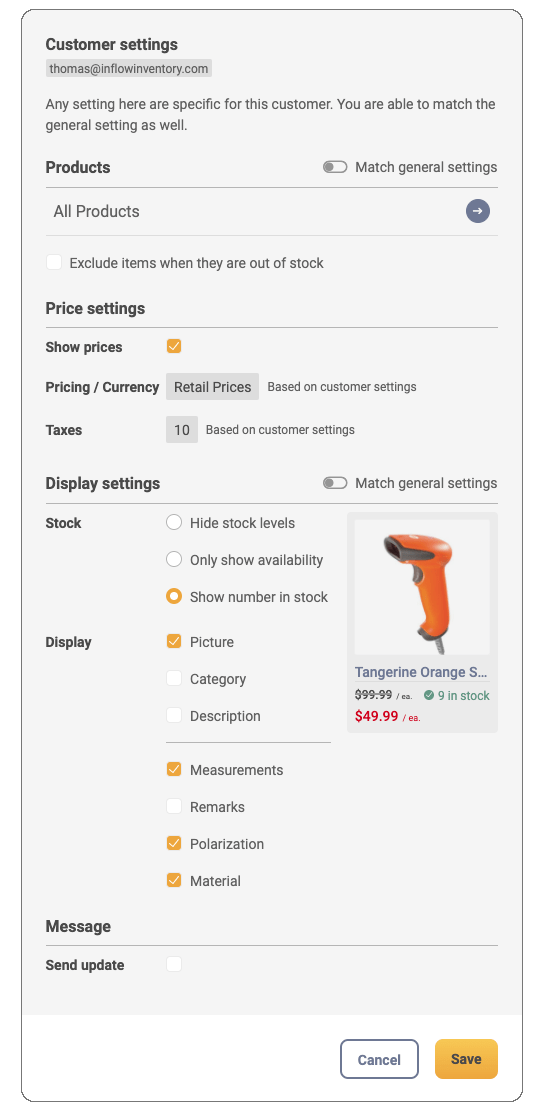 You have the option of creating an online public showroom for any customer to browse your product catalog. Or you can design a bespoke, password-protected showroom to deliver a more tailored experience for VIP buyers.
Either way you set it up, you can process orders and receive payments straight from your showroom. Inventory is updated automatically and the payment will appear in your account after processing.
Purchasing and receiving
It's too easy for reordering to get lost in the shuffle of selling to not do anything about it. inFlow helps you monitor and auto-reorder raw materials and specific products when they cross a certain threshold. The platform makes it as simple as possible to send out all your reorders to a multitude of vendors.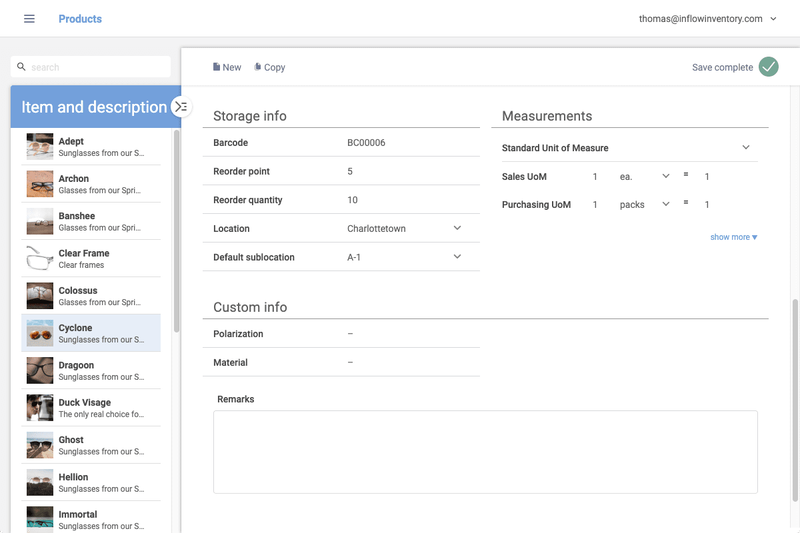 On the other end, inFlow provides a valuable QuickBooks integration to guarantee your purchase orders make it to the appropriate channels for billing management. The system also automatically administers daily updates to your inventory assets account so that you always have a breakdown of your available monetary value.
Reporting
inFlow provides more than 30 pre-built reporting templates for quantifying and analyzing inventory and sales performance, such as your inventory turnover ratio and products on hand.
These reports make it easy to see through the clutter and spot positive trends to capitalize on and identify negative trends to improve upon.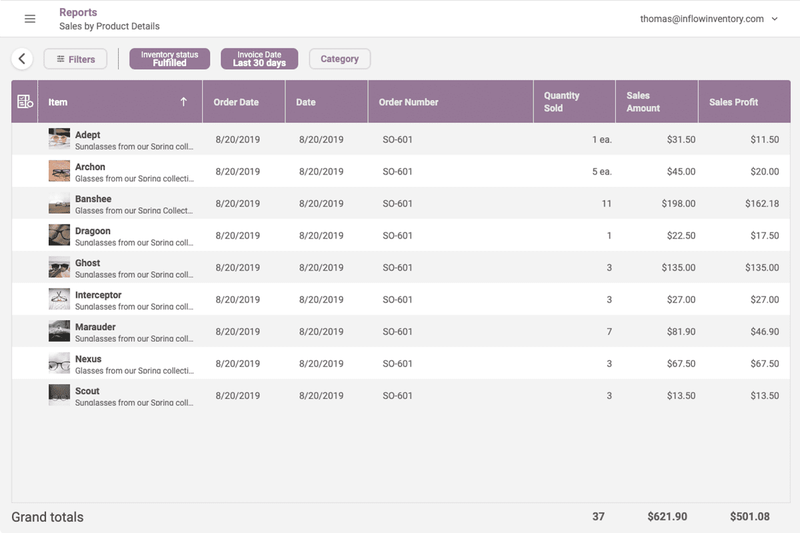 Sales reports include comparisons by product, profit, customers, and more. Purchasing reports include vendor list monitoring and spend, reorder status, payment details, and additional information. Inventory reports include quantities at larger and across locations, product price and cost comparisons, and more.
---
inFlow's ease of use
inFlow is designed as an easy-to-use platform where you can get up to speed quickly. The web-based and app versions offer the spanning feature set with real-time inventory updates at your fingertips.
The functionalities are well-organized and provide a clean, concise user interface for easily unlocking the full power of the platform.
The reporting capabilities aren't super customizable, but there's a ton of pre-built reports to choose from to satisfy your curiosity. And the integrations with QuickBooks, online marketplace, and others make it easy to tie the inventory system into your existing tech stack.
---
inFlow's pricing
inFlow offers a straightforward pricing plan that's welcome in this typically price-witholding inventory space. You can test out a free inventory management product with their 14-day free trial. After that, there are three inFlow pricing tiers.
The light tier is $71/month billed annually and includes two users, one location, and 100 orders per month. Stepping up to the standard tier gets you five users, unlimited inventory locations, 1,000 monthly orders, and additional features for $179/month billed annually.
The final option is $359/month billed annually for 10 team members, unlimited locations, 5,000 orders a month, and more capabilities.
Add-ons at any tier include a module for bill of materials and work order monitoring, access to the inFlow API, or application programming interface, and additional users.
---
inFlow's support
inFlow offers chat, email, and phone support for each payment tier. You gain more hours of onboarding and assistance as you go up in tiers, starting with 2 hours, then 4 hours, and ending with 6 hours.
Along with this, inFlow supports a vast knowledge base that has guides and helpful content. The company also offers webinars and a helpful YouTube channel for video-based training and troubleshooting.
---
inFlow's benefits
inFlow eliminates the need to rely on manual inventory checks that take up too much of your valuable time and introduce too much human error into your processes.
inFlow inventory management empowers you to keep products organized and accounted for and ensure efficiency across your supply chain — all from one centralized system. The feature set helps you understand what's in stock where, what's been ordered where, and where it's due to be sent.
Essential automation baked into inFlow makes sure you don't forget critical reorders, so you always have inventory on hand across your organization.
---
Growing business can rely on inFlow
inFlow is built to support inventory and warehousing management needs for growing businesses. Its features, integrations, pricing, and support combine to deliver a well-built product for SMBs looking to gain efficiencies and expand their business.
There's a simplicity in its design that allows even tech novices to get up and running in no time. And the powerful features and pre-built reports in this inventory management software make it easy to review critical metrics and spot trends to exploit or fix.
If you're moving away from manual methods or a clunky, dated system, inFlow will help you create newfound efficiencies in your inventory management.
---
Frequently Asked Questions for inFlow
Can my full team use inFlow?
inFlow comes with at least two user accounts. As you increase your pricing tier, you gain more users.
What do I need to use inFlow?
inFlow is cloud-based and accessible via web browsers and iOS or Android app. Its barcoding integrates with most bluetooth or USB scanners, and your smartphones and tablets can also be used for barcode scanning.
Does inFlow offer API access?
Yes, you can gain access to inFlow's API for an additional $29/month.

inFlow provides powerful product management features and processes to elevate inventory management accuracy and efficiency for SMBs.
inFlow provides powerful product management features and processes to elevate inventory management accuracy and efficiency for SMBs.
The Motley Fool has a Disclosure Policy. The Author and/or The Motley Fool may have an interest in companies mentioned.