The world is full of distractions constantly fighting for our attention. The onslaught of news, social media notifications, and endless information can cause our brains to short-circuit. This, in turn, makes us less efficient at bringing important projects to fruition.
Not only do project managers have to possess key management skills, but they also have to be prepared to deal with the brutality of information overload. Ignore it, and we're faced with the risk of our projects losing momentum or getting canceled, and everyone experiencing multiple headaches along the way.
Let's look at what can be done to manage this annoying but unavoidable aspect of project management.
---
Overview: What is information overload?
Whenever you're faced with a goal or project, you're simultaneously presented with a multitude of ways to achieve the end result. These endless decisions can lead to information overload.
The concept of information overload was first discussed in 1964 by Bertram Gross, a political science professor at Hunter College. It was then explored in more depth in 1970 in Alvin Toffler's book Future Shock. Clearly, it's an issue humans have struggled with for a long time.
When someone becomes overwhelmed by too many options or decisions, they end up feeling paralyzed. It's this frozen state of mind that hinders the project.
Let's say you want to publish a book. Immediately you're faced with decisions such as topic, tone, length, style, target audience, and so on. You'll also have to decide whether to include collaborators, how to fund the project, and whom to select as an editor. After deliberating over every detailed decision, you might decide it's too much work and give up — which, unfortunately, is what happens to many projects.
No matter how complex the project, it's important to be prepared to combat the effects of information overload. So the more tools you have for dealing with it, the more successful your project will be.
---
4 reasons for information overload in project management
Even though information overload is hardly a new concept, it's definitely become more challenging to manage. Part of this is due to the nature of today's society, with the lure of smartphones and tablets, social media, and endless information just a quick click away. We all struggle with information saturation on a daily basis — both in our personal and professional lives.
1. Increased channels of communication
A typical project manager will most likely listen to the radio on the commute to work, check social media accounts multiple times, read news on leading websites, engage in Zoom or Skype calls, and scroll through hundreds of emails — all before lunch!
The brain can only handle so much information at one time. Engaging in multiple forms of communication can make it harder to absorb the current message or to remember crucial ideas for later.
2. Endless data and options
There's no shortage of ideas out there, with endless online news, scholarly websites, and informative blogs. It's easy to research a single topic for hours (or days) on end. Instead of this massive library of resources being an inspiration, it can often hinder and overwhelm our simple ideas.
Furthermore, when team members are presented with too many choices, it can be extremely difficult for the majority to agree on a single plan of action. In the end, engaging in lengthy research and deliberation can often expand the project's timeline.
3. Conflicting or inaccurate information
Often you can follow a thread or delve too deep into research, only to discover you were relying on sources that lacked proper credibility.
It can take dedicated focus to sort through all the information out there, separating fact from fiction. In the end, this can take a toll on your mental capacity, contributing to the overall effects of information overload.
4. Lack of focus
There's no denying the addictive pull of social media. It can be hard to properly devote yourself to a project when you're constantly getting bombarded with tweets and Facebook messages. It's even more challenging when these activities blend with your work tasks, such as creating a social media campaign while commenting on your friends' posts.
---
How to deal with information overload as a project manager
It's important that you, as the team leader, are completely prepared to address information overload as a real problem. The good news is that with enough preparation, focus, and determination, you can avoid many of the struggles that come with information overload.
Here's a quick look at how to keep your project on track:
Keep it simple.
Get everyone involved.
Use tools.
Minimize distractions.
Focus on the next step.
Keep it simple
The more complex an idea is, the more you're setting the team up for information overload. For example, if your goal is to publish 10 books and you immediately launch into discussing all the topics, ideas, and targeted audiences, you're bound to make everyone's head explode.
Here are some ideas for how to scale it back:
Break the project into manageable, bite-sized chunks.
Divide the tasks up among all team members.
Only list several options for each task.
Schedule regular meetings to discuss future steps.
The goal is to get the ball rolling and keep the project moving along at a good pace.
Get everyone involved
Even though adding in more voices can make the project more convoluted and complex, it ultimately helps everyone view the project from different angles. For example, a team member might have an idea to simplify and streamline a key stage of the project.
You can also assign various tasks to smaller teams, thus eliminating the need for everyone to think about everything simultaneously. Be gentle on those brains! They work best when they have space, time, and room to breathe, process, and create. Cram in too much, and it's system overload!
Also, make sure to develop a project communication plan and enhance communication strategies within your team, such as sending clear and concise emails and offering regular feedback. Remember, information overload in communication is a thing, too!
Use tools
We're a big fan of incorporating tools and software into our daily business tasks, whether it's scheduling meetings, managing a to-do list, or compiling all social media messages into one inbox.
When exploring these options, it's easy to get overwhelmed. Keep in mind that all these programs are amazingly helpful, so don't waste too much time agonizing over which one is the best. Go with your gut, download it, and let the program start working its magic. You'll know the software is the right fit if you experience fewer headaches and feel less overloaded.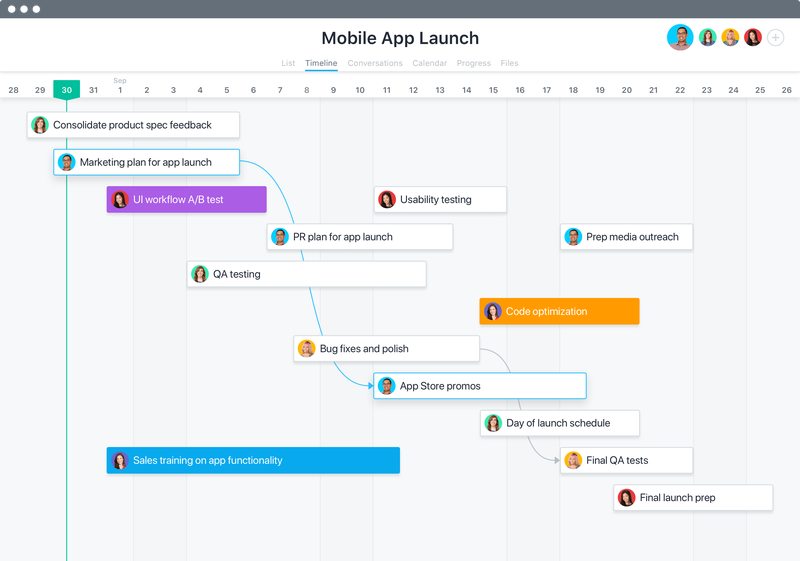 Here are some top choices to consider:
Project management software: Here you can schedule meetings, share ideas, easily view each team member's workload, implement a solid project timeline, and so much more.
Social media software: A good social media software can schedule posts, offer creative ideas, and compile messages from multiple accounts into one easy-to-access inbox. This last feature is crucial for avoiding message overload since it's exhausting to check separate inboxes all day long.
Client management software: Keep track of your customer relationships with an intuitive software. This will save extra brain space, which is perfect for tackling your next project with renewed gusto!
Minimize distractions
As mentioned above, mindlessly scrolling the web is enough to bog down our brains, making it harder to tackle those crucial to-do lists.
We get it. That's why we posted this article on how to stay focused at work. Information overload statistics indicate that this is a universal struggle for everyone, especially those who are part of or managing a remote team.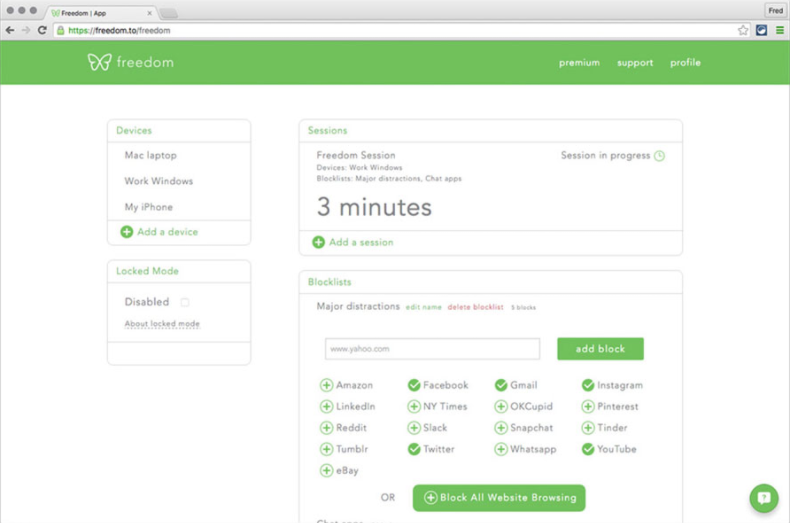 Here are a few tips to keep distractions to a minimum:
Use a website blocker: There are some easy-to-use programs out there that help block addictive websites, allowing you to hone in on the task at hand. As you can see in the image above,

Freedom

allows you to select which sites to avoid and for how long. Unless you're designing your business's social media account, it's best to avoid those sites during work hours. They're like black holes, pulling you in and using up that precious brainpower!
Turn off notifications: Every time you get a beep on your phone, it pulls you away from your task at hand. You can go into each app's setting and select "turn off notifications." Or, better yet, put your phone on "do not disturb mode" while focusing on a crucial task.
Have dedicated "unplugged" time: Many people don't take a break from the constant bombardment of information, whether it's research for work, personal messages, or general life stuff, such as scheduling your car's next oil change. The best way to give your brain a boost is to simply unplug for a period of time each day. Perhaps this can be during your lunch break or just 10 minutes here and there.
Set a timer: There are tons of productivity techniques out there, such as the Pomodoro Technique where you work solidly for 25 minutes, then take a five-minute break. You don't have to follow any of these exactly; in fact, go ahead and create your own system. The goal is to work without a break for whatever length of time you set. It's the focusing in that helps the brain open up to the current job, blocking out all of life's distractions.
Focus on the next step
It's easy to get overwhelmed when you look at a project as a whole. Sometimes this is the very obstacle that prevents people from even starting a project.
For example, let's say you've always aspired to write a novel but are scared by the huge word count of 70,000-plus. This makes it feel impossible to even get started. Instead, try setting the task of writing 500 words per day. Now the task seems a lot more manageable, right?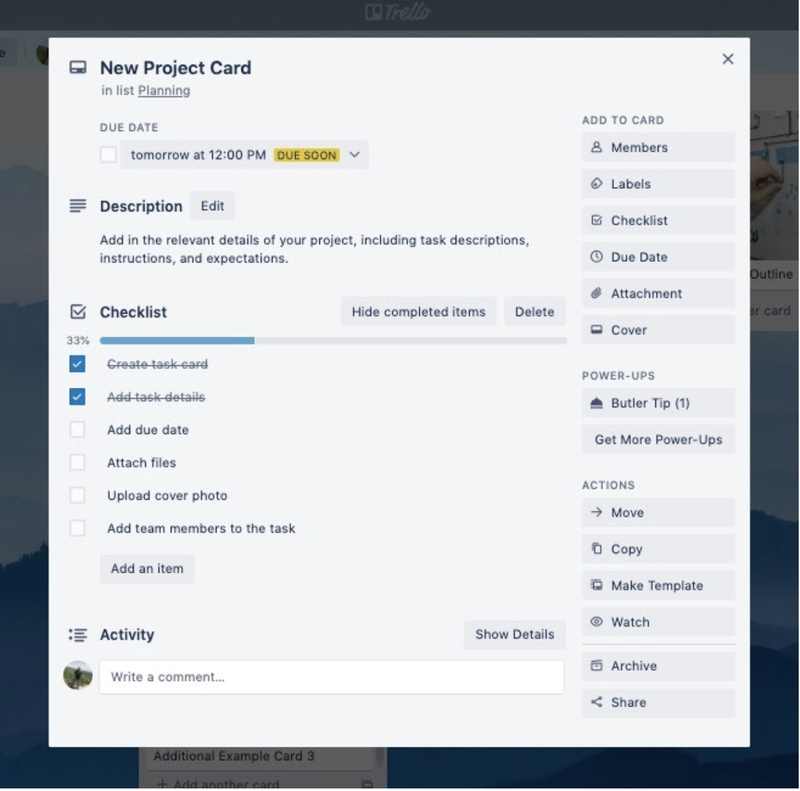 At any point during your project, if you or anyone else starts to feel a breakdown looming, take a step back and focus exclusively on what needs to happen next. Having a step-by-step checklist can do wonders. Most project management software includes this feature, but we especially love the checklists on Trello.
Most importantly, you want to keep moving forward. If you find yourself spending hours debating the next move, just pick an option and go with it. If it's wrong, you can fix it. But often it's that paralyzing indecision that's a death sentence to any project.
---
Always prepare for information overload
It's easy to pretend that information overload doesn't exist. But after taking a look at your daily work schedule, you might notice times you take longer than usual to make decisions. Also, how often are you turning to social media when stuck on a task?
The more prepared you are for this obstacle, the better you can help guide team members through their own struggles. Because the truth is that endless distractions are never going to go away.
Encourage team members to focus on the current task at hand by using a website blocker and/or timer to keep them on track. Keep up with simple and short communication, and don't underestimate the power of positive feedback.
Above all else, use those checklists to focus on small, manageable tasks. One step at a time is the way to go!