Let's say your website has some goodwill, which is the trust users place in you, their admiration for your brand. It also goes under the name "domain authority," and we try to measure that by analyzing backlinks profiles.
It almost becomes tangible, and you can distribute it within your website. Many SEOs will use the term "link juice" to illustrate this concept. Internal linking is about how you distribute the goodwill to the pages on your website. How you make the link juice flow to the right pages.

---
Overview: What is internal linking?
Internal links are links within a website. Some call them inner links. The most common way to use links in a website is in the navigation menu, in the website footer, or at the bottom of the content of a page to suggest reading on about the subject. In more editorially-driven websites, Fool.com for example, you'll also find links within articles allowing you to find definitions or more in-depth content about a word or a concept.
They can be used to add value to an article, help users find the information they need, and help search engines understand your information hierarchy.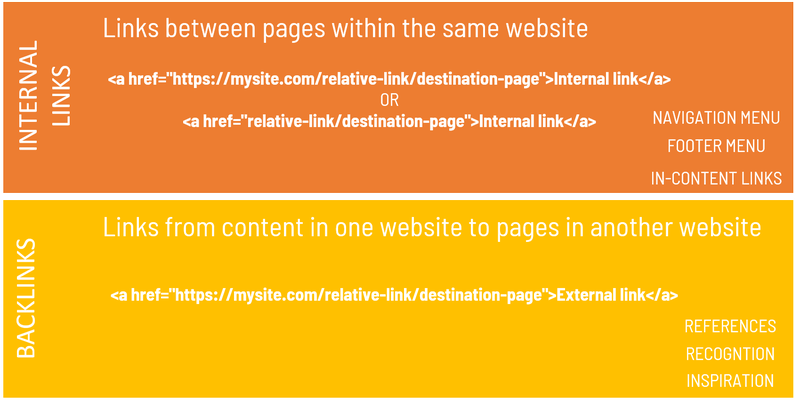 Is internal linking a ranking factor?
Internal links are important for your SEO, but only indirectly impact your ranking in search engine results pages. For search engine optimization (SEO), most people understand that backlinks are important. Backlinks are external links that point from other websites to yours.
The mission of search engines is to present the most relevant content when a user types a keyword. One way of gauging that relevance is by interpreting backlinks, considering them as value recognitions.
---
Why is internal linking important for search engine optimization?
Internal links can't be considered a gauge of the value of your content compared with other sites. However, these links signal to search engines what content in your site is the most important, providing internal links SEO impact.
1. Crawlers can't read all internal links
An internal link structure can present obstacles to search engine crawlers in many ways. The most common problems are pages available via forms or unindexable scripts. Crawlers prefer very simple Ahref links as illustrated in the graphic above. If some pages are only accessible via a form or a drop-down menu, chances are search engines will never crawl them.
2. Unimportant pages can be too prominent
Your site structure tells search engines that your "About" page is more important than any other page on the site because they all link to it. It's probably wiser to have your visitors look at your product pages than your company information page.
Some website owners go to extremes to remove all the navigation menus and footers. However, that's probably unnecessary since search engines are increasingly able to identify those elements via their repetitive appearance and therefore discount their importance.
3. Anchor text is considered important
When search engines crawl a page, they interpret certain elements of the page as more important than others. This includes the title tag of the page, H1 and H2 titles, and anchor text. The anchor text is the clickable text in the link.
---
5 best practices for proper and helpful internal linking
Internal linking best practices are numerous. Some SEOs will consider these practices as hygiene factors. Others will go a long way to sculpt internal link structures for a maximum SEO outcome. Let's look at five best practices for internal linking.
1. Remove crawling obstacles
In this case, SEOs typically suggest workarounds that allow the user to reach a page with one technique and crawlers to find the page via a simple Ahref link. Most leading SEO tools have an integrated site crawler allowing you to see your site structure the way a search engine would, to identify obstacles.
2. Review the wording of your navigation menu
Search engines discount links from navigation menus to some extent, in much the same way they will discount repetitive links from another page. But they will take their first encounter with the link into account and consider it prominent. Therefore the words you use in the navigation menu are important.
If you're serious about SEO, you have probably done in-depth keyword research to find the words users search for. And if your navigation menu uses words like Home, Products, About, and Contact, then you have an important SEO opportunity. Change those menu names to explicitly tell users what they will find under those items.
If you are marketing Ma Dalton's Ice Cream Parlor, change "Home" to "The Ice Cream Parlor", and change "Products" to "Ice Cream Flavors and Cones". Use keywords instead of generic terms.
3. Do the Robin Hood trick
To leverage key pages over unimportant pages, link to them from the pages with the most natural authority: your home page and other pages with strong backlinks profiles in your site. A great way to do this is a structural homepage element showcasing "recent articles" or "popular products" and providing links to these pages.
Use a tool such as Ahrefs or Majestic to identify the pages in your site with the most incoming links. Then go to the Google Search Console to see what internal links are the most frequent on your site. Now, as a good Robin Hood, take from the pages with rich inner links profiles and give to pages with ranking potential who have fewer links.
This requires working page by page of your website to remove and insert links with relevant anchor text. Consider resubmitting the modified pages to search engines when you are done.
4. Create a site map
You can circumvent the indexation problem some sites have with inaccessible pages by creating and submitting a site map via each search engine's webmaster tools. You can also structure the site map to make sure your most important pages are included and omit those you don't care about. They will be crawled anyway, but you've made sure your key pages have priority over the others.
5. Get those external internal links
Search engines have a very strict technical definition of what internal as opposed to external links are: Internal links appear between pages under the same domain; external links appear when a link is established between pages under two different domains.
If you are in charge of the internal link building of a company group or have several brand websites for your company, you can do interlinking SEO. Sites placed on different domains will be considered as external sites, while your internal linking becomes interlinking instead.
---
Channel goodwill to ranking candidates
Link structures within a website should enable search engines to crawl a site. Once that hurdle is passed, internal linking can have further impact on your SEO by linking from stronger pages to pages with a high ranking potential in search engines.
An internal linking strategy alone will rarely resolve overall poor SEO performance, but it can help you rank select pages, which can have a significant impact on traffic and business results.