Information Technology (IT) is an afterthought for many businesses until technical issues crop up. That's when the most tech-savvy person in the room is tagged the "IT whiz" and asked to struggle through a solution.
Our reliance on technology means these issues can freeze a business in its tracks, sap team productivity, frustrate customers, or all of the above. If these technical snags start to mount, it can hurt your company's revenue. The solution is straightforward: Establish an IT help desk.
---
Overview: What is a help desk?
A company's help desk is a team of technical support specialists trained to troubleshoot issues and address the technology requests of an organization and its customers.
These requests are often reported through an IT ticketing system, such as ServiceDesk Plus, which is software that enables users to submit requests or report issues electronically.
The help desk team uses these IT tickets to communicate with users, document related information such as a screenshot of a system error, and ensure the reported item is resolved in a timely manner.
Help desk personnel can also jump on the phone with the user and walk them through the steps needed to address their concerns.
The help desk is a key part of IT service management (ITSM), an approach focused on how IT organizations deliver value to customers and your company. The Information Technology Infrastructure Library (ITIL) underpins ITSM by defining best practices for ITSM implementation, which includes the help desk.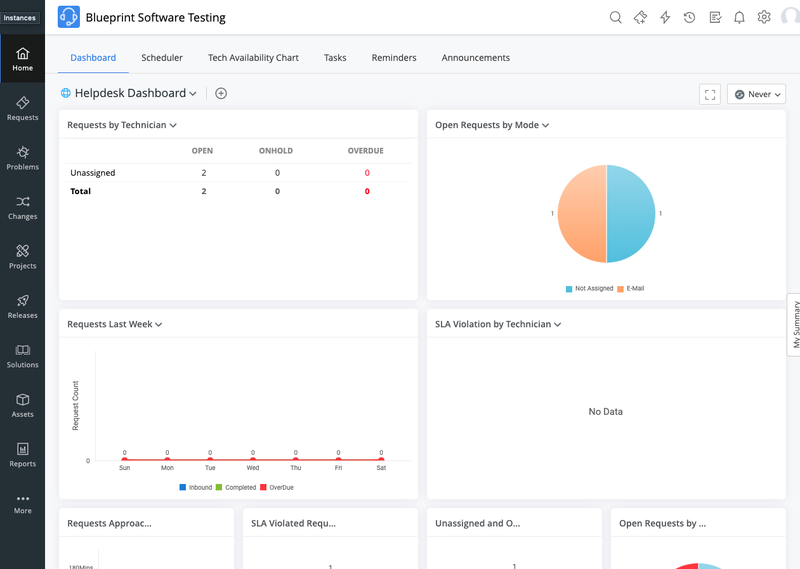 ---
Help desk vs. service desk: What's the difference?
The ITIL framework places help desk under the service desk function. What's different about the help desk and service desk? The former involves a subset of responsibilities under the service desk.
The help desk resolves technical issues, which ITIL labels incidents, and IT support requests that are tactical in nature. Let's say you're using a software tool and it suddenly stops working. The help desk is responsible for troubleshooting.
The service desk's purview extends to strategic IT responsibilities. Service desk personnel examine existing processes and perform data analysis to proactively look for improvement opportunities.
They implement other ITIL processes such as a configuration management database (CMDB) to track changes as part of ITIL's change management practice.
For smaller organizations or those with limited resources, a help desk implementation meets most needs. To fully execute ITSM, your company should strive for a service desk.
---
Benefits of having an IT help desk for your small business
Many companies start their IT journey with the help desk. This approach makes sense since an IT help desk delivers several benefits.
1. Increases organizational efficiency
When the technology your team relies on fails, the organizational costs are high. Staff productivity and morale plummet, customer service falters, and client frustration rises. The help desk's role in quickly confronting these incidents allows your company to get back to work faster, maintaining business continuity.
Your organizational efficiency improves daily just by your employees knowing where to turn for IT help. The help desk addresses routine organizational needs such as setting up new system accounts, resetting forgotten passwords, and addressing technical questions from employees or customers.
2. Resolves problems
The help desk plays a central role in tackling technical issues as part of ITIL's incident management practice. These incidents are usually unrelated. But if a series of incidents appear connected or create a pattern, a deeper issue may be the cause.
ITIL calls these systemic incidents problems and outlines separate problem management practices to resolve them.
Without a help desk to track incidents and flag when the IT system suffers from a deeper issue, these problems can go unresolved while user frustration grows and confidence in your system declines.
The help desk's unique position as a single point of contact for technical issues means they're best equipped to catch problems early.
3. Improves the user experience
The help desk delivers a better IT service experience to users. The help desk team possesses the technical knowledge to answer questions or resolve hardware and software issues quickly and efficiently.
The help desk acts as the central point of contact for IT items, so your users know where to get the help they need. This structure also allows the help desk to maintain a consistent thread of communication with users as requests are worked on, and to let them know when their request is resolved.
---
Best practices for implementing and using an IT help desk
Establishing your company's help desk is a straightforward process. Keep these best practices in mind to maximize the help desk's success.
Practice 1: Identify your needs
Start by determining your IT support desk's needs and goals.
Will your help desk work with customers, internal teams only, or both?
What amount of coverage do you need? Do you require IT support 24 hours a day, or just during business hours?
Define your help desk's scope of work. Will they service just a part of your organization? Do they focus on high-value clients? Should they address only the technical issues and requests that come in, or will they be expected to handle broader responsibilities such as analyzing trends and setting up automated workflows?
How will your customers or internal users contact the help desk? Will you use email, phone, chat, text, or a ticket system?
Reflecting on these factors helps you model out projected workload so you know how many help desk technicians you require. For a team without broader responsibilities, target your help desk to spend about 70% of their time addressing requests and resolving issues. The remaining time is for miscellaneous items such as meetings, training, and breaks. Adjust this utilization rate depending on the team's scope.
Depending on your needs and budget, weigh whether to outsource your help desk to a third party or to hire internally.
Practice 2: Provide processes and tools
After you identify your help desk needs, you can align processes to them, then adopt IT management software to support those processes.
For example, if you have a small help desk team, create a workflow where users can visit a self-service portal first to find answers in your online knowledge management database before contacting the help desk. This keeps the team from answering the same questions over and over.
Create help desk guidelines, focusing on task prioritization. Not all user requests require the same level of urgency and priority.
Outline the criteria for high-priority items so the help desk team knows when a request must rise to the top of their list, and when it's time to escalate an item to managers or other departments.
Implement a service request process where users submit an online form, called a ticket, outlining their IT needs to the help desk. This creates a means to track request progress, enables centralized communication, and ensures requests aren't lost or forgotten.
Practice 3: Implement automation
As your business grows, the demands on your help desk increase. Keep costs under control while continuing to deliver quality IT service by employing automation.
Automated workflows can address many routine help desk tasks. Common examples are noted below.
Set up your IT systems to automatically resolve forgotten account passwords.
Define rules in your IT ticketing system to route tickets to the appropriate team members.
Create an automated response to confirm receipt of submitted tickets and give users the ticket number for reference.
Practice 4: Define SLAs
Your help desk implementation's most important element is your service level agreements (SLAs). These SLAs define the help desk's commitment to addressing IT requests within a specific timeframe.
Customers and other users care only about how long it takes to complete their IT requests. Set their expectations by communicating the SLA for resolution or, if that's unpredictable, as is often the case with technical issues, the time interval for updates.
Your help desk SLAs depend on the number of staff, their work hours, and how many daily requests they receive.
Practice 5: Track metrics
Your company's first help desk implementation is a starting point. The operation will need to evolve as your business grows, and as you see which processes and tools work best. It's also a core ITSM tenet to continually identify improvement opportunities. But you can't improve what you don't track.
Establish metrics and goals for your help desk, then see how you can meet or exceed these benchmarks. The SLAs are one set of key metrics, and you can contrast these against the help desk's average response time, and length of time to resolve tickets.
Track the number of tickets received, and categorize tickets based on the request type, such as the number of times the help desk is asked to reset a password. Use this data to evaluate factors such as which areas to automate, and how many support personnel you require.
---
Final advice for IT help desk implementation
ITIL defines IT services best practices, but there's no right or wrong way to implement a help desk. Start with a handful of key processes and tools so the initial help desk investment is manageable, then build from there.
Tailor the help desk to the needs of your organization, and you'll extract maximum value from your help desk implementation.