Those who work in IT can attest to the countless tasks and requests they deal with every day, from creating new employee email addresses to fixing website glitches. This career field is an endless barrage of problem-solving that requires lots of patience and organizational skills.
IT management software frees up your IT team's mental capacities so they can concentrate on the tasks at hand and not have to remember everything that needs to be done. IT management software also gives you the chance to establish your ITIL framework and align it to the needs of your business, rather than playing fast and loose with your support structure.
Like most management software tools, this is all about improving efficiency, improving quality of work, and reducing the likelihood of systematic team breakdowns.
Here are the top picks for the best IT management software options:
Our top 8 picks for the best IT management software
We've reviewed some of the most popular IT management software tools on the market today, and we're constantly looking for new platforms to inspect. These are the top eight tools we've reviewed based on their ease of use, pricing, benefits, user interfaces, and target markets.
1. SysAid
SysAid is a phenomenal IT management tool thanks to its simple user interface, easy ticketing systems, unique features, and a solid list of support options. My favorite feature of SysAid has to be the asset management system.
Not only does SysAid offer all of the standard asset management functions such as asset lists, incident forms, and monitoring alerts, it also offers a unique asset web tool.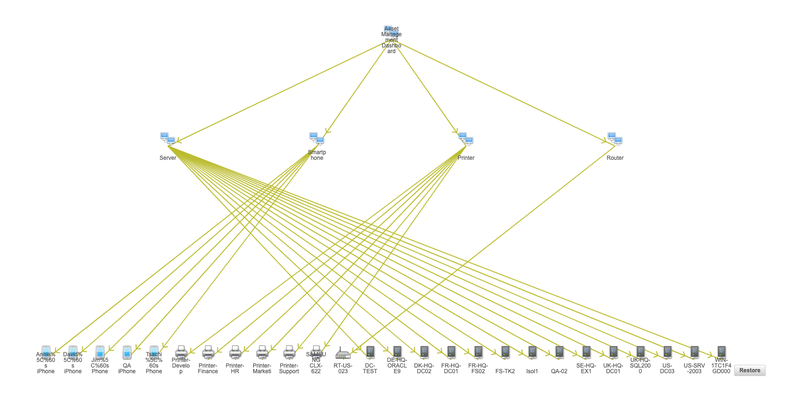 This visual network tool shows you how your organization is connected through the computers, phones, servers, and modems/routers you own. This web can be altered and rearranged to your liking, making it a great visual asset for understanding exactly who has what and where.
The one downside to SysAid is the absence of pricing on its website, which usually means a platform is not cheap. Remember that if you test-drive this software.
2. ServiceDesk Plus
ServiceDesk Plus is the "almost as good" SysAid in terms of ease of use, features, and support options. I know that's a weird way to describe this platform, but it's true once you dive into it.
Their features lists are practically identical, the ease of use is almost as good as SysAid's, and ServiceDesk Plus hides its pricing, too (sigh). While ServiceDesk Plus doesn't offer a visual asset web like SysAid does, it offers every other feature you could ask for in an IT management system.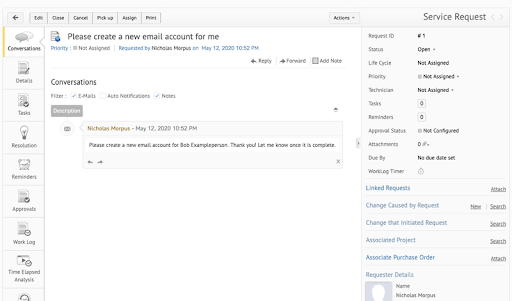 Choosing between these two platforms will mostly come down to price. Since neither platform advertises its pricing on the website, you'll have to negotiate rates and choose whichever one is best for your budget.
The only downside I found while reviewing this tool are the potential timezone and language barriers with ServiceDesk Plus' phone support since their teams are located in India. Other than that, you can't go wrong with this option.
3. Freshservice
Freshservice is a robust IT management solution that'll manage your tickets, measure support performance, manage your assets, and produce progress reports for your entire IT team.
That being said, despite the fantastic user interface, simple learning curve, and decent list of features, Freshservice is expensive in certain areas. I don't like being nickeled-and-dimed, and when I read through Freshservice's pricing, I can't help but feel like users are being taken for a ride with some of its rates.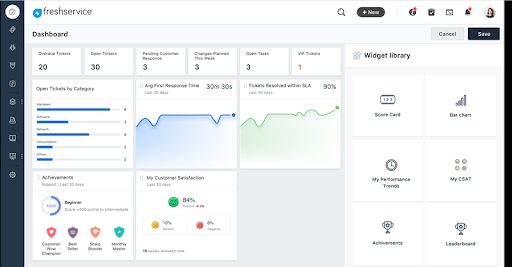 For example, Freshservice's lowest pricing tier starts at $29/month per user, which is a high price tag. On top of this subscription rate, it also charges a $0.20 fee for each device that's managed on the platform.
Most platforms I've seen don't charge these fees, so why does Freshservice feel the need to? The good news is, the other pricing tiers offer 100 devices without the surcharge. If you go over this limit, you'll pay anywhere from an additional $40 per month for 250 assets to $1,500 per month for unlimited assets.
4. SolarWinds Service Desk
SolarWinds has a lot to offer as a quality IT management software option — if you're willing to pay for it. Everything you'd need from ticketing and incident management to asset management and reporting, SolarWinds has you covered.
However, judging by the average list of features you can find in other solutions, SolarWinds' pricing runs on the expensive side.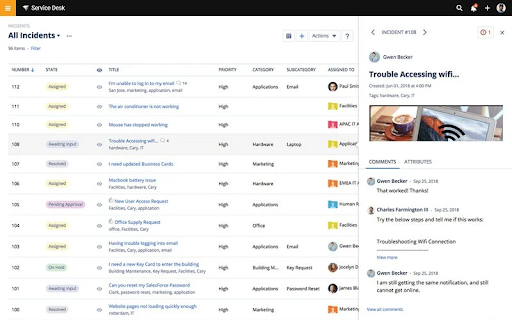 Baseline pricing is standard considering the industry, but there's an additional cost associated with each device you manage through the platform.
If your organization handles dozens of employee computers, phones, routers, and other gadgets, you'll pay an associated cost per device that goes as high as $0.70. While that doesn't seem like much, this cost can easily get out of hand with a large organization.
5. Zendesk
Zendesk is customer service management software, but that doesn't mean it can't double as an IT management platform as well — with one minor concession.
The only major feature Zendesk lacks is an asset management system. Instead, you'll have to use a third-party tool for tracking and managing your assets, but once you get past this, you'll find that Zendesk is an incredibly capable and simple IT management tool.
Using Zendesk, you can easily track your tickets, manage your knowledge base articles, measure your success, and develop detailed reports.
The user interface is clean and clear, making it easy to learn and navigate and meaning you can spend less time learning the platform and more time solving your company's IT issues.
Zendesk is very affordable considering everything that's included in the lower tiers. Zendesk's subscriptions start at $5/month per user and top out at $149/month per user for the enterprise tier, with multiple options in between.
6. Jira Service Desk
Atlassian didn't knock it out of the park with its service desk platform, like some of their other tools did, but this is a functional and user-friendly option.
Jira Service Desk borrows many familiar functions from its project management platform, so if you have experience with Jira, you'll have little to learn. Where this tool really falls short in my eyes is the lack of any native asset management functionality.

Instead, you'll have to rely on a third-party tool to manage your organization's computers, servers, phones, etc. This is bothersome because although you have multiple options to choose from in the Atlassian marketplace, it means you'll have to pay for them on top of your Jira Service Desk subscription.
Outside of this issue, if you already have an asset management platform, Jira is a perfectly acceptable IT management solution.
7. Spiceworks
Spiceworks differs from other options in this list for multiple reasons. First off, the self-hosted version of Spiceworks can only be installed on Microsoft Windows servers, so if you're running Linux or any other type of server, you're out of luck.
Second, Spiceworks is free, thanks to advertising, which is unique for this type of software. Finally, there is no phone support available, so if you need a question answered, or you're experiencing an issue, you'll have to figure it out using Spiceworks' knowledge base, or contact their team via email.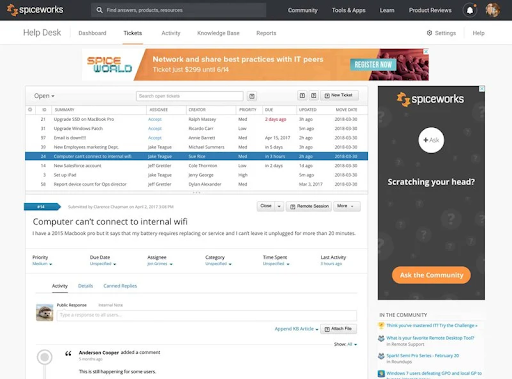 Differences aside, Spiceworks is quite appealing considering it's free. It's better suited for smaller businesses rather than large enterprises, which is reflected by the simplicity of its features.
For instance, Spiceworks doesn't offer any advanced reporting capabilities — just a simple dashboard that measures the different types of ticket categories, response times, and open/closed rates.
If you're running a small operation, and all you need is a simple and free ticketing system, Spiceworks is a unique option that might fit the bill.
8. Kaseya Vorex
I have second (and third?) thoughts about putting Kaseya Vorex on this list. I've had some time since my initial review to reflect on my thoughts about this platform, and they haven't gotten any better.
In fact, they've gotten worse. Vorex is bland, outdated, unreliable, and pricing isn't available. Never have I experienced a software trial where the servers went down for over an hour with no announcement or clarification from the vendor.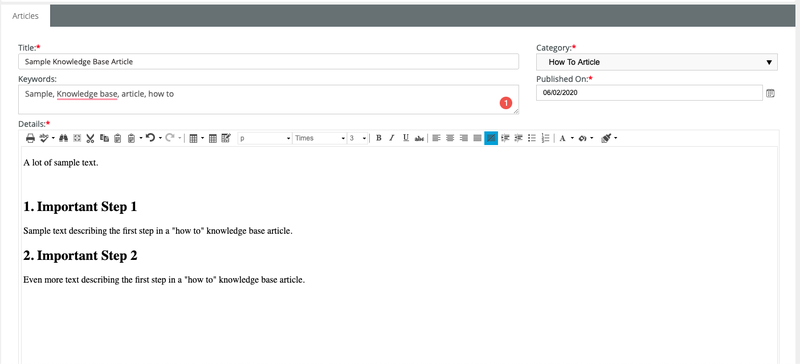 Once my access was restored, I was met with more disappointment thanks to the retro 90s look of the user interface. It's 2020, so I'm pretty sure we've advanced beyond these clunky, outdated design choices.
Everything about this platform is severely underwhelming, especially for an enterprise-geared software option. I suspect once we review other platforms, we'll boot this one off our list faster than you can say boo.
What The Blueprint looks for in a great IT management software
1. Ticket management
This is the bread and butter of an IT management system. Ticketing systems give your IT team the ability to create, track, manage, and complete support tasks in an efficient and organized manner.
These systems let end users submit tickets along with your IT team, and the best systems automatically delegate those tasks to available or best-suited team members.
2. Self-service portal
Your IT management team won't be available 24/7, and sometimes your users need a way to solve issues on their own, especially for small problems.
That's why it's important for your IT management software to include self-service portals that provide answers and workarounds for common issues that would otherwise go unsolved during non-active hours or clog up your ticketing system with easily solved problems.
3. Ease of use
Ease of use is always important, but with IT management, your support teams shouldn't be burdened by learning how to navigate and use a new tool. My criteria for ease of use is pretty straightforward:
Can I find most of the major features without guidance?
Can I figure out how to use most of those major features in 20 to 30 minutes?
I don't factor into this assessment some of the unique tricks, hotkeys, and features because those are typically learned over the course of time. I want to know if a new user can learn most of what they need to know on the first day of use so they can spend less time learning and more time being productive.
How your business can benefit from using IT management software
IT management software will help you solve issues for your end users, but what are some of the more intricate benefits of picking up a new software platform?
Higher quality end-user support
Do you know what's better than your end users just walking up to you and asking for things? Having all of those requests and issues cataloged, tracked, and measured in a sophisticated software system.
IT management software allows you the peace of mind to work on issues without having to remember every detail of a request, which results in higher quality support.
Set clear expectations for your end users
This benefit goes hand in hand with the last. Your IT management system will allow you to create an ITIL (information technology infrastructure library) change management structure that is easy to understand when your business needs to execute a pivot.
These clear expectations will lead to a higher level of support quality and ultimately build cohesiveness between the different teams in your organization.
Performance improvements
Most IT management systems come with some kind of reporting systems, and the best offer insights into your team's performance. Using this information, you can always identify bottlenecks and find new ways to improve your structure so your team isn't dealing with a significant backlog of requests and issues.
IT Management Software Frequently Asked Questions
What are the dealbreakers for selecting IT management software?
The biggest dealbreaker for me comes down to ease of use. Overly complicated systems lend themselves to problems that you don't want to deal with, especially when you're paying anywhere from hundreds to thousands of dollars each year for your software.
If your IT team can't figure out how to use the platform in a day or two without frequent and thorough instruction, then it's time to look elsewhere. You never want your problem-solving software to become the problem.
Is asset management a necessary feature?
Yes and no. Yes, in most cases, it's in your best interests to have an asset management system to track all of your devices (computers, tablets, phones, cables, servers, etc.).
But no, it isn't absolutely necessary. While it's probably best your IT management system comes with this capability, it's possible to use a third-party IT asset management software in conjunction with your main ticketing system.
What will IT management software cost my business?
I have no clear-cut answer to this question since all vendors have their ways for pricing their software platforms. However, the average price I've seen for these tools typically starts around $5/month per user and tops out around $18/month per user for the high-end enterprise tiers.
Even if your business is relatively small and/or new, you'll find some free options to choose from. One of those is even included on this list.