Every information technology (IT) department is a black box to outsiders — that is, anyone who's not an IT tech — because they don't understand what IT does, or even why they're doing it.
As a result, your IT department can become disconnected from the rest of your business processes, other employees and clients, and your company's overall objectives.
That's why you need to implement IT Infrastructure Library (ITIL) protocols, a collection of project management best practices for IT departments. We'll go over ITIL Version 3 (V3), and see how it can help your IT department provide continually improving support to your company and customers.
---
Overview: What is ITIL V3?
ITIL originated in the United Kingdom (UK) in the 1980s as a collection of recommendations to standardize IT service management (ITSM), based on the plan-do-check-act (PDCA) cycle.
These principles are not specific to any particular hardware or software. Instead, they can be applied to any IT department to improve services and better align IT activities with overall business objectives.
Released in 2011, the ITIL V3 foundation consists of five books, each of which addresses a core process within the IT service lifecycle:
Service strategy
Service design
Service transition
Service operation
Continual service improvement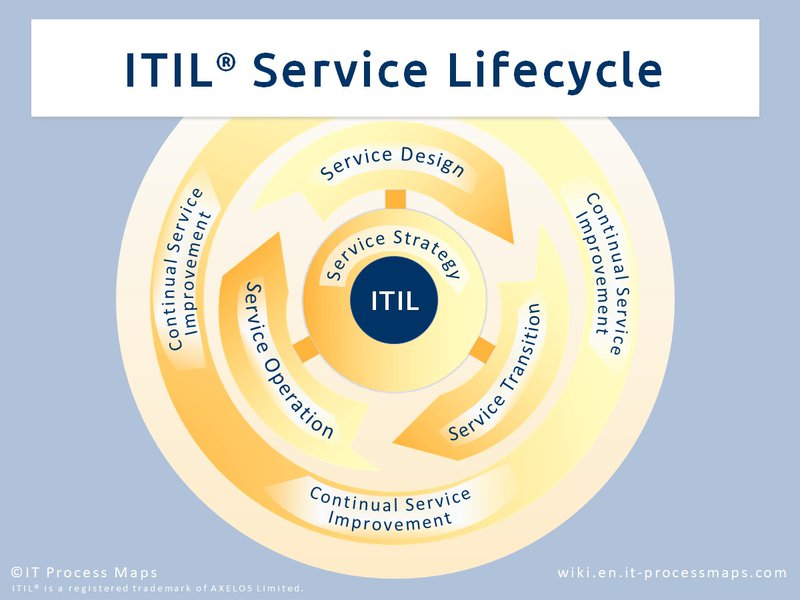 Potential benefits from implementing ITIL V3 include:
Better aligned IT and business processes.
Improved service delivery and customer satisfaction.
Better utilized resources.
More visible IT assets and costs.
Better managed business risk, including service disruption and failure.
Improved IT service environment to support ongoing business change.
AXELOS issues ITIL certifications to individuals only, not businesses. It's a joint venture between the UK Cabinet Office and Capita, a professional services company based in London.
There are five ITIL V3 certification levels:
Foundation
Practitioner
Intermediate
Expert
Master
Certifications are earned You earn certifications by taking courses from approved training providers and exams administered by AXELOS. ITIL certifications apply to over 50 different career paths, including service desk technicians, IT (security) architects, and chief technology officers.
ITIL V2 vs. ITIL V3: What's the difference?
The original iteration of ITIL consisted of 30 books. Released in 2001, ITIL V2 comprised seven books that covered two core disciplines: service support and service delivery.
At its heart, ITIL V2 focused on IT department processes. When ITIL V3 was released 10 years later, it didn't replace ITIL V2. Instead, it overlaid a service lifecycle approach to ITIL V2. In addition, ITIL V3 used a hub-and-spoke structure as opposed to the more linear orientation of ITIL V2.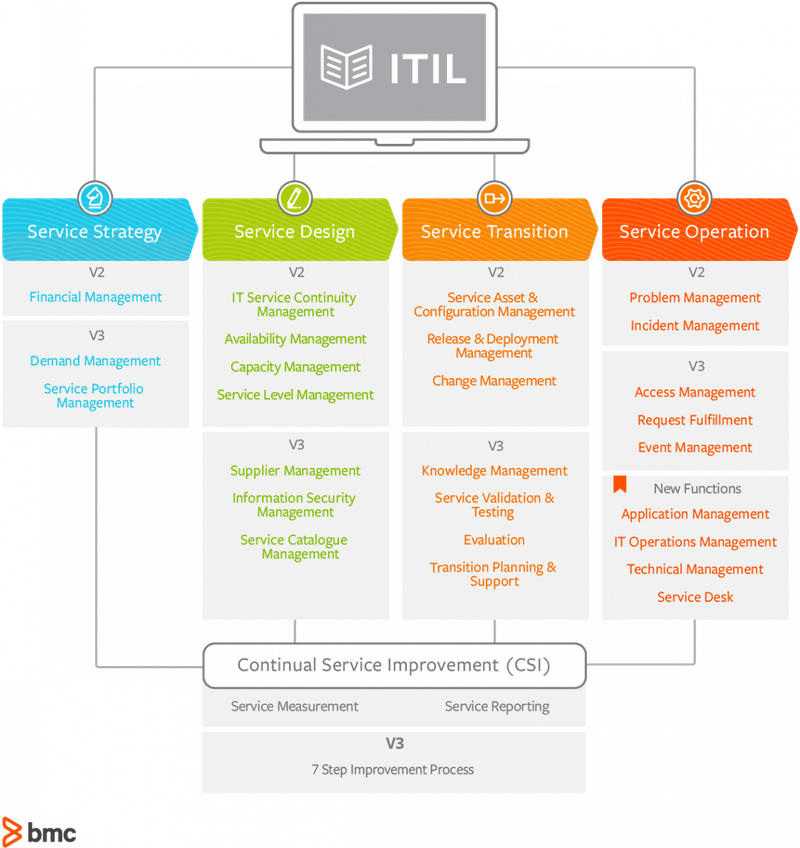 ITIL V4, released in 2019, didn't replace ITIL V3. It built upon those concepts by introducing the service value chain (SVC) to deliver even better products to internal and external clients.
---
The 5 ITIL V3 framework processes
Before implementing the ITIL V3 service lifecycle concept via the five core processes below, conduct a gap analysis to identify which IT areas would most benefit from it. You'll produce results more quickly and generate support and buy-in within your organization for the overall ITIL framework.
1. Service strategy
Use the service strategy process to formulate plans to better serve your internal and/or external clients. This requires three things: determining customer needs and wants, evaluating your business's current and potential capabilities, and identifying your competitors' abilities.
For example, you might implement new IT help desk software to reduce the time to resolve submitted help tickets. Or perhaps you've added automated clearing house (ACH) payments as another option for customers to use that will also generate more predictable revenue for your business.
Establish benchmarks to measure the success of each ITIL V3 service lifecycle process. Common service strategy key performance indicators (KPIs) include:
Number of services added
Number of customers gained or lost
Customer satisfaction rates for each new service
Cost of each new service relative to the total return on investment (ROI)
2. Service design
Once you've identified a new service to implement, service design goals include specifying the exact requirements for each new service offering. Service design can also address changes or improvements to existing services.
With help desk software, you might create a new service level agreement (SLA) with an external client that lays out specific benchmarks for incident management and IT ticket resolution.
Or, you could formulate an IT Service Continuity Management (ITSCM) plan to address a potential data breach related to ACH payment processing.
Service design KPIs include:
Services covered by SLAs
Number of incidents caused by service capacity shortages
Time to resolve incidents
Gaps in disaster preparation
3. Service transition
Service transition deals with the seamless delivery of services while changes are being implemented. This also requires a coordinated change management process.
Going back to the help desk and ACH payment examples, you must ensure that user help tickets or customer payments would not be lost or jeopardized during new software implementation and that future software updates and hotfixes are released without incident.
Service transition KPIs include:
Number of software releases
Duration of major deployments
Number of releases rolled back to a prior software version
Percentage of automatically distributed releases
4. Service Operation
The service operation stage concerns completing day-to-day operational tasks, fixing problems and service failures, and resolving user/customer requests.
With both your new help desk software and ACH payments, service operation information will come primarily from performance analytics at both the macro level (department- or business-wide) and the micro level (an individual help desk agent or a specific transaction).
Service operation KPIs include:
Number of incidents
Number of escalated incidents
Number of resolved incidents
Average incident resolution time
5. Continual service improvement
In the first graphic above, continual service improvement (CSI) wraps around the other four ITIL processes in the service lifecycle. It relates to big picture issues: service reviews, process evaluations, and the definition and monitoring of CSI initiatives.
CSI ultimately evaluates and modifies the other four ITIL V3 processes. How smoothly did you implement a help desk solution? Did your customers, website, and bank effectively handle ACH transactions? How could you improve overall performance and user satisfaction at both the macro and micro levels?
CSI KPIs include:
Number of service reviews and process evaluations
Number of audits
Number of identified weaknesses
Number of (completed) CSI initiatives
---
Integrate IT with the rest of your business
ITIL originated as an ad hoc collection of IT best practices and checklists, but it's evolved into something much more significant: a method to integrate each IT department within the larger organization it serves.
You must deliberately invest time, training, and money to successfully implement ITIL V3, but all your business processes will end up working more effectively in tandem.