---
Who is Jira for?
Jira started as an issue-tracking tool built for software development teams, and it slowly transformed into a general project management system for non-IT teams. It offers everything a collaborating team might need to complete internal tasks, such as task management, issue tracking, time tracking, and reporting.
However, Jira's lack of financial management features eliminates it as a possibility for professional service industries that deal with contracting and freelancing.
This product is perfect for software developers, obviously. It's also great for collaborative teams no larger than 10 people thanks to its lower starting price. However, once you move beyond 10 users, the price starts to add up, and it might be wise to consider other project management software options that offer more features for less money.
---
Jira's features
Jira's features focus on task management, issue tracking, and collaboration. Unfortunately, there are no financial features such as budgeting or invoicing, which is surprising considering the price point of this software.
Management and planning features
Task prioritization and scheduler: Jira uses kanban and Gantt (timeline) systems to plan, manage, and execute tasks within the software. All it's missing is a traditional task checklist to help you list out steps to completion.
Time tracking: Jira's reporting features include time tracking so you can see what's holding up task completion and what pain points to address.
Documentation features
Collaboration features
Communication: Although Jira is missing a live-chat function, it does include comment and activity sections within each task to promote collaboration between team members.
File sharing: As mentioned before, each task window includes a file upload system for sharing relevant project materials.
Mobile application: Jira offers a mobile version of its software for both iOS and Android users so you can remain in contact with your team and coordinate project tasks on the go.
Security features
Single Sign-On (SSO) integrations: Jira integrates with multiple big-name SSO providers, such as Okta and OneLogin.
Two-Factor Authentication (2FA): Jira allows you to set up additional identity verification through 2FA.
Account permissions: Protect your assets by using granular permissions (task, team, and project) controls to restrict access to only the correct users.
Password policy control: Establish password guidelines for your users to follow to ensure the protection of your assets.
Budgeting and reporting features
Report dashboards: Track the progress and workloads of your teams through Jira's detailed reporting dashboards.
Jira does not include any budget tracking or other types of dedicated expense reporting features.
---
Benefits of using Jira
A few years ago, I used Jira while contracting as a technical writer for a newer hotel management software company. The team was using Jira for development and issue tracking, and at the time, I hated it. I thought it was bland and confusing to navigate.
Now, a few years later, color me surprised. Jira is so different from how I remember it. It's visually appealing, it's extremely user-friendly, and for what it does, it does very well.
To start, Jira walked me through a setup process that included picking a structure that would best suit my needs. As a writer, I was inclined to select a kanban board setup since I'm familiar with that system. This kind of flexibility in task management appeals to me since not every project is suited for Gantt (timeline) charts or basic task lists, yet some project management tools force you into using one particular system.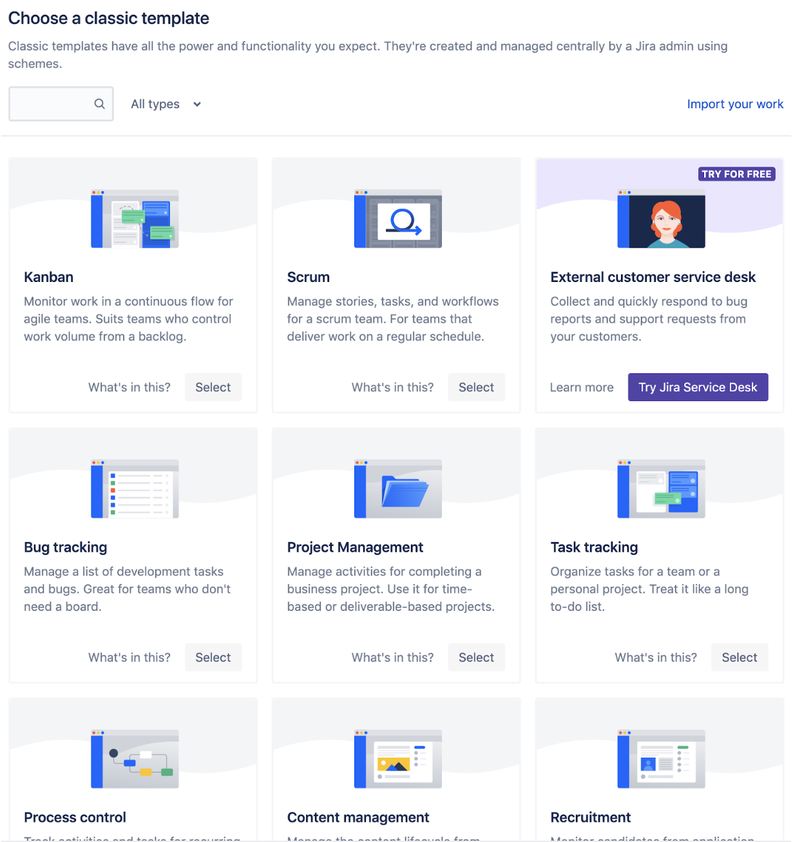 After I chose a kanban setup to manage projects, I began adding tasks in the form a content management workflow. The task creation form is standard, giving me the choice to assign tasks, attach files, add descriptions, mark the task priority level, and set due dates.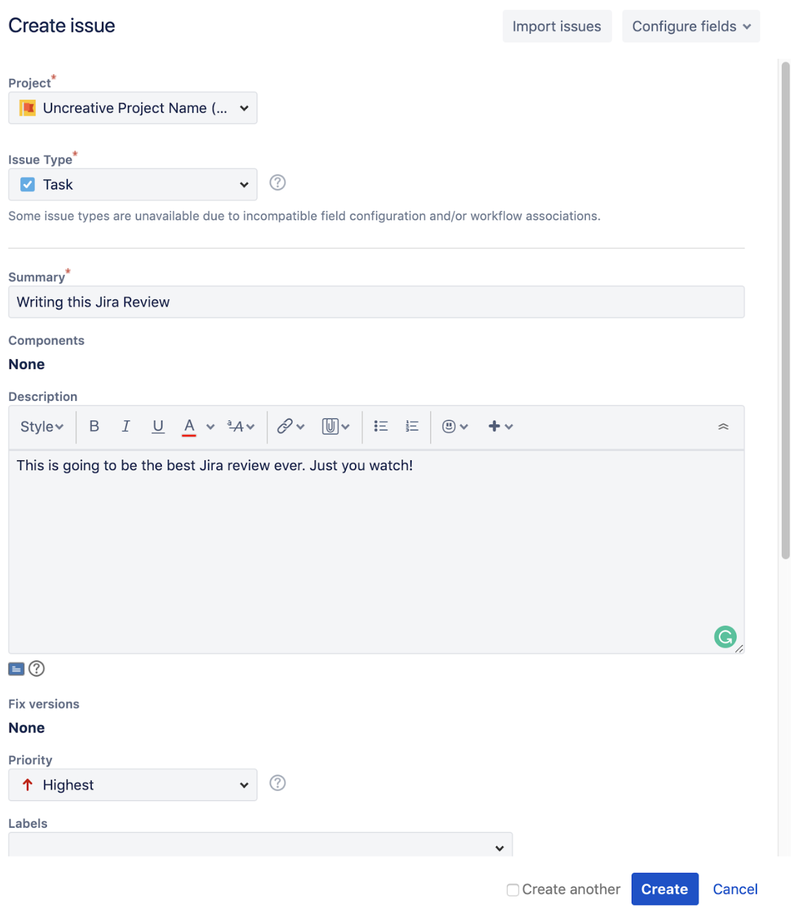 Everything about it is simple. After setting up several tasks, moving tasks from one step to the next is as simple as clicking and dragging tasks from one board category to the next, just like in most other kanban systems.
Jira isn't breaking any new ground with its task management systems, but it is providing those systems in a simple and streamlined format. Even if you haven't used a system like this before, you won't have much difficulty learning it and running with it.
My favorite part of Jira is how easy it is to build reports. Jira lists all kinds of reporting options, including Agile reporting, time-tracking reports, workload reports, and many more.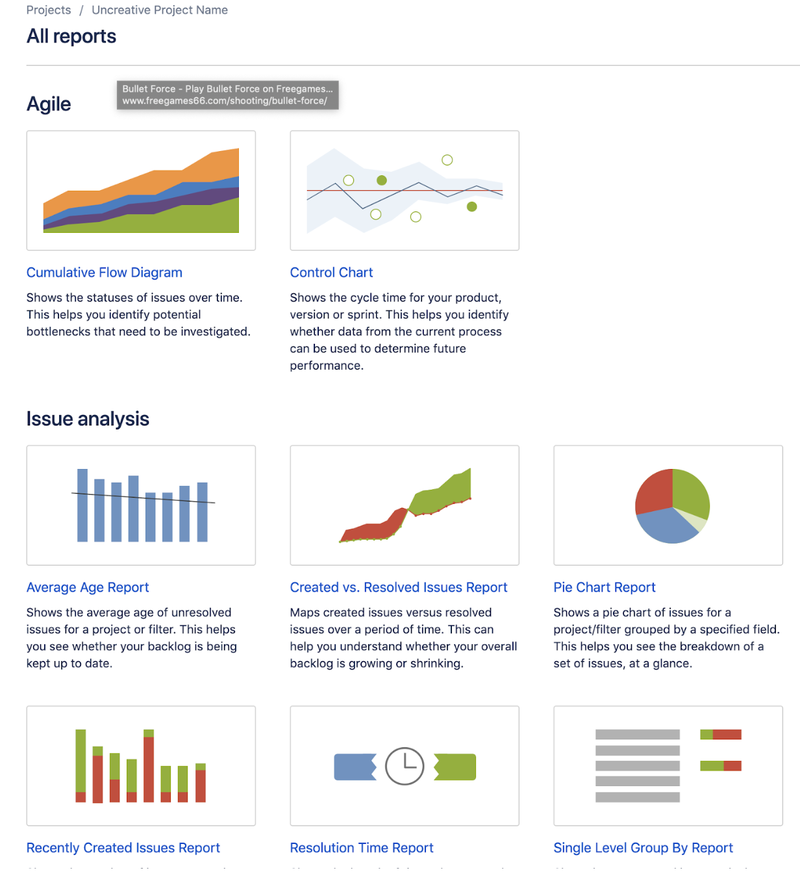 Jira falls short with its lack of budget management and task list features. Most project management tools offer a task list while leaving out other, more visual task management options. Perhaps this separates Jira from alternative options, but it would be nice to have that as an additional task management option.
The lack of budgeting features isn't surprising considering the fact that this was initially built as an issue tracking tool for software developers. However, as Jira continues to grow and offer other forms of project management, it might be wise to add these functions to the tool, too.
---
Jira's pricing
Jira's pricing is simultaneously cheap and expensive; it all depends on what you need. The standard option is an incredibly affordable $10 per month for up to 10 users. This is perfect for small teams that require task management and reporting features. After you pass the 10 user mark, though, the software starts digging into your bank account, and considering the lack of budgeting, invoicing, and task list features, it's hard to justify such a high price tag for fewer features.
Standard: $10/month flat fee for up to 10 users (plus $7 per additional user) — includes all task planning and management features, 250GB file storage limit, 9-5 support window
Premium: $14/month per user — includes all task planning and management features, unlimited file storage limit, 24/7 support
If you're running a nonprofit organization, Atlassian offers 75% off of its cloud products, including Jira. All you have to do is submit an application through the website and provide the proper documentation proving your status. This is especially beneficial during the tough times brought on by the COVID-19 pandemic, and I'm glad to see that Jira offers special benefits for organizations operating on a slim budget.
---
Jira's ease of use
Aside from a few exceptions, most project management tools use a lot of the same functions and features. Given that I've used so many of them, it was hard to tell if I thought Jira was easy and simple because it's so similar to other tools, because I have prior experience using such tools, or because it really is that easy.
Jira isn't particularly groundbreaking or revolutionary. It offers many of the same functions you'll find in lots of other project management tools, such as kanban boards, project reports, collaboration functions, and time tracking.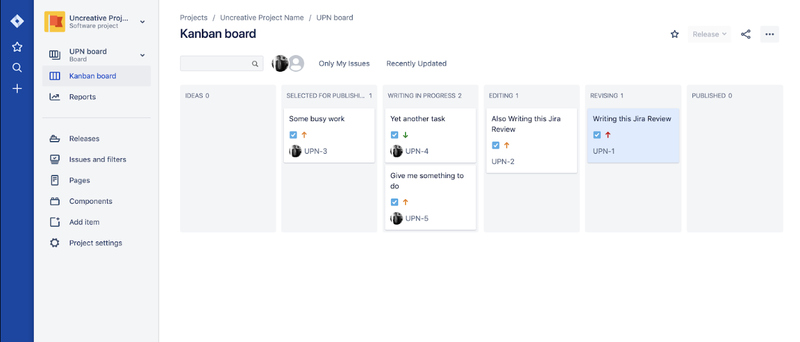 The best analogy I can make is that Jira is the Toyota Camry of project management software. It just works. It's not dazzling, it doesn't do anything particularly new, it's widely used, and it's reliable.
Jira really is an easy tool — it's not just me — and Jira's considerable market share speaks to that. Anyone with even a little project management software experience will have no trouble picking up this software and fitting it to their needs, as long as those needs aren't budgetary in nature.
---
Frequently Asked Questions
Is there a free version of Jira?
Jira offers both a free trial for the Standard version of the software for up to seven days and a free "light" version of the product. I would highly recommend giving Jira a try if you have a small team considering the low price for the Standard tier. However, if you'll have more than 10 users, I recommend pushing for a longer trial period so you can find out whether Jira is right for your projects.
What kinds of teams and projects work best with Jira?
Jira is best for small teams with fewer than 10 users. Once you've crossed that line, there are other tools offering similar functionality for a lower price.
What support does Jira offer?
Jira is surprisingly skimpy on support options. As far as I can find, there is no support phone number for Atlassian, and most of their customer help is provided through issue forms and knowledge bases. While most of your issues can likely be solved with knowledge bases and guides, it helps to offer customers a phone number to call in case of time sensitive-issues with the software. Unfortunately, Atlassian doesn't provide this kind of support.
---
Which one is right for you?

Jira is the perfect collaborative project tool for small teams if you're looking for an intuitive task and issue manager.
Jira is the perfect collaborative project tool for small teams if you're looking for an intuitive task and issue manager.
The Motley Fool has a Disclosure Policy. The Author and/or The Motley Fool may have an interest in companies mentioned.