Finding the right candidate for a job is no mean feat. There's no way to predict future success since even the most talented candidate can be a disaster if they are the wrong fit.
The key is to know what you need from a candidate before you start the recruiting process. To do that, you should perform a job analysis before you start to write a job description or begin searching for candidates.
---
Overview: What is a job analysis?
A job analysis is a process whereby you identify the responsibilities and daily duties required for a specific role. This also encompasses the skills and experience needed to perform the role effectively.
---
What are the benefits of performing a job analysis?
If you want to hire the best candidates in the most efficient and cost-effective way and supercharge your talent acquisition process, you should perform a job analysis.
1. More efficient recruitment process
When you know exactly what you're looking for in a candidate, which skills you need, the experience you require, and what the role entails, you can be more focused in your recruitment efforts.
The job analysis should inform your job overview and description, detailing the years of experience you need and which candidates should respond. You can use recruitment software to more quickly screen out candidates who don't meet your criteria and focus on the ones who do.
You should also use the job analysis to decide which behavioral interview questions to ask.
2. Better candidate experience
Recruitment is a two-way process. You have to decide which candidate is right for your business, but they also have to decide if your job role and company are right for them.
If you want the best candidates to choose to work for your company, you need to provide a superior candidate experience. If you've carried out a strategic job analysis, you can move through recruitment stages quicker and make better decisions, while also keeping candidates in the loop at all times.
---
What should you consider before performing a job analysis?
Even if you've performed a job analysis before for the same role, you should still consider the following points before starting the process again.
1. What you need from the role
Just because you recruited someone with a certain set of skills in the past doesn't mean that is what you should be looking for today. Your business might have changed and added new product lines or services, a new structure, or a different focus.
The job analysis process needs to be carried out in line with your staffing plan and with the company's medium- and long-term goals. Carry out a skills gap analysis and see what you are lacking. Add those to the job description if they are relevant.
2. Type of contract
Once you've worked out which skills you need, think about whether you can realistically find all of them in one person. For example, if you're looking for a mix of accounting, marketing, and administrative skills, you might need to create more than one job opening.
Alternatively, maybe you have just won a big contract and want to hire someone just to work on that. If so, consider hiring a contract or freelance employee instead of recruiting for a full-time position. You can hire the best talent on the market on a short- or long-term basis to fill the skills gaps you have in your company at the moment.
You can also save the time and money from going through an entire recruitment process when you hire someone on a temporary basis. Just be sure to monitor the costs.
HR software can help you do this. Workday's human resources dashboard lets you keep an eye on your contract, or contingent, worker hiring process and costs.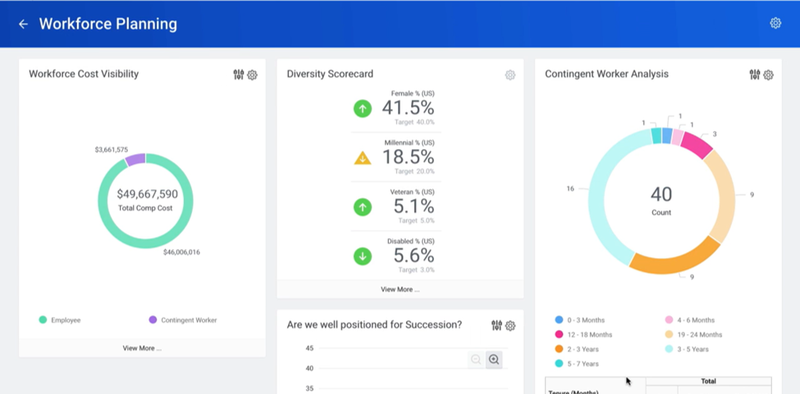 ---
How to conduct a job analysis in your small business
To conduct a job analysis, you need to collect a lot of data, whether that's first-hand experience from previous employees or a competitor analysis. Here are four steps that will enable you to carry out an effective job analysis.
1. Talk to someone who has done the job
The best person to help you conduct a job analysis is someone who has previously held the role or who currently does the job. It could be a previous employee with whom you have a good relationship. Invite them for a coffee or offer a gift card as an incentive to share their expertise.
Maybe there's someone still at your company who has previously performed the role. There are a number of scenarios where this could have happened.
They retrained and moved to another role.
They got promoted.
They are temporary cover while you recruit for the role, or someone is on leave.
You have more than one person doing the same role — for example, social media marketer.
If such a person isn't available, you could speak to the manager of the position or to people working on the same team, although they are unlikely to have the same insight.
2. Use the old job description
If you've recruited for the role before — whether you personally hired someone or a former recruiter did it — you should have the old job description. Take a look in your HR records or software to see if it's still there.
This should have a breakdown of the key responsibilities and tasks that the person in this role will have to carry out. Alternatively, you can use the templates provided by some applicant tracking systems as a guide.
HR and recruiting solution Workable provides a ton of templates for common jobs. You can search for a role and see what kind of responsibilities are suggested.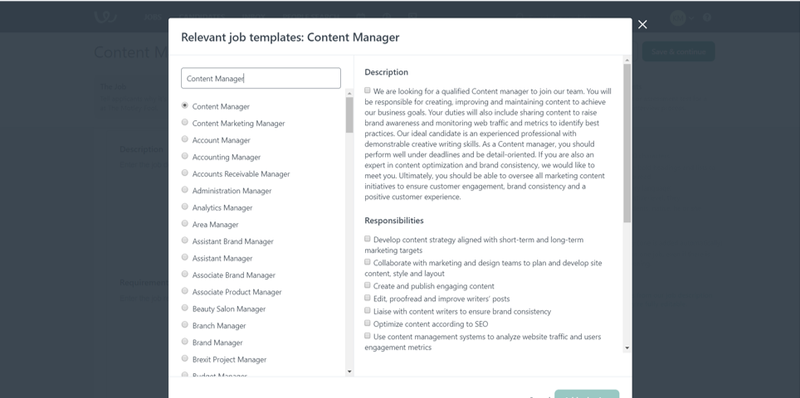 3. Search job boards
If you're recruiting for a position for the first time or don't have the old job ad, you can check the skills and experience other companies require for certain positions. Search job boards on platforms such as:
Specifically look at your competitors' job ads, those from other companies in your industry, or ads from similar-sized businesses since they will most closely match the kind of skills you'll need.
4. Ask candidates
While it's better to have completed your job analysis before starting interviews, you can base your search on the skills of candidates you decide to interview if you're still not sure what to look for.
If you're interviewing candidates who currently have similar job titles, ask them what kind of responsibilities they have in their current role. Look at their experience and analyze their skills and go from there. The job role can change as you go through the hiring process.
---
Be flexible
Today's job market is much more fluid than in the past, and the way you recruit should reflect a more flexible approach to job roles and responsibilities. You don't have to recruit someone who ticks every box on your job ad.
That's why the job analysis should be just one step in the hiring process rather than an exact blueprint for the role. If you interview a candidate who loves your company, is talented and motivated, and would be a perfect cultural fit, don't rule them out just because they don't have all of the skills you're looking for.