With a name that sounds very much reminiscent of its early 2000s roots, Joomla builds on a solid foundation as a content management system to strengthen its core offerings.
While it shies away from a multitude of add-ons or any other flashy bells and whistles, it does make simple, straightforward publishing its priority.
The looks and feel of the site are, on the positive side, clean. However, there's no getting around it: It's dated. Using Joomla feels like using Microsoft Windows 97 on a Gateway computer, and, unfortunately, there's something about that setup that significantly detracts from the user experience.
Though things are straightforward when it comes to building the actual site (for basics only — if you want to customize things, the process is unnecessarily complex), they are not intuitive, which is something we've become used to in the past number of years.
Joomla gets the job done, but you feel like you've stepped way back in time and, if you're like me, it feels a little frustrating.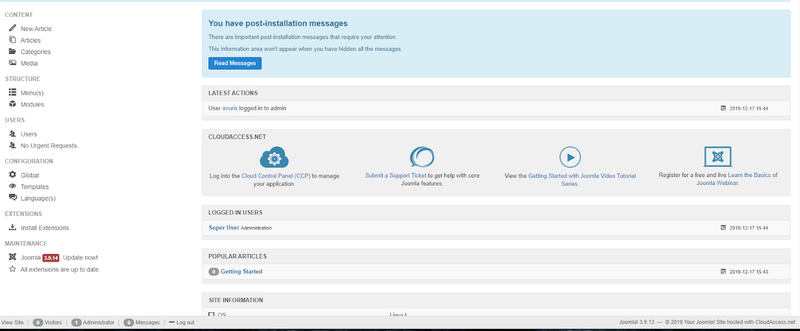 That being said, once you've got your site built, the editing in Joomla is quite easy and feels almost more like typing in a Word doc than a separate site. Don't try to edit Joomla templates, though, because not only are the options limited, but the templates are also not intuitive.
---
Who is Joomla for?
Joomla out of the box is built for blogging and publishing articles. It's a safe choice for someone looking to get their thoughts out there without worrying too much about aesthetics or customization.
Joomla is in an interesting gray space where anything beyond the basic publishing options is probably a bit too much for beginners. And yet at the same time, there's not enough freedom or enough options for seasoned site builders.
Joomla doesn't have a specific target market. If you don't need a website — perhaps you're more of an offline business and just need a site as a relevant placeholder — Joomla works fine. Though it can be used for corporate homepages, Joomla is probably best suited for small businesses.
According to W3Techs, Joomla is primarily deployed by low-traffic sites with a steady hold for smaller business sites and, interestingly, government departmental websites that require basic functionality over style or SEO keyword ranking.
---
Joomla's features
Joomla is definitely a "just the basics" builder, but despite its limited scope, there are some features worth boasting about.
Extensions
Though lacking in an integrated setup for plugins, Joomla does offer extensions. If you need the ability to set up reviews, run contests, analyze SEO, allow post liking, etc., you can download an extension to help make that happen.
In fact, most of the features associated with Joomla aren't from the platform directly, but instead come from external extensions.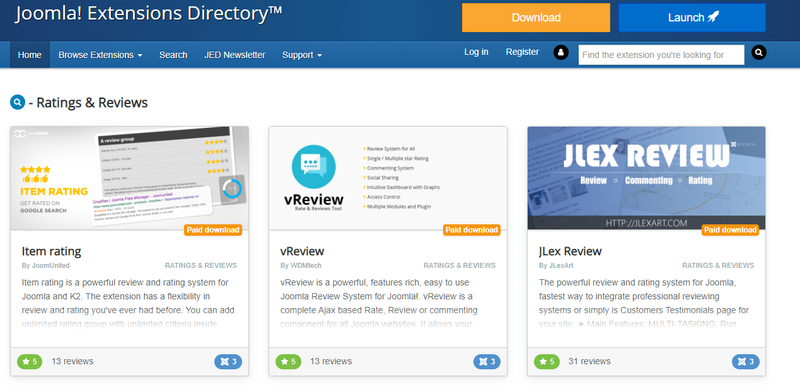 Installing these extensions is not automatic. Joomla does provide a section on its site for you to upload the extension after you have downloaded it manually.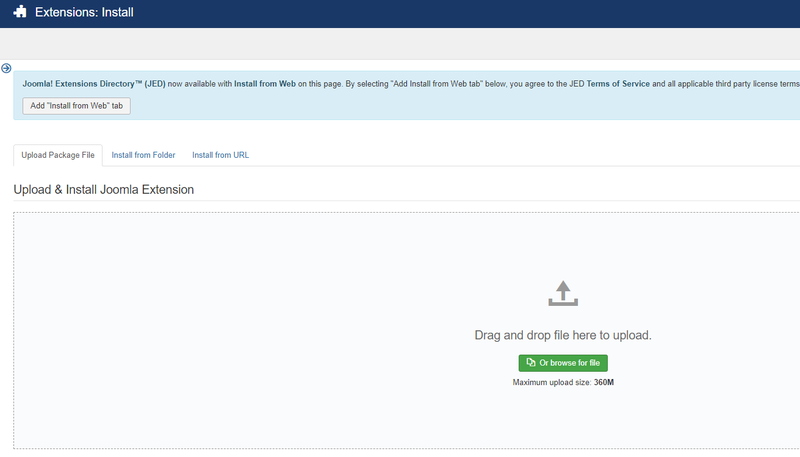 Global reach
The simple fact that Joomla has been around for so long means it has a substantial foothold out there.
Many site builders from other countries outside the U.S. use Joomla. That has led to an invaluable community of global developers and users, meaning there is a wide net of support. Joomla is also available in a wide array of languages.
User management
Joomla allows for multiple users, and different permission settings for each user. When you add users, they can have full access to your site or merely editor permissions. You can also view your user list and delete anyone who is no longer in your organization.

Platform options
Joomla makes it easy for you to use it. Available as a software download, you can install Joomla as an app right on your desktop, as well as future updates.
You aren't beholden to any downloads, though, as you can get started for free online. Without needing to run through a bunch of steps, you can create and publish a fully functional website from their web-based builder quickly.
---
Joomla's ease of use
Depending on how complex or custom you want to go, the ease of use can fluctuate. At surface level, it's pretty simple to use. You can click on a section, write a page, and publish it linearly. However, if you have any desire for customizations, templates, extensions, and even SEO ability, it gets murkier.
The extensions aren't integrated right in, so getting them up and running is a multi-step process. And even the ones that are available are often outdated or buggy, as they aren't regularly updated.
The installation of Joomla using the app requires a lot of steps. If you want to do anything other than publish content pretty much as-is, the process is exhausting.
Just look at the limited options you have for templates when you sign up:

If you want to get a more tailored look, you will need to search through the extensions, find the most up-to-date ones, download them, and then manually re-upload and install them into your Joomla interface.
When you compare that to the drag-and-drop ability of Squarespace or the thousands of built-in options of WordPress, it is inexplicably cumbersome.
---
Joomla's pricing
This is where Joomla really shines, as it costs zero dollars and zero cents, thanks to its open-source nature. You are free to own your site, modify it, and use open-source code and extensions without worrying about licensing or fees.
---
Working with Joomla support
As a free and open-source software, Joomla does not have formal account managers or customer service reps. However, the very nature of it having been around for so long means that there is a thriving support community.
Just have a look at their forums page to see all available resources: regularly updated support questions answered by the community, announcements, directories, event calendars, and event user groups you can join for more specialized support.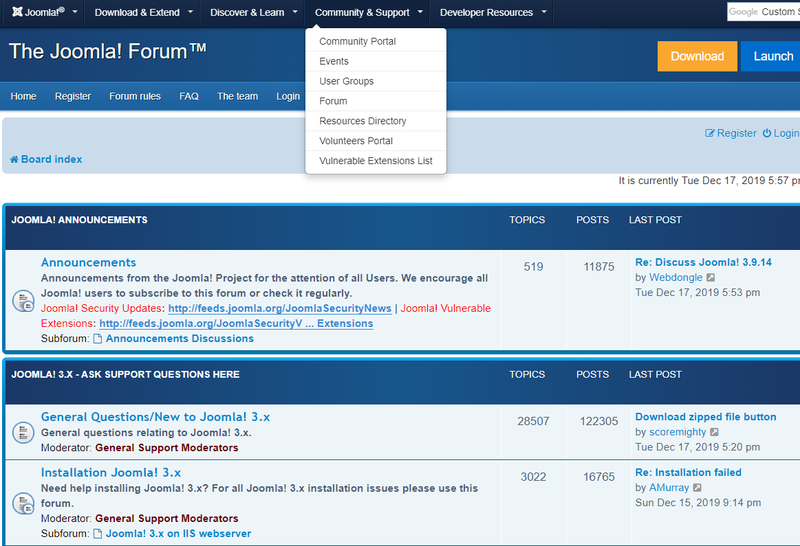 ---
Benefits of Joomla
The first and most significant benefit comes from a cost-savings point of view, as Joomla and its extensions are free to use. It also uses PHP scripts, the most common web development language, meaning that compatibility issues are minimized.
If you don't have a complex site build in mind, Joomla is very to the point, which means you can have a website up and running in no time.
---
Bottom line: There are better options out there
The free cost is Joomla's biggest draw, but with better free options out there (hi, Wordpress!), I almost say it's not worth the $0.
There are so few opportunities to really make the site yours, and that lack of easy customization just seems out of place for the times. Back in 2001, Joomla was really something, but we need more from our sites and our builders these days.
Even something as simple as the fact that there are no navigation options available once you click into a section is unnecessarily frustrating. The only way out of any section is to close out and head back to the control panel itself, with no other side navigation or interlinking options.
When time is limited, who wants to waste it by always having to circle back to the beginning?
For the select few people out there who very much miss their AngelFire days, Joomla will seem like a trip back home. For the content manager serious about building a site, though, it's not worth the time.
---
Frequently Asked Questions
Before using a new tool, you almost always need to consider the cost. Joomla is a free software, which is a significant selling point.
What kind of sites is Joomla best suited for?
Many content builders have their niches. In Joomla's case, it's best developed for smaller sites with lower traffic (since its sites can lag at scale). This means personal blogs, small businesses, companies that conduct the majority of their business offline, and government websites are the best bet for Joomla.
Is Joomla well established?
Yes. Joomla has been around since 2001, making it one of the first content management systems out there.

If you are looking for a free, open-source platform to manage your website content, give Joomla a try.
If you are looking for a free, open-source platform to manage your website content, give Joomla a try.
The Motley Fool has a Disclosure Policy. The Author and/or The Motley Fool may have an interest in companies mentioned.