Kanban was one of the first project management skills I learned in my professional career. I was familiarized with this method through content marketing, and I've used it for multiple other projects since then.
It's easily my favorite method for tracking the progress of project tasks due to its simplicity and extremely transparent setup, making it an apt method for those learning the project management basics.
That's why I've put together this comprehensive guide for using kanban in project management, including steps for using this system, different software options, and its benefits.
---
Overview: What is kanban?
Kanban is one of the oldest and most popular project management methodologies.
This methodology originated as a production control system under the Toyota Production System, known back then as "Just In Time production." This system was created to increase productivity, maximize efficiency, eliminate waste, and encourage collaboration.
Considering the fact that Toyota is the most reliable automobile manufacturer in the world, I'd say the system has proven itself many times over.
The kanban method is a visually driven style of workflow management that uses project planning boards with any number of steps that lead to a finished product or result. Each of the steps on a given board houses task cards that move along the workflow until they are complete.
Here's an example of a kanban system I've created in Trello: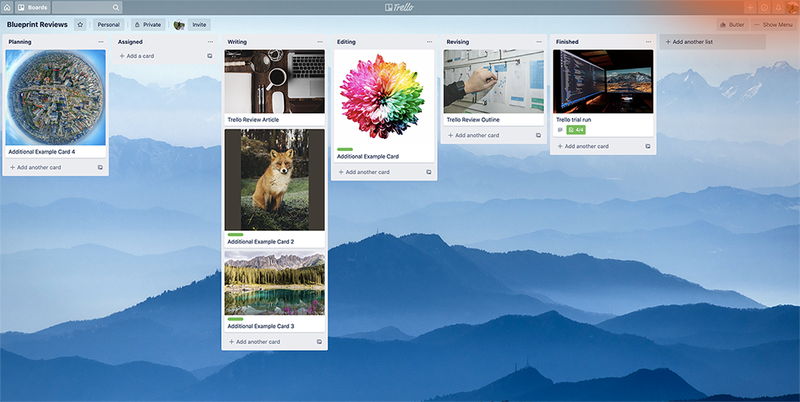 There are five steps in my kanban board:
Planning
Assigned
Writing
Editing
Revising
Finished
My board is set up for content marketing, but kanban is useful for all kinds of projects, from software development to issue tracking. This workflow management style will ensure visibility of the tasks at hand, reveal bottlenecks in your system, and make sure all team members are on the same page at all times.
The biggest benefit of kanban is the fact that it's an incredibly simple and efficient way to promote agility within your projects.
---
How to use kanban for project management
Step 1: Create your kanban board in the software of your choice
The first step for using Kanban is to create your board in the software of your choice, list the tasks needed to complete a project, and iron out the details of those tasks before entering them. This is all completed while creating a project management plan that you'll present to your stakeholders or clients.
As I mentioned before, I created a sample project management board in Trello that includes the steps for reviewing software, but you can use this management system for all kinds of projects.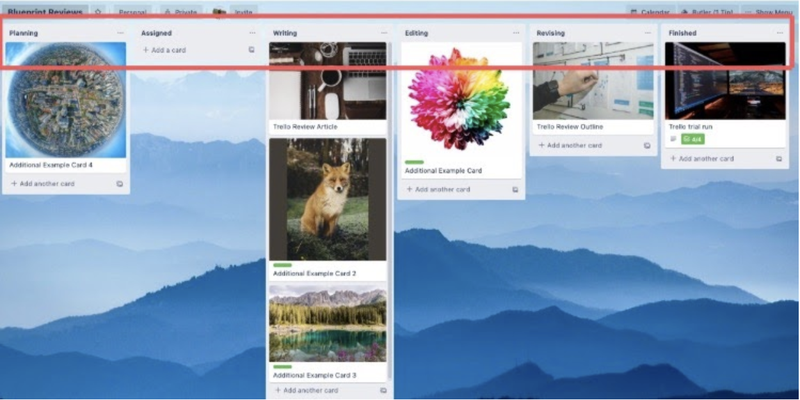 Your board will include steps (or lists) that'll function as your workflow process throughout the execution process. Don't be afraid to add additional steps to your kanban board if your project requires them to ensure quality deliverables.
Step 2: Fill out task card details and assign them to relevant team members
Now that you've created the workflow for your project, it's time to add the tasks to the first step of your board. These tasks should include all of the necessary information to plan and complete them, including:
Due dates
Card cover photos
Descriptions
Users
Task comments
Category labels
Attachments, including files, images, documents, work breakdown structures, etc.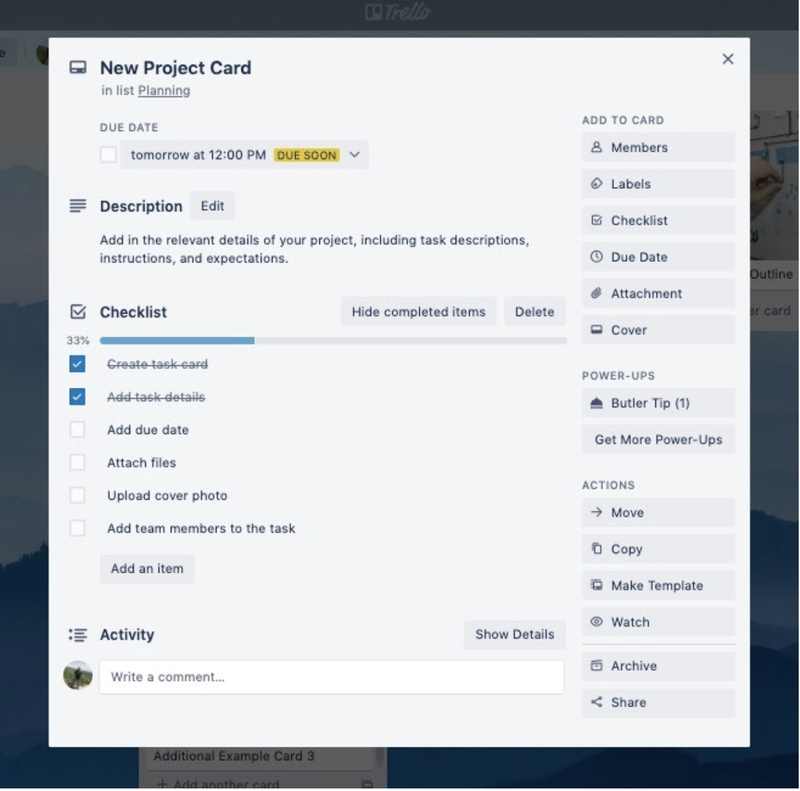 Kanban is meant to simplify the execution process, so it's important not to overcomplicate your board with unnecessary detail.
Not every single action taken in a project requires its own task card, especially if the action is a part of a larger task, so for the sake of reducing clutter, be sure to create checklists or subtasks in your cards.
Once you've put all of these details together, you'll want to add your team members to their respective tasks.
After they've been added to a task, these users will receive all project notifications, including comments, changes, and every time a card is moved from one step to the next.
Step 3: Complete your tasks and move them along the workflow
This is the simplest part of using the kanban system.
As you move through the execution phase of your project, most kanban software tools will allow you to drag and drop your tasks from one step of the process to the next.
If not, There should be a button that'll move them along for you as they are completed.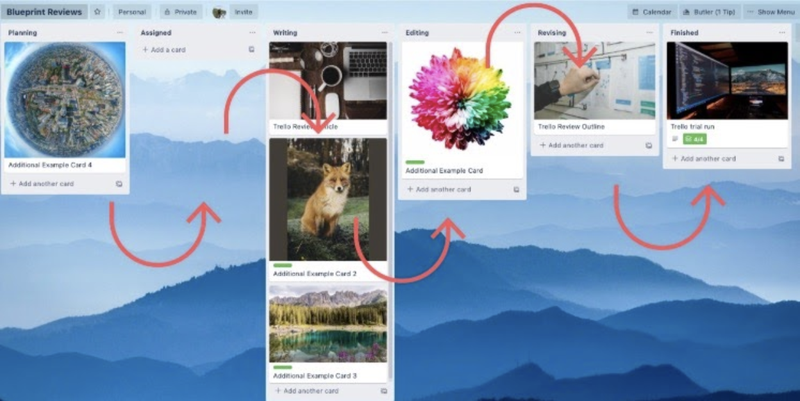 Make sure you keep an eye out for bottlenecks in your workflow. If tasks begin to build up in a particular area, this indicates a lack of understanding or resources in a certain step of the process.
Use your software's communication system (task comments, live chat, message board, etc.) to reach out to your team members about any issues if they pop up.
Step 4: Perform a post-project closeout
Now that you've completed all of your project tasks, it's time to perform a post-project analysis to find out how well your team performed, where you succeeded, where you struggled, and what you could do better in the future.
The metrics you ought to measure while using the kanban system include:
Average cycle times: How long it takes a task to work its way through your process.
Throughput: The total amount of work completed within a specific time frame.
Optimal work in progress: The optimal amount of tasks in progress for your team to work on at one time.
Bottlenecks: Increases in task backlogs and works in progress. This metric helps you understand if your team doesn't have adequate resources to complete the tasks at hand.
Once you've measured all of this data, you can use it to create a cumulative flow diagram that visualizes the ebbs and flows of your team's work throughout the project execution process.
---
The best kanban project management tools you can use
There are tons of project management tools that allow you to view your tasks in a kanban setting, but I've put together a list of five that exemplify some of the best the market has to offer.
1. Trello
Trello is the easiest kanban project management tool I've ever come across.
Everything about this platform is user-friendly, intuitive, and visually pleasing, making it my No. 1 choice for this list. Most (if not all) users will be able to understand this tool within 20 minutes, even if they aren't familiar with kanban software.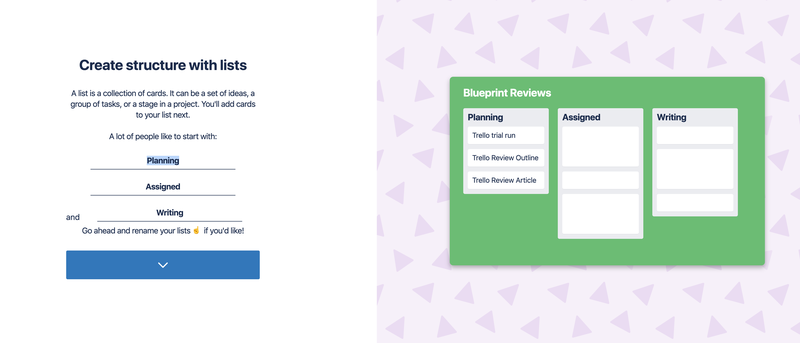 Additionally, most of the core features are included in Trello's free option, which allows you to try out the software without any hassles or time limits. That benefit alone is worth an upgrade once you find yourself looking for additional features.
Pricing:
Free: Includes unlimited personal boards, unlimited cards, unlimited lists, 10MB per file attachment limit, 10 team boards, one power-up per board, 50 automated command runs per month, and two-factor authentication.
Trello Business Class — $9.99/user per month: Includes all previous features plus 250MB per file attachment limit, priority support, custom board backgrounds, unlimited team boards, custom fields, calendar view, app integrations, 1,000 automated command runs per month, and advanced admin permissions.
Trello Enterprise — Starts at $20.83/user per month, with gradual rate decreases as more users are added: Includes all previous features plus unlimited command runs, attachment restrictions, power-up administration, and personalized onboarding.
2. Jira
Jira and Trello are both owned by Atlassian, and it's clear that Jira has taken many of its cues from Trello when developing and improving its own kanban board management. The only major difference between the two board systems is the user interface, which is not as attractive on Jira.
This platform is perfect for users looking for kanban task management, but it offers other project management styles as well, such as task lists and Gantt timeline charts, which widens its potential user base a bit.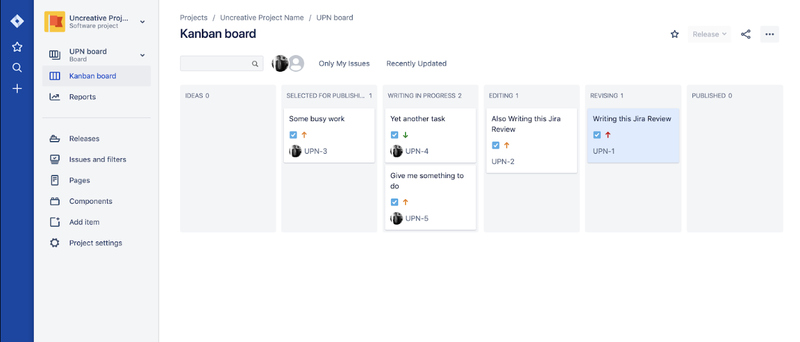 On top of that, Jira also offers native reporting features and one of the best onboarding systems I've ever used, making it great for users new to project management software.
Pricing:
Standard — $10/month flat fee for up to 10 users (plus $7 per additional user): Includes all task planning and management features plus a 250GB file storage limit and a 9-5 support window.
Premium — $14/month per user: Includes all task planning and management features plus unlimited file storage limit and 24/7 support.
3. Asana
Like Jira, Asana offers kanban board task management as well as other styles such as task lists and Gantt timeline charts.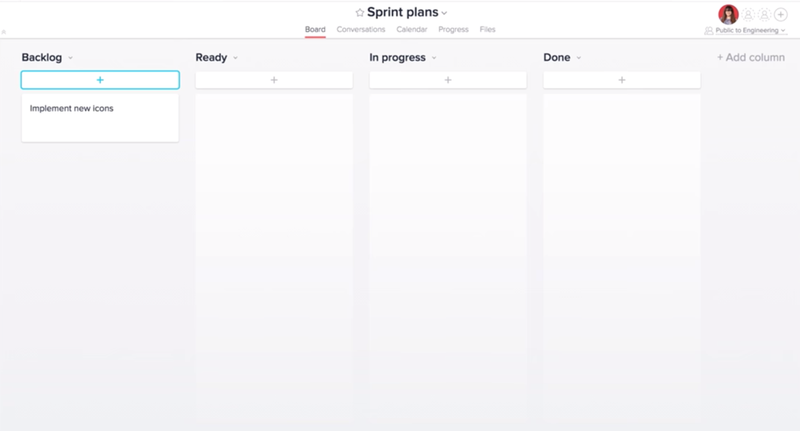 However, this tool does lack in-depth reporting and budgeting tools, making it more of a collaboration tool than a complete project management software.
If you need budgeting or reporting tools, you'll have to look into using Asana integrations and outside vendors.
That being said, Asana competes with Trello when it comes to ease of use. This tool is exceptionally user friendly, making it perfect for newer software users.
Pricing:
Basic — Free: Includes task lists, kanban boards, calendars, app integrations, and up to 15 users.
Premium — $9.99/user per month with annual contract: Includes all previous features plus timelines, advanced searches, and custom field creation.
Business — $19.99/user per month with an annual contract: Includes all previous features plus portfolios, Workload, forms, automatic proofing, and Adobe Creative Cloud integration.
Enterprise — Pricing negotiated with the client: Includes all previous features plus user provisioning, data exporting, custom branding, and priority support.
4. Airtable
Airtable is a visually driven project management software that typically operates using its gallery and spreadsheet task management systems. That being said, this platform also offers a kanban board task management option with just a few clicks.
What makes Airtable a great alternative to Trello is the fact that it does offer budgeting tools, which some projects and teams will need, at a comparable price compared to its competitors.
It has a slightly higher learning curve than the rest of these options, but if functionality is what you're looking for, Airtable will deliver.
Pricing:
Free: Includes unlimited databases, 1,200 records per database, 2GB attachment space per base, and a mobile app.
Plus — $10/user per month: Includes unlimited databases, 5,000 records per database, 5GB attachment space per base, and a mobile app.
Pro — $20/user per month: Includes unlimited databases, 50,000 records per database, 20GB attachment space per base, a mobile app, advanced calendar features, custom branded forms, and user permissions.
Enterprise — Negotiated with the client: Includes unlimited databases, unlimited records per database, 1,000GB attachment space per base, a mobile app, advanced calendar features, custom branded forms, user permissions, dedicated customer service, individualized onboarding and training, and unlimited workspaces.
5. Freedcamp
There are very few project management tools on the market that offer unlimited users, storage, and projects with the free version of the software, and that is Freedcamp's secret sauce. This platform offers two distinct forms of task management: task lists and kanban boards.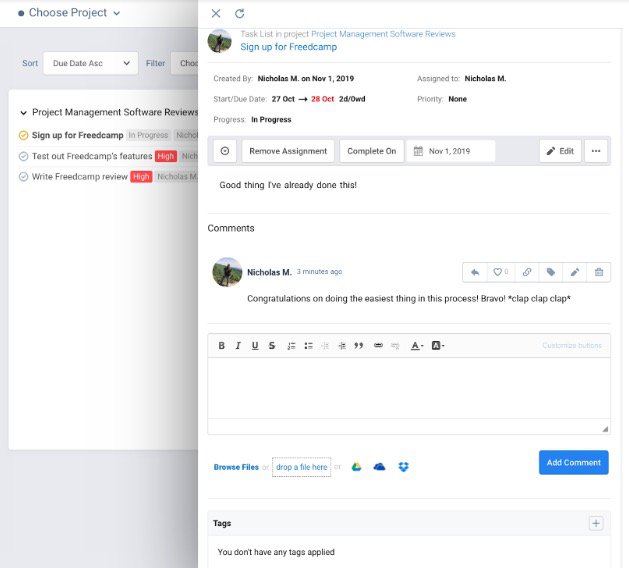 Freedcamp's kanban view is very simple in that it lists tasks as either No Progress, In Progress, or Completed, but considering what you get with a free project management tool, that's not a bad deal.
Additionally, Freedcamp does offer time tracking and invoicing, making it more comprehensive than some other tools.
Pricing:
Free: Includes unlimited projects, tasks, storage, and users.
Minimalist — $1.49/user per month: Includes all core functions plus email integrations, Google Calendar and Drive integration, Dropbox integration, and OneDrive integration.
Business — $7.49/user per month: Includes all previous features plus issue tracking, invoicing, CRM capabilities, project templates, and reporting.
Enterprise — $16.99/user per month: Includes all previous features plus project overviews, customizable branding, priority email and phone support, data archiving, private cloud servers, two-factor authentication, and single sign-on capabilities.
---
Benefits of using kanban project management
There are many benefits to using kanban methodology, but I want to highlight three of them.
1. Versatility
The kanban method is an extremely versatile way to manage all kinds of projects and functions, including content teams, issue tracking, software development, and many others because of its simplicity.
This versatility also extends to different project management styles like Agile methodology. It is an extremely easy-to-learn method that most teams can pick up within minutes.
Pro Tip: Don't be afraid to evolve your kanban board as your team and project grow rather than sticking to the same formula throughout the process — even when you outgrow it.
2. Better visibility
The kanban method is all about the visualization of a project and its tasks.
Every kanban board has a series of steps that different task cards live within, all of which are available on one screen for you to scroll through. You can see how quickly tasks are moving through the workflow, including which ones move the fastest, and which ones are held up during the execution phase. This is an especially fantastic method for spotting bottlenecks.
Pro Tip: If your software allows it, be sure to add cover images to provide additional context for project tasks.
3. Increased efficiency
Speaking of bottlenecks, these hold-ups obviously hinder your project's completion, so it's crucial to spot and address them as soon as possible.
The kanban project management system provides you with a clear picture of what is stalled during the execution, giving you the ability to address these issues and move on quickly.
Heightened visibility of a project and the bottlenecks in the process will help improve efficiency for your project.
Pro Tip: Set conditions for what constitutes creating a new kanban task card. Not every action requires one, and if you must write down smaller tasks, consider turning them into subtasks that live within larger task cards.
---
Explore other project management concepts and methodologies
The Blueprint is the perfect source for everything related to project management, including how-to guides, software, tool comparisons, and methodology guides.
If you're new to project management, or you're looking to brush up on what you know, here are a few other pieces you'll find helpful: