---
Who is Kashoo for?
Kashoo is designed for small businesses, consultants, sole proprietors, and freelancers who want an easy way to manage their business. It offers a one-size-fits-all plan for one low price, and you can add as many users as you'd like.
If you're a small business owner, or work for yourself, you know how important cash flow is. Kashoo lets you set up credit card payments on each invoice, which makes it easy for your customers to pay you directly.
You can easily keep track of all of your clients and suppliers with this accounting software, and keep track of items or services you sell. Kashoo integrates with Sure Payroll, but keep in mind that if you're paying multiple employees, you should be using a more robust accounting application such as QuickBooks Online or Sage 50.
Like similar applications, Kashoo will allow you to connect your bank accounts and automatically import banking transactions. If you choose to bypass this process, you can still choose to upload a bank statement into Kashoo for an easier bank reconciliation process. You can also connect credit card accounts, investment accounts, or any other kind of financial account actively being used.
---
Features of Kashoo
Just released in the spring of 2020, Kashoo 2.0 includes a completely updated user interface that looks sparkling new. Kashoo 2.0 includes all of the features found in the previous version, including bill payment, contacts, accounts, and taxes, with all features completely updated.
Kashoo includes an easy setup process, allowing you to quickly set up your business, add any tax details such as sales tax information, and connect your bank accounts. Once you connect your bank accounts, you'll be able to view any imported transactions in the new Inbox feature.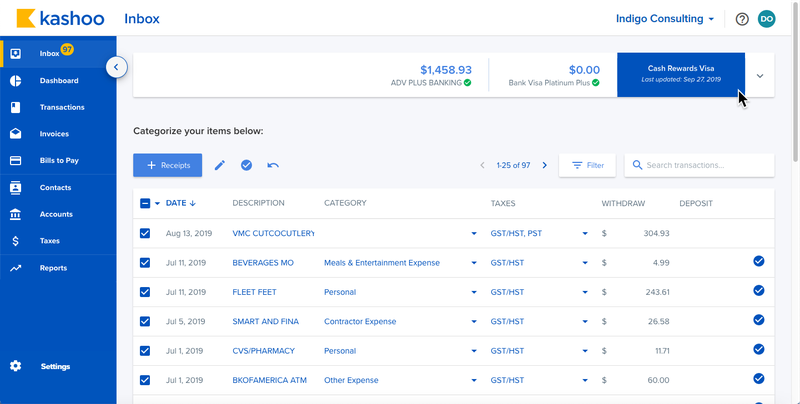 Added to Kashoo 2.0, the Inbox serves as a central repository for viewing current bank transactions that have been imported from your connected bank accounts. This provides you with a quick view of all transactions, which can be sorted and edited as needed. If you don't connect any bank accounts, the Inbox will remain empty.
Kashoo's new interface is easily navigated and much more intuitive than its predecessor, offering easy access to all common features. Integration remains an issue in this latest version, with integration limited to applications such as Stripe and BluePay. The other issue is that features, such as multiple currencies, U.S. sales tax, items and inventory, projects, and integration with Square and SurePayroll, are not yet operational.
Other Kashoo features available include:
Dashboard
Kashoo 2.0 provides timely insights into the financial health of your business. Dashboard totals are updated in real time and provide you with details such as income and expenses, net income, cash deposits and withdrawals, and net cash totals.
The dashboard totals represent all transactions that have been posted to your general ledger and include any transactions posted from connected accounts, as well as any journal entries you may have entered in the application. Graphs and charts are also included in the dashboard.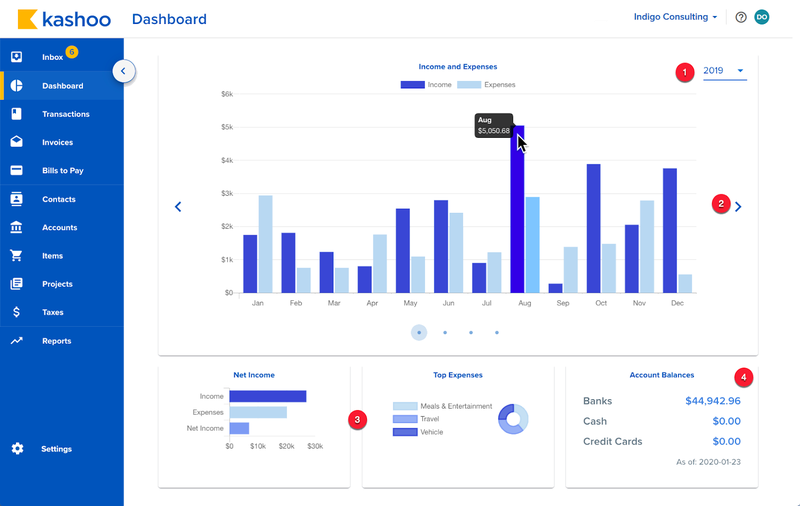 Any items in the Inbox that have not been moved to transactions are not included in the dashboard totals.
Invoices
Invoicing in Kashoo takes less than a minute, and all information from the client to the item can be entered on the fly if necessary. Once an invoice has been entered, you can choose from a variety of options under the Save tab. These include the option to save the current invoice and create a new one, save and exit the invoice feature, preview and send, view the invoice prior to sending, or create a duplicate invoice.
An include payment link checkbox will also appear if you want to accept credit card payments from your customers. The credit card option can be enabled during the setup process, although you still have the option to print and mail an invoice if you wish.
Kashoo invoices are fairly standard, but they do include your company logo, along with the option to add a personalized message on the invoice.
Once an invoice has been entered, it will be automatically posted to your transactions and will appear in your general ledger as an accounts receivable item.
Bills to Pay
The Bills to Pay feature is where you can manage all of your vendor bills. It includes a handy summary at the top of the screen that provides totals such as total bill amounts for the year, the total number of days it takes your business to pay a vendor bill, the total outstanding amount owed, and the total of any bills that are past due.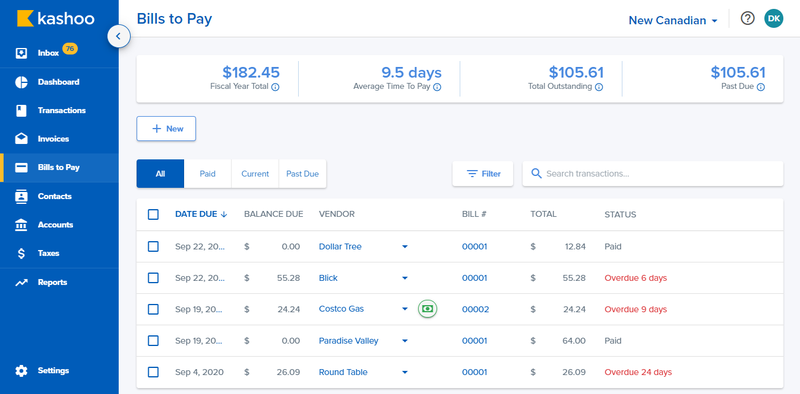 You can also add any new bills from the Bills to Pay feature by clicking on the New tab, and attach any invoices or other information directly to the added bill. There is no option to directly pay a bill, but you can enter manual payments in this section as well.
Journal entries
The journal entry option has changed in Kashoo 2.0, with journal entries now being created by using the Add Adjustment screen.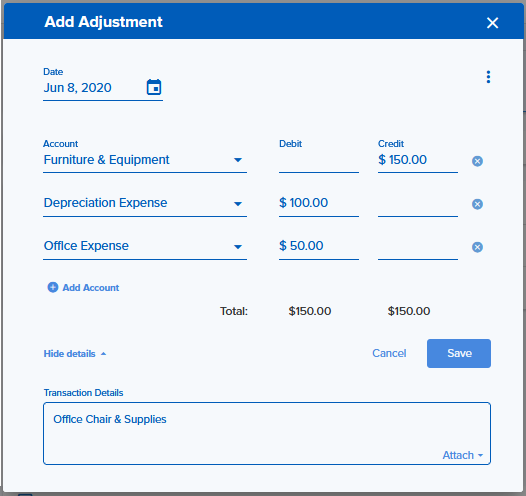 The Add Adjustment screen allows you to enter a description of the journal entry you're making, and if the debit and credit totals don't balance, a warning message will flash at the top of the screen.
With Kashoo 2.0, users are highly encouraged to connect their bank accounts to the application in order to eliminate the need to process a high number of journal entries. But, for entries such as depreciation, you'll need to use the Add Adjustment feature.
Contacts
The Lists feature in the older version of Kashoo has been replaced by a Contacts feature. The Contacts feature is where you can track all of the customers and vendors that you're doing business with. You'll also be able to view any transactions related to the customer or vendor there as well.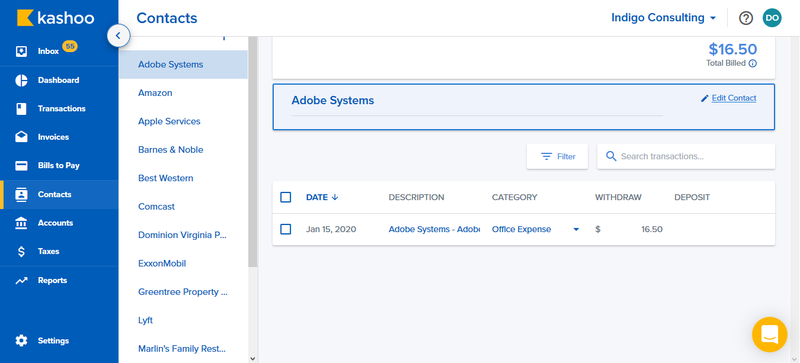 One of the nice features in Kashoo is that any time a transaction is added into the system, the contact is automatically created as well, eliminating the need to enter the information twice. There is an option to manually enter a new contact if you wish. You can also generate a customer statement directly from the Contacts feature.
Reports
Kashoo comes up a little short in the reports area, with only eight reports available.
Income statement
Unpaid invoices
Unpaid bills
Trial balance
Balance sheet
All transactions
History
While Kashoo does include the necessary financial statements, the addition of sales reports would be helpful. Reports offer little in the way of customization, though they can be exported to Excel if customization is a necessity.
---
Support
I love that Kashoo offers live telephone support, a feature that's been seriously underestimated by other applications. While many questions can be answered by doing a little bit of research, there is something reassuring about knowing that if you really get stuck, you can pick up the phone and actually talk to someone.
Users can also access help from within the application, with both email and chat support available as well. It is also worth checking out the variety of Small Business Guides available which may be useful if you're new to the business world.
---
Benefits of using Kashoo
To be honest, I'm really excited about Kashoo 2.0, but I'm also a little puzzled as to why they would release the application before all of the features were fully functional. With features such as multi-currency, sales tax tracking and payment, inventory, and bill payment not yet fully functional in the application, it's best to wait to purchase this application until those features have been added.
The other issue I have with the Kashoo 2.0 is its total reliance on bank connectivity. While there is an option to not connect your bank, almost all of the new features in Kashoo 2.0 rely on connectivity in order to function at full capacity. If you're OK connecting your bank accounts, Kashoo may be a good option for you, but if you're more comfortable managing your bank transactions yourself, you may want to look elsewhere.
---
Kashoo pricing
Kashoo offers one plan for all subscribers, and even displays a price comparison (see above) with other popular applications. Kashoo is currently available for $19.95 per month, or $199.00 per year and includes an unlimited number of users.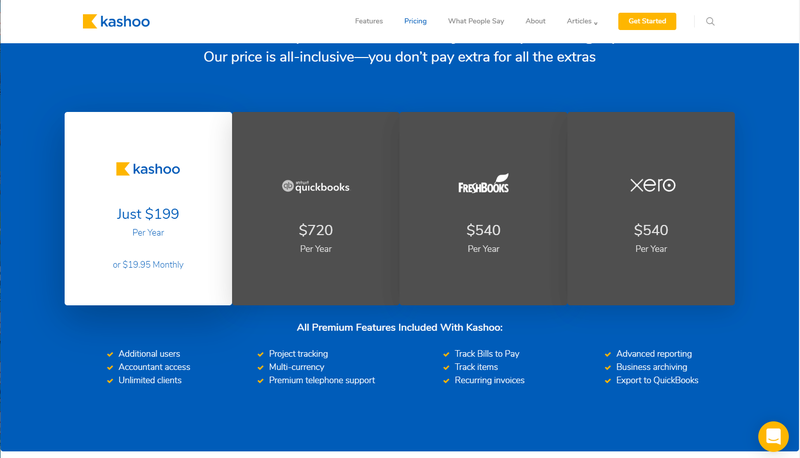 It also offers accountant access, multi-currency capability, recurring invoices, and export capability to QuickBooks and other applications.
---
Kashoo's ease of use
Navigating through Kashoo 2.0 is very simple, with the newly designed interface very clean, modern, and pleasing to the eye. Kashoo is designed to be simple, making it easy to perform multiple functions such as entering a contact, invoicing a customer, and recording a payment.
Kashoo performs best from Chrome or Firefox. A mobile app for iOS devices is available, but if you're an Android user, you're out of luck.
The Settings option at the bottom left side of the screen lets you add various features to your business, including invoice setup and online payment acceptance. Since Kashoo supports multiple users, you can assign users their own access level, with Admin and Billing, Admin, and Business Owner access levels available. This can also help prevent unauthorized access to confidential data such as banking transactions or payroll/employee information.
Best yet, because Kashoo allows you to add information as you go, you can be up and running in a very short amount of time.
---
Frequently Asked Questions for Kashoo
Does Kashoo offer a mobile app?
Yes, but only for iOS devices.
Is payroll available in Kashoo?
While there is not a payroll feature in Kashoo, it does offer complete integration with Sure Payroll.
Does Kashoo integrate with a variety of apps?
Kashoo currently only integrates with a few apps but hopes to add more in the future.

Great for consultants, sole proprietors and freelancers, Kashoo's easily navigated application will have you up and running in no time.
Great for consultants, sole proprietors and freelancers, Kashoo's easily navigated application will have you up and running in no time.
The Motley Fool has a Disclosure Policy. The Author and/or The Motley Fool may have an interest in companies mentioned.