Infusionsoft is a long-standing contender in the customer relationship management (CRM) and email marketing space. Now operating under the Keap corporate brand, the Infusionsoft platform has been supporting client management and sales and marketing automations since 2001.
Keap currently offers three SaaS platforms with varying levels of features, support, and pricing. Infusionsoft is the top-level platform of the trifecta and features everything in the Keap toolbox, including automations, custom campaigns, and much more.
Continue reading to learn more about Infusionsoft features and pricing as well as the benefits of marketing automation for your business.
---
Who is Keap Infusionsoft for?
Keap Infusionsoft is designed to support small business marketing teams achieve and sustain lasting business growth. Like most CRMs, Keap Infusionsoft provides a bridge between sales and marketing organizations with its centralized automation, lead management, and campaign creation tools.
Infusionsoft's tools are a great fit for sales and marketing leaders needing more efficiency and transparency across their operation.
If you feel your engagement efforts aren't fully meeting client needs, Keap Infusionsoft can help. Or if you're struggling to gain insights into successful campaigns, Keap Infusionsoft can pinpoint critical success metrics.
And if you're struggling to close potential deals, Keap Infusionsoft may be right for you. Or if you're having a hard time managing your growing client list, Keap Infusionsoft can definitely lend support.
---
Keap Infusionsoft features
Infusionsoft offers a wide range of sales and marketing tools.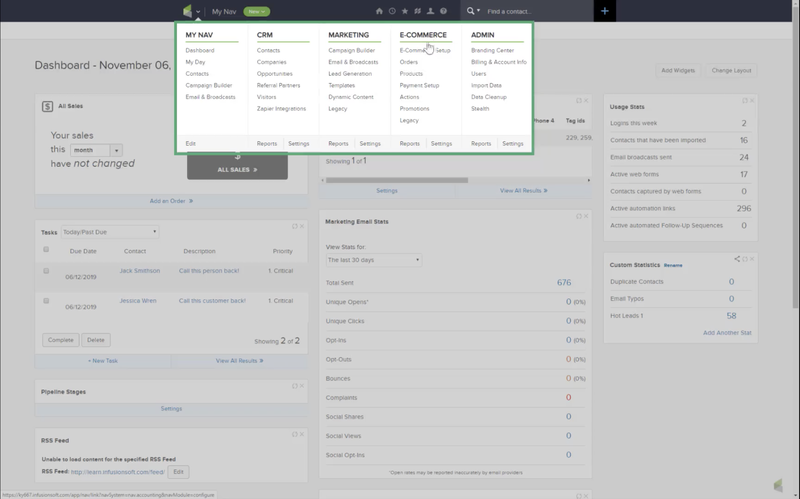 You can easily segment contacts for more personalized outreach; track engagements and interactions with prospects, leads, and existing clients; send tailored email campaigns; and set behavioral triggers to appropriately engage after email opens, click-throughs, and other interactions.
Infusionsoft also offers a surprising amount of e-commerce support, such as inventory management, checkout and payments processing, and order fulfillment. The tool is a fit for any small business in need of CRM support, but the addition of the e-commerce capabilities makes it especially helpful for online businesses looking to centralize as much as possible into a single platform.
Infusionsoft reporting details critical metrics across sales tactics and marketing campaigns, such as close rates and email engagement for individual messaging. Infusionsoft app integrations include QuickBooks, Salesforce, Outlook, Gmail, and more.
Let's take a detailed look at some essential Keap Infusionsoft features.
Client management
Keap Infusionsoft CRM centralizes critical client contact information as well as quantifiable engagements records and one-off notes for additional detail. Recording this client activity and communications empowers your sales and marketing team members to make more meaningful and informed future outreach.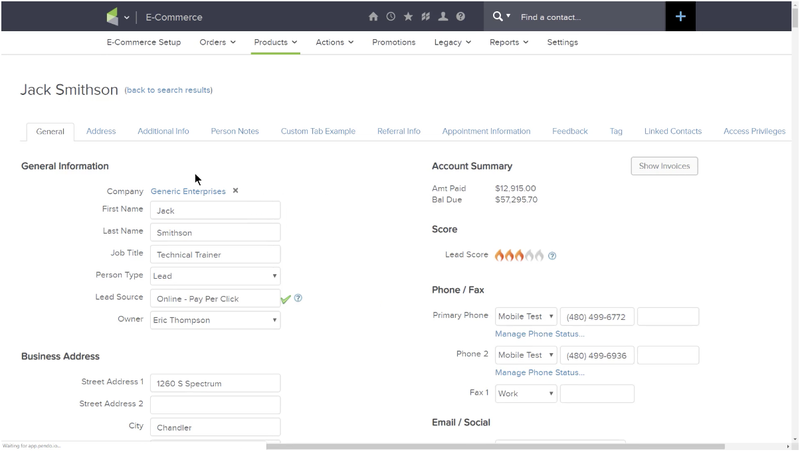 We'll dive into the automation and emailing more below, but the client management tool allows you to integrate email providers and set automated replies to your clients and track their replies.
Salespeople can focus on generating new contacts and leads while Keap Infusionsoft automatically replies to certain emails with messages that can drive the next best actions and generate sales.
Marketing automation
Keap Infusionsoft provides an abundance of valuable automations. For first-time users, you can expect newfound efficiencies all across your efforts and marketing plans.
Infusionsoft lets you stop wasting time copying and pasting messages from one email to the next. You can create one email and scale it with programmed personalizations so it lands in all the inboxes like a one-to-one message.
You can also set automated replies using "when/then" templates that make it easy to set and review the replies and actions that will create specific outbound messages.
More advanced behavioral automations enable automated email messaging when contacts act on specified triggers. For example, scheduling a consultation or filling out a form to download a report can set in motion a string of emails designed to further engage, qualify, and drive toward a final sale.
Sales automation
Infusionsoft sales automations include automated outreach similar to marketing automations but on a smaller scale for individual salespeople. You can automate SMS text messages as well as email responses.
Infusionsoft lets you build a scalable and repeatable process for your sales journey.
Lead stages, scoring, and tagging are all essential components of sales automation provided by Keap Infusionsoft. The process includes lead scoring based on how contacts and leads interact with your messages, programmed stages with thresholds set for different scoring levels, and preset tagging to indicate subject, themes, and other details.
Email campaign customizations
Recognizing email as a core marketing channel, Infusionsoft comes packed with many email templates designed to suit all your messaging occasions, most of them customizable to make them your own.
Beyond customization capabilities, Infusionsoft features detailed list building and segmenting designed to hone in on the right audiences with highly personalized messaging. Automations further enable you to personalize based on engagement and on-site actions, such as clicking on links, visiting certain pages, and other actions.
You can also leverage A/B testing to evaluate subject lines, formats, CTAs, and any number of actions. And built-in, automated spam checking ensures your email will get delivered without domain spam and deliverability measures.
E-commerce support
Keap Infusionsoft's platform delivers beneficial e-commerce features. You can build automated e-commerce processes to create a hands-off online business.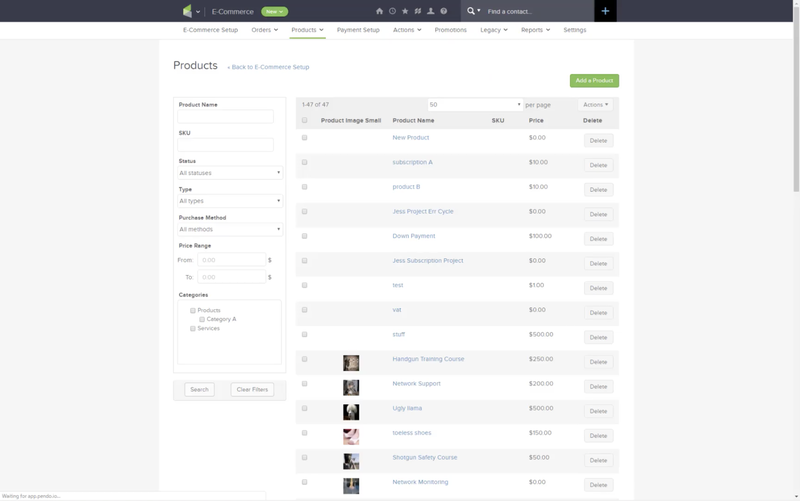 E-commerce capabilities include payment processing for one-time purchases as well as invoicing tools for recurring payments. The platform supports online sales for products as well as services. It's integrated with PayPal checkout to ensure secure, easy-to-use payment processing.
---
Keap Infusionsoft's ease of use
Keap Infusionsoft packages its many features and capabilities into an easy-to-use interface with simple navigation. Integrations are a breeze to set up. And the reporting and analytics tools make it easy to dig into numerous metrics: sales member performances, contact details, marketing campaign performances, and many other critical measures.
---
Keap Infusionsoft's pricing
Infusionsoft is Keap's most feature-rich and thus most expensive offering. It features everything that Keap has to offer, whereas the Keap Grow and Keap Pro products are scaled back in terms of feature set and pricing.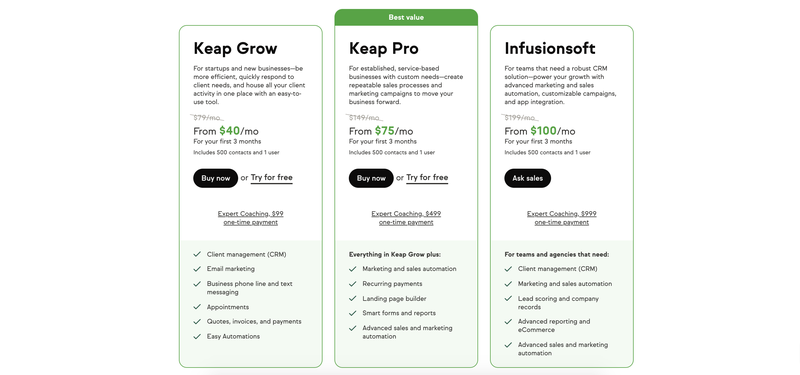 Infusionsoft pricing begins at $100/month, per user, for the first three months and then jumps to $199/month, per user, after that. That price is set for 500 contacts and one user, so you can expect the monthly price to grow if you need more users initially or need to scale in the future.
Keap offers a sliding monthly price increase depending on how many additional contacts above the initial 500 you need to add. It's $30/month for another 1000 users, $130/month for 1,500 additional users, $200/month for 5,000 additional users, $300/month for 25,000 users, and $350/month for 50,000 additional users. Price looks to be negotiable if you need to scale above more than 50,000 users.
An Infusionsoft free trial doesn't seem to exist right now. But the site does offer demos for you to get a feel for the software before fully committing.
---
Keap Infusionsoft's support
Keap Infusionsoft tech support offers the typical components you've come to expect from SaaS providers, including a robust knowledge base, help center, user community, and additional online training and webinars for troubleshooting issues and learning how to get the most from the platform.
In addition to these free content offerings, you can purchase support with onboarding, including contact imports, email migrations, campaign migrations and rebuilds, workflow transfers, and more.
Keap also offers one-on-one coaching with in-house and external experts. Coaching provides regular calls with experts that can guide you through processes and answer any question you may have about the platform.
It's unclear what the additional onboarding costs are, if anything. But for the one-on-one coaching with Infusionsoft, it's a one-time $999 charge.
---
Benefits of Keap Infusionsoft
Keap Infusionsoft provides everything a small business needs to unlock newfound efficiencies and achieve and sustain business growth. The robust feature set includes innovative e-commerce components that can centralize the bulk of your entire operation into a single platform. It's priced fairly compared to other CRM/automation offerings on the market.
---
Keap Infusionsoft goes hard on valuable features
Keap Infusionsoft is a long-standing player in the CRM and marketing and sales automation space, and delivers as such. The platform is designed to organize your marketing and sales efforts while providing essential automations and e-commerce tools. And it will scale with you as your business grows.
---
Frequently Asked Questions for Keap Infusionsoft
Can Keap Infusionsoft replace my existing e-commerce platform?
Keap can definitely support one-off and recurring payments for products and services, manage product pricing, SKU numbers, and more. Whether it can step in and replace a full e-commerce platform depends on your unique needs.
Can I create and send email via Keap Infusionsoft?
Yes, Infusionsoft provides abundant email templates as well as customization to design and send exactly what you want.
Can my entire team use Keap Infusionsoft?
Yes, Keap Infusionsoft can be used by multiple people across sales and marketing teams, but you will incur additional charges for each user login.

Keap Infusionsoft can get your business off the ground and help you gain lasting growth through essential organizations, automations, and more.
Keap Infusionsoft can get your business off the ground and help you gain lasting growth through essential organizations, automations, and more.
---
How Keap Infusionsoft Compares
The Motley Fool has a Disclosure Policy. The Author and/or The Motley Fool may have an interest in companies mentioned.