Klaviyo is a marketing automation tool that provides advanced email and SMS marketing capabilities. It's a cloud-based platform that's fairly simple to use and includes a robust set of key integrations.
Klaviyo email marketing includes automations and programmable workflow components. The platform tracks online customer actions as well as in-store purchases. This tracking enables you to program emails to be sent after customers complete designated actions, such as order confirmations, new item notifications, and many more.
The tool comes pre-loaded with integrations across critical business platforms, ingesting valuable customer data from e-commerce, in-store, email, and other tools to provide advanced segmentations and personalizations. Klaviyo integrations include online store platforms, such as Shopify and BigCommerce, dropshipping and order fulfillment, social media, and others.
---
Who is Klaviyo for?
Klaviyo is a fit for online businesses, including retailers, service providers, and anyone in need of marketing automation tools. It's especially great for small business marketing strategies for selling multiple products or offers online since customer data tracking enables you to turn online customer actions into key insights for personalization and detailed segmentation.
You can employ Klaviyo in place of existing email platforms. It's also a great fit if your business is graduating from manual email marketing methods. The plethora of integrations means it will likely work across your existing tech stack. And the combined feature set will empower you to provide more memorable customer experiences across email, SMS, and online and in-app stores.
---
Klaviyo's features
Klaviyo's key features include its marketing engagement components, its robust set of integrations, workflow automations baked into email and other messaging, personalization and advanced segmentation, and detailed reporting.
Email and SMS marketing components
Klaviyo supports the execution of marketing plans for email, SMS messages, social advertising, and on-site pop-ups and in-app store notifications. Email building is simple within Klaviyo. You can just upload your font and brand colors, and the system automatically sets them within your workflows and pre-built templates. You're also able to upload your own templates to satisfy your design needs.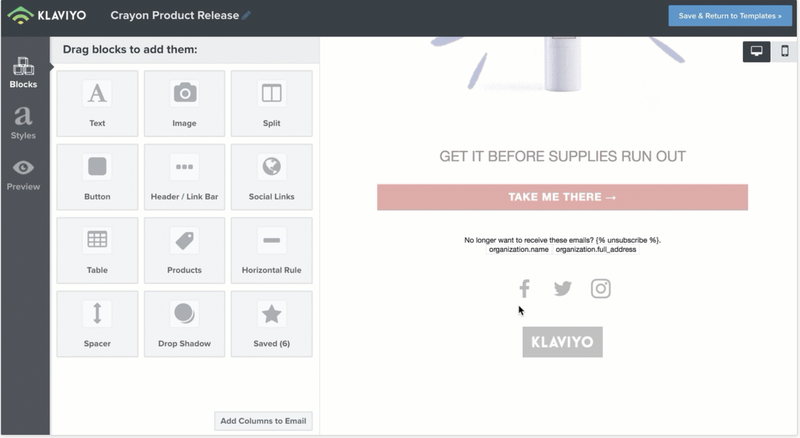 The pre-built templates within Klaviyo are customizable via an easy to use drag-and-drop builder, but it seems like these customization capabilities are limited.
A/B testing is another essential component of Klaviyo's one-off emails and workflow tools. You can easily set tests to generate newfound learnings and build best practices, leading to more optimal, data-driven decision-making.
Klaviyo SMS integrations include the ability to program segmentized and personalized experiences across text messaging. You can easily manage messaging consent to make sure that all your SMS messaging is sent to the proper people with all the necessary opt-in.
You can combine Klaviyo's SMS messaging with its one-off and programmable email marketing capabilities to launch truly multi-channel marketing campaigns.
Valuable integrations
Klaviyo provides all the components you'd expect from an email marketing platform designed for e-commerce businesses. One of these essential components is an enormous set of pre-built integrations and an open API for the rest.
Klaviyo's Shopify connection and the Klaviyo-WooCommerce integration are two of many standout e-commerce integrations pre-built into the system. Other pre-built Klaviyo integrations include order fulfillment and dropshipping solutions. The tool features more than 100 direct integrations and an open API to take care of everything else.
Marketing automations
Klaviyo unlocks a windfall of marketing automation tools with just a few lines of code injected into your online store. The marketing automation tool tracks customer behaviors and activities across your site. As it analyzes these tracking data, Klaviyo triggers corresponding campaigns and one-off engagements to launch across defined marketing channels.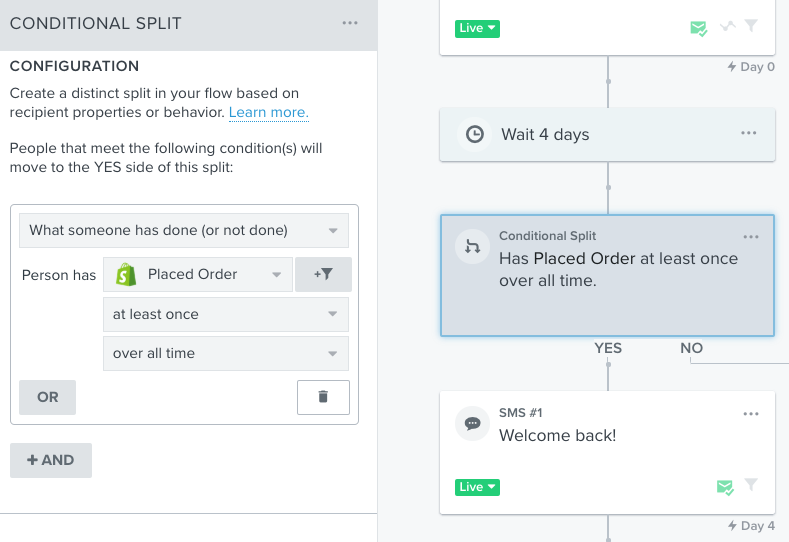 Klaviyo provides a simple workflow builder to set up triggers, messages, and engagement paths. You can use the builder to create multiple journeys for however many purchase paths and ideal customer experiences your business has. It's easy to split journeys and build different branches based on actions taken on the site, across messages, and more.
Common automated campaigns include reaching out to customers and contacts who haven't visited the site in a defined time period, engaging with visitors who viewed a certain product but didn't purchase, and many others.
One of the many benefits of marketing automation in Klaviyo is that it's highly iterative. You can build and test and edit and duplicate your journeys to meet the unique needs of each of your customers.
Segmentation and personalization
Klaviyo's segmentation and personalization tools are a subset of the marketing automation features. These each work together to deliver a more engaging, seemingly one-on-one message while still providing the needed scale to reach out to thousands of contacts at once.
Klaviyo provides a form builder loaded into the platform to help you gather more contact information and further segment and qualify leads.
Personalization techniques harness the same mechanisms as its marketing automation tools to pull known contact information and behavioral data into customized individual messages for each contact.

Segmentation tools are a layer up from one-on-one personalizations but can still work in harmony to personalize outreach to everyone in a specific segment. Klaviyo's segmentation capabilities empower you to target specific groups of contacts based on known information, such as purchase histories, past engagements, locations, and many others.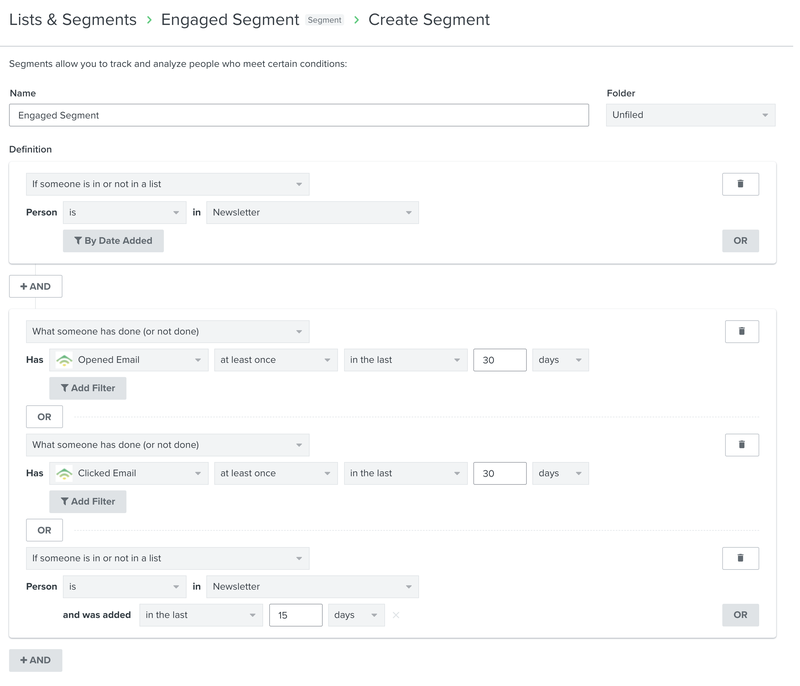 Detailed reporting and dashboards
Rounding out Klaviyo's expansive feature set is a robust reporting, dashboard, and analytics component. The tool includes reporting capabilities that specifically monitor business growth at a high level, as well as on a campaign-by-campaign basis.
Users can form Klaviyo's reporting into any number of pre-built and customized dashboards to suit specific reporting needs. These dashboards provide a quick snapshot of campaign health, the current status of a specific segment, or the overall marketing-attributed growth over a given period of time.
Additional reporting capabilities include centralizing visitor and customer profiles so that you can get information on past actions and behaviors, contact information and preferences, and purchase histories.
Another reporting capability within Klaviyo is a predictive analytics component that includes estimates on customer churn risk, potential lifetime value, and ideal message send times.
---
Klaviyo's ease of use
Klaviyo provides an incredibly easy-to-use tool for launching one-off marketing campaigns and scaling automated email, SMS, and other marketing efforts.
The platform offers a simple and effective way to segment contacts to deliver more relevant engagement. And the personalization tools take that a step further so that you can easily address contacts by their name, reference their past purchases or viewing history, and even deliver individual messages at the most optimal days/time of day for next best actions to be achieved.
There is definitely some time needed for onboarding and getting used to the tool, but that's to be expected for any software with such a robust and impactful feature set. But the marketing automation capabilities are easy to set up, launch, monitor, and optimize.
A knock against Klaviyo's ease of use is that the workflow automations can be a bit limited compared to more expensive systems. But it does offer multi-branching journeys based on contact actions, so it's still a viable option. And while a ton of pre-built email templates come loaded in the system, it seems like customizing and building your own templates can be a rigid process.
Perhaps the most beneficial components for Klaviyo's ease of use are its integrations across almost all major e-commerce and online store builders. These integrations, along with its open API, make for simple connections across your entire tech stack.
---
Klaviyo's pricing
Klaviyo's pricing is based on the number of contacts in your email database, as well as the number of SMS messages you send per month. The email marketing component is free for up to 250 contacts. And the SMS component costs $0.10 per message sent, plus an additional $0.03 for any MMS messages.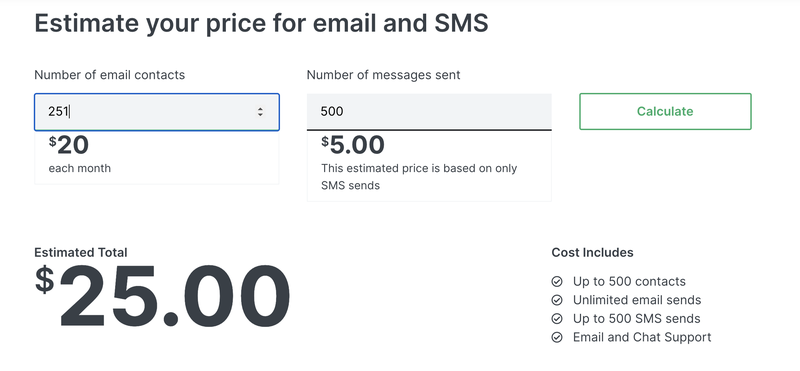 Pricing tiers for contacts after the free 250 include:
$20/month for 251-500 contacts
$30/month for 501-1,000 contacts
$45/month for 1,001-1,500 contacts
$60/month for 1,501-2,500 contacts
$70/month for 2,501-3,000 contacts
Monthly per-contact price increases continue like this until you hit more than 150,000 contacts. After that point, the price is negotiable. Another pricing note is that once you hit 50,000 contacts, your monthly pricing includes up to 500,000 email sends per month. In other words, at 50,000 contacts and above (until 150,000), you're limited to 10 emails/contact/month.
---
Klaviyo's support
Klaviyo support is perhaps its most lacking component. The platform offers five free onboarding webinars that you can view on its site. Each session is about 30 minutes long and covers key components, including integrations and setup, building segments and lists, designing effective emails, and creating workflows and automations.
Users can also take advantage of Klaviyo product experts who are available via email and online messages. These experts operate from 6 a.m. to 10 p.m. ET during the week and 10 a.m. to 4 p.m. ET on the weekends. There's also instant chat support available with the same experts from 9 a.m. to 5 p.m. ET Monday through Thursday, and 9 a.m. to 4 p.m. ET on Fridays.
---
Benefits of Klaviyo
Klaviyo offers numerous benefits to small online and e-commerce businesses looking to add more programmatic and automated marketing support. The built-in integrations with existing platforms are tremendous. The email marketing tools, matched with journey building and other automations, provide a ton of power at a fair price that scales as you grow.
Overall, there's much to like with this multi-channel marketing automation platform. It's built to spur growth for your business and join you along your route to success.
---
Integrations, capabilities, and pricing make Klaviyo a must-consider
Klaviyo is a great fit for small businesses looking to bring on their first marketing platform. And it's also powerful enough for more mature businesses to move to when replacing an older system. The simple integrations, multitude of multi-channel automations, predictive analytics and other in-depth reporting, and fair pricing combine to make Klaviyo a must-consider marketing solution for any business.
---
Frequently Asked Questions for Klaviyo
Klaviyo is uniquely priced exclusively based on the number of contacts in your marketing database. You'll also incur additional charges for the number of SMS messages you send per month.
Does Klaviyo offer a free trial?
While there's not a true free trial, Klaviyo is free to use for up to 250 contacts in your marketing database. You'll still have to pay for any SMS campaigns, but the email marketing remains free until you cross the 250-contact threshold.
What if I need an integration that's not built into the system?
Klaviyo offers a ton of pre-built integrations, but if you need something not currently listed, you should be able to easily connect the platforms using Klaviyo's open API.

Klaviyo is a powerful marketing tool for e-commerce businesses looking to be more precise in their contact and customer engagements. Its automated workflows allow you to set it and forget it while making it easy to tweak and optimize along the way.
Klaviyo is a powerful marketing tool for e-commerce businesses looking to be more precise in their contact and customer engagements. Its automated workflows allow you to set it and forget it while making it easy to tweak and optimize along the way.
The Motley Fool has a Disclosure Policy. The Author and/or The Motley Fool may have an interest in companies mentioned.