Death comes like a thief in the night, and trust me, you'll be dying if your online login credentials are stolen. Sure, most major browsers offer limited password management features, but today's online environment requires more robust tools to protect your identity and accounts.
LastPass is one of the best password management applications available. Whether you want to protect your own information or manage login credentials for your entire family, LastPass has a cost-effective plan for you. We'll go over its features, support options, and pricing, so you can decide if it's the best fit for your needs.
---
Who is LastPass for?
LastPass is a freemium password manager for individuals and families. Its free plan includes a robust set of password management tools, including a password vault and multi-factor authentication (MFA), and the paid plans add more security features and file sharing. The Cyber Defense Magazine InfoSec Awards chose LassPass as the "Best Product in Identity Management" in 2019 and 2020.
Separate from LastPass for personal and family use, LastPass for Business is a suite of enterprise identity and access management (IAM) tools for the workplace that can support thousands of users.
---
LastPass's features
Instead of remembering dozens of passwords — or worse, reusing the same one — LastPass lets you access multiple accounts and payment information with a single master password. Use either the LastPass browser extension or mobile app to add websites and login credentials to your encrypted password vault.
LastPass has a variety of password management tools and related features, so let's take a closer look at the major ones.
Password vault
LastPass' backbone is its password vault, where your login and payment information is securely stored. Import sites into your vault or add them manually, and with the browser extension, LastPass automatically stores login credentials as you enter them for websites.
Other LastPass password vault options include:
Launching online applications
Logging into websites
Editing login information
Adding notes
Sharing login information
Storing driver's license and passport information
One bane of my online existence is taking screenshots of Wi-Fi network passwords to repeatedly refer back to, but LastPass keeps tabs on those too.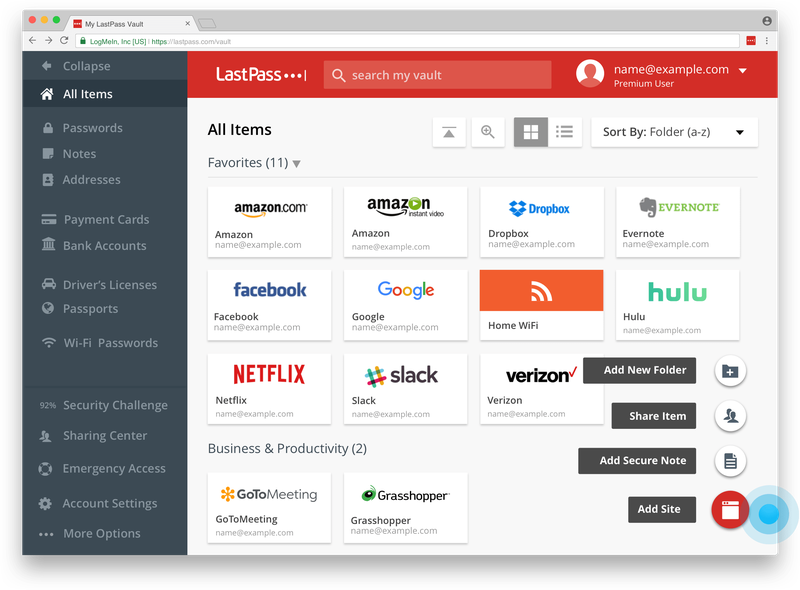 Windows and Mac users can also download LastPass for desktop applications to use their password vaults.
Browser extension
While you need a centralized password vault, it's not convenient to go there every time you need to add a new site's login info or access other password management features. Users don't have to with LastPass browser extensions for Chrome, Firefox, Safari, Opera, Edge, and Explorer.
Each time you log into a website, the most closely matched login credentials are automatically filled in. Or, to use a different stored username and password, select the LastPass icon in your web browser's toolbar to open the extension menu. You can also click the LastPass icon in the login interface to choose alternate login info.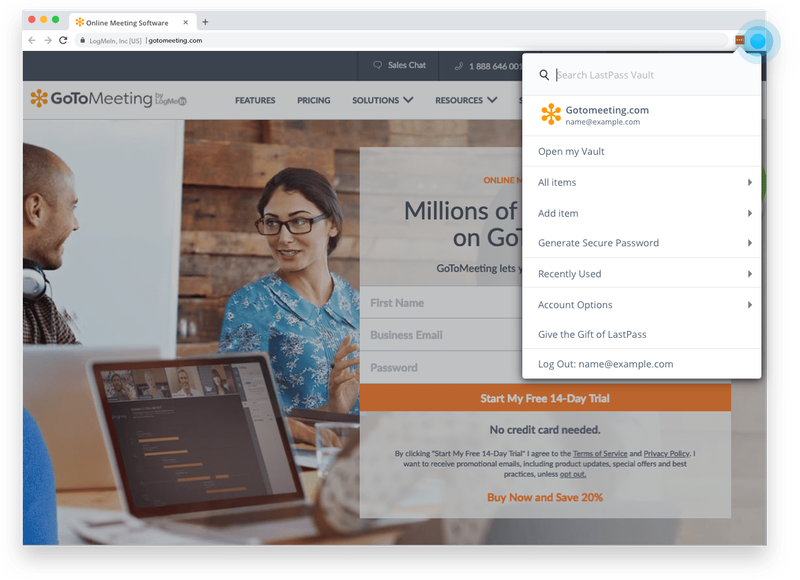 If you use Google's password manager, you may not see the need for the LastPass Chrome extension. But, while Google offers basic password protection, LastPass has more security features such as a password generator, secure storage of payment information, and password sharing.
Password manager app
LastPass' free Password Manager app is available for Android and iOS devices. Whether it's a tablet, smartphone, or smartwatch, LastPass has you covered when you're on the go because your LastPass account is synced across all your devices.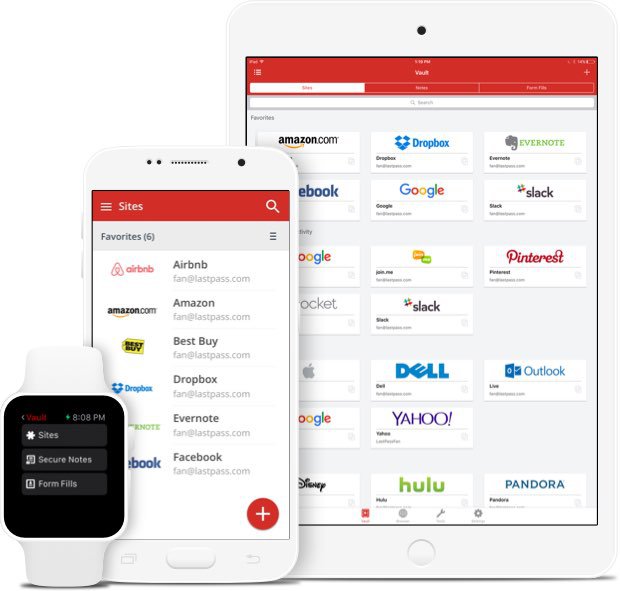 Enable fingerprint security to access your stored login credentials more quickly.
Form autofill
Beyond login information, LastPass can autofill forms with multiple shipping and billing addresses, different payment options, and other personal and/or business information.
When you're paying at an e-commerce site, an icon appears you can select to autofill your contact and shipping information, and you can choose which credit card to use.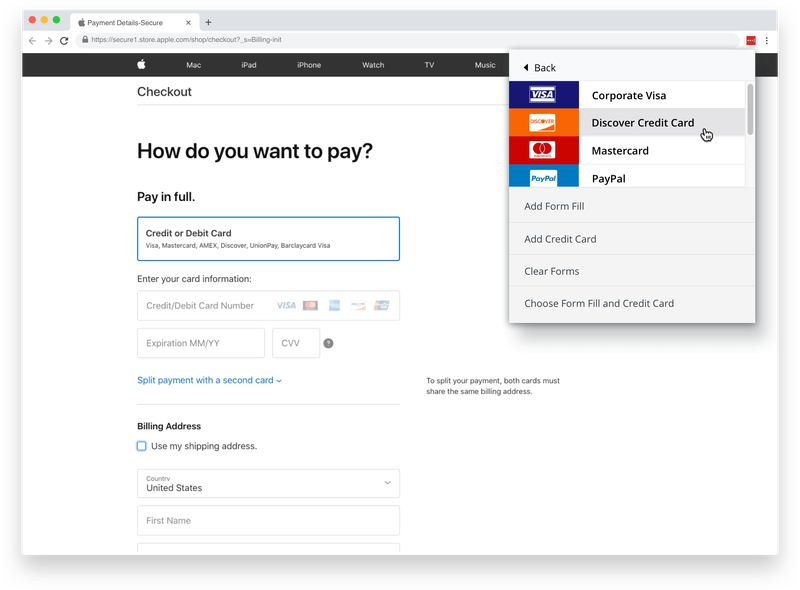 I used to hate ordering food online because every app or website, after making you go through eight million different food options, ended with the same maddening final step: manually entering your payment info. (Even if I'd stored it within the website or app earlier, it seemed like I always had to re-enter it.) Thankfully, LastPass' digital wallet averts this headache.
Authenticator app
The strongest password in the world will provide no protection if it's already in the hands of hackers. LastPass lets you add an extra layer of security with multi-factor authentication (MFA) via the Authenticator app. MFA requires you to enter more information or complete another action separate from the account you're trying to access or the device you're using.
Use the free Authenticator app to:
Automatically generate six-digit passcodes.
Send short message system (SMS) codes.
Use automated push notifications for one-tap logins.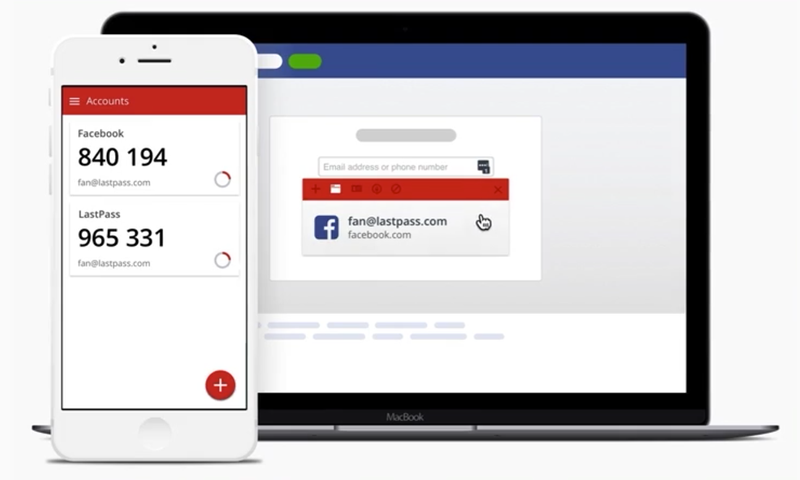 Setting up MFA means you're volunteering to jump through an extra hoop each time you log into different accounts and websites, but it beats leaving your personal and financial information vulnerable to bad actors.
Security dashboard
The LastPass security dashboard takes a wider view of your online identity protection with two proactive tools:
Security score: Evaluates your stored passwords to identify weak, reused, old, or missing ones.
Dark web monitoring: Evaluates your stored email addresses and alerts you immediately if any of them are found in the database of breached credentials.
You're also prompted to take actions in the areas lowering your security score to increase your protection.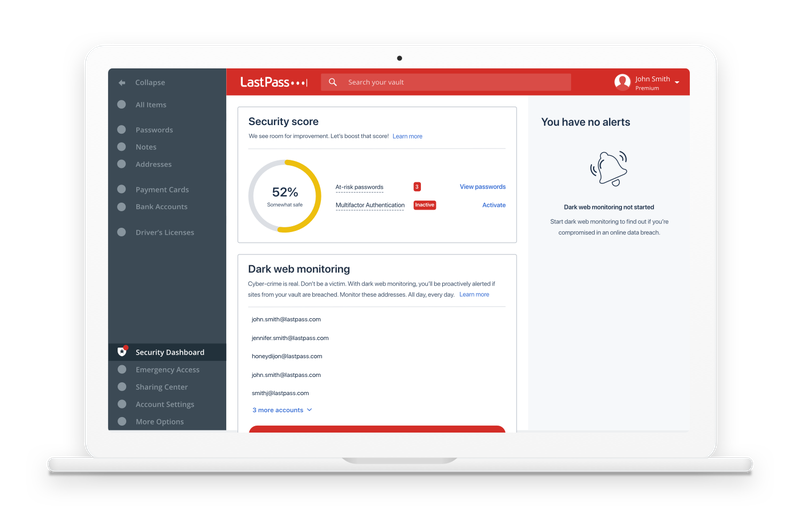 The LastPass Password Manager app doesn't include the security dashboard. Mobile users can, however, manually generate a security challenge score based on factors including average password strength and length and the number of weak and/or reused passwords.
---
LastPass's ease of use
LastPass is an industry mainstay in personal password management and protection, and it's easy to see why: The password vault interface uses a clean, intuitive design, and beyond login credentials, you can securely store payment, shipping, billing, and other personal or business information.
LastPass' desktop applications, browser extensions, and mobile apps streamline the user experience and provide full password vault functionality no matter where you are. The security dashboard's focus on two key areas — your security score and dark web monitoring — makes the effectiveness of your password and identity protection easy to track.
Using a password manager requires thoughtful upfront work: importing passwords, linking to multiple websites and accounts, and becoming familiar with MFA protocols. LastPass does its best, however, to increase login efficiency, so you're not constantly wishing for the bad — albeit simpler — old days when you logged into every online account with the same 123456 password.
---
LastPass's pricing
LastPass offers three plans:
Free: Supports one user and includes a secure, searchable password vault accessible from multiple devices, autofill passwords, password generator, multi-factor authentication (MFA), Password Manager and Authenticator apps, one-to-one password sharing, and security dashboard.
Premium: $36/year — Adds one-to-many password sharing, dark web monitoring, advanced MFA options, emergency account access, priority tech support, and 1GB encrypted file storage.
Families: $48/year — Supports up to six users and adds unlimited shared folders and a family manager dashboard.
Both paid plans have a 30-day free trial.
---
LastPass's support
The LastPass Support Center is available to all users and includes multiple self-service resources:
Knowledge base
Setup guides
How-to videos
Community forums
All plans include email support, but you're prompted first to search for answers to questions in the knowledge base before submitting an email request. The Premium and Families plans have priority support: Your emails go to the top of the customer service queue. No telephone support is offered.
---
Benefits of LastPass
The Federal Trade Commission (FTC) reports that 87% of consumers have exposed their personal information while accessing bank accounts, emails, or financial information. Everyone is moving more personal information, interactions, and transactions online, so password management and security applications such as LastPass are essential, not optional.
LastPass uses AES-256 bit encryption with PBKDF2 SHA-256 and salted hashes for cloud security. Local-only encryption means your data is encrypted and decrypted at the device level, and LastPass can't access your master password or other information in your password vault.
The LastPass password manager automatically generates strong passwords, so you don't have to come up with yet another unique choice for each new one. You also receive alerts about duplicated or weak passwords.
LastPass' digital wallet better protects your credit card numbers because this information is no longer stored on multiple websites with unknown security protocols. You can also check out as a guest at e-commerce sites without sharing information with online vendors.
Extra security could slow you down online, but LastPass works to streamline your login, payment, and form-filling processes.
It automatically populates each login page with the most likely username and password, provides electronic payment data at e-commerce checkouts, and prompts you to add new website logins to your vault the first time you use them. Do all this via its web-based interface, desktop applications, browser extensions, and mobile apps.
---
Make LastPass your first choice
Moving from your web browser's password manager — or even reusing the same password — to a standalone application may seem daunting, but LastPass makes the transition painless. While the initial setup and familiarizing yourself with its multiple features takes some time, you'll appreciate the long-term security benefits and affordable pricing.
---
Frequently Asked Questions for LastPass
LastPass is designed for individuals and families with up to six members. If you need identity and access management (IAM) for your business, check out LastPass for Business.
LastPass has a free plan for individuals that includes an encrypted password vault, autofilled passwords, a password generator, and multi-factor authentication (MFA). The Premium plan for individuals is $36/year and adds dark web monitoring, emergency account access, and priority tech support. The Families plan, which includes all Premium features plus shared folders, supports up to six users for $48/year.
While the LastPass cost for paid plans has more than doubled in the past three years, it remains one of the best values available.
What kind of support can I expect?
LastPass support for individuals and families is limited to email and self-service resources, including a knowledge base, user forums, and how-to videos. Paid plans have priority technical support: Email help requests go to the top of the queue over those from free users. No telephone support is available.

If you need password management and security for yourself or your family, LastPass is a powerful, affordable solution. Thanks to its multiple tools, including a password vault, browser extensions, mobile apps, and dark web monitoring, using LastPass means you'll no longer risk compromising your login credentials or other personal and financial information.
If you need password management and security for yourself or your family, LastPass is a powerful, affordable solution. Thanks to its multiple tools, including a password vault, browser extensions, mobile apps, and dark web monitoring, using LastPass means you'll no longer risk compromising your login credentials or other personal and financial information.