Do one thing and do it really well. That lesson has certainly not been lost on the folks who created Lessonly.
Lessonly is a unique learning management system (LMS) because it is designed expressly for team training. That laser focus shows in so many aspects of the software, from its appealing design and intuitive interface to its interactive tools for practicing skills. And it's actually fun to use, which is critical for engaging busy employees in training.
Lessonly is a cloud-born, mobile-friendly LMS suited for remote teams. It supports synchronous and live training to help teams build important skills no matter how and when they work.
The fact that Lessonly is presided over by the "Ollie Llama" is kind of icing on the cake.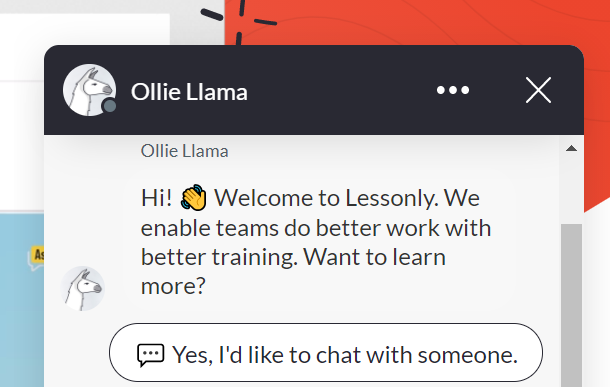 ---
Who is Lessonly for?
Lessonly is ideal for businesses of any size that want to take their employee training to the next level, especially for client-facing roles such as sales and customer service. It's perfect for busy, dispersed teams that can't always make time for synchronous training.
Lessonly features user-friendly navigation and functionality and integrates with a host of software applications your teams use every day. The result is an LMS that slips seamlessly into your existing systems and turbocharges your training efforts with very little effort.
Unfortunately, Lessonly's pricing is available only by quote, so you'll have to do some legwork to determine whether it's an equally easy fit for your budget.
---
Lessonly's features
Lessonly's feature set is narrower than many LMSs on the market. For example, it does not support gamification or e-commerce for selling courses.
Yet the features it does include are exceptionally well-thought-out. Let's take a quick tour of what makes Lessonly a powerhouse for training sales and customer service teams.
Intuitive, customizable interface
Lessonly is a pleasure to work with. It has an exceptionally spare, intuitive user interface (UI) that feels familiar from your first sign-on. The main admin dashboard presents six simple options that cover everything you need to do, from creating lessons and enrolling users to tracking progress and measuring results.
The learner interface is equally inviting and intuitive, presenting assignments in order of priority. Commands and tools are simple, and the search function does a good job of directing you to anything you might need.
The interfaces are also customizable to fit your brand, so you can create a learning environment all your own.
Course building
Lessonly emphasizes microlearning (learning in small bites) and interactive content. This makes it easy for novices to build exciting lessons that hold users' attention.
You can create, schedule, and assign live training and on-demand lessons in minutes. Content can be imported as text, documents, images, or video and tagged for easy sorting and retrieval. You can also embed media such as ebooks for users to experience as inline frame (iframe) elements.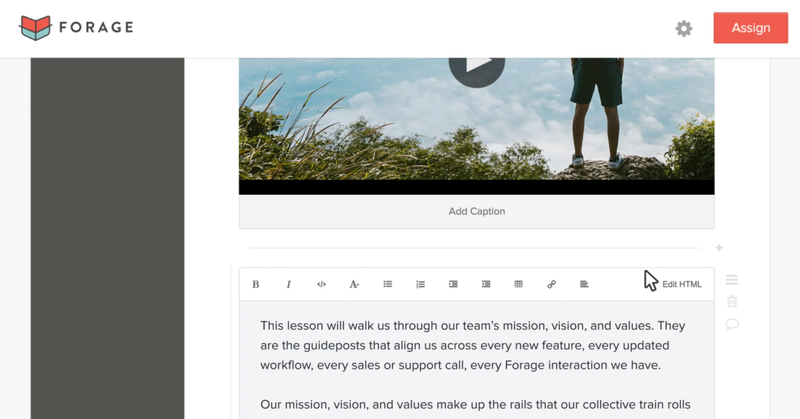 Lessonly also gives you the option of creating elements within the system. These include neat interactive bits such as flip cards and reveals, which flip or drop with a click to unveil hidden content.
Both sides can feature-rich content, including formatted text and hyperlinks. These small, interactive elements help keep learners focused, improving retention.

To create lessons, content can be dragged and dropped, uploaded, or pulled from Lessonly's image library. You can also capture audio, webcam, or screen recordings using Lessonly's recording app.
All lessons are easily threaded into learning paths to build knowledge over time.
Quizzes and surveys
Quizzes and assessments are easy to create in Lessonly and can be manually or automatically graded. Instructors are automatically notified if they have new assignments to grade.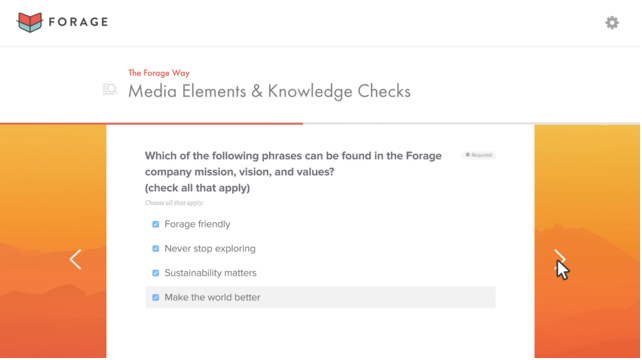 A thoughtful feature is Lessonly's minimum score tool, which lets you assign a retake threshold for each lesson. If someone fails to achieve it, the system will automatically reassign the lesson to the student to try again.
Practice and coaching
Lessonly's practice tools, which are included only with the Pro + Coaching package, are the place where Lessonly really shines.
Alongside the other course creation tools, you can create practice assignments that require learners to compose or reply to sample email, chat, and ticket request messages.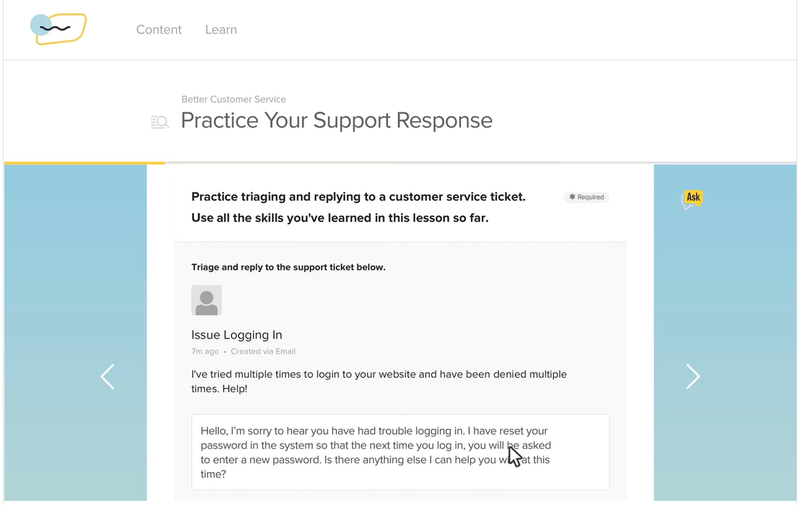 You can also assign live practice sessions that require learners to record responses on video, audio, or screen capture.
For example, say you created a lesson to walk your customer service reps through your customer relationship management (CRM) system. You could then assign a series of practice tasks for them to complete. They could record their work via screen capture and submit it for review.
Another example would be assigning your sales reps to practice their pitches on video.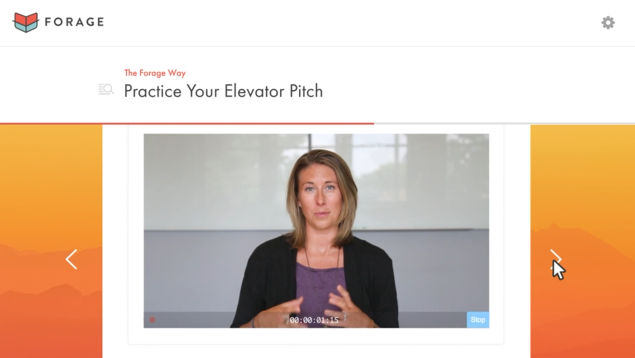 Navigating these features is surprisingly easy thanks to Lessonly's thoughtful UI. For example, when users first access Lessonly's recording feature, the system simply prompts them to download the Lessonly Recorder app from the Chrome Store. Once downloaded, it's just a matter of hitting Record.
This real-world, hands-on practice is an outstanding feature of the Lessonly LMS.
Actionable feedback
Practice only makes perfect if you're getting good feedback, and this is also built into Lessonly's practice tools. Once practice is finished and entered, it is automatically forwarded to graders for review. Even the grading is inviting, with familiar elements such as star systems you can set up to reinforce the lessons and your brand.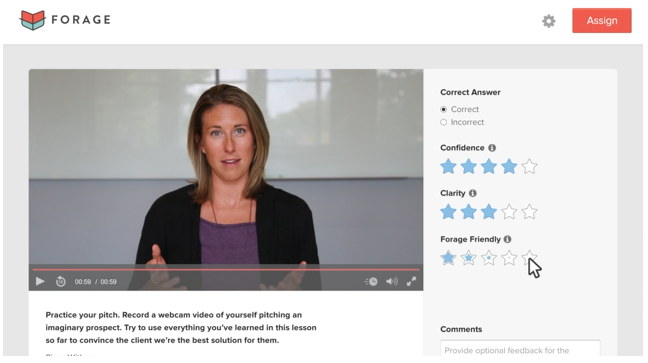 If you're training teams in soft skills for sales and customer service, you'll find much of the work of lesson-building done for you by the interface. This gives businesses without a deep training bench the chance to quickly create a powerful, professional training program.
Contextual learning
Throughout Lessonly, you'll find a lot of contextual help — nudges from the system suggesting a next step or an extra feature. This becomes especially valuable within the learner interface.
For example, when you finish a practice session, you might get a high five.

Everywhere you turn in Lessonly, the software is guiding you along and providing suggestions. As a result, the software simply feels smarter than many traditional systems that tuck everything away into hidden submenus and links. It definitely adds to Lessonly's collaborative, interactive vibe.
User management and notifications
Lessonly makes it easy to group, track, and manage learners. It supports four roles: admin, manager, creator, and learner. Customizable roles are an add-on feature.
In addition, the software includes a Smart Group function that automatically sorts and syncs users for you, based on rules you choose. The system comes with built-in rules such as name, email, role, title, manager name, and hire date. The rules can then be set to trigger events. For example, all employees sorted into sales might be enrolled automatically in your sales onboarding learning path.
Automated notifications are built into the software, so your content creators, instructors, managers, and students are alerted to upcoming deadlines and kept in the loop.
Reporting and analytics
Lessonly's reporting and analytics provide useful insights to drive continuous improvement of your training. In addition to metrics on lesson enrollments and progress, the system provides detailed data on courses, including activity, ratings, and engagement. Instructors can dial in and see what lessons or questions are performing well and which might need fine-tuning.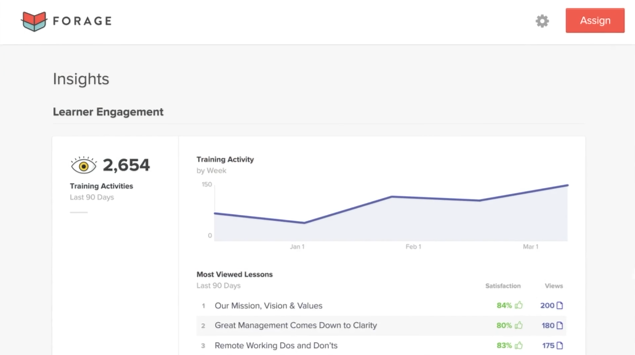 Integrations
Lessonly integrates with many systems, including:
Zendesk and MaestroQA
Slack
Chrome
Highspot, Mediafly, and Seismic
Lessonly also includes an open application programming interface (API) and webhooks so you can integrate training data into any software your teams are using.
All packages integrate with these applications. You can also pay for integration with Salesforce as an add-on feature.
---
Lessonly's ease of use
Lessonly is exceptionally user-friendly, with software that feels familiar from the first sign-on. With a clean interface, intuitive tools, and ample contextual help, it does a lot of the driving for you. You can expect quick onboarding and professional results with little time devoted to mastering the platform.
---
Lessonly's pricing
Lessonly's pricing is provided individually. There are two packages, Pro and Pro + Coaching, both based on users bundles in increments of 25. You can also buy add-on features for additional monthly charges.
Unfortunately, pricing is available only by quote. When seeking a quote, be sure to ask whether the user charges are based on all registered users or just active ones. Also ask about how charges are adjusted as users come and go.
---
Lessonly's support
Lessonly's support is very hands-on, with live chat weekdays from 8 a.m. to 8 p.m. EST, with an average response time of under three minutes. (Props, Ollie Llama!). Support is also available via phone and email support. All clients also get a dedicated account manager to serve as a coach and provide quarterly reviews.
In addition, the company has an extensive knowledge center, user events to connect with the Lessonly community, and an app for customers to connect and ask questions. The company also regularly rolls out new features and content.
---
Benefits of Lessonly
Lessonly's chief benefits are its focus on team training, practice, and feedback. If you want an LMS that allows everyone to jump in and feel comfortable using, Lessonly is a great choice. Its emphasis on microlearning, interactive content, and live practice make it an excellent program for creating a lively, engaging learning culture in your company.
Lessonly doesn't have the breadth of features of some learning management systems, but if you're primarily interested in team training, it does everything you need exceptionally well.
The company's onboarding and support are also outstanding, so you can invest with confidence that you'll be able to get the most out of the system.
---
Learning made fun
Employees love learning new things. But they also do a lot of reading and meeting in a day. Lessonly goes beyond ye olde slide presentation to allow employees to interact, practice skills, and weigh in with feedback without ever being in the same room.
If you're considering an LMS for team training, Lessonly is definitely worth a look.
---
Frequently Asked Questions for Lessonly
How much does Lessonly cost?
Lessonly provides two packages, Pro and Pro + Coaching, with users tiers in increments of 25. Unfortunately, Lessonly doesn't publish its prices online. You have to call the company to get a quote. You might want to price the latter plan, since it includes the key practice functionalities.
What support does Lessonly provide?
Lessonly provides live chat support from 8 a.m. to 8 p.m. EST on weekdays as well as phone and email support. You also get a dedicated account rep as your personal guide to the software. In addition, Lessonly holds user conferences and provides a Lessonly community app.
Is Lessonly good for small businesses?
Lessonly is a promising software for small businesses because it allows a small training team to create high-impact training, even with little time or experience with learning management systems. If it fits your budget, Lessonly is a great choice.

Lessonly is a powerful platform for team training, especially for client-facing roles such as sales and customer service. The software lets employees practice real-world skills, collaborate with distant team members, and share feedback to continually learn and improve.
Lessonly is a powerful platform for team training, especially for client-facing roles such as sales and customer service. The software lets employees practice real-world skills, collaborate with distant team members, and share feedback to continually learn and improve.
The Motley Fool has a Disclosure Policy. The Author and/or The Motley Fool may have an interest in companies mentioned.