Using a popup lightbox can be tricky. If you don't get the timing right or don't offer enough value, it can annoy your website visitors. If you nail your lightbox popup strategy, however, it can skyrocket your email signups, propelling your email marketing efforts and increasing your conversions.
Besides getting your prospects' email addresses, you can also use lightbox popups to notify visitors about your offers, embed promotional images and videos, or share important information and events.
In this guide, we'll take a close look at what a lightbox popup is, the best way to use it, and how you can create one as part of your email marketing strategy.
---
Overview: What is a lightbox popup?
Lightbox popups are window overlays that appear over a browser window or webpage. They block a portion of the page's content and disable and dim the rest of the background.
Website visitors can't interact with the website content or move to other parts of the page unless they exit out of the lightbox popup or act on the call to action (CTA), such as filling out the form.
Lightbox popups are typically used to capture visitors' email addresses to grow an email list, but they can also include CTAs that ask users to sign up for events and download content (among other things).
---
When should you use lightbox popups with your email strategy?
To optimize lightboxes for your small business email marketing efforts and ensure proper lightbox times, consider the following tips.
Avoid showing popups to visitors when they're in the middle of a task. Refrain from disrupting your visitors' flow and navigation on your website. For instance, displaying a lightbox popup when users are in the middle of booking an appointment will interrupt and even frustrate them.
Refrain from displaying your popup immediately. Trigger your lightbox to appear after your visitors spent ample time browsing your website and have some level of engagement. After all, people are less likely to sign up if they don't know enough about your company.
Set your lightbox to display on relevant pages. Set specific pages for your lightboxes to appear on to ensure they are relevant and valuable for your visitors. For example, instead of displaying your lightbox asking visitors to subscribe to your blog on your homepage, trigger the popup to appear on your blog page instead.
Consider other forms of delivering your messages. Lightbox popups are great for grabbing your visitors' attention, but they can also be overwhelming or annoying to some. Minimize using popups and consider other formats for displaying a particular message or marketing and sales elements.
Unless your lightbox content is relevant to your audiences or offers them value, your website visitors are likely to ignore and close your popups right away.
---
How to create a lightbox popup
If you're a web developer or know how to code using Javascript, HTML, and CSS, you can create your lightbox email popup from scratch.
If you don't have web development and coding knowledge, use an online popup tool or email marketing software that lets you create a lightbox popup easily without touching a single line of code.
How you create your lightbox can vary depending on the third-party tool or website builder platform you use, but in this guide, we'll focus on the steps for creating a lightbox popup using Wix.
1. Go to the Wix Editor
After logging on to your Wix account, select the website where you want to add a lightbox popup, or if you're building a new site, click Create New Site.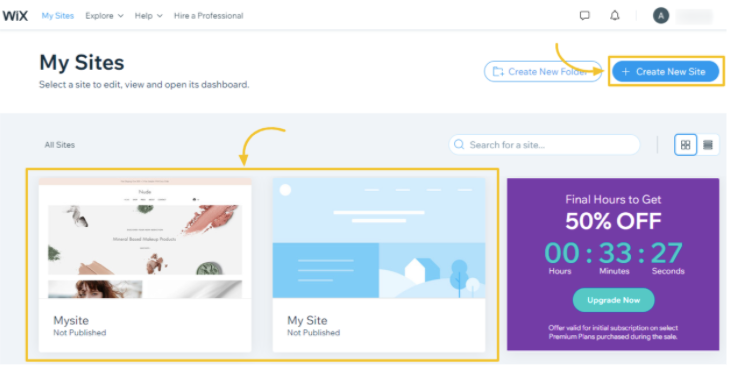 After selecting the site to edit, click Site Actions, then Edit Site from the dropdown. This should take you to the website editor.
On the left side of the page, click the plus icon, and you'll see the elements and options you can add to your website.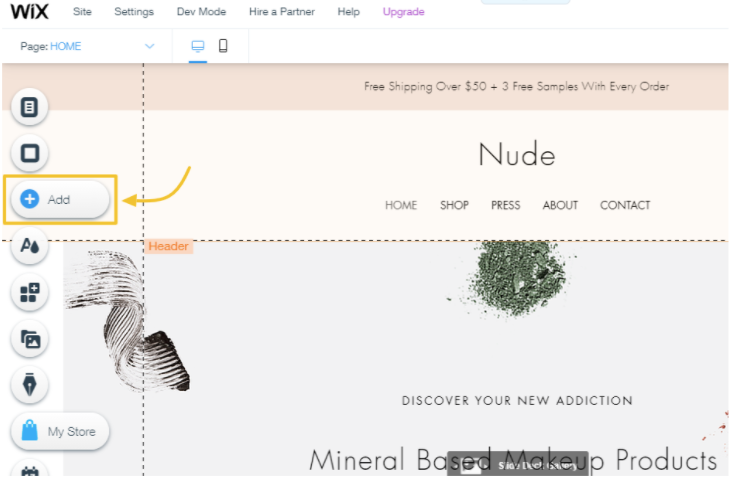 Select the Add icon within the Wix Editor to add a lightbox popup. Source: Wix software.
2. Select a lightbox category
Navigate to Interactive, and under the lightbox category, select either Welcome, Subscribe, Promotion, or Contact.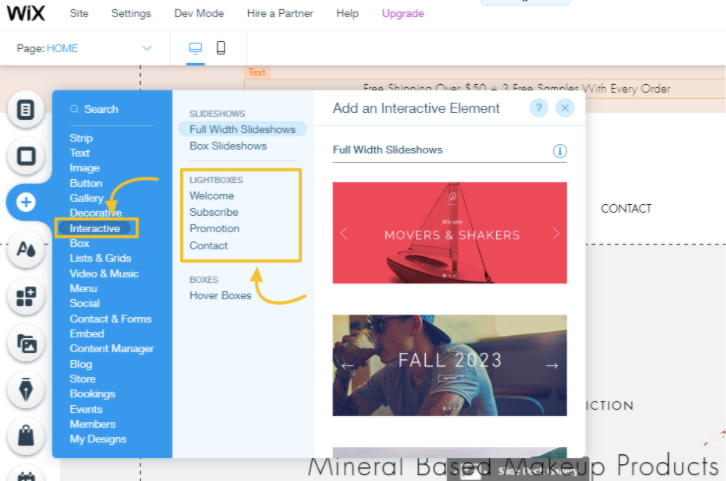 Wix provides five Subscribe popup templates and types of lightboxes: A full-width that shows at the bottom of your web page, a center lightbox that displays in the middle of the page, and a sidebar popup that appears on the right or left part of your page.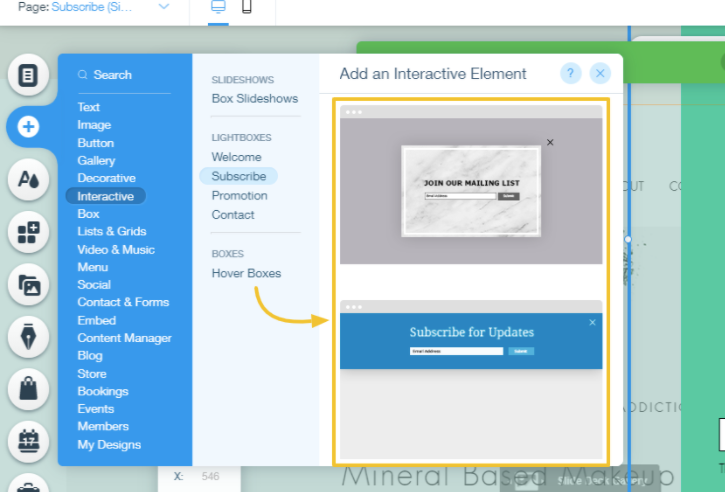 3. Customize your lightbox
Select one lightbox type and customize it according to your preferences. Wix lets you add any element to your email popup as long as the size doesn't exceed the lightbox and fits inside it.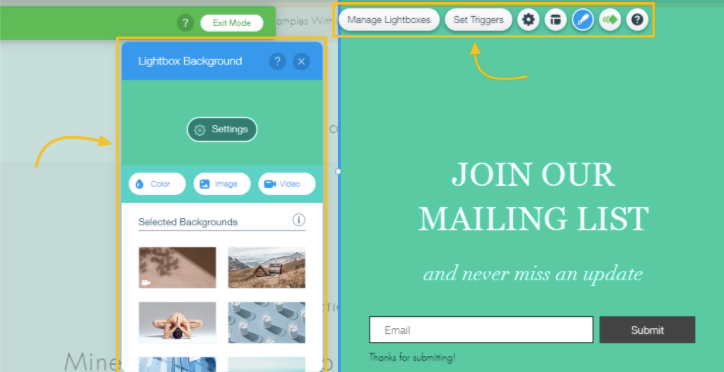 Edit the text and form field by clicking on each section. Use the editing tools to modify the text's theme, font style, size, alignment, and color.
The lightbox editing tool also lets you add effects to the texts, adjust character and line spacing, and enable vertical text.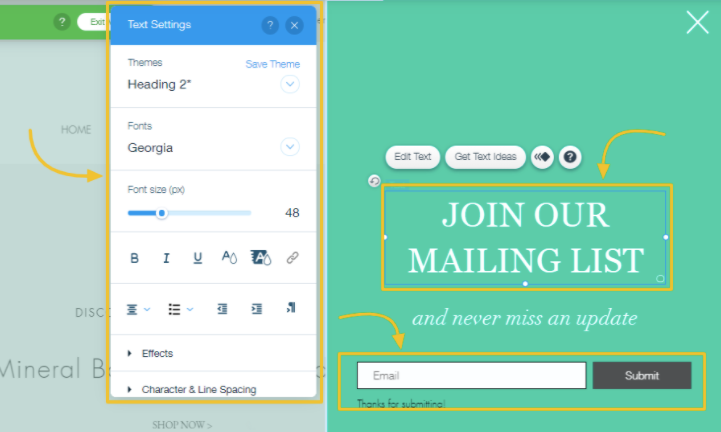 Select the background and customize your design. Use the editing tools and choose from the platform's library of colors, images, and videos to use as background.
You can also choose the overlay background by clicking the space around your lightbox, then the Change Overlay Background option.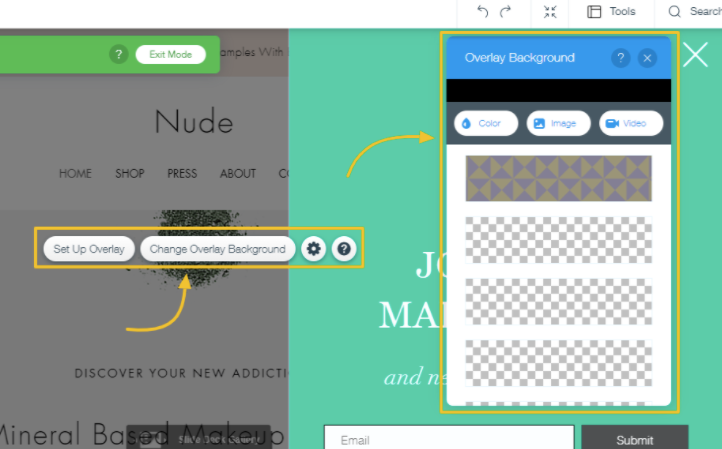 Additionally, set how your website visitors close your popup when it appears, either by clicking the X icon, the lightbox overlay, or the Close button.
4. Set triggers
Automatically display your lightbox on specific pages by clicking the Set Triggers button. This shows you the option to enable the auto display and the pages you want your popups to appear.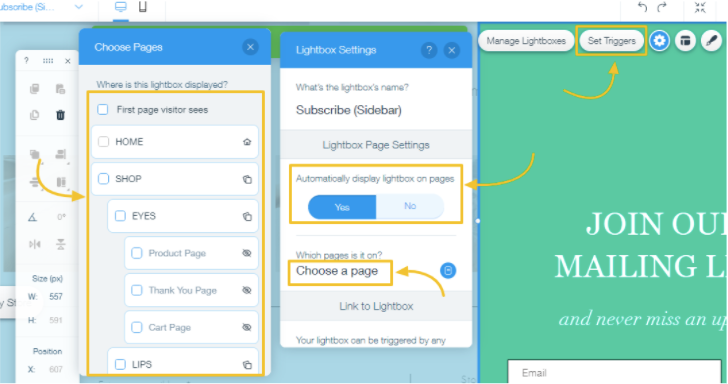 Link any element, such as menu items, buttons, and texts, to trigger your lightboxes. After creating and naming your lightbox, click the site element you want to link from. Then, click the Link icon to add a link and select the name of the lightbox you wish to add.
Wix autosaves all the changes made, and you can preview how your popup will look on desktop and mobile.
---
Lightbox popup examples
Get inspiration from these lightbox examples to help you create popups that grab your visitors' attention and encourage email signups.
The New Yorker
The email newsletter lightbox popup from The New Yorker uses a minimalist and simple design that gets triggered when you view an article on their website.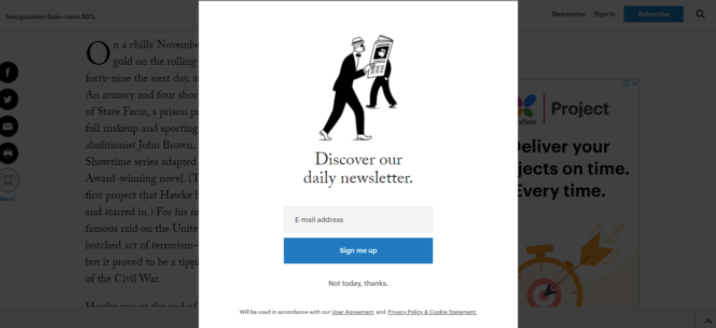 The only splash of color is the CTA button, making it stand out from any other element or content in the lightbox.

It's a simple and no-nonsense way of catching your visitors' attention and offering them value in exchange for their email addresses.
Kensie
The lightbox of clothing brand Kensie includes a glow effect that makes the popup more eye-catching.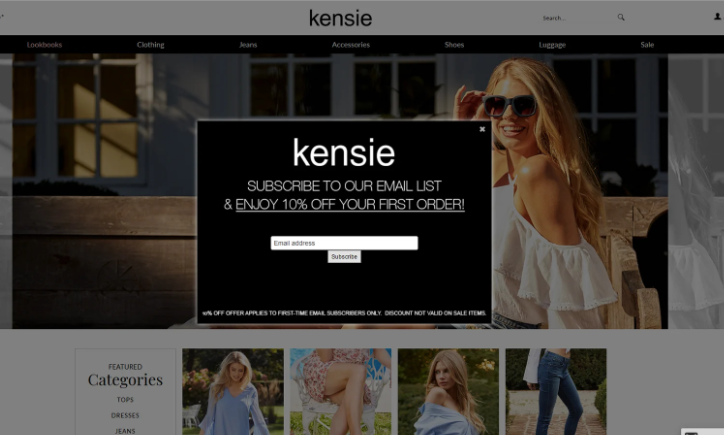 The design is simple and subtle, and the underline under the 10% discount is a nice touch that can help entice website visitors to sign up to the email list.
---
Light up your email marketing with lightbox popups
When implemented effectively, lightbox popups can boost your email signups, which help drive the success of your email marketing campaigns.
As long as you keep your lightbox relevant and display it at appropriate times, it should be one of the effective ways to grow your email list.