Recognizing that specific industries have specialized needs, Lightspeed POS cleverly rolled out two separate POS solutions for retailers and restaurateurs.
Some systems don't quite hit the mark when they attempt to diversify their products, but Lightspeed is one of the exceptions. Both systems are advanced and feature rich, and are tightly aligned with the needs of each industry.
---
Who is Lightspeed POS for?
Lightspeed POS is a point-of-sale solution for retailers and restaurateurs, and so the vendor offers two separate solutions, Lightspeed Retail and Lightspeed Restaurant. Above all, Lightspeed is perfect for those who are looking for a comprehensive and robust POS and are willing to spend a little more for the bells and whistles the system offers.
Lightspeed Retail is suited to mid size and larger retail businesses, due to its higher pricing points and full feature set, while Lightspeed Restaurant is suited to small and mid size businesses, and is suitable for full-service restaurants, cafes, bars, and more.
---
Lightspeed Retail POS features
Even the best salesman will be impressed with how Lightspeed Retail POS helps them run their store.
Inventory Management
While there are POS systems that offer more comprehensive inventory management features, Lightspeed still delivers the tools you'll need to manage your inventory.
To import your products into Lightspeed, you'll need only to upload an Excel or CSV file, and once that's done, you can begin categorizing items into styles, sizes, and colors, and multiple other variants. Adding descriptions and creating reorder points is also very straightforward. A standout function is the ability to upload vendor catalogs and order stock directly from the POS.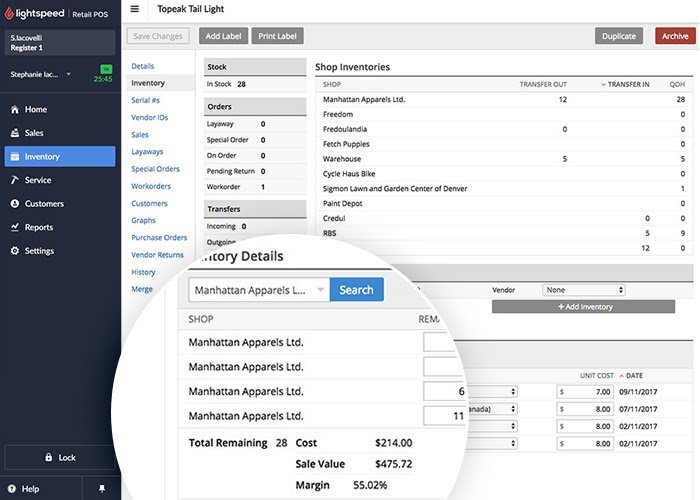 Multi-tender function
Lightspeed Retail's POS system accepts all types of payments, including cash, credit card, debit card, check, store credit, and gift cards. Gift cards come with a barcode, and the amount can be changed based on whether a customer has spent only part of its total.
Purchase order management
This feature allows you to add multiple items from different vendors into one purchase order, set reorder points to regulate stock levels, automatically populate purchase orders, and track unit costs and shipping fees. You can also use the 'return to vendor' function, which allows you to return stock that's damaged or incorrect.

Customer loyalty
Customer acquisition, customer retention, and sales and marketing should be part of your business strategy. Lightspeed's customer loyalty feature covers you on all these fronts.
This feature allows you to track and collect customer information, create specialized customer segments in order to offer them highly-targeted discounts, and help customers accumulate reward points. You can also create automated campaigns via SMS and a drag-and-drop email builder, and you can easily track the results of your marketing and promotional efforts.
---
Lightspeed Restaurant POS features
Lightspeed Restaurants offers the most common restaurant POS features, with a few extras thrown in for good measure.
Menu management
Creating your menu/s is easy with this feature. Product sections are highly customizable, and can be categorized into different sections (drinks, mains, appetizers), and you can assign unique names and pictures to each dish.
You can configure the system to change the menu at set times, based on whether it's breakfast, lunch, or dinner service. You can also set discounts, and set rates for delivery and takeout orders.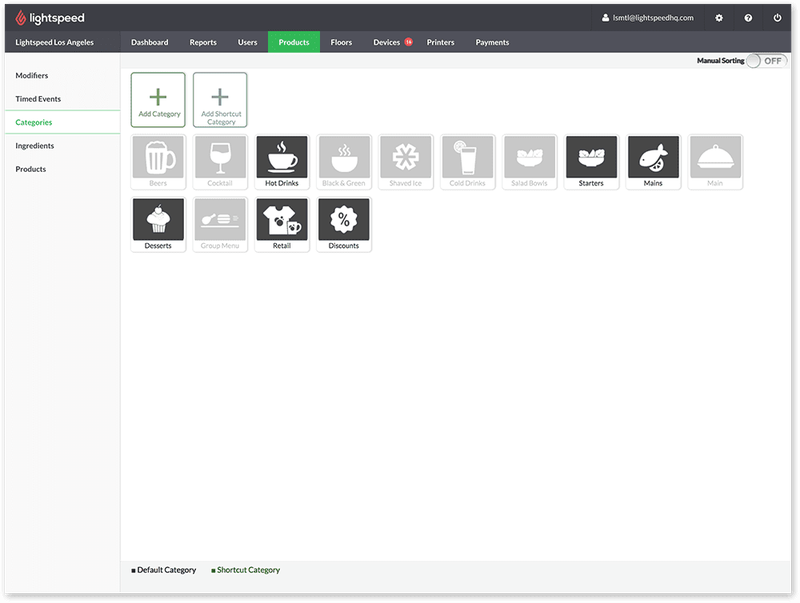 Raw ingredient tracking
This is an important feature for restaurant managers. It lets you track all of your raw ingredients down to their unit measurements, and will alter your stock automatically as you sell specific meals.
Floor plan management
This feature is simple yet highly effective. Users can create an accurate visual representation of their restaurant's floor plan, add in seats, and assign tables to separate receipt printers. Most importantly, users can also assign colors to tables based on their status — whether they're eating or ready to settle the bill. This feature also includes a time clock, so that servers and managers can see which tables haven't been tended to within a certain amount of time.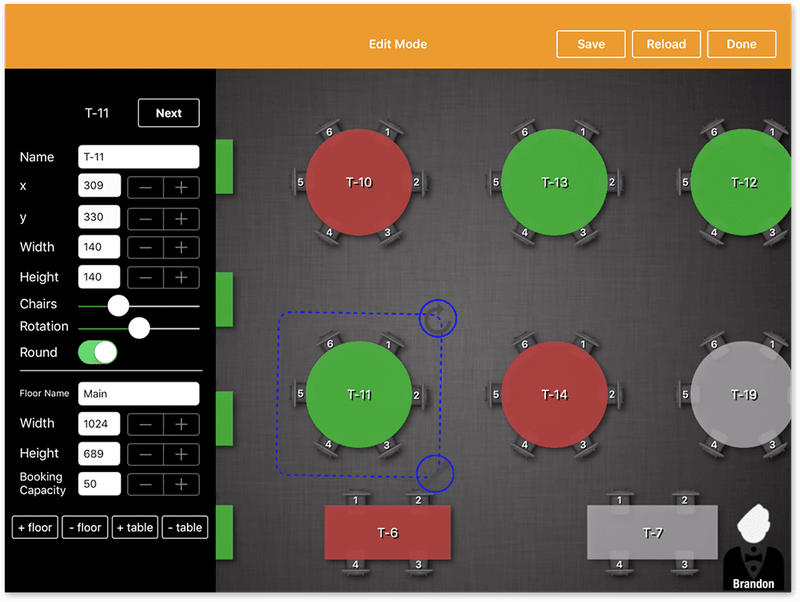 Reporting and analytics
This feature helps restaurateurs work out whether their sales tactics are working and how to adjust them. The basic feature allows you to check sales for each user, track tips, identify peak times, and evaluate which types of payments are most popular.
---
Lightspeed POS' ease of use
Both Lightspeed Retail and Lightspeed Restaurant are highly intuitive systems. In short, Lightspeed makes light work of helping you close a sale without compromising your usual sales techniques. Below, we take a look at what each has to offer.
Lightspeed Retail ease of use
Upon signing up to Lightspeed Retail, the company will get in touch with you to help you set up your store, and answer any questions you have about using the software. But, in all honesty, the system is designed in such a way that it's very intuitive to use. Its user interface is sleek, its sales tools are easy to understand, and managing multiple locations is a breeze as the system centralizes purchase order and vendor information.
Lightspeed Restaurant ease of use
Again, Lightspeed Restaurant is a simple yet powerful and intuitive POS tool. Users can customize their layouts via a drag-and-drop tool to suit their needs, and each tab is uncrowded and straightforward. The tool offers training videos to help users get set up, and it's easy to access reports, floor plans, payments etc, from one page.
Users can move and combine tables via drag-and-drop, cashiers can split bills, and servers can take orders directly from an iPad for which helps maintain order accuracy.
---
Lightspeed POS' pricing
What we love about Lightspeed's pricing strategy is how straightforward it is, both Lightspeed Retail and Lightspeed Restaurant solutions offer simple pricing options. However, both plans are on the more expensive side compared to other similar POS systems.
Both solutions offer a 14-day free trial without asking for your credit card information.
Lightspeed Retail pricing
Lightspeed Retail has five different pricing tiers with varying functionality included:
Basic: $69/month — Includes Retail POS and Lightspeed Payments.
Starter: $99/month — All previous features, plus e-commerce.
Standard: $119/month — All previous features, plus accounting.
Advanced: $169/month — All previous features, plus customer loyalty.
Pro: $229/month — All previous features, plus analytics.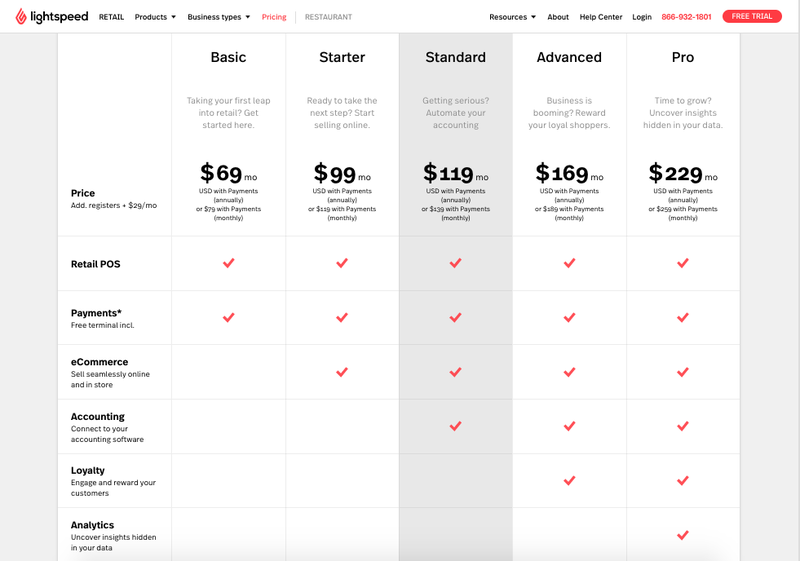 Lightspeed Restaurant pricing
Lightspeed Restaurant POS costs $69/month for one POS register. If you require multiple registers, Lightspeed will give you a tailored pricing quote. The basic $69/month plan includes personalized onboarding, basic reporting, and 24/7 customer support.
Lightspeed Restaurant also offers two add-on plans:
Add-ons: $12/month — Includes customer facing display, kitchen display system, advanced reporting, and self-order table menu functionality.
Premium add-ons: $39/month — Includes accounting, customer loyalty, loyalty app, self-order kiosk, and delivery integration.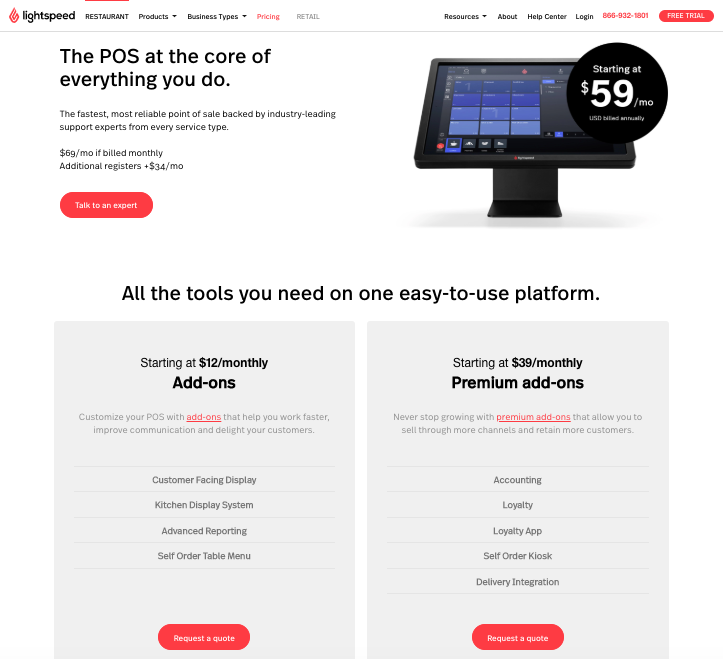 ---
Lightspeed POS' support
Lightspeed's customer support is second to none. It's included in the monthly fees and includes a wide variety of options for users to choose from:
24/7 phone support (holidays excluded)
Live chat from 10a.m. to 8p.m.
Email with a one-day turnaround time
Training videos
User guides
Community forum
---
Benefits of Lightspeed POS
There's not much more you could ask from a POS tool than what you get with the Lightspeed POS system. In addition to all of the common features you'd expect from POS software, Lightspeed really does have all the bells and whistles you could ask for.
Lightspeed software provides you with all the features to guide you along the sales process, and all the tools you need to take your store and your sales management processes to the next level.
Both Lightspeed solutions include solid feature packages, but aren't the cheapest POS options on the market
In general, both Lightspeed POS solutions aren't exactly the most budget-friendly options out there, but they do offer a huge laundry list of dedicated and well-thought-out features. Buyers also need to factor in hardware and payment processing costs, as well as optional yet functional and pricey add-ons.
While the price and feature set makes Lightspeed Retail more geared towards larger retailers, the Restaurant version's feature set and pricing points are definitely suitable and accessible to small to mid size businesses.
---
Frequently Asked Questions
Does Lightspeed POS work with multiple locations?
Yes, both Lightspeed Retail and Lightspeed Restaurant offer multi-location functionality. If you require this, Lightspeed will help you create a custom plan that suits your needs.
What other apps integrate with Lightspeed POS?
Lightspeed Retail offers a large range of integrations, and MailChimp is included with a subscription to Lightspeed Retail. Other available integrations include QuickBooks, Xero, and WooCommerce. Many other inventory management, scheduling, and email marketing integration options are available.
Do I need to enter into a contract with Lightspeed POS?
Yes, Lightspeed POS requires you to sign a one-year commitment contract.

If you're looking for an advanced and robust POS system, take a look at Lightspeed POS.
If you're looking for an advanced and robust POS system, take a look at Lightspeed POS.
---
How Lightspeed POS Compares