Want to add chat capabilities to your website to increase sales and provide better information technology (IT) support for help tickets? You might think that would require different software for each one but not anymore.
LiveChat is among the best customer service software options available and supports both e-commerce and IT service activities. We'll take an in-depth look at its hybrid capabilities below, so you can decide if it's the best choice for your small business.
---
Who is LiveChat for?
LiveChat launched in 2002 as chat software and has since evolved into a single-point-of-contact (SPOC) application.
It now manages customer service for e-commerce and IT support activities that normally require multiple tools and communication channels such as chat, email, and social media. More than 28,000 companies worldwide use LiveChat, including the British Film Institute (BFI), CBS, and Expedia.
LiveChat also offers three more specialized software products:
HelpDesk: Use advanced help ticket management, automation, and team collaboration to maximize IT support.
ChatBot: Build automated chatbots that use artificial intelligence (AI) for your website.
KnowledgeBase: Create a branded help center for customers and employees that incorporates AI features to aid user support.
Unlike many of its help and service desk competitors, LiveChat is not aligned with Information Technology Infrastructure Library (ITIL) principles, a collection of IT best practices for IT service management (ITSM).
ITIL change management works with service and knowledge management to better integrate IT activities into overall business processes and objectives.
---
LiveChat's features
LiveChat is built around its customizable chat widget installed throughout your website. Customer conversations can be saved and converted to help or incident tickets.
If no customer service reps are available, customer comments and questions in the chat widget are sent to the tickets dashboard inbox. Emails sent to your support email address are also routed to the tickets dashboard.
LiveChat's higher level plans have expansive functionality, but here we'll focus on its key features: the agent chat dashboard, the ticket dashboard, and the analytics reports.
Agent chat dashboard
The agent chat dashboard has four components:
Left-hand navigation menu
Chats pane with current, queued, and supervised chats
Individual chat pane
Resources pane
In the screenshot below, the individual customer chat widget on the left is contrasted with the agent chat dashboard on the right. An agent can manage multiple chat conversations, which are listed in the chats pane.
The right-hand pane can display multiple resources — here it's interactive order and sales cards — and other information such as the physical location of the customer or the history of past chats.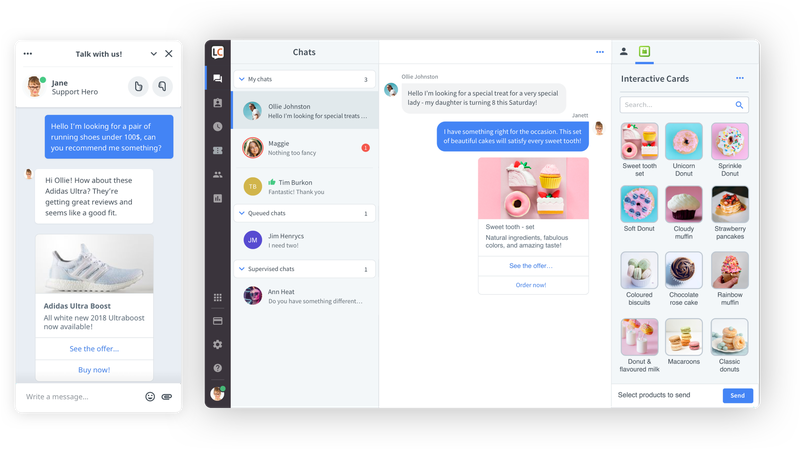 Agents can see what customers are typing before they submit comments, which gives them the opportunity to prepare replies or find appropriate canned responses for quicker turnaround times.
Agents can also track visitor pathways through websites and, if a customer is spending a lot of time on one page, initiate a chat to see if they have any questions.
Tickets dashboard
The tickets dashboard is where you take customer support beyond answering on-the-spot questions or offering website visitors sales coupons. Tickets come from three sources:
After-hours customer chat widget messages are converted to tickets.
Agents create tickets inside the chat dashboard.
Emails sent to your support email address become tickets.
All tickets are routed to the same LiveChat inbox, so nothing ever falls between the cracks.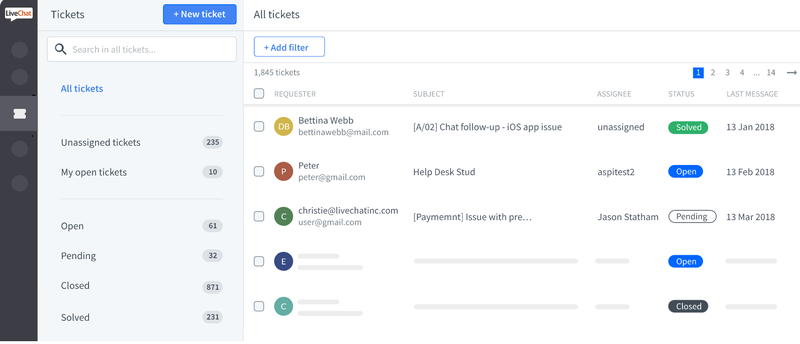 Chat privately with other help agents within the chat widget during customer conversations to collaborate on ticket creation. You can also assign labels to tickets to track recurring problems or other trends.
Analytics reporting
You must determine if the customer service experience is providing the expected return on investment (ROI). The key metric is customer satisfaction (CSAT), but multiple factors contribute to that number.
The first step is breaking out overall performance rates for chats and tickets, which boils down to the number of people served, tickets resolved, and satisfaction rates.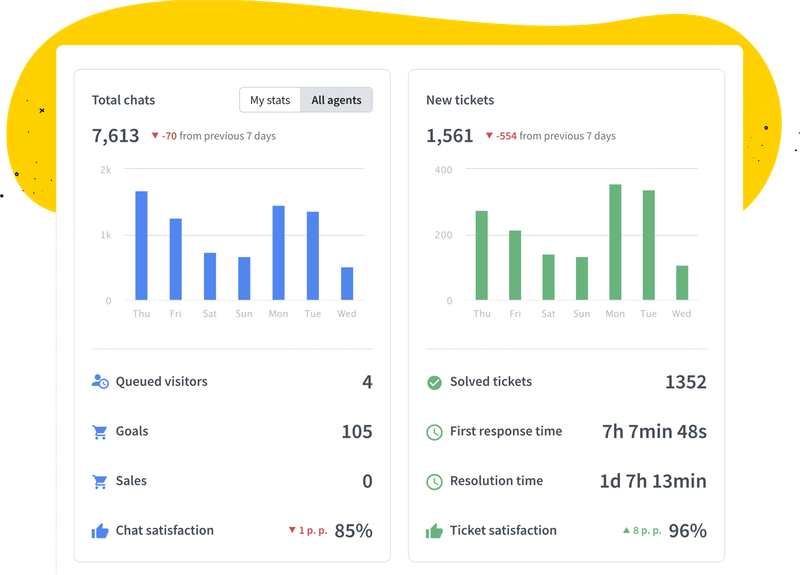 LiveChat's starter plan provides only a daily summary of performance data and statistics. The higher-level plans, however, include increasingly more analytics to track your customer service agents' performance as a group and individually.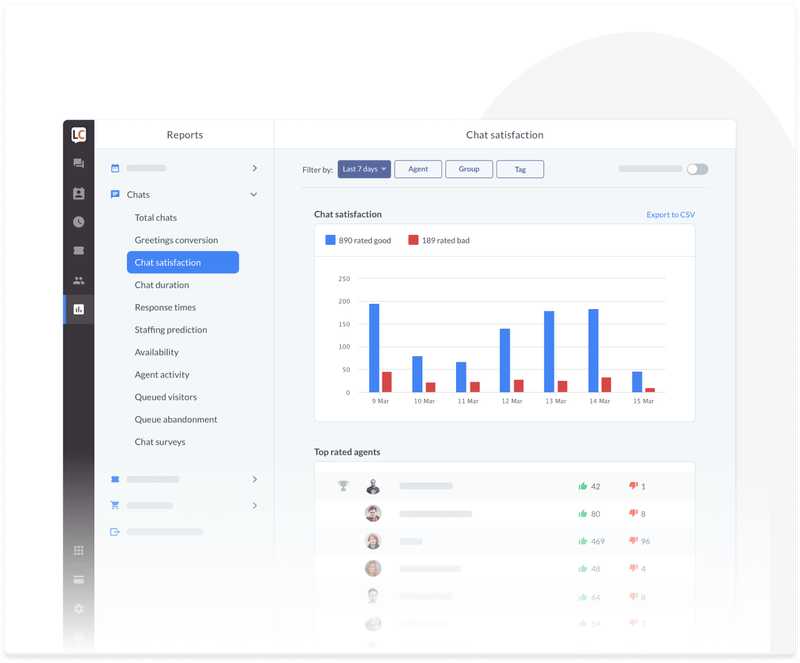 You must have actionable data about what's working and what needs improvement, and LiveChat provides it: average chat duration, response time, greeting conversion, queued visitors, and rate of queue abandonment.
---
LiveChat's ease of use
LiveChat setup is quick and easy via a JavaScript code snippet added to your website source code. The basic chat widget is well designed, and additional customization options and templates are available.
Customer service chat software must be easy to use by multiple stakeholders — customers, agents, and managers — and LiveChat succeeds here with simple, intuitive interfaces and dashboards.
Agents will hit the ground running with LiveChat's core functionality, but may require some time to learn its advanced features.
Multiple users report that the interface is a memory hog, which can cause performance issues when running multiple applications, and sometimes drops its connection mid-chat or acts glitchy. Integrations may become unstable, producing accuracy problems or disconnecting, when agents manage multiple chats.
---
LiveChat's pricing
LiveChat pricing breaks out into four plans:
Starter: $19/month per user — Has chat via website, apps, direct links, messenger, and email, and ticket management (chat, email, and after-hours form), a knowledge base, integrations, daily summary reporting, 256-bit Secure Sockets Layer (SSL) security, and 24/7 chat, email, and phone customer support.
Team: $39/month per user — Adds chat tagging, file sharing, ticket tagging, LiveChat dashboard, customer language selection, multiple automated greetings, and chat, ticket, and group statistics.
Business: $59/month per user — Adds Apple Business Chat, a work scheduler and staffing predictor, first response and average response times, and access restriction.
Enterprise: Quote-based — Adds an audit log, security assistance, Health Insurance Portability and Accountability Act (HIPAA) compliance, product training, software engineer support, and an account manager.
LiveChat's starter plan provides basic online customer service and support but includes meager reporting options. Your best bet to access features to manage your support operations is either the team or business plan.
---
LiveChat's support
All LiveChat plans have 24/7 support via chat, email, and phone. Its enterprise plan includes product training and software engineer support. Other resources include:
Help center
Free webinars
Community forums
Third-party service experts
The help center includes role-based guides for agents and managers, a frequently asked questions (FAQ) page, more than 150 YouTube videos ranging from product demos to tutorials, and a knowledge base.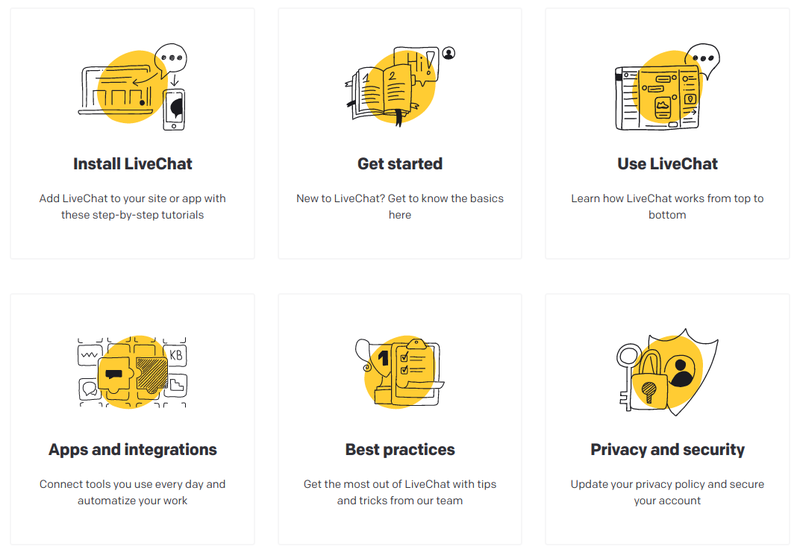 LiveChat has additional free resources on more general customer service and e-commerce topics. Read its 2020 customer service report, take a quiz to measure your customer service skills, or access free ebooks ranging from customer service benchmarks to e-commerce during the holidays.
---
Benefits of LiveChat
LiveChat offers more benefits that build upon its core features to streamline your customer service operations, which will increase satisfaction rates and revenue.
Mobile apps
Customer service agents mus be able to respond from anywhere to customer inquiries. LiveChat offers iOS, Android, and web-based apps that include key desktop interface features: see customer locations, viewed pages, products in their carts, chat histories, and use canned responses to save time replying.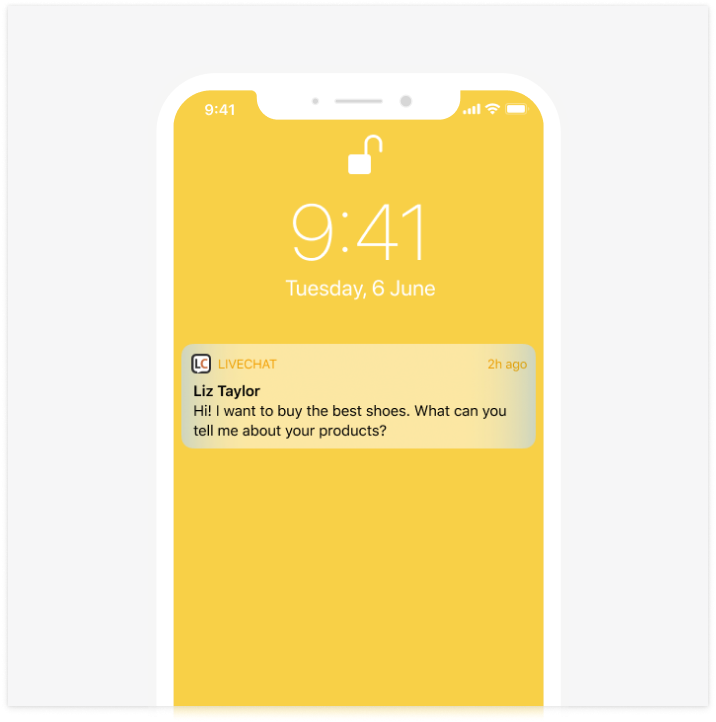 LiveChat also allows you to switch between its desktop, mobile, and web-based applications.
Apps and integrations
Effective software does not operate in a silo. It must integrate with your existing applications. LiveChat's marketplace has more than 170 integrations and apps that connect it to popular software in these categories:
Customer relationship management (CRM)
Email marketing
E-commerce
Help desk
Analytics
Content management system (CMS)
Not sure where to start? LiveChat has a recommended app starter pack, a mixture of 10 free and paid apps.
These apps provide integrations with e-commerce (Shopify), communication (Facebook Messenger, Slack), and marketing (Mailchimp) software and increase chat functionality with a translator that supports over 100 languages.
Security
Security became a long-running concern when desktop instant messaging applications and chatting systems became popular in the mid-1990s. Securing personal customer data remains a priority, and LiveChat ensures that with its software:
Servers use 256-bit SSL encryption protocols for customers using the chat widget and agents using the desktop, mobile, or web-based applications.
Masking hides sensitive data such as credit card numbers when customers make purchases within the chat app.
Data servers located in the European Union (EU) protect information under the Data Protection Directive and the ePrivacy Directive (ePD).
Two-step Google sign-ons and limiting agents' LiveChat access to approved internet protocol (IP) addresses further increases security.
---
Your customer service and help ticket solution
LiveChat is a successful combination of website customer chat and a help ticket system. The multiple chat features are easy to use, and the ticketing process via chat, email, and online forms captures and organizes customer queries for quick resolution.
LiveChat doesn't provide full help desk functionality — it lacks remote device or asset management — but you can use it with its companion help desk software.
It also integrates with ITIL-aligned IT service management solutions (ITSMs) such as Freshservice and Zendesk if you need service request, change, and incident management.
---
Frequently Asked Questions for LiveChat
LiveChat is a scalable customer support and service solution used by sole proprietors working out of home offices to multinational companies such as IKEA, McDonald's, and Sony.
LiveChat offers three plans — starter, team, and business — that range from $19/month per user to $59/month per user and a quote-based enterprise plan.
If you're operating a sole proprietorship, the starter plan is a good choice; otherwise, the team and business plans are better options. LiveChat does not have a free plan, but all plans include a 14-day live chat free trial.
What kind of support can I expect?
All LiveChat plans come with 24/7 customer support via chat, email, and phone, and the enterprise plan includes product training. Other resources include a knowledge base, community forums, videos, webinars, and free ebooks.

Want a customer chat widget at your website that can double as tech support live chat? LiveChat does both with a features set that helps generate more e-commerce sales and creates user help tickets.
Want a customer chat widget at your website that can double as tech support live chat? LiveChat does both with a features set that helps generate more e-commerce sales and creates user help tickets.