It's better to use software that works as it should, rather than one that looks the part but doesn't help you transform your email marketing campaigns. User experience should focus on enabling marketers to easily carry out common actions, such as creating an email campaign, and moving from step to step with ease.
This is the case with Mailerlite. The green can be overwhelming, and it doesn't have the same modern, sleek interface as its competitors, but what lies underneath is impressive.
---
Who is MailerLite for?
MailerLite's guided, step-by-step approach, providing one-line explanations of all the features at the time of use, makes it one of the best email marketing softwares for novice users who also require advanced features and are willing to spend some time creating and personalizing their email campaigns.
---
MailerLite's features
As MailerLite splits up its features into four main categories, we'll look at what each one does individually.
Campaigns
You can create four different types of campaigns:
Regular campaigns
A/B split campaigns (to test different types of emails against each other)
Auto resend (resend messages to people who didn't open them the first time with a changed subject line, new content, or an added personal message)
RSS campaign (send your RSS feed as an email)
One major drawback of MailerLite is that templates are not included in the free plan so you have to create your emails from scratch. This isn't ideal, especially because people subscribing to the free plan are less likely to be power users who have either the skills or the time to create emails themselves.
While the drag-and-drop email editor is easy to use, and you can add a wide range of content blocks (buttons, net promoter score, videos, countdowns, social media posts, etc), you still have to spend a considerable amount of time designing the email to make it look pretty due to the inadequacy of the templates.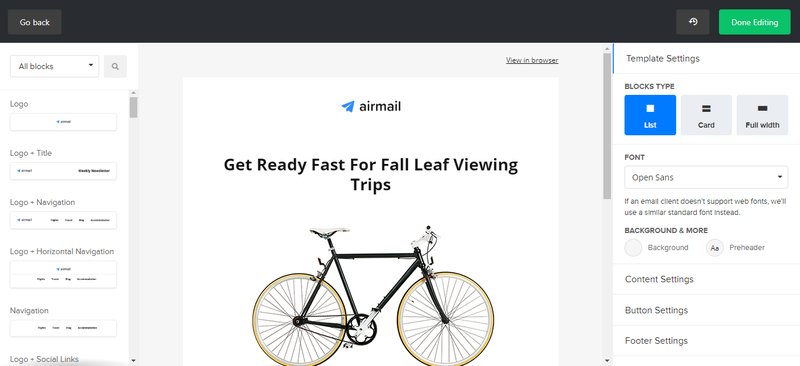 Once you've created your email, you can use advanced segmentation to send it to certain groups of users, such as people who have signed up via a particular source, or recipients who have already received a certain amount of emails, etc. There are loads of options for segmentation (see screenshot below), including
Sign-up date
Sign-up source
Campaign
Time inactive
You can add several conditions at once, meaning you can abandon the batch-and-blast approach and get super relevant with the emails you send.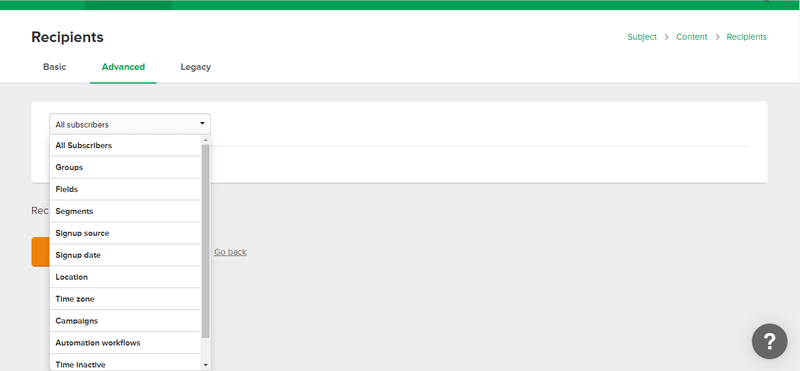 The final step is to schedule your email. The options are limited: Either you pick a time to send or — if you have the paid plan — you can choose to deliver it according to the time zone of your subscribers. There is no option to automate the sending time based on past customer behavior.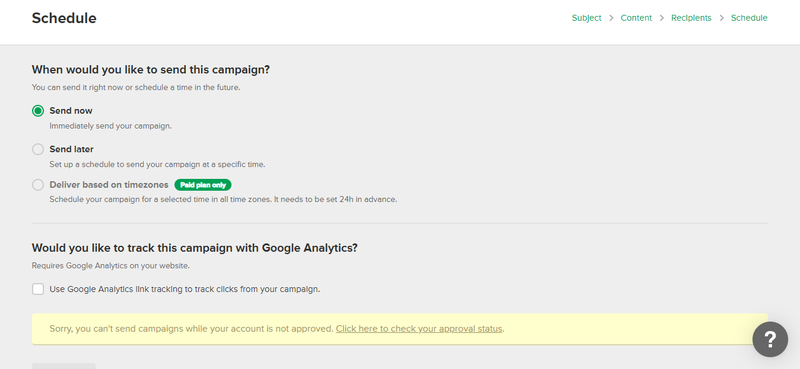 Subscribers
The subscribers section is where you create your segments. The option to create groups extends the segmentation functionality by allowing you to create a segment of people with any conditions.
There aren't many options to manage your subscribers; you can only add or remove them and add them to segments or groups. You can't drill down to see the behavior of individual subscribers, or see list growth, or search for subscribers based on certain criteria in order to create a segment.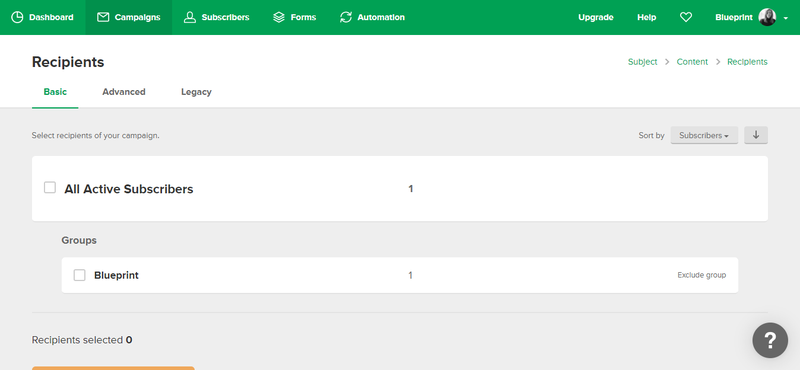 On the plus side, MailerLite has robust analytics capabilities, giving you access to some useful stats about subscriber behavior, such as which email clients had the most opens. You can then use this insight to improve your campaigns.
There is a useful tool that lets you remove subscribers who have been on your list for more than six months and haven't opened any of your emails.
Forms
MailerLite has great functionality for creating and optimizing popups and embedded forms that allow you to build up your email lists, as well as a simple landing page build that helps improve conversions.
You choose the most suitable popup template for your goal, whether that be getting a straight email newsletter signup, a popup offering a discount, a full-screen popup, or one that "pops" up in the corner, and then customize the content and thank you page.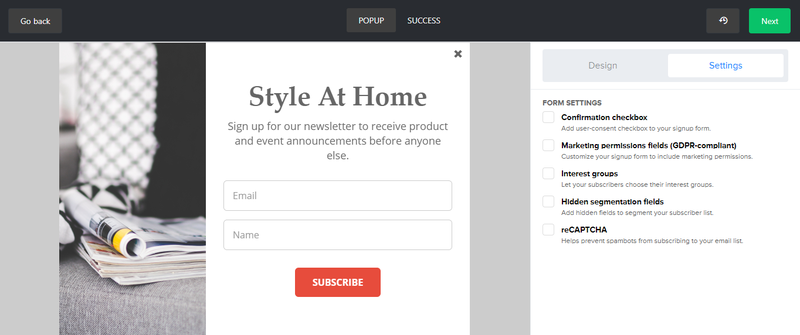 Popups can be really useful but, if not used correctly, they can ruin your customers' experience on your site and annoy them enough that they go elsewhere. That's what makes MailerLite's mode, frequency, and visibility settings for the popup so important.
You can choose when the popup appears (after a user scrolls or at a timed interval), how long to show it for, and whether you just want to show it on certain webpages or devices.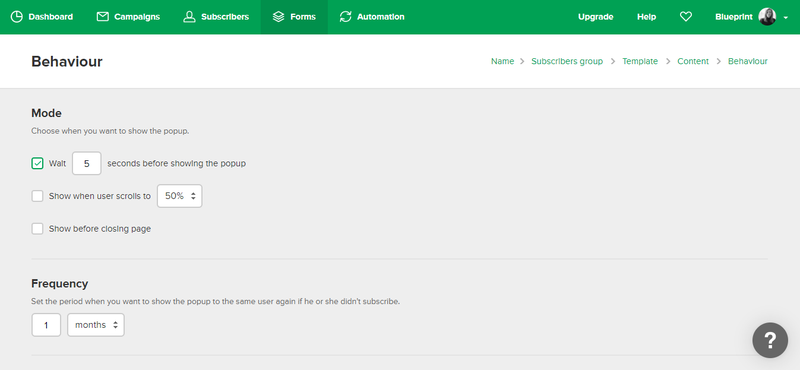 In terms of creating a landing page, you can optimize it for SEO so it shows up better in Google searches, as well as optimize its appearance for Facebook sharing.
Tracking the performance of all your different marketing elements is crucial to being able to do more of what works and optimize (or stop) what isn't working. MailerLite lets you track the success of your popups and landing pages by measuring list growth and conversions.
Automation
Being able to automate the process of behaviorally triggered campaigns is key to their success — sending them manually is almost impossible. With MailerLite, you can set up workflows that trigger actions after specific behaviors, such as completing a form or signing up for a newsletter.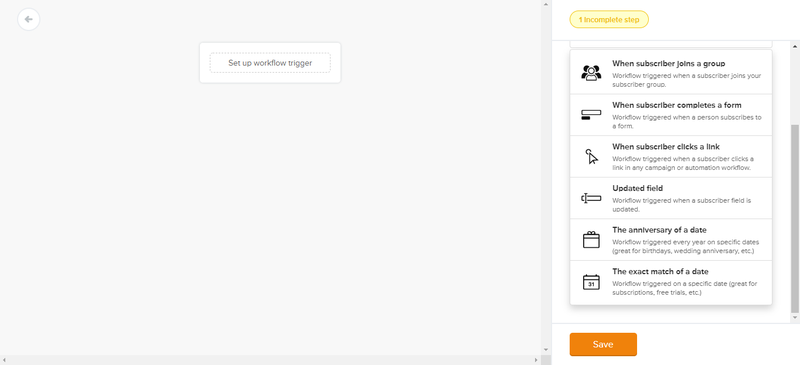 These actions include sending users an email, adding them to a segment, or moving them to a different step in the workflow. You can automate entire chains of actions based on customer behavior, paying particular attention to which steps best nurture customers and lead to conversions.
As you can track the results of these workflows and measure email opens, clicks, and subscribers, you gain a better idea of what kind of actions work best after specific triggers, and can then tailor the flow accordingly.
---
Benefits of using MailerLite
MailerLite is a straightforward, easy-to-use solution with an intuitive user interface that makes it easy to quickly get up and running and find the feature you're looking for. Its guided approach, and concise explanations of all the features minimize the need for training and extra support.
With its excellent sign-up form functionality, MailerLite helps you quickly build and grow your email lists, and its automated workflow mean that you can tailor content to user behavior to improve campaign performance.
---
Working with MailerLite's support
MailerLite offers different support options based on whether you have a free plan or a paid plan.
24/7 help options
Mailerlite provides 24/7 support for both live chat and email, but live chat is only available if you have a paid plan.
You can pay an extra $100 per month if you want access to a dedicated account manager and to go to the front of the queue for live chat support (the queues would have to be Black Friday–length for this to be worth it, in my opinion). This seems pretty steep considering that a price plan for up to 10,000 subscribers only costs $50 a month.
Search the knowledge base first
MailerLite seems more keen on making you go down the self-service help route rather than interacting directly with its customers (unless you pay for premium support). Before they will give you any contact details, you first have to search for the answer to your question in their knowledge base. This includes reporting a bug, which seems counterintuitive as, unless you're a Mailerlit developer, you're unlikely to be able to fix the bug yourself.
There is, at least, a comprehensive knowledge-based and the "suggested for you" option, which displays content according to the function you're using, is a time saver.
---
MailerLite pricing
While MailerLite doesn't offer a free trial, it has an excellent free plan that allows you to send up to 12,000 emails to up to 1,000 subscribers.
Yes, it doesn't have all of the features of the paid plans, but it has almost everything you need if you're starting out with email marketing, if email is not one of your main marketing channels, or if you just want good value for (no) money. And it does have a ton of what would be considered premium features in other email marketing software, such as granular segmentation and advanced personalization.
The main drawbacks of choosing the free plan are:
MailerLite logo on all emails
Limited analytics, with no ability to see a heat map of clicks or opens by location
Basic scheduling capabilities
No live support
All paid plans have the same features and they all allow you to send unlimited emails; the only difference is the number of subscribers you can send campaigns to. It's by far the simplest and easiest pricing model to understand, and makes it a very affordable solution with predictable pricing.
There are four paid price plans, all of which allow you to send an unlimited amount of emails per month:
1–1,000 subscribers costs $10/month
1,001–2,500 subscribers costs $15/month
2,501–5,000 subscribers costs $30/month
5,001–10,000 subscribers costs $50/month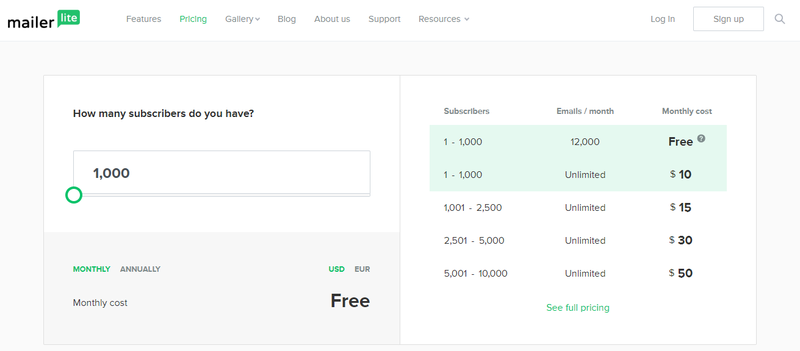 But MailerLite doesn't give you the same incentive to upgrade that other products do, as there are few other advantages besides number of subscribers. The only extra "features" that you pay more for are premium support, custom design templates, and a dedicated IP address.
If you pay annually, you get an impressive 30% discount.
---
MailerLite's ease of use
MailerLite isn't going to win any beauty contests for its user interface (UI) design, and it looks dated in comparison to many other email marketing apps, but the way it organizes its features makes it really easy to use.
Getting approval
There is an initial hurdle in getting started with MailerLite: the approval process. First, you have to fill out a lengthy profile to be "approved" and write out the information (rather than choosing from drop-down boxes) on details such as address, how you collect leads, and where you heard about the product.
It's not clear what process or criteria MailerLite uses to approve accounts and, after several days, my account had still not been approved even though I'd filled out my profile in full.
While you can use all of MailerLite's features while you are waiting for approval, you can't send any emails. You also can't upgrade to a paid plan before your account has been approved, which seems like a strange sales model.
Easy and intuitive
MailerLite has a straightforward and well-organized user interface. The main horizontal menu is split into the four main features of the software:
Campaigns
Subscribers
Forms
Automation
When you click on any one of these menus, you are taken to a separate dashboard that contains all the work you've done so far, as well as a big orange button with the main task in each category.
Even if you're not familiar with email marketing software, it's still crystal clear where you need to go to complete specific actions. You don't need to take a tour of the product to understand how to use it (which is just as well, as there doesn't appear to be one), and it's easy to feel like you're taking full advantage of all the features, as they are all clearly marked in either the main menu or the submenus.
Many of the features have a sentence of explanation or instruction to help walk you through the different processes, which is useful in helping novice users make sense of the different features.
---
Frequently Asked Questions for MailerLite
How do I sign up for MailerLite?
This is a more complicated process than it is for other email marketing software. To send an email with MailerLite, you must enter details such as address, how you collect leads, and where you heard about the product, and then wait for approval.
How much does MailerLite cost?
MailerLite is free for users with up to up to 1,000 subscribers. Its paid plans differ based on the number of subscribers you have.
Does MailerLite have live chat?
Yes, MailerLite offers 24/7 live chat support, as well as email support, but only for paid plans.
Does MailerLite allow me to create segments?
Yes, you can use Mailerlite to create segments according to a wide range of customer behavior, such as email opens, sign-up date and source, and the last time they interacted with your company.

While it prioritizes features over style, MailerLite is still a safe and solid option for creating personalized, segmented email campaigns.
While it prioritizes features over style, MailerLite is still a safe and solid option for creating personalized, segmented email campaigns.
The Motley Fool has a Disclosure Policy. The Author and/or The Motley Fool may have an interest in companies mentioned.