Majestic is a legendary SEO tool. Despite its name change from Majestic SEO to simply Majestic a few years back, SEO is still its core business. It crawls the web to build its links database.
It covers the same terrain as the major search engines Google, Bing, Yandex, and Baidu, but with a different focus: Majestic only looks at links. Their comprehensive web link data is what Majestic sent into space to be 3D printed. Read all about it in the Majestic blog.
In an SEO's universe of authority, content, and architecture, Majestic provides a complete view of the authority dimension by focusing on both the quality and quantity of backlinks pointing to a page, or to an entire site.

It helps its users benchmark, analyze, and improve their site's backlinks profiles, hence improving their indexing and eventually their ranking in search engines.
It doesn't focus on the content and architectural dimensions of SEO, but Majestic is a unique tool which has imposed its vocabulary and vision onto the SEO landscape and its players. It belongs to a select range of top SEO tools available in the market.
---
Wait - what are backlinks?
Once upon a time, a Chinese researcher named Robin Li invented an approach for ranking sites in search engine results. He came up with Rankdex, an algorithm for ranking results based on links.
A couple of Stanford students used the same approach to create their search engine, BackRub, later renamed Google. In a nutshell, these algorithms count and evaluate links that point to a site in order to interpret the importance of the site, and hence rank it accordingly in search results.
As a result, it's therefore important for a site owner to have links that point to their site. When we look at links from that perspective, we call them incoming links or backlinks.
---
Who is Majestic SEO for?
Most site owners, analysts, and SEOs can gain benefits and insights using Majestic. But there are three use cases for which the tool is ideal: the snapshot; the advanced, link-focused SEO; and the tools or dashboard provider.
Majestic provides an instant summary view of any site's backlinks profile, provides comprehensive data access for advanced SEOs and link builders, and provides data via its application programming interface (API) to other tools providers and for dashboards.
---
Majestic's features
Majestic comes with a generous amount of features to access and interpret its backlinks database. It continually adds functionality based on user requests. It even crawls your site on demand to make sure its data is up to date regarding your website. Let's have a look at its main features.
Backlinks profiles
Majestic's core functionality resides in the Site Explorer which shows a site's complete backlinks profile based on proprietary data. Majestic has created a very simple illustration of a backlinks profile using a qualitative dimension called Trust Flow and a quantitative dimension called Citation Flow.
The two dimensions allow for a plot of all the sites' backlinks according to their qualitative and quantitative importance on a scale from 0 to 100. This is the instant killer view that makes Majestic a reference tool in the SEO space.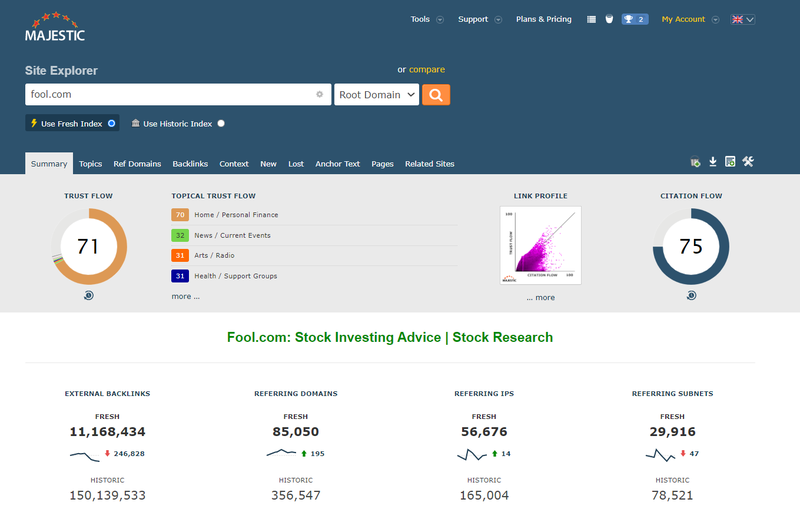 The backlinks profile in the Site Explorer summary also incorporates a number of other data dimensions and filters:
Most prominent links
Topics: site categories the links appear in
Link context
Links divided into pages, domains, IP addresses, and subnets (groups of IP addresses)
Languages
Historical evolution
Anchor text
Link context analysis and visualization
The Majestic backlink analyzer has been extended to provide context to links. Majestic originally only crawled links, so this addition has meant crawling and analyzing more data to be able to provide information about the surrounding elements of each backlink.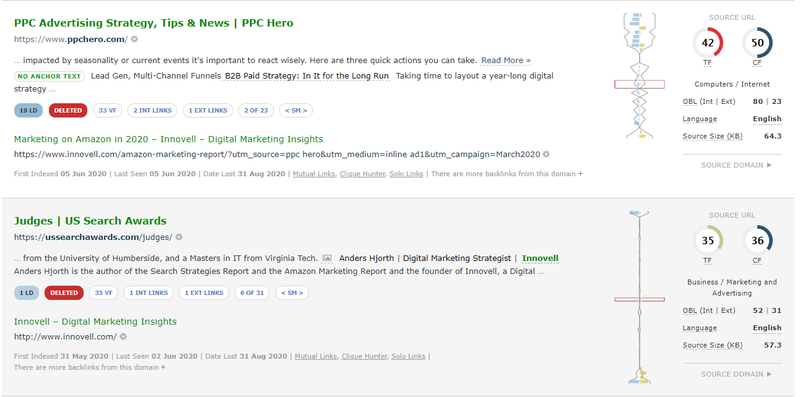 Understanding the context of a link can help tool users understand motivations for linking to a site in order to emphasize these when aiming to generate more backlinks.
Dashboards and reporting and exports
Majestic provides its users large amounts of data. The visualization, reporting, and data access functionalities are essential for extracting value from the tool. Beyond the Site Explorer summary site and in-depth pages like the context analysis page above, Majestic also provides a range of other data management options:
Data extraction from any report
Copying to the bucket, a repository for later handling
Powerful interface for generating advanced reports
Monitoring of a specific target over time (via the Campaign feature)
Synchronization with Google Search Console and dashboard creation (via the Campaign feature)
URL submission and site crawl
When analyzing a site with Majestic, the Page view will show you the pages it has found for your site and their backlinks profile. If a page indicates a crawl error, you can fix it, and the URL can then be resubmitted to the Majestic backlink checker which will recrawl those pages and update its index.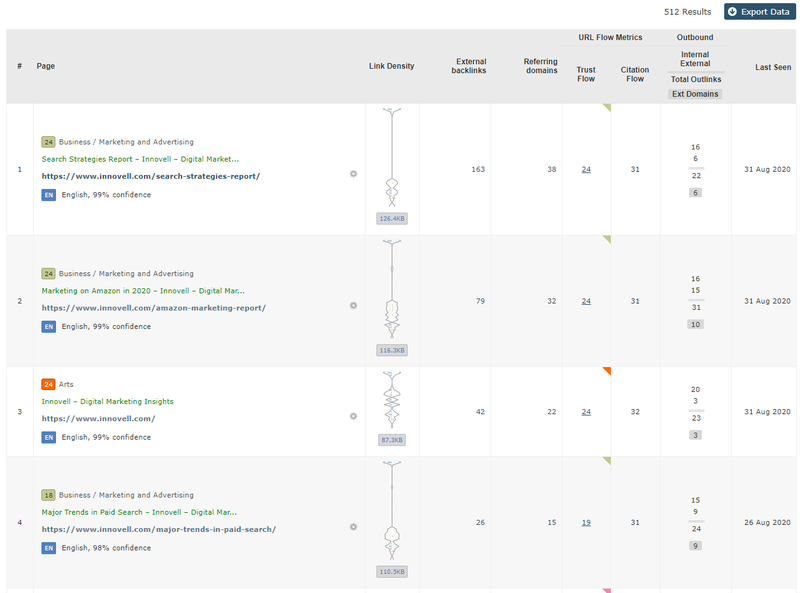 Comparisons and discovery
Majestic's Pro plan gives you access to site comparisons which are useful both for benchmarking and extracting backlinks opportunities. If your competitor has a backlink from a site, perhaps that site would link to your site as well.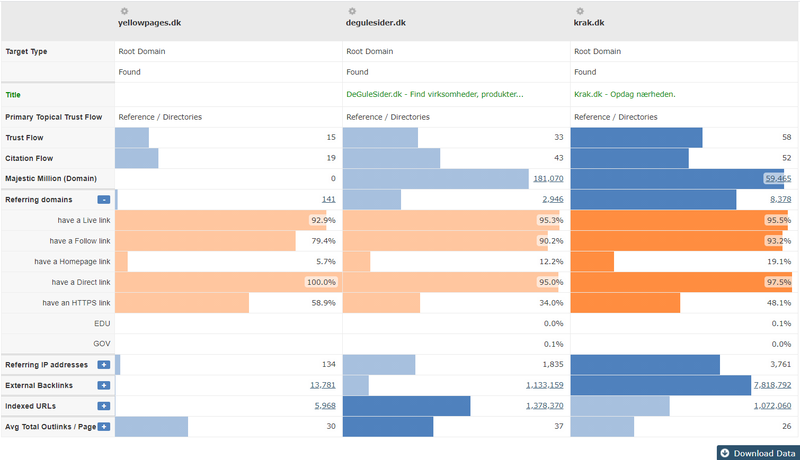 Archaeology
The up-to-date information in Majestic is contained in the Fresh index which is updated daily but only holds limited historic information. When you want to look beyond a 120-day time frame, you can use the Historic index, which is a much bigger index holding data for up to five years back.
This allows SEOs to review a longer history for the site and do an archaeological study on the site's past to uncover things that could influence its ranking today.
It may seem odd that the two indexes are separate, but Majestic explains this with the significant technical requirements and costs for maintaining the indexes and tries to provide data both for real-time and historic views.
This function is important for anyone involved in trading existing domains because it could provide information about potential search engine blacklisting of domains which would reduce their value significantly.
More tools: experimental, keywords, clique hunter, and more
Majestic rolls out tools to see if they will be useful for its subscribers. One such tool is the Majestic keyword tool which will look up keywords in the anchor texts of its backlinks database to return the number of occurrences in page titles and link anchor texts.
Here are some of the additional tools available from the Professional plan and above:
Search explorer: A keyword search feature generating a search results page ranked by a proprietary search score.
Neighbourhood checker: A list of sites hosted on the same subnet of IP addresses. It is used for spam link detection. A higher number of incoming links from the same subnet could be a coordinated action disguised as a number of different sites.
Related sites: A list of sites Majestic identifies as related to the researched site based on backlinks, anchor texts, and topics. A quick way to identify competitors.
Clique hunter: When comparing domains, the clique hunter allows you to filter their overlapping backlinks to identify all those which don't point to your domain and order them by Trust Flow. This allows you to identify the highest potential and strongest links you could aim to obtain for your own site.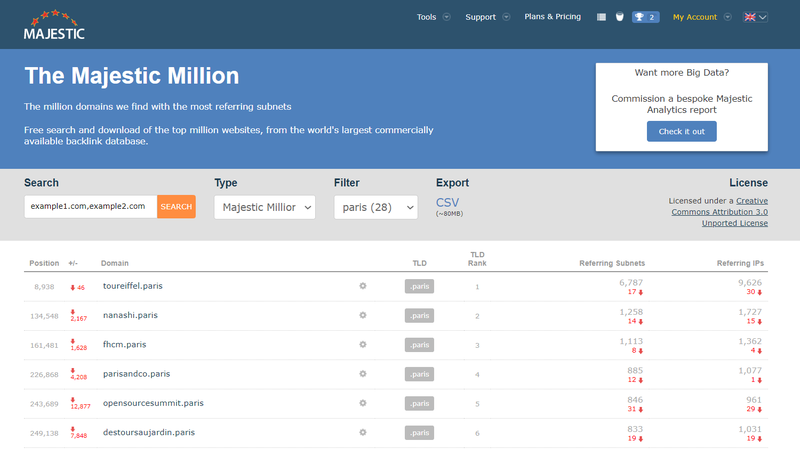 ---
Majestic SEO's ease of use
Let's be clear about this: Majestic does not stand out for its ease of use. The interface looks clunky and dated and could benefit from a UX overhaul. When you first log in, you are taken to a business profile page inviting you to enter your business information to be part of the user community and appear in the directory.
You are naturally attracted to the Verified domains item, where you can connect your Google Search Console account. But none of this really adds value during the first steps of your journey with Majestic, and the user can easily feel lost.
When you research a domain and swap between the various tools and features, the interface annoyingly returns to a default search for "womenintechseo.com" unless you are using a sub navigation.
And whereas Majestic has created many cool concepts and names, these unfortunately make the tool counterintuitive for new users. The tools menu is a layer cake with menu items corresponding to the plan you have subscribed to. We would have preferred a menu sorted by importance for users.
It's a shame for such a powerful tool, but this all adds a bit to the geeky image which advanced SEOs likely appreciate. Common mortals appreciate it a bit less.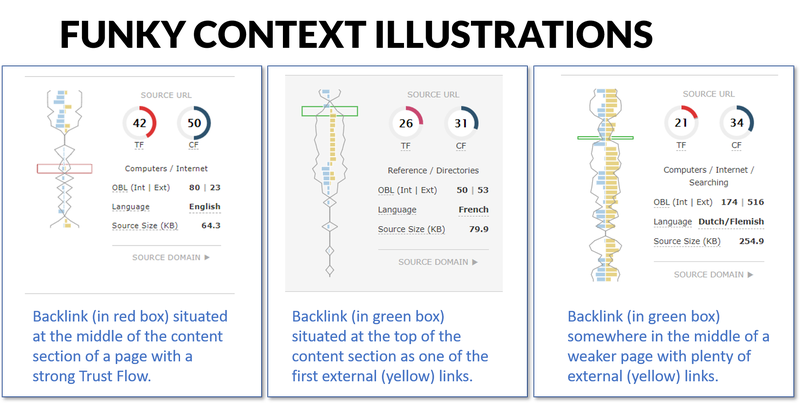 On the plus side, the Majestic interface has some funky illustrations allowing the initiated user to swiftly understand a backlinks profile at a glance and the context of links within a site. It is impossible to understand at first glance, but both practical and outstanding once it's explained to you.
The best piece of advice for using this tool is to stick to the Site Explorer view which summarizes a site's backlinks profile in great detail. Then take the training and identify the parts of the tool which can provide the most value to you.
---
Majestic SEO's pricing
Majestic SEO provides a free version which provides access to a domain lookup (Site Explorer Preview), but it only provides limited data. Beyond that, Majestic SEO pricing seems reasonable given the resources deployed to provide the data.
The Lite plan is $49.99 monthly for one user and provides access to most of the functionality for anyone using it daily. We found the Pro plan at $99.99 monthly expensive as it's limited to a single user, but the pricing is based on usage levels of "analysis units" which makes it justifiable for heavy usage.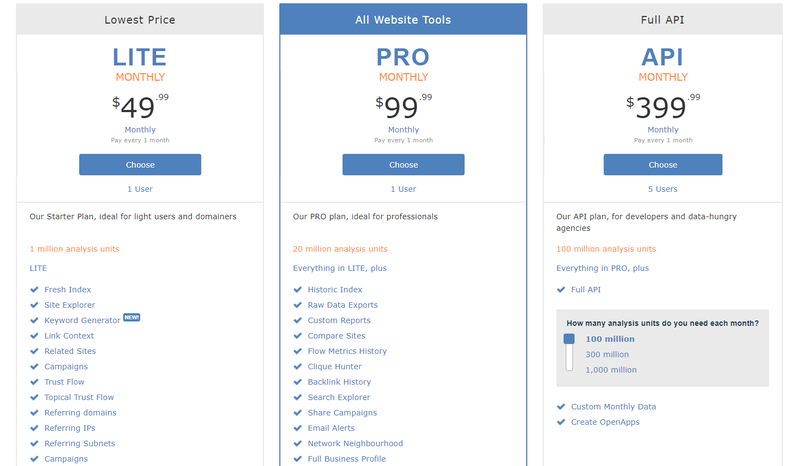 The API plan is out of range for most users but will make sense for larger agencies and API users who integrate the data into other applications or dashboards.
---
Majestic SEO's support
The support team's onboarding process helps users get up to speed with some of the program's more complex features. We benefited from a one-to-one training session with a product specialist who didn't watch the clock and went to great lengths to explain the tool.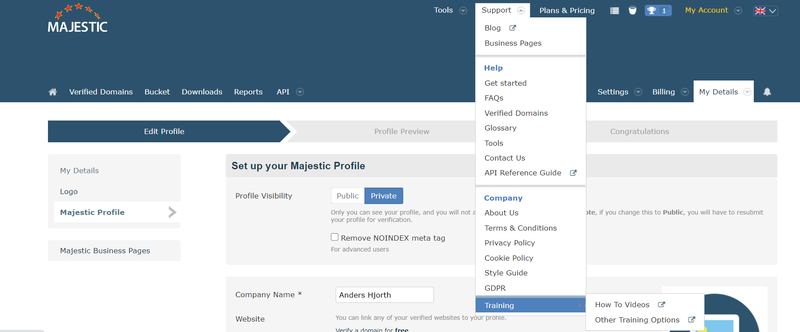 When questions couldn't be answered immediately, support got back to us quickly. Further support requests were swiftly addressed in our case.
The team responds to requests made via the contact form during UK working hours, Monday to Friday. The other go-to support function is the blog which has hundreds of entries on specific topics. Majestic doesn't provide many support options, but their quality is high.
---
Benefits of Majestic SEO
Majestic is an outstanding SEO tool. It has led the way for many years and has one of the highest quality databases of link data. One of its main benefits is the privileged, real-time access users get to this up-to-date database.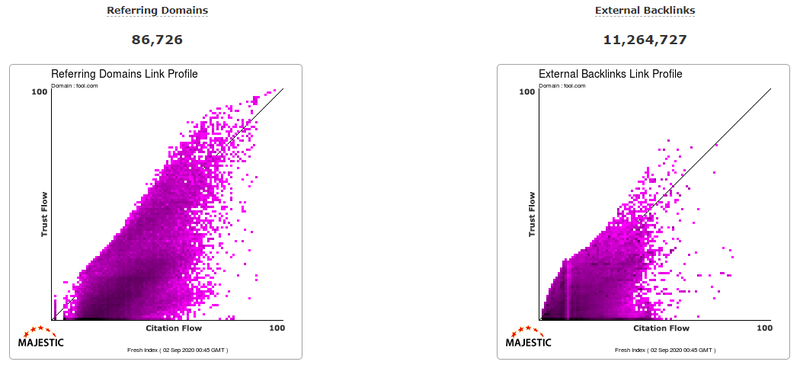 It provides at-a-glance illustrations and has established the baseline for backlinks profile evaluation with its Trust Flow and Citation Flow views.
---
Majestic is a reference tool for SEO authority building
If you work with SEO, you will run into Majestic backlinks data whether you want to or not. The Majestic tool is not only a standalone tool for advanced SEO use; it is also a database that many other tools will access to provide backlinks profiles for a site.
It is even a reference tool for interpreting the authority pillar of SEO. However, it will only provide you with limited insights on your content and site architecture, so you may need complementary tools. The Majestic SEO tool will always work hand-in-hand with a technical analysis tool and a content auditing tool.
---
Frequently asked questions for Majestic SEO
What are Trust Flow and Citation Flow?
Majestic uses Trust Flow with an index from 0 to 100 for the qualitative nature of a backlink. Citation Flow uses an index from 0 to 100 for the quantitative nature of a backlink. Plotted on a scatter graph, they allow you to assess a backlinks profile at a glance.
What are the Fresh and the Historic Index?
Majestic has been crawling the web for years and keeps data in its Historic Index. As pages evolve, links will be added and links will be lost from a page.
The Historic Index is a view back over the past five years of link data and is updated monthly, whereas the Fresh Index only looks at the past 120 days of data and is updated daily. The two views provide very different views of a backlinks profile.
What are Verified Domains?
Majestic provides you the option to connect with the Google Search Console of your site and thus verify that you have the authority over the site.
By verifying a domain, Majestic can extract data for the Campaign dashboard. It is not necessary to verify a domain to analyze it with Majestic, which means you can analyze any site without verifying their domains.

Majestic is a legendary SEO tool that crawls the entire web to provide all the data you can possibly want about your own backlinks profile and your competitors to help you build your website authority.
Majestic is a legendary SEO tool that crawls the entire web to provide all the data you can possibly want about your own backlinks profile and your competitors to help you build your website authority.
The Motley Fool has a Disclosure Policy. The Author and/or The Motley Fool may have an interest in companies mentioned.