Perhaps you're a marketing team ready to implement or update marketing tools. Or maybe you're a solopreneur in need of maximizing efficiency with marketing 101 know-how.
No matter your situation, you can choose from thousands of marketing tools, each supporting one or multiple disciplines across the marketing ecosystem. The marketing platforms we review below are great for small business marketing teams looking to advance capabilities, strategies, and business performance.
It's critical you make the right choices when adopting new marketing tools. You need to balance power and capabilities with immediate needs and marketing plan growth goals all while operating within your budget.
The 5 best marketing tools for your small business:
---
What to look for in a great small business marketing tool
What makes a marketing tool "great" is unique to your business needs and marketing process.
If you are the entire marketing team, a great tool will be affordable, easy to use, and give you time back in your day with automations. If you're running a growing team, a "great" marketing tool will provide greater automation, integrations across marketing channels, and be scalable.
Be honest with yourself and the vendors you do demos with. Be firm with your budget, even for free marketing tools. Be realistic in your current needs and where you project to be in six months, one year, two years.
Be humble in your technological prowess and how much time you have to upskill on completely foreign software. And be sure about your strategy, whether it's inbound marketing, event-based, or something else.
It's critical that you understand your circumstances and seek digital marketing tips and best practices to truly understand your needs and maximize the ROI on your marketing tools.
Regardless of your needs, look for these three common characteristics in your new digital marketing tools.
1. Automations
Marketing automations have quickly become the most popular marketing tools. They are essential to give marketing teams time back in their day. They centralize campaign creation and management, unlocking efficiency and boosting performance.
While marketing automation is inherent in marketing automation software, email and social media marketing tools can provide plenty of automations, too.
Auto-responder capabilities automate thank-you messages and other responses across email and social media. Email nurture campaigns provide intricate automated communication paths based on past behaviors. Social media tools automate scheduling so your posts go live during peak hours for your audience.
2. Scalability
Growth is the goal of all marketing. But not all marketing tools are built to scale with growth. That's why it's essential to keep scalability in mind when selecting your marketing tools.
The tricky thing about scalability is that it's not one particular check to keep in mind.
Scalability implies the functionality of your marketing tool can grow with your needs. That's the obvious scalability component. But what about the costs that are incurred when you move up from the starter tier to the professional or business plan?
If you can't afford to scale in your current system, then your current system can't scale.
3. Ease of use
An easy-to-use marketing tool is essential to quickly maximize your return on investment (ROI). You and your team don't have the time to upskill on a new tool while maintaining your day-to-day responsibilities. So ease of use is critical to unlocking all the benefits.
Ease of use can be a double edged sword though. You shouldn't simply choose the marketing tool that is easiest to use.
The best marketing tool for your needs balances ease of use with a vast feature set. The user interface, navigation, and organization of the tool should all be straightforward in design and operation. And its features should satisfy your current needs and offer advanced capabilities you can grow into.
---
5 must-have marketing tools for your small businesses
These five must-have marketing tools span marketing automation to email and social and even content management. You'll never need to use all five of these tools at once, but one or two (or three) in combination will make for a standout marketing tech stack.
---
1. HubSpot Marketing Hub
HubSpot Marketing Hub can take you from a solopreneur using their free option all the way to an international enterprise. Its robust feature set packs capabilities from HubSpot CRM and HubSpot Marketing Automation.
This stalwart combo centralizes email and social marketing, contact and sales management, workflow automations, and more into an integrated marketing tool.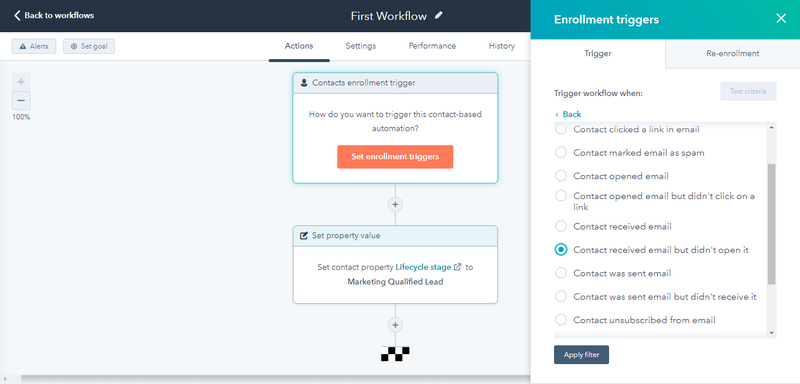 HubSpot checks all the boxes for a great marketing tool. The automations enable personalized outreach across your contacts as well as custom nurture campaigns to move leads down your marketing funnel. Scalability, not a problem. And all of this comes packaged in an easy to navigate, straightforward solution.
The HubSpot free offering includes basic email marketing, contact management, ad management, and countless other CRM software features such as marketing, sales, and services tools.
It's a powerful free option, which gets exponentially more powerful as you unlock the paid options ranging from $50/month to $3200/month depending on contacts and features.
Read The Blueprint's full HubSpot Marketing Hub review.
---
2. Freshmarketer
Similar to HubSpot, Freshmarketer is another scaling marketing tool behemoth. It's built to stand alone as a marketing automation solution, but it also slots into the enormous Freshworks ecosystem that includes over 10 different independent products.
Freshmarketer's greatest marketing integration is with the Freshworks CRM tool. Together, these solutions can power enterprise-level marketing and lead generation strategies.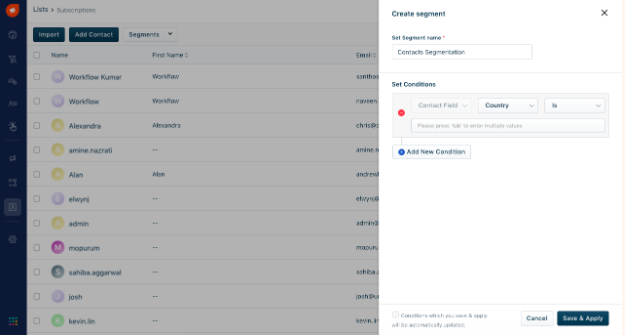 Freshmarketer has plenty of stand-alone value. Capabilities include lead management, email marketing, custom forms and landing pages, journey building tools, and much more. Even without the Freshworks CRM integration, Freshmarketer provides a bridge between sales and marketing needs.
Freshmarketer's forever free option isn't as robust as HubSpot's, but it does support up to 500 contacts. Your two paid options with Freshmarketer range from $309/month to $539/month and include increased contacts and advanced features.
Read The Blueprint's full Freshmarketer review.
---
3. Zoho Campaigns
Zoho Campaigns is the final marketing tool which is part of an enormous ecosystem. It works as a standalone marketing component while also folding into their enterprise-stretching platform.
Other Zoho components include productivity tools, customer experience monitoring, human resources, and reporting and analytics.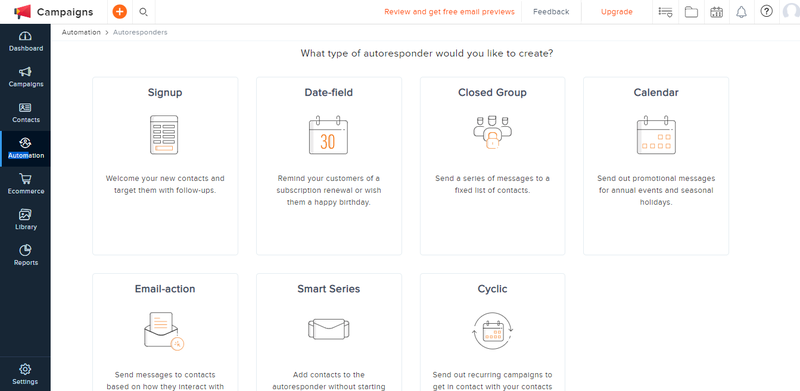 Zoho's marketing capabilities include email creator with pre-built templates, auto responding tools to automate outreach, personalization and segmentation, and detailed reporting capabilities.
You can create landing pages and forms, capture and manage contacts, and build automated email marketing campaigns to turn leads into sales.
Like HubSpot and Freshmarketer, Zoho Campaigns offers a powerful free option that can get your marketing off the ground with 12,000 emails/month to 2,000 contacts. Unlike the other large marketing tools, Zoho Campaigns is very affordable.
You can purchase email contact credits to access the platform, with limited functionality, for one-off campaigns. This costs $6 for 250 contacts up to $80 for 5,000 contacts. Their two regular options are a better deal at $32/year or $54/year.
Read The Blueprint's full Zoho Campaigns review.
---
4. Mailchimp
Mailchimp excels as a leading email marketing tool. It doesn't integrate into some larger "Primate" platform like HubSpot or Zoho, but it doesn't need to. Mailchimp provides everything you need to create and send email campaigns to custom audiences with valuable automations.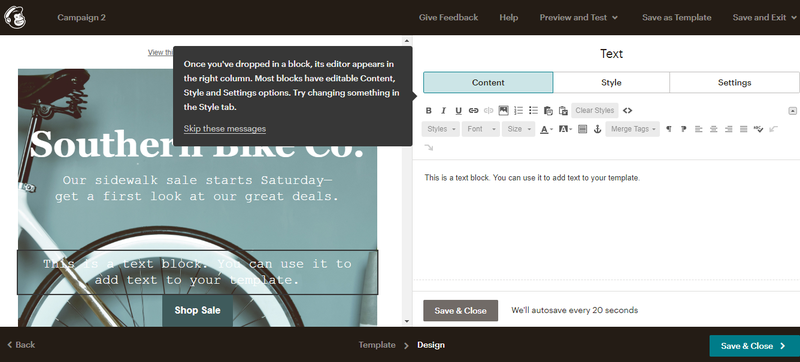 Mailchimp may not scale to support your entire marketing life cycle, but its email marketing functionality will take you far.
It checks the other two boxes for a great marketing tool: intuitive navigation and easy-to-use features. And the behavior-based automations support drip campaigns, cart abandonment emails, and more.
Mailchimp includes a free option with limited features. Three paid plans come in at $10/month, $15/month, and $300/month. Contacts, customized audiences, and capabilities increase as you move up the payment plans.
Read The Blueprint's full Mailchimp review.
---
5. Sprout Social
Sprout Social is similar to Mailchimp in that it specializes in one marketing channel. It's a social media tool that centralizes capabilities such as creating and publishing posts, monitoring KPIs, and conducting social listening and other research tools.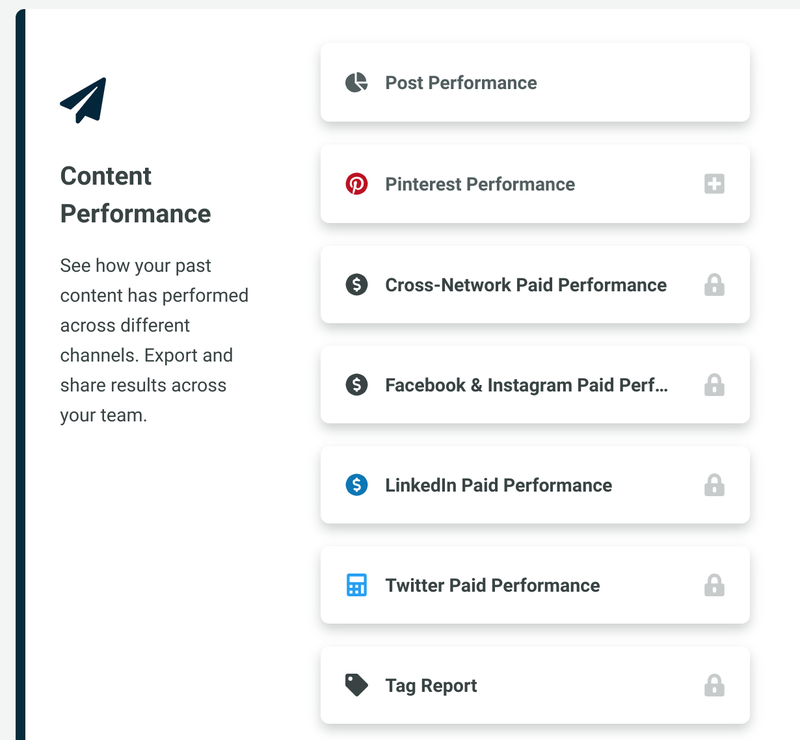 Sprout may not fit into a larger ecosystem, but it's built to scale across large social media marketing teams. The social tool features helpful workflows and team management tools to control permissions and design editing and publishing processes.
It's easy to use and built to start running your campaigns right out of the box.
Sprout Social doesn't have a forever-free option, but there is a 30-day free trial. After that, three paid plans price out at $99/month, $149/month, and $249/month per user.
Sprout can actually get quite expensive if you have to bring on multiple users, but its workflow and collaboration tools work best with multiple team members.
Read The Blueprint's full Sprout Social review.
---
Excellent marketing demands great marketing tools
You need specialized marketing tools today to maximize performance across various channels. Some tools encompass everything you need to tackle multiple channels, others specialize in one distinct channel.
There is no right or wrong way to build your marketing tech stack. Just keep in mind scalability, automations, and ease of use as you build your unique platform.