Running your marketing campaigns without a proper workflow can lead to communication gaps, missed deadlines, and other firefighting-related tasks.
That is why mapping your marketing workflows is crucial. It standardizes how your teams accomplish certain tasks to complete your marketing campaigns or finish projects more quickly.
---
Overview: What is a marketing workflow?
Marketing workflows are repeatable steps that let you accomplish a marketing goal. You might not be aware of it, but you likely already have a marketing workflow in place. Chances are you're doing certain things again and again to accomplish your marketing campaigns — these are your workflows.
Consider these key factors for successful workflow management.
Visibile: Workflows should be accessible and visible to all members, so everyone is aligned with your standards. Educate new staff about your workflows, give them access to your knowledge base, and share access to marketing automation tools so your team knows where to find them and how to use them properly.
Logical: Easy-to-comprehend workflows help your marketing team members handle their jobs efficiently and spend more time completing tasks instead of trying to understand the complex steps.
Adjustable: Make your workflows adjustable to accommodate potential project expansions, introduce tools, and incorporate new methods to increase efficiency.
---
5 marketing workflows to streamline your marketing tasks
Grow your online business by setting up marketing workflows that have been tried and tested and are proven to bring meaningful results. Market your small business successfully by using the workflows below.
1. Email marketing workflow
Create email marketing workflows to streamline how you move your email list further down your sales funnels. With the right tactics and email automation, you get better results out of your email campaigns without having to spend a lot of time on the tasks.
Outline your email marketing workflow with these tips.
Establish your objective: Determine the purpose of your email marketing campaigns. Are they for generating engagements? Or for building customer loyalty, perhaps? When you have a clear goal, shaping your email marketing campaigns gets easier.
Identify content needs: What type of content does your audience need? Do they need helpful tips? Or are they looking for discount coupons since they're ready to make the purchase? Send email messages that address the needs of your audience.
Design and create your content: Use email marketing automation platforms, such as Mailchimp, to design and create your email messages. The platform has customizable email templates to hasten your content creation process.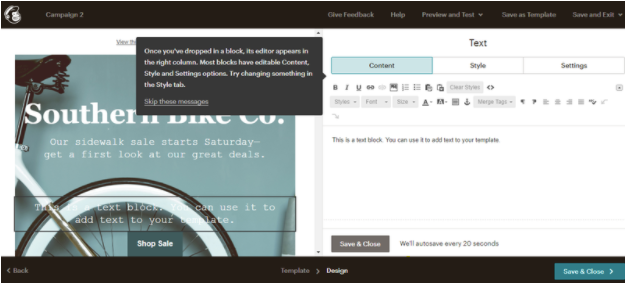 Send your emails: Send your email messages at the right time.

According to studies

, sending email messages between 10 a.m. to 2 p.m. yields great results. Avoid sending your emails manually. Automating your emails allows you to stay on top of your sending schedules.
2. Content marketing workflow
The quality of your content can make or break your inbound marketing strategies. Win the trust of your audience by delivering relevant, engaging, and value-packed content. The more value you add, the easier it becomes for your audience to transact with you.
Check these essential components to help you map out a content marketing workflow.
Plan your content: Determine your content marketing goals and plan your content marketing strategies. Identify the content types that would resonate well with your audience, the topics, and even the platforms where you'll publish them.
Write and polish your copy: When your writers are done with the content, have your proofreaders give it a closer look to improve the content's level of quality.
Add graphics: Don't settle for text-based content. Whenever you can, add graphic elements to make your content more catchy and compelling.
Get approval, publish, and monitor: After going through the approval process, publish your content and track its performance.
3. Social media workflow
Carrying out social media campaigns takes time and effort. But with the right workflow, the process can be less overwhelming and easier to implement.
Develop a social media marketing workflow to increase your engagement, traffic, and sales by considering these points.
Formulate and select content ideas: Come up with content ideas that align with your campaign goals, and then sort through the options and flesh them out. Check the ideas for viability so your team can start creating your social media content.
Create your content: The user bases of social media sites have their quirks and preferences, so avoid publishing the same content across various platforms. Customize your content to fit the overarching theme of the social media platform and the characteristics of your target demographics.
Establish a posting schedule: Publish your content at times when your audience is most responsive. This can vary depending on the dynamics of your target demographics, so be sure to monitor your results.
Use social media management platforms, such as Buffer, to publish your posts automatically on the pre-set schedules.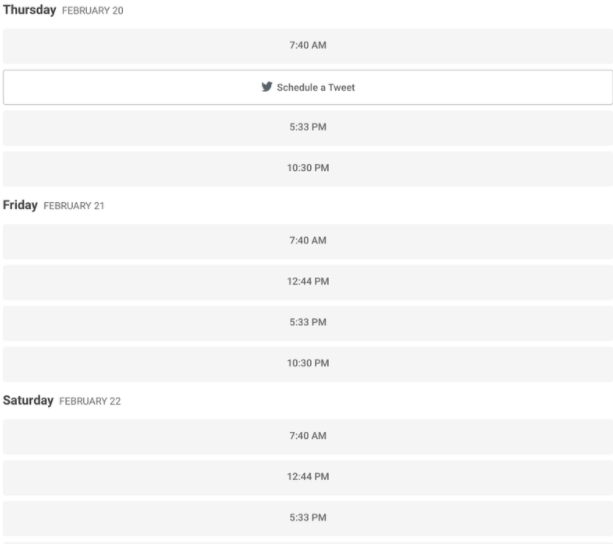 4. Paid search workflow
Using paid ad campaigns is one of the quickest ways to bring traffic to your website. However, it requires a lot of research and tests, which can be time consuming and labor intensive.
Simplify your paid search workflow with the following tips.
Determine your campaign positioning and objectives: Establish your goals, budget, timelines, design considerations, etc., to help shape your ad positioning.
Define your target audience: Increase your paid search campaigns' probability of success by identifying your ideal customers and targeting them.
Create and design your ad creatives: Have your copywriter and graphic designer work together to come up with a banner ad or an ad creative that can generate clicks.
Study your results: Monitor and study your numbers constantly while your ad is still live and during the end of your campaign. Look for patterns and trends that will help you improve your campaigns. Depending on your goals and your budget, you might have to activate your campaign again while split testing.
5. Search engine optimization (SEO) workflow
Google processes about 3.5 billion searches daily. With that many searches, you'll be flooded with web traffic if your pages rank for relevant keywords. This highlights the importance of SEO marketing campaigns.
While doing SEO can be overwhelming, you'll be set up for success if you consider these three points.
Find the right keywords: Perform keyword research to identify relevant search terms that are fairly easy to rank with decent monthly search volumes. Having a list of target-worthy keywords helps optimize your website workflow since you have a clear list of keywords to insert while building your pages.
Create keyword-optimized content: Now that you have a list of target keywords, insert them as you create your content, especially on your meta description, headings, titles, etc.
Perform off-page optimization: Build backlinks to drive as much link juice on your pages. The more quality backlinks your pages have, the more likely they will be to rank higher up in search results.
---
Marketing workflow examples
Put proper order on how you execute your marketing campaigns by having a clear marketing workflow. Use the workflow examples below as a reference and build upon them to create a marketing workflow that fits your business dynamics.
1. Marketing communications workflow
One of the best digital marketing tips you can follow is to establish a marketing communications process. It optimizes how your team collaborates, and it adds a good level of clarity for everyone involved in the task.
Here's an example of how to create your marketing communications checklist:
| TASK | PERSON IN CHARGE | DEADLINE |
| --- | --- | --- |
| Analyze your current customers' buying behaviors and demographics | | |
| Research your ideal customers | | |
| Perform a situation analysis | | |
| Establish your unique selling point (USP) | | |
| Identify your campaign goals | | |
2. External agency collaboration workflow
Working with third-party agencies without a defined workflow can lead to miscommunication between your internal and external teams.
To manage your collaboration with an external agency effectively, consider these points.
Document your onboarding process: This clarifies expectations, contracts, finances, and more between you and your contractor.
Produce a project proposal: Produce a signed document showing all parties agree to the deadlines and deliverables. Define the scope of the project, including specific roles and responsibilities each party needs to fulfill.
Create a project timeline: Establish the due dates of your tasks and milestones to keep your team on their toes about project deadlines.
3. Lead scoring workflow
Simplify your tasks and create a workflow that systematizes your lead scoring process. Use a template for your lead scoring workflows to save time and effort when assessing the lead engagements you obtained through your marketing efforts.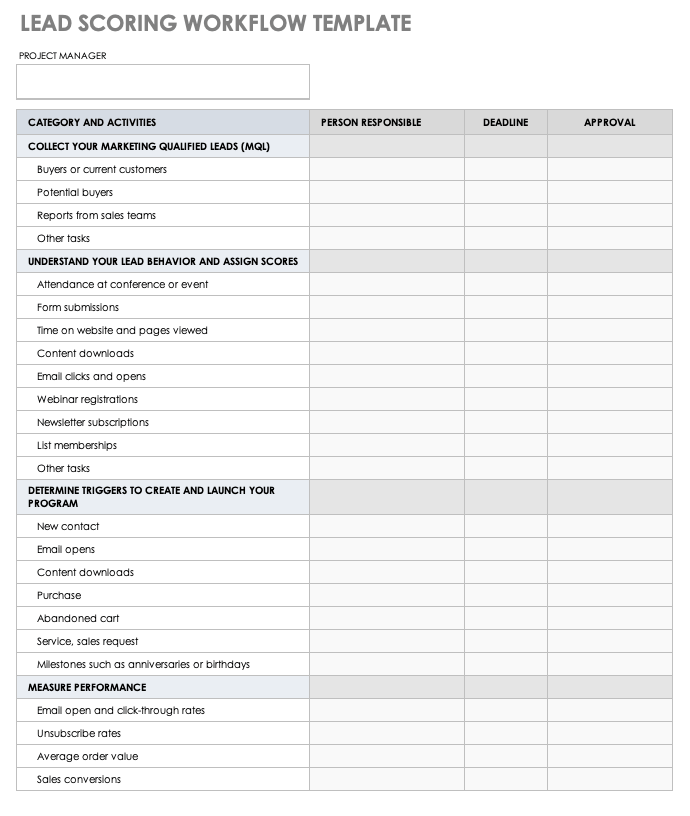 ---
Start mapping your marketing workflows
The thought of creating a marketing workflow can be overwhelming, especially if it's your first time creating one. However, if you follow the tips above, you can start the process of creating a marketing workflow seamlessly right now.