Search engine marketing (SEM) is one of the most cost-effective ways small businesses can advertise in today's digital world. A massive business advertising industry has sprung up with search engines, and although Google is the ruler in this sector, Microsoft's Bing search engine is also a great way to put your business in front of customers.
However, it's a little bit intimidating to jump in if you've never done this before. How does it work? Which keywords should you target? How do you know if you're spending too much money?
This guide breaks down what Microsoft Ads is, how to start your first ad campaign, and what you can do to tweak your campaign and ensure you're getting the traffic you want.
---
Overview: What are Microsoft Ads?
Microsoft Ads — formerly Bing Ads — offers pay-per-click (PPC) campaigns that allow businesses to pay only for website traffic that is interested in the products they sell. By utilizing PPC ads via Bing, a business only shows their ads to people searching for keywords relevant to their target market.
For example, a company that specializes in flannel shirts would bid for keywords like "flannel shirts" or "flannel clothing," and Bing would only show their ad to customers who searched for these or closely related keywords. The business pays for each "click" they get from these ads — the higher the competition for the keyword, the more the click costs.
---
Microsoft Ads vs. Google Ads: What's the difference?
Both Microsoft Ads and Google Ads (formerly Google AdWords) use the PPC model for digital advertising, so they function in pretty much the same way. The main difference is that Google has higher overall traffic to offer; however, Bing Ads usually offers more than enough traffic for most small businesses. Due to lower competition for keywords, you might get a lower price through Bing.
---
How to set up and use Microsoft Ads for your business
If you're looking to start targeting your customers better and feel that Bing is the best place to do that, here's how to set up an account for your business and get started placing ads.
1. Create a Microsoft Ads account
Visit ads.microsoft.com and click on the "Sign Up Now" button to get started. Follow the prompts and provide the required information, such as phone number, email address, and other contact details.

2. Create your ad campaign
Once you're in the main dashboard, click on the "Campaigns" tab. This will show you what campaigns you've created, both currently running and inactive. Click on the green "Create Campaign" to create your campaign.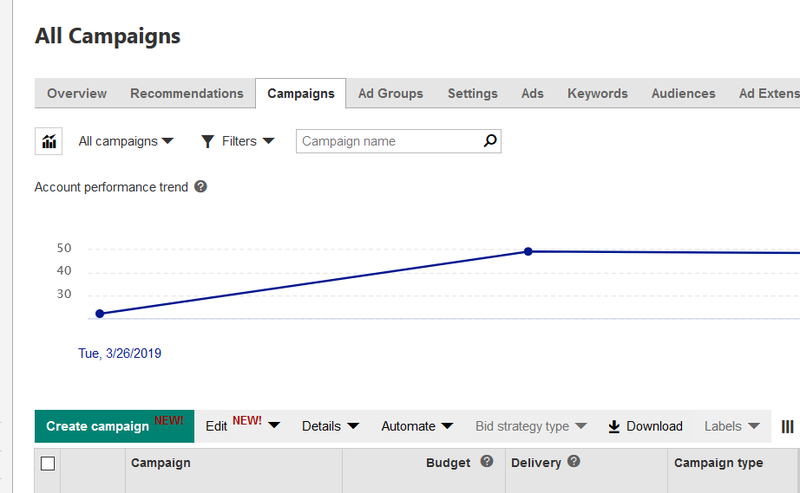 3. Choose your campaign goal and type
Select the goal of your campaign, such as "Visits to my website" or "App installs." Then, choose whether you want "Search" ads or "Audience" ads. Search ads appear in search engine results, while audience ads are shown next to content based on what the audience in question is interested in.
4. Select campaign settings
Now, you'll choose specifics for your campaign, such as title, daily budget, where you want ads to appear, and other nuances.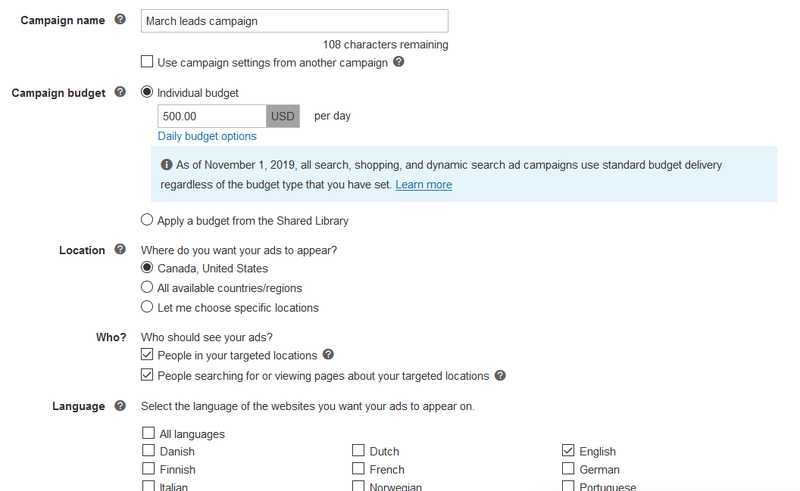 5. List keywords to target
The next step is to choose which keywords to target. Provide a list of keywords you wish to target in the box provided. You can enter your website URL in the box to the right to get some recommendations.
6. Write the ad
Fill out the ad copy text and preview how it will look in the search results.

7. Choose your bid strategy
Choose how much you want to bid for the ads and determine your bid strategy. For example, you can adjust the bid to increase conversions or focus on keeping your cost per click as low as possible.
8. Save and activate your campaign
Once you save, your campaign is now ready to run. You may need to add funds to the account before it starts running. You can view the campaign on your main dashboard and monitor its performance as it runs.
---
4 tips for using Microsoft Ads to advertise your business
OK, so you've started your campaign. How can you ensure you get the best results? These four tips will help you get there.
Start wide then narrow focus
Initially, you should cast a wide net with a number of potentially relevant keywords and see which ones seem to generate the best results. Once you've identified the highest-performing keywords, you can narrow your focus and further lower your cost per conversion.
Do your homework with keywords
If you aren't targeting the right keywords, your campaign will fail. Before you launch the campaign, research which keywords are relevant to your business and see which ones might be most cost-effective to pursue based on the competition for those keywords. Use Microsoft Ads' keyword planner tool to do your keyword research.
Use retargeting ads
Microsoft Ads offers additional tools to businesses, such as remarketing or retargeting ads. This gives you a second chance to land a visitor after they leave the website or abandon a shopping cart. Essentially, it shows an ad for your business in front of those same customers on a different webpage in an attempt to coax them back to your site.
Play with location targeting
One sneaky and simple way to increase conversions while driving down costs is to target specific geographic locations. Microsoft Ads allows you to focus on certain counties, ZIP codes, or even a specific mileage radius. This ensures you're not attracting a lot of traffic from areas where you are not likely to get customers.
While this may seem like it's only useful for brick-and-mortar businesses, you might also find that targeting specific cities or neighborhoods where you know interest in your product is higher can work to your advantage.
---
Being effective with Microsoft Ads requires constant tweaking
If you're looking to increase the flow of leads into your marketing funnel, PPC advertising through Microsoft Ads is a great way to do it. It's a way to ensure you're getting the most bang for your buck by only paying for clicks from people who are already interested in what you have to offer.
However, it's not a set-it-and-forget-it operation. You may run into issues, like some keywords being more expensive than others or certain keywords bringing in unwanted and unexpected traffic. As a result, you must constantly monitor the performance of your ads to determine which keywords are working for you and which aren't.
Experiment with different keywords and different strategies. Try out different ads to see which get a better click-through rate. It's a constant process if you want to be successful, so don't neglect this aspect of your marketing efforts.