---
Who is Microsoft Project for?
Microsoft Project is best for existing Office suite users that require additional project management functions in their day-to-day work. This PM tool is definitely not for the average project manager due to its confusing user-interface and expensive pricing structure.
I never would've found some of the less commonly-used functions if I hadn't watched the demonstrations. After using this tool for a while, I've come to the conclusion that it is best suited to an enterprise setting with large project teams and even larger budgets.
---
Microsoft Project's features
This software offers up a wide range of features, including documentation, collaboration and even budgeting.
Management and planning features
Task prioritization and scheduler: Microsoft Project uses task lists, kanban boards, project roadmaps, and Gantt charts as its primary task prioritization and task scheduler features. Users list out tasks, set their duration, and add any additional details for other users and project managers to track.
Shared team calendar: Microsoft Project gives users the ability to create custom calendars for one or many tasks that all project members can see and use. This is a useful feature if project timelines and task lists are too long and complex to track.
Resource management: Track your working resources (hours, days, weeks, etc.), material resources (building materials, computers, etc.), and cost resources (any pre-planned expense resources, such as plane tickets) using custom-built charts.
Time tracking: You're able to set duration periods for task completion when planning them out in the list and Gantt section. This allows you to measure proposed deadlines versus actual completion time.
Documentation features
Microsoft Project is lacking in file storage capabilities, which is key for sharing relevant project materials.
Collaboration features
File sharing: The extent of Microsoft Project's file-sharing features seem to begin and end with exporting a project resource and emailing it to another party.
Mobile application: Microsoft Project offers a mobile version of its software for both iOS and Android users so you can remain in contact with your team and coordinate project tasks on the go.
Security features
Two-Factor Authentication (2FA): Microsoft allows you to set up additional identity verification through 2FA.
Single Sign-On (SSO) integrations: Microsoft Project is a part of the Office 365 ecosystem, which allows it to take advantage of the SSO capabilities of Azure.
Account permissions: Protect your assets by using granular permissions (task, team, and project) controls to restrict access to only the correct users.
Budgeting features
Budget reports: Microsoft Project's budgeting functionalities use custom "budget cost fields" in project summaries. These budget reports are viewable on the project dashboard and are exportable.
Timesheets: Microsoft Project allows you to create and submit custom timesheets so you can deal with invoicing and payroll within one solution.
---
Benefits of using Microsoft Project
The biggest benefit of using Microsoft Project is the massive ecosystem it connects with. Microsoft's products are so ubiquitous that you'll have little to no problems integrating your Office suite with this project management tool. It'll schedule tasks, produce Gantt charts, manage your project resources, measure your success with visual aids such as graphs and diagrams, and create project templates you can use over and over.
Microsoft Project is a giant machine that'll do nearly anything when it comes to managing and tracking a project, but it seems to fall short in the collaboration department. Perhaps Microsoft didn't want to create redundant systems that were already available in their pre-existing software.
If you're deeply embedded in the Microsoft ecosystem, you'll have all the parts needed and then some to run your projects. Adding Projects into the mix will definitely serve your project team well, so long as they've been trained. Document storage can be handled with Microsoft Teams or with a Dropbox (I know, not Microsoft) integration. Additional checklists can be created in Microsoft Excel and Word, tasks can be broken down through Microsoft Planner, and communication is covered by Microsoft Teams and Outlook.
The trick is to make sure you have all of these tools so that you can do everything you would naturally be able to do in other project management software options like Podio or Mavenlink. Think of this product like a gear in a fancy watch. If all of the necessary parts are there and assembled correctly, it'll run like a cog in the complex machine that is the Microsoft ecosystem.
But the truth is, this isn't a review of the Microsoft ecosystem, just of their project management software. And my impression is that by itself, it doesn't really stand on its own, especially when compared with other options.
---
Microsoft Project's pricing
When considering these prices, keep in mind that if you want the functionality of a comprehensive project management system, you'll also need Microsoft Teams, Microsoft Office, et cetera.
That means this tool is not well-suited to small businesses with even smaller budgets, at any pricing tier. Instead, it is best for larger enterprise clients with large teams and an existing relationship with Microsoft products.
Cloud-based solutions
Annual commitments are required for all monthly packages.
Project Plan 1: $10/user/month — Team access, task status updates, kanban boards, export projects.
Project Plan 3: $30/user/month — All previous features, desktop application, Gantt charts, task project financials, resource management, timesheets, project road mapping, assign project resources to tasks.
Project Plan 5: $55/user/month — All previous features, project analytics, portfolio reports.
On-premise solutions
Each license covers one PC.
Project Standard 2019: $620 (one-time payment) — Installed desktop application, manage project schedules and costs, tasks, reporting, and business intelligence.
Project Professional 2019: $1,030 (one-time payment) — All previous features, manage resources, online project syncing, track time, payroll, invoicing.
Project Server: Price negotiated with client — All previous features, evaluate project ideas from anywhere in your organization, advanced analytics.
Not much has changed in terms of pricing since my initial 2019 review of Microsoft Project, with the exception of the cloud-based solution names and a slight price increase for the first pricing tier. Microsoft has upped the price of its base solution from $7/user/month to $10/user/month. Nothing monumental, but these little price increases definitely add up over time when counting every user every month.
---
Microsoft Project's ease of use
Fair warning to anyone considering Microsoft Project: This tool is not for beginner project managers. It's an advanced tool meant for complex projects, most likely at the corporate level, and to be honest, your team will need plenty of training to get the most out of it.
I pointed out earlier that Microsoft Project is a giant tool loaded with lots of functionality, however much of that functionality is tied to integrations with other Office suite tools. There are no native communications, document storage, or file-sharing features (outside of saving projects and emailing them) included with this program that I could readily find.
At a glance, this software looks very similar to other current Microsoft Office suite tools, especially Excel (color scheme wise). The startup page offers you lots of different project templates to choose from, such as creating budgets, software development plans, and market research schedules. These templates have basic formulas and functions pre-programmed into them, so you can dive right in without any unique project requirements. The complexity comes into play once you want to move outside the basic functions and build specific things your project needs.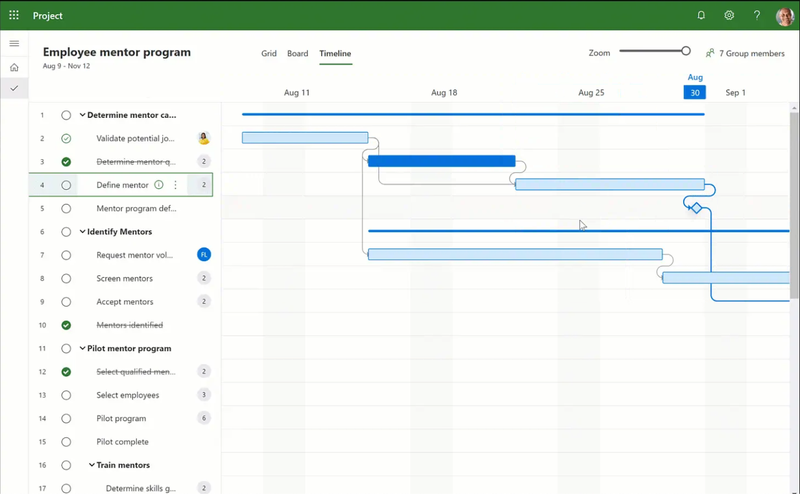 The main project screen includes a task list, a timeline scroll bar, your toolbar, and a Gantt chart of your project. It seems pretty simple:
Enter tasks into the list.
Define tasks by their duration.
See tasks show up in the Gantt chart.
Check off tasks in the list as they are completed.
Once you operate outside of these four basic functions, you'll need to learn the ins-and-outs of Microsoft Project. For example, if you want to show task progress, you must click and drag from the left end of a Gantt chart bar to represent a percentage of completion. These kinds of useful features are not exactly obvious to the average user, and would go unused unless you and your team go through detailed training sessions with Microsoft.
Not only that, but thinking in percentages is not easy when it comes to task completion. If you asked me right now while writing this what percent I have completed, I couldn't tell you. Who knows what kinds of roadblocks and issues will hold me up. Why not create a simpler labeling system of "In Progress" and "Complete"? Most people don't think in percentages and even if they do, their perspective is completely subjective. They may think they are 50% complete, but in reality they are only 45%... uh-oh!
If you pick up Microsoft Project for the purposes of manually scheduling tasks and generating pretty Gantt charts, you won't have any problems. But then you're just paying a lot of money for a function that is available elsewhere for less money.
Additionally, communication is not readily available on Microsoft Project. Luckily, you can get communication capabilities by integrating with Microsoft Teams, but unless you go with the free version, that's just another expense.
Overall, this software felt robotic, rather than a human-minded user-experience. It lives and breathes numbers, charts, and percentages, but lacks that human touch to make it enjoyable or intuitive to use. I wouldn't be surprised if this tool had been designed by Spock or Data from Star Trek. At least Data was striving to understand what it means to be human.
---
Frequently Asked Questions
Is there a free version of Microsoft Project?
Microsoft does not readily advertise a free version of its project management software. They do offer a free 30-day trial, without any hint of possible trial extensions. This is a little concerning considering that their software is so expensive and requires an annual commitment right out of the gate for their cloud-based product.
I would recommend extensive testing of this tool within that 30-day trial and implementation period. Be sure to use their support teams as often as you need, and ensure that all of your questions and hiccups are addressed before committing money to either the on-premise or cloud-based version of Microsoft Project.
What kinds of teams and projects work best with Microsoft Project?
Unlike other software like Basecamp, which is limited in its use, Microsoft Project bills itself as a project management software that can do it all. It can handle everything from projects in construction to software development and creative projects. It'll help you manage contractors, create invoices for your clients, and track all of your budgets.
In fact, since it can handle any kind of team or project, the real question is, can you handle this software? I'd recommend it for projects or teams with large budgets and lots of project management experience. Not only will they need the complexity and customization, but they'll be able to afford it.
What kinds of support does Microsoft Project offer?
One thing Microsoft excels at is providing customer support. When it comes to Microsoft Project they offer all kinds of support including video tutorials, topic articles, community forums, and most importantly, phone support. Considering the steep learning curve, these tools will certainly come in handy during implementation and regular use.

Give Microsoft Project a try if you're a Microsoft power user and want to add additional project management functionality to your team.
Give Microsoft Project a try if you're a Microsoft power user and want to add additional project management functionality to your team.
---
How Microsoft Project Compares
The Motley Fool has a Disclosure Policy. The Author and/or The Motley Fool may have an interest in companies mentioned.