Salespeople are constantly on the go, meeting clients for coffee or rushing to networking events. You can't always be at your computer — in fact, you may rarely have a chance to sit in front of your screen. As a result, a CRM mobile app is an absolute must.
Whether you're just trying to land the next sale or you're implementing a broader growth strategy, you need the latest tools to be an effective salesperson. A CRM app must keep you organized when you can't be in the office, making it easy to load up contacts, see what your day's activities are, and immediately find information on a client.
This guide will help you understand what to look for in mobile CRM software, and what are the top options to choose from in this category.
7 top CRM apps for mobile:
---
What to look for in a great mobile CRM
The sales process is practically a 24/7 operation these days, so you need a good mobile app to allow you to interact with clients on the go. Here are three key aspects you should look for in any mobile CRM.
1. Seamless interface
CRM mobile applications must have a seamless interface and should not simply recreate desktop functions on a mobile device. The app should not be cumbersome or clunky to use, and it should offer most of the features and capabilities available on the desktop version rather than simply provide a stripped version of the software.
Specifically, it should be able to take voice notes, have tailored push notifications, and make it easier to find clients and take notes.
2. Team-friendly
Any CRM for phones needs to be team-friendly. It should facilitate a collaborative sales process and access should not be limited to only some associates. As a result, you'll most likely need a cloud-based app and one that can integrate team messaging apps. Fundamentally, the app should improve team communication.
3. Smooth scanning
A CRM app should make it easy to scan business cards into a database, since that's mostly how you'll get contact info from new potential clients. It doesn't seem that significant, but the ability to immediately upload a contact's info cuts down on manual entry or the possibility of losing the person's contact information. Also, the whole team will immediately have access to it, and you can quickly attach important notes to it.
---
Our top 7 picks for the best mobile CRM
So which CRM should you choose? Many mobile CRM options are out there, and The Blueprint has reviewed the best ones. Here are the top CRM examples for salespeople on the go.
---
1. Salesforce CRM
Salesforce is a top name in the CRM industry thanks to its outstanding customer relationship management capabilities and powerful features that are used by sales teams around the world. The software is customizable to the needs of your team, and it tracks interactions with customers from a single location.
Artificial intelligence helps automate processes, and detailed data tracking allows you to create custom reports to break down sales performance. The Salesforce app is clean and simple to use, providing access to Salesforce's main features.
Key feature: The Salesforce app allows you to log a call so you don't lose that critical data just because you're on the go.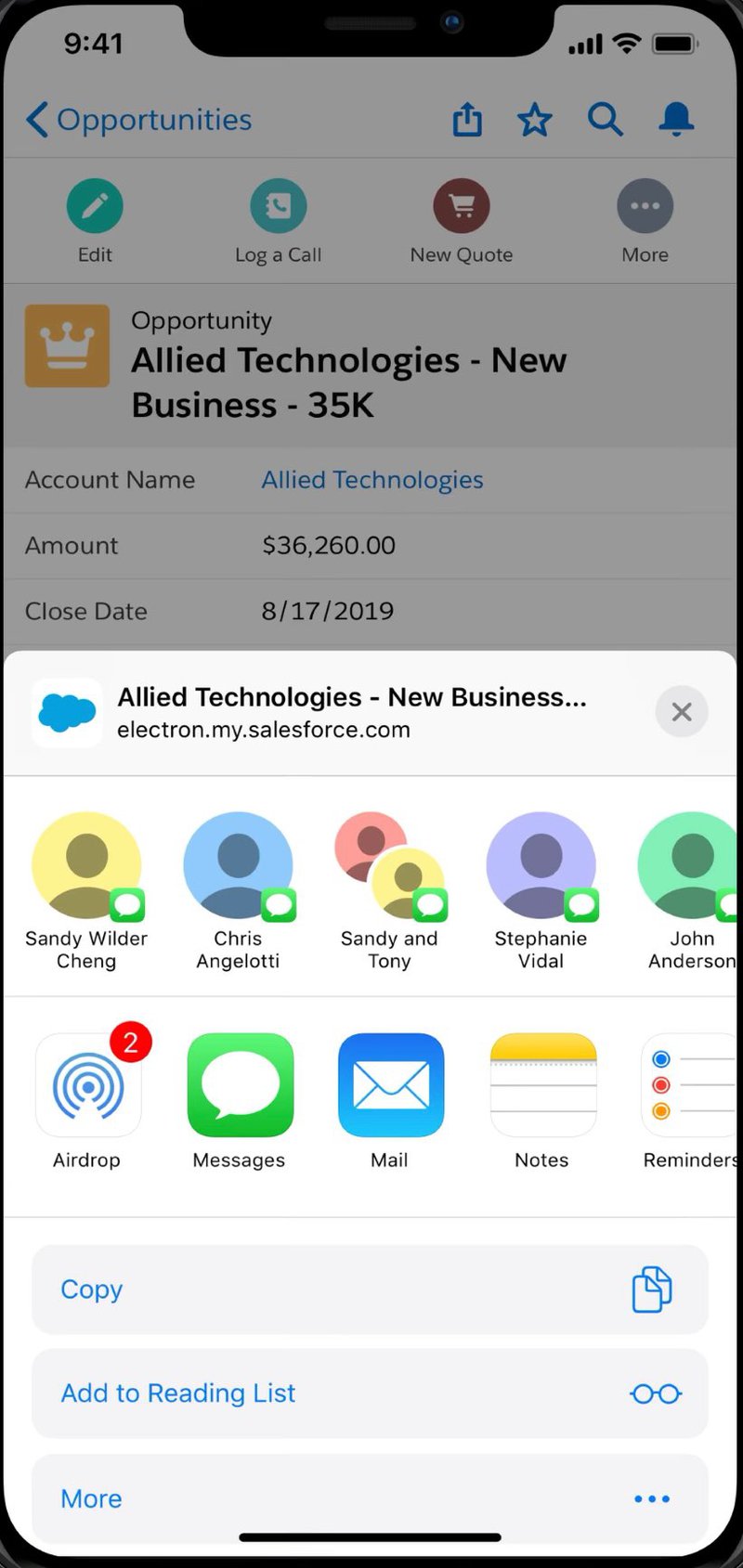 Read The Blueprint's full Salesforce CRM review
---
2. Zoho CRM
The Zoho CRM mobile app is an excellent option for small and medium businesses. It interfaces seamlessly with platforms like Google Drive and Microsoft Office. Its features include automated sales and marketing capabilities, and it offers lead prediction and gamification. The mobile version of Zoho does a good job of converting the PC version to app form, and the app itself is easy to understand.
Key feature: Zoho CRM's app organizes all events, tasks, and calls on the main dashboard as soon as you log in, allowing you to have a bird's-eye view of everything you need to know as soon as you open the app.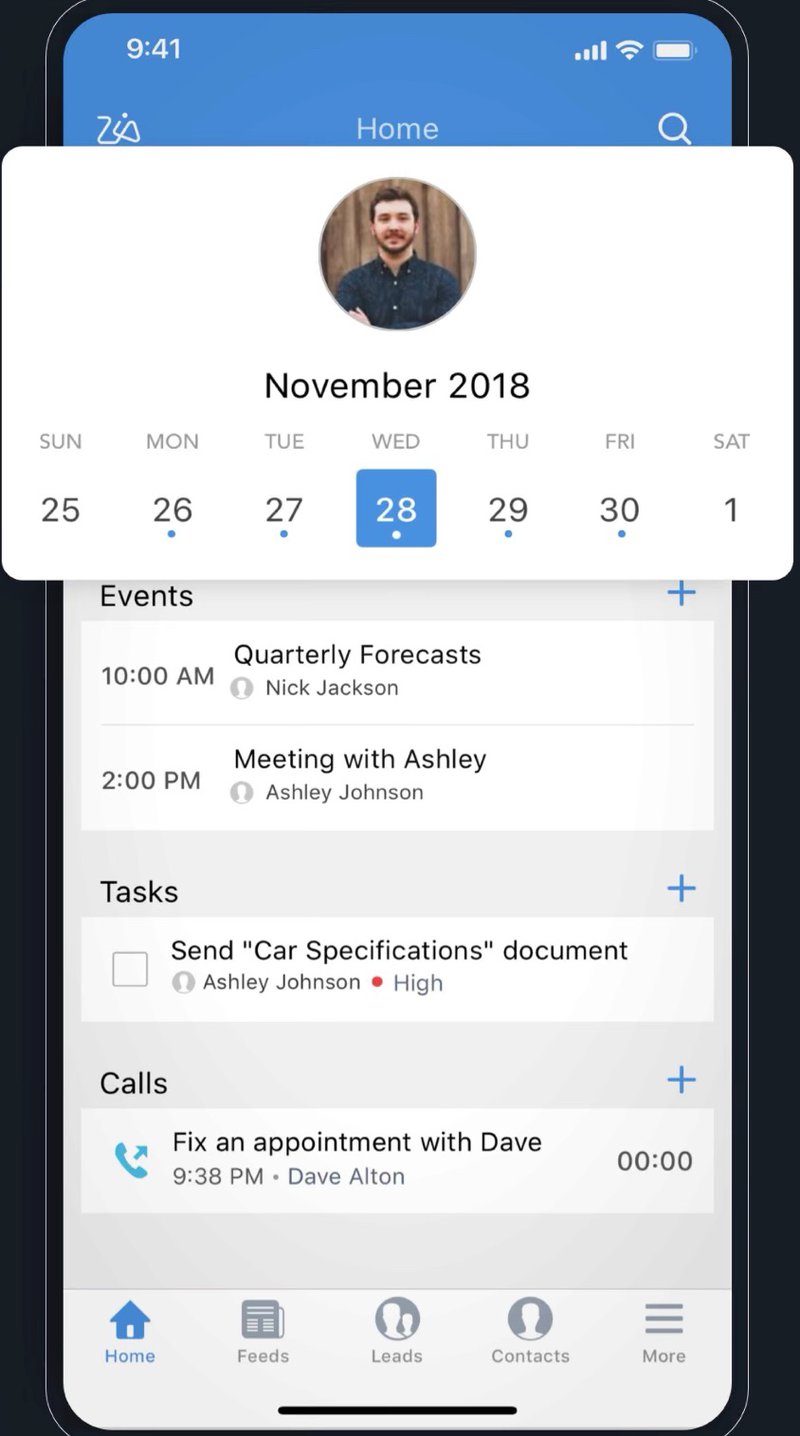 Read The Blueprint's full Zoho CRM review
---
3. Freshworks CRM
Freshworks features a 360-degree perspective on the sales cycle and is therefore ideal for companies looking to take their sales team to the next level. It streamlines lead management and facilitates smart forms and calendar updates.
It will also produce customer reports on the sales cycle to provide your team with actionable insights. The app neatly divides up the information you need between "activities," "emails," "deals," "notes," and other essential info you need while on the go.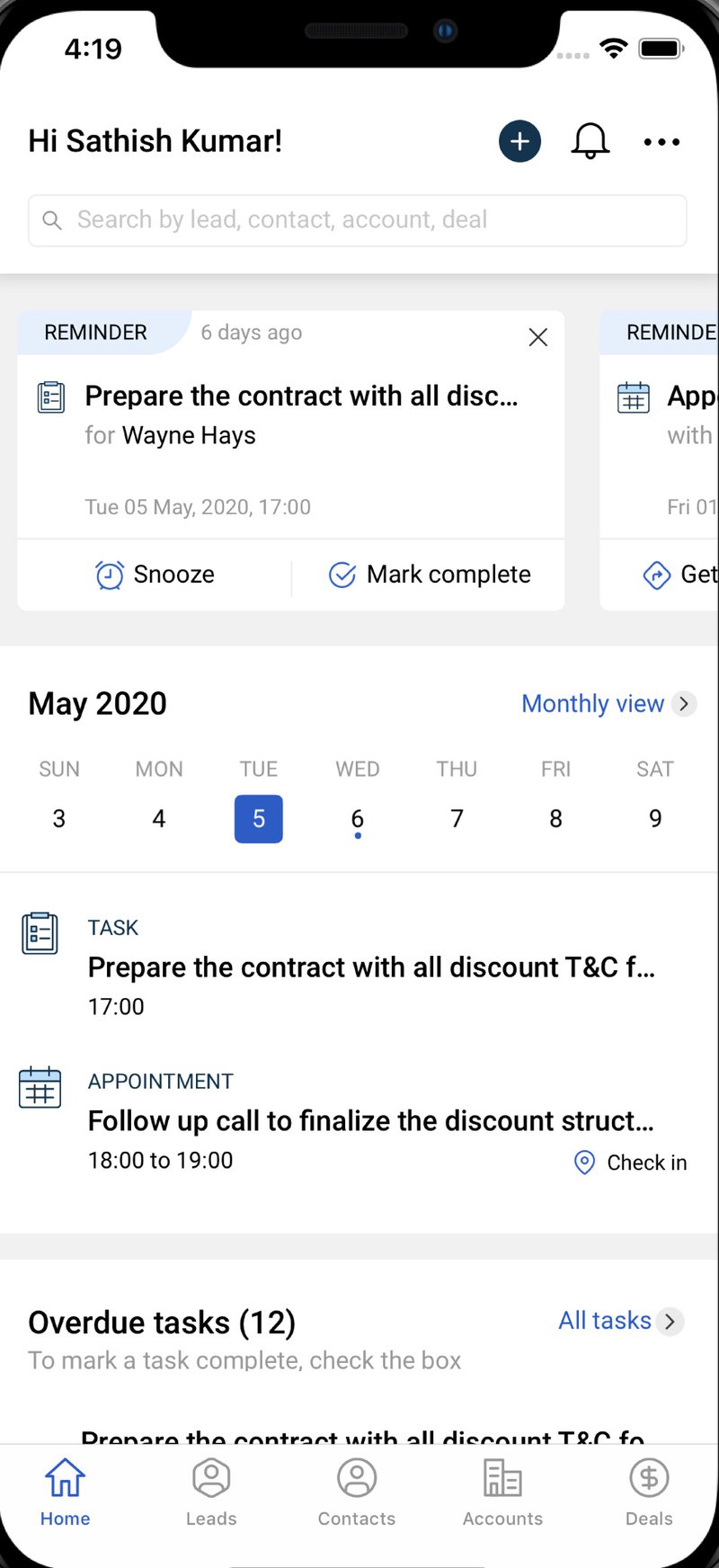 Key feature: Reminders pop up at the top of the app so you never miss a phone call or a meeting.
Read The Blueprint's full Freshworks CRM review
---
4. Zendesk Sell
Zendesk Sell offers excellent integration with mobile apps, and it's a versatile offering for small, medium, and large businesses. It's particularly good for salespeople in the telecom, manufacturing, and government world.
If you sign up for the Team version, you get the full-featured mobile CRM. The mobile app provides an intuitive view of all your deals, sorting them by which are closing, which you've won, and other phases of the sales process.
Key feature: The app presents a list of deals so you can easily scroll through and see what deals are in progress and therefore what you need to follow up on.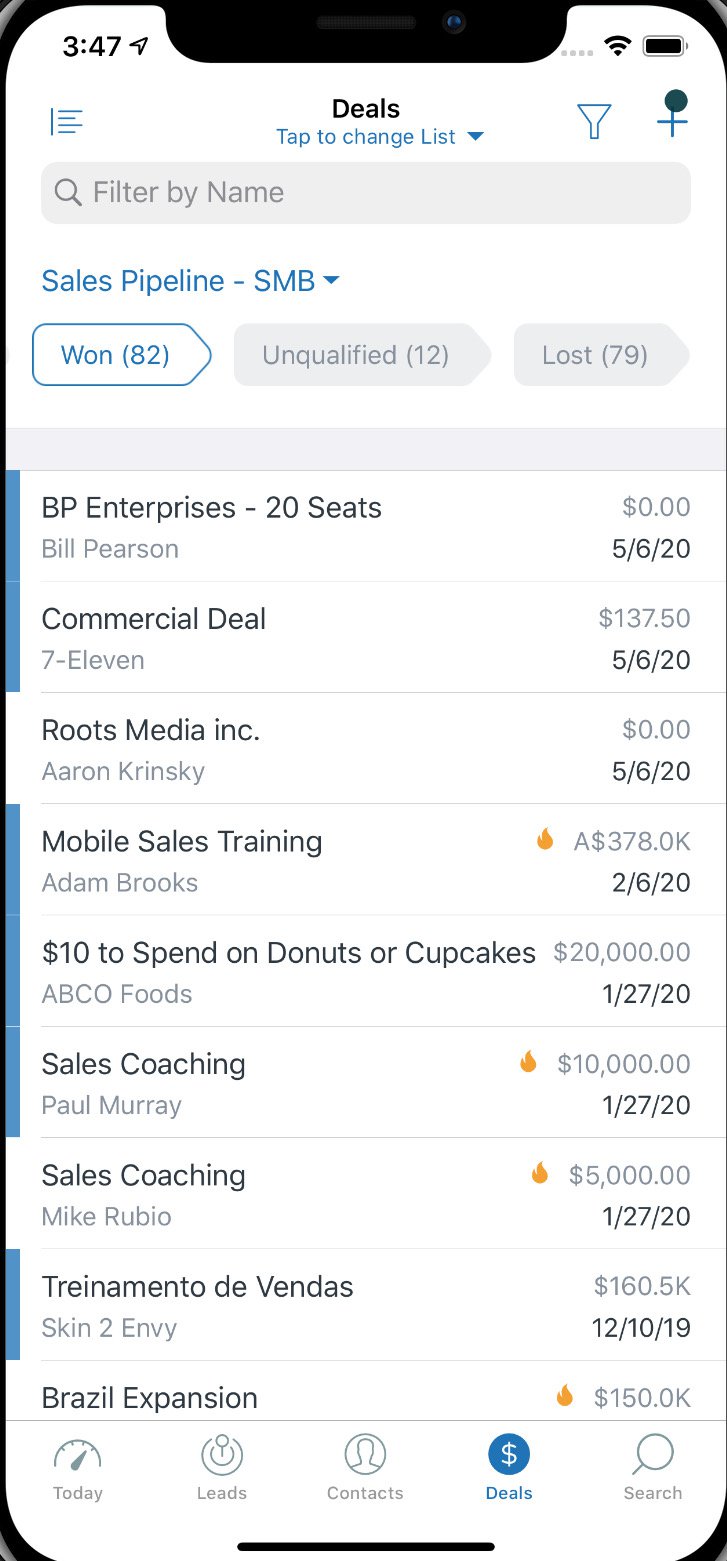 Read The Blueprint's full Zendesk Sell review
---
5. Insightly
Insightly is a CRM that is already ideal for mobile because it is cloud-based. In addition to its sales capabilities, it has a lot of strong marketing tools to help your sales team attack leads from all the right angles at the right time.
The mobile app has an attractive, clean dashboard that allows you to view your current sales situation as well as quickly navigate to contacts, leads, opportunities, price books, emails, and anything else you need to access on the fly.
Key feature: Most apps don't offer some of the key features of the desktop version, but Insightly allows you to view its highly visual dashboard complete with charts and graphs.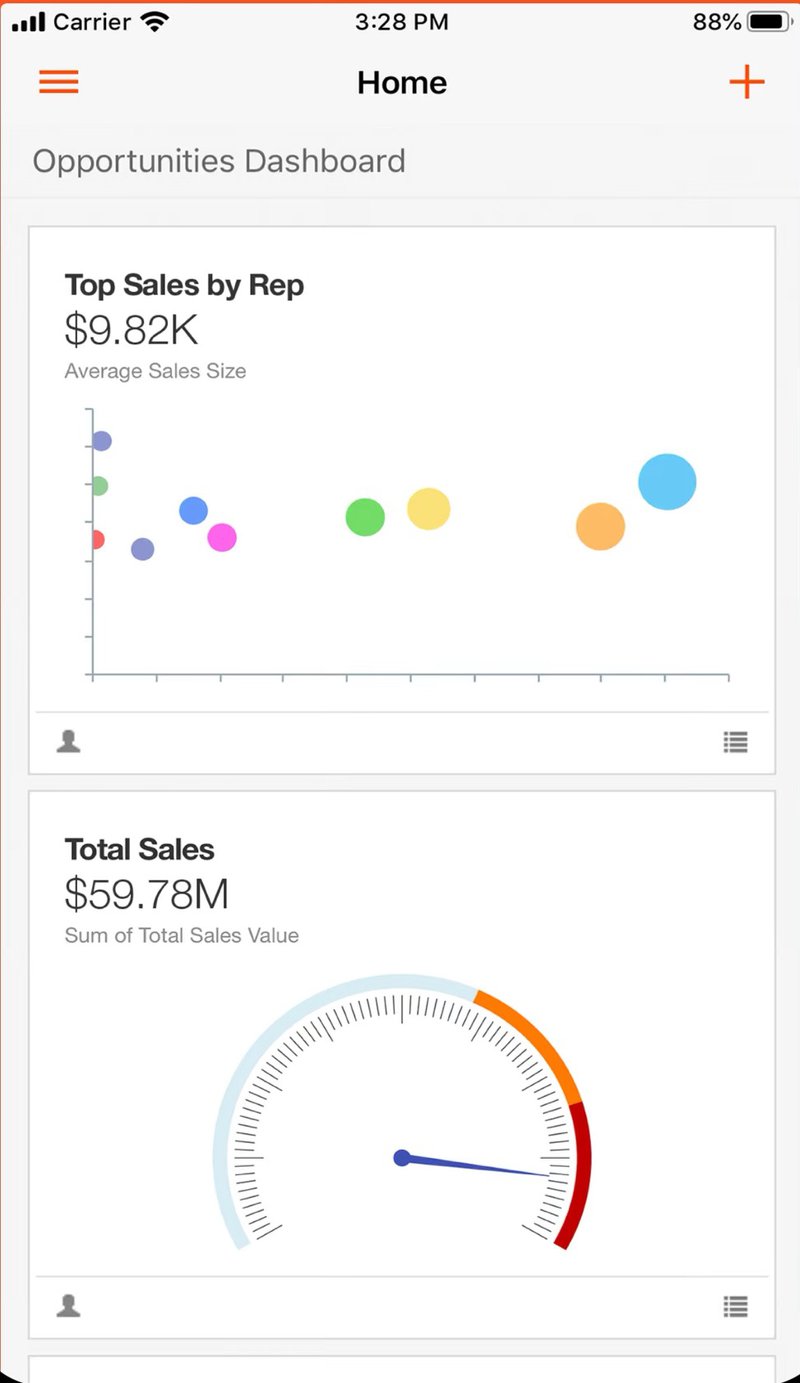 Read The Blueprint's full Insightly review
---
6. Pipedrive
Pipedrive excels at being a user-friendly platform, and its integrations are strong as well. It can generate custom reports and has collaboration tools that make it easier to work with your team. The mobile app pops up your schedule, showing any unread emails or overdue activity you should tackle right away so you're always on top of things.
It also allows access to your sales pipeline so you can see where deals stand and what's next. The app provides an overview of each deal, logs phone calls, and helps schedule follow-up activities.
Key feature: Pipedrive offers a quick overview of not only your schedule but also any unread emails or overview activity to keep you organized and focused.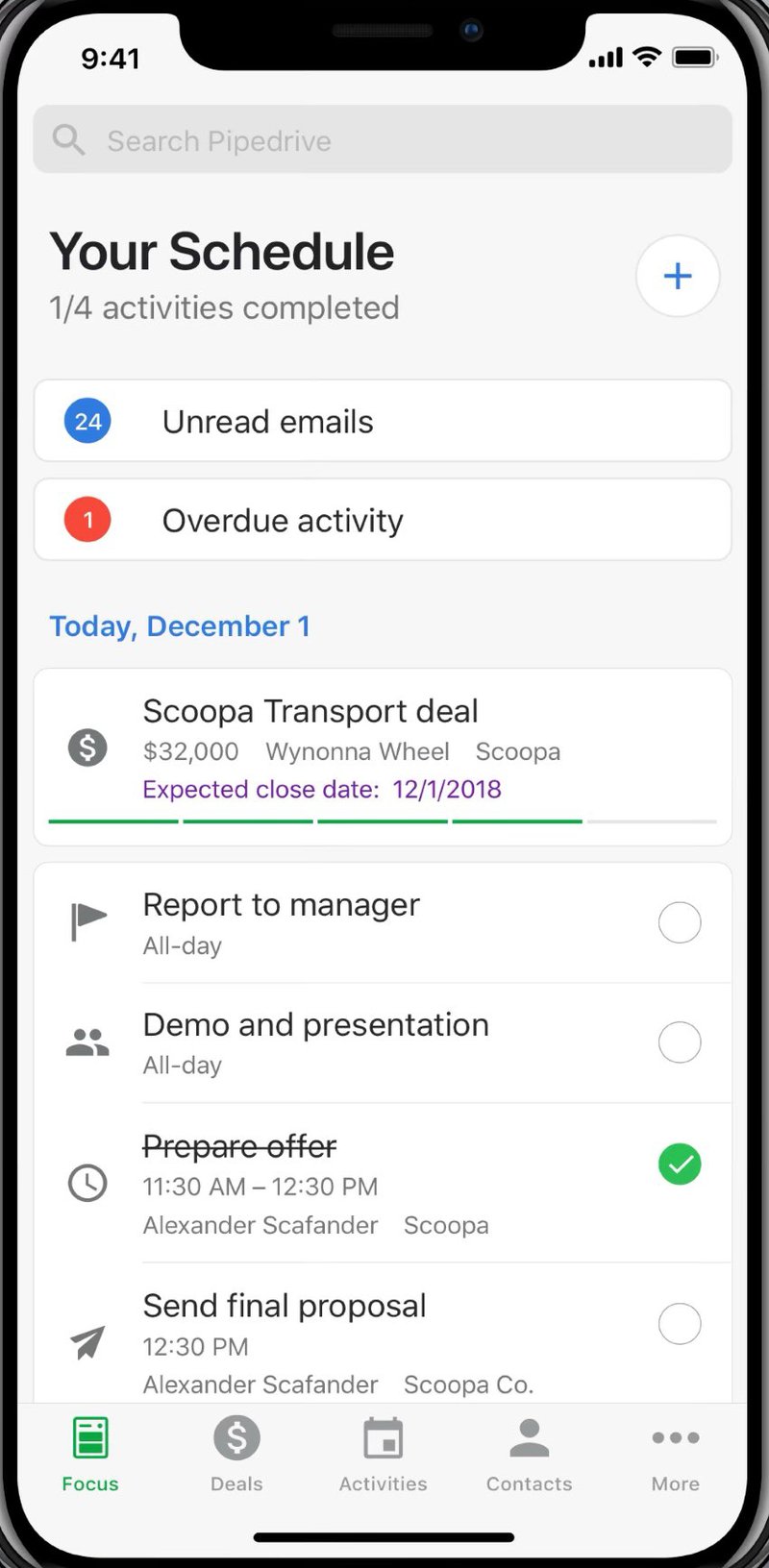 Read The Blueprint's full Pipedrive review
---
7. HubSpot CRM
The HubSpot CRM mobile platform builds off the desktop version. It's superb for generating leads and managing them, as well as capturing and sharing notes with the rest of the team.
The mobile app keeps you focused on the day ahead, displaying upcoming tasks and meetings — and it provides you the tools and information to ensure you're prepared for all of them. You can do live chat, follow up with one-tap tasks, and scan business cards with the app.
Key feature: In this app, you can snap a photo of a business card and it immediately grabs the information and puts it in your contacts.
Read The Blueprint's full HubSpot CRM review
---
CRMs can help with all aspects of sales
While a good CRM for mobile option is important, remember it's not the be-all-end-all of a good CRM. Choosing the right CRM is essential because they can do so much more than just organize your contacts or keep track of where leads stand in the sales pipeline. They also have powerful, essential features that enable you to pursue more advanced sales strategies, such as account-based marketing.
So when choosing a CRM platform, take a step back and ask yourself what the platform needs to do. Do you only need a good mobile app, or would you need a full desktop version with features not available on an app? Custom reports generally fall into this category, and it's a feature most teams can't do without.
Talk it over with your team and try out a few options. You might be surprised at how big of an impact it will have on your sales team's effectiveness.