Employees are more than just an asset — they're literally the reason you're in business. If you aren't constantly working to develop them and grow their skills, your business will just be a revolving door of talent, and your dream of expansion will evaporate.
Whether you remotely manage a team of software developers or manage hundreds of factory workers, don't neglect employee development. This is a challenging prospect for many managers, which is why they turn to software — including platforms such as monday.com.
One of the best-reviewed project management software solutions available, monday.com has an employee management system that allows you to create a plan for your team that will establish a firm foundation for your company's growth.
---
Overview: What is monday.com?
monday.com is a project management application that streamlines a company's workflows, processes, and task execution. The company claims more than 100,000 teams use the platform, which is currently tied for the highest rating among The Blueprint's reviews of project management solutions. monday.com is visual and intuitive while offering enough functionality and tools to help teams effectively execute projects.
The software also provides employee onboarding and development features, which is what we'll discuss in this guide. To learn more about what this software does and the capabilities it provides, check out our full monday.com review.
---
3 features of monday.com that help with employee training and development
If you want to create an employee development plan or just improve how you handle training and development at your company, this platform has tools that will assist you. Here are three features in particular that you should consider.
1. HR onboarding
monday.com handles HR onboarding, which is a major part of employee management. It improves communication with management and fosters a better relationship between the team manager and the rest of the team. Learning the software is easy, even for a novice, which reduces the time spent on onboarding and training.
2. Performance tracking
The software allows you to identify and track your team's strengths and areas for improvement. You can allocate resources and track progress through the system. Features such as status buttons and Gantt charts help you see how quickly tasks are getting done, allowing you to better identify areas of improvement for individual employees. The software does a good job of collecting the data you need to make these decisions.
3. Talent management
A big part of people management is identifying talent in your organization to ensure you're most effectively using your employees. monday.com lets you monitor the daily performance of team members and enables confidential communication between employees and management. You'll better engage employees and provide incentives and promotions to drive development.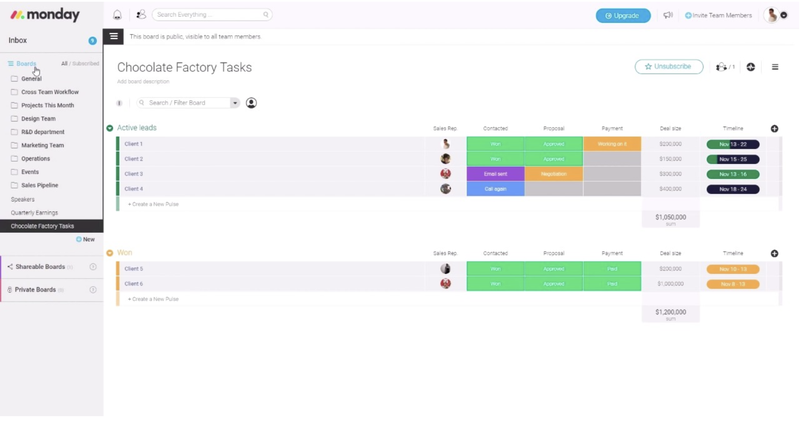 ---
How to use monday.com for employee development
So how do you use a platform like monday.com to develop your employees? Take these steps, and you'll see results in a matter of weeks.
1. Create an onboarding plan
The first step is to create an onboarding process that makes sense. Your employees must understand how to use your project management system quickly — you don't want to have employees struggling to figure out how to do basic tasks weeks into being hired, or it will slow down your organization.
Key monday.com feature: monday.com has message boards that allow new employees to ask questions if they are stuck on certain aspects of their job. This allows you to help them as a manager, so they don't feel abandoned.
2. Track employee progress
You can't develop your employees if you don't know how they're doing, so use the software to track employees' progress. Are they having difficulty with the basics, or are they soaring? Use the software's data-tracking capabilities to monitor their performance and identify areas for improvement.
Determine your approach for improving their skills and allocate resources toward that end. Integrate feedback from the employee and management to get a well-rounded sense of where the worker stands and what's next.
Key monday.com feature: The software has a time tracking feature, so you can see how much time employees are spending on certain tasks. You can identify workers who are spending much longer on similar tasks, and therefore would be ideal candidates for some additional training.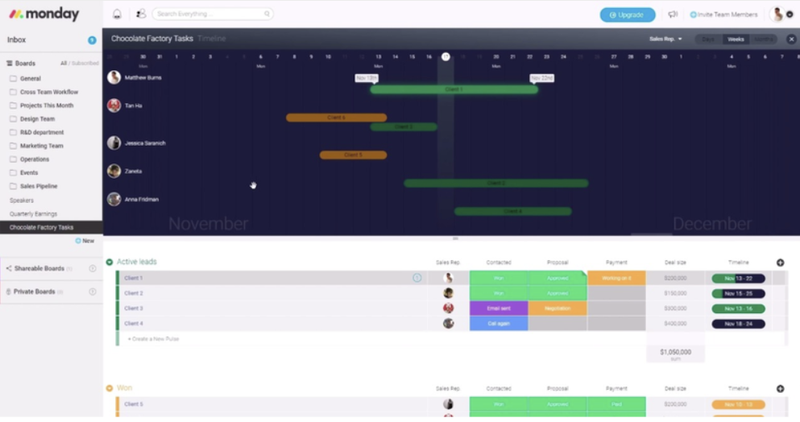 3. Develop a training program
Having identified areas for improvement, you can now create a training program for the employee. Set timelines for development and provide the resources to improve skills. Create measurable steps and continue to track the employee's progress. Incorporate feedback you received from the employee and management, and continue to solicit feedback throughout the training to make sure it's progressing as you'd hoped.
Key monday.com feature: You can use the software to create custom dashboards for training employees. You basically treat their training as another project, setting the goal of the training and a timeline for completing it and assigning any necessary resources or reading materials for the employee.
4. Continually evaluate
Now that you've set the employee on a path toward improvement, continue to monitor the situation. Is the worker continuing to improve or have they stagnated? Can you provide any other training that could help them? Have you provided opportunities for extra training if they want to advance in your company?
Evaluate your team's performance constantly throughout the year, and use it to build out a comprehensive development program for your company.
Key monday.com feature: monday.com offers timeline and Gantt views so you can monitor projects and ensure you're meeting deadlines. The workload view allows the manager to see who's working on what, so there's no need to continually check up on employees to find out what they're doing.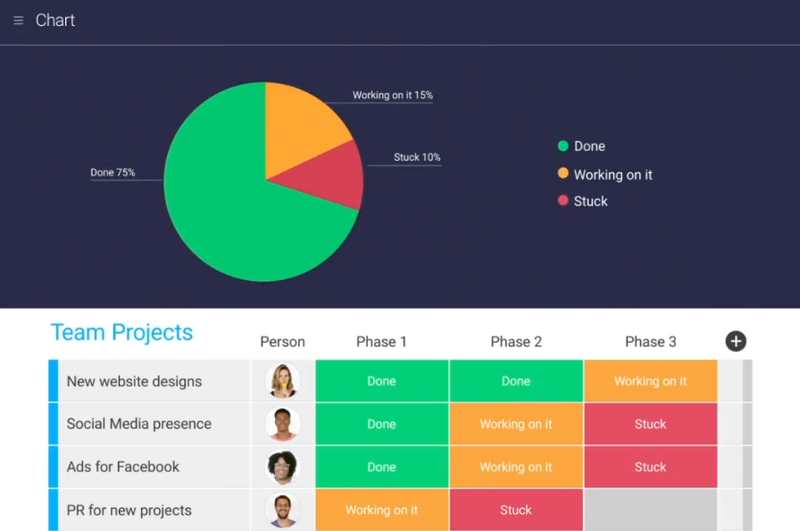 ---
Check out alternatives to monday.com
Curious what other project management solutions are out there? Check out The Blueprint's project management software reviews, which include some of the most popular platforms on the market. Try out a few for a while to get a feel for if they'd be a good fit for your company.
While monday.com is one of the top project management solutions with excellent employee management tools, it may not be the right fit for your business or be capable of creating the development plan you want. Considering how important it is to have a good plan, take your time before deciding.