Building software that is simultaneously easy to use and extremely functional is a delicate balancing act. Many simple software options leave lots of features behind, while other, more complex tools require endless hours of training and support to understand.
After reviewing monday.com and Asana, it's clear that these tools are heavy hitters in their markets, and if you're looking for a new project management software, you might be wondering which one is right for you.
Both project management tools are simple, convenient, and full of useful functionality, but after comparing the two, it look like one might have more to offer.
---
An overview: monday.com vs. Asana
Who is monday.com for?
monday.com is a rare animal since it does such a great job balancing functionality and ease of use, making it a nearly perfect project management tool for businesses and organizations of all sizes. It is visually appealing, has a simple learning curve, and covers most project needs (task tracking, team collaboration, budgeting, etc.).
However, convenience usually comes at a price. monday.com has a lot to offer, and if you can afford it, it'll do almost anything you need it to. That's why I recommend this tool for any team or business as long as they have the budget for it.
Who is Asana for?
Asana is more of a collaboration tool than a comprehensive project management software. It doesn't offer financial management features such as invoicing, budget forecasts, or reporting. That said, it's incredibly easy to learn and use, making it perfect for teams of all skill levels.
On the flip side, Asana isn't priced for just any team or project. Asana's per-user, per-month pricing structure adds up very fast, making it cost-prohibitive for some software buyers. Still, if you're looking for a collaboration-focused tool that's easy to learn, and you can afford it, Asana might be just what you're looking for.
---
monday.com vs. Asana: Features
This is one area where these tools differ the most. One option is more collaboration focused, while the other gives users a more complete project management experience.
What monday.com offers
At first glance, it seems like monday.com is just reskinning a standard task list system and calling it unique, but upon further evaluation, it's much more than that.
Monday uses what it calls a "board system." Each board functions as a macro task or project, with individual tasks listed within these boards. These tasks are known as "pulses." Each pulse has its own horizontally listed status column with a set of customizable progress indicators so you can track each project action as it happens.
Think of it as a task manager on steroids.

If I want to see these tasks in a different visual format, it's as easy as selecting a different view from the drop-down menu underneath the board name.
Outside of these task management features, monday.com also offers reporting and financial management capabilities in the same easy-to-understand format as the rest of the software. The formula columns give you the ability to create different types of tables, just like you would in a Microsoft Excel spreadsheet (great news for you Microsoft wizards).
This way, you can create your own financial tracking boards appropriate for your business.
What Asana offers
Since Asana is more of a project collaboration tool rather than an end-to-end project management platform, its features list is limited compared to monday.com's. Asana focuses on task management, team communication, team management, workload management, task resource sharing, and task tracking.
It's all about streamlining your projects in the simplest way possible.

Asana's task lists and calendar views are quite standard but offer you all of the features you'd want in a task management system. You can create and schedule tasks, add team members to those tasks, comment on task progress, add relevant materials to those tasks in the upload field, and view each of those tasks in a shared team calendar.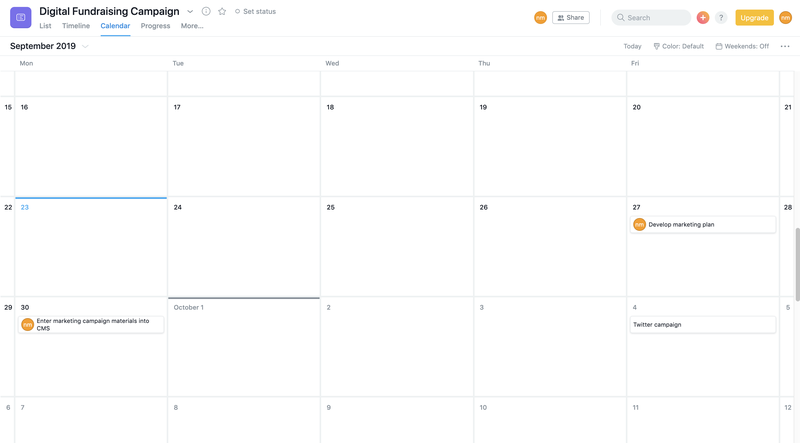 Where Asana really sets itself apart from other collaboration tools is by providing worker-focused features, such as its workload function, which tracks and measures the bandwidth of each team member. With this tool, you can make sure no one on your team has more on their plate than they can handle — or so little to do they become bored.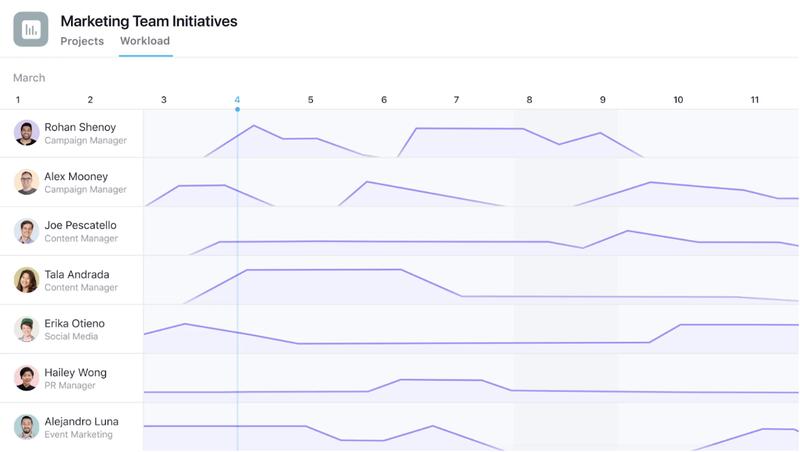 Everything about Asana is focused on making your projects easier to complete and empowering your team to collaborate with you, the project manager, as well as the rest of their team.
Results
monday.com offers more functionality at the same level of simplicity, and that alone is enough to award it this point. Everything Asana does, it does very well, but until it can match monday.com in its number of features, it'll lag behind as "just" a collaboration tool rather than a comprehensive project management software.
---
monday.com vs. Asana: Support
Support availability is sometimes overlooked by software buyers. Not to worry, though: I've compared the customer support options offered by both platforms so you can factor this element into your decision.
What monday.com offers
monday.com has it all when it comes to customer support. Not only does it offer tutorials, help guides, forums, webinars, and a knowledge base, but it also has phone support.
That phone support is extremely helpful for buyers with time-sensitive support issues, and it's great to know that you can get a monday.com agent on the line in a relatively short amount of time when compared to email or contact-form support.
What Asana offers
Asana offers help guides, FAQs, forums, webinars, and use cases to help you find and solve any issue with its platform. Unfortunately, I had a hard time finding a phone number to get in touch with Asana's support team — I only found a contact form.
Then it took a whole day for Asana to get back to me after I submitted a question about a billing issue I was having with the product. This slow response time isn't ideal, so if you think you might encounter a lot of time-sensitive issues, this might be a tick on the "cons" list for Asana.
Results
monday.com is the clear winner of this category thanks to its readily available phone support — because sometimes a help guide or video tutorial just won't cut it in a moment of need.
---
monday.com vs. Asana: Ease of use
Both monday.com and Asana offer intuitive and easy-to-use interfaces, but when it comes to the balance of features versus ease of use, there is a clear winner in this category.
What monday.com offers
Instead of offering the basic task list system with steps to complete and checkboxes to indicate completion (like most project management tools), monday.com takes a different approach that is just as simple and easy to understand.
All tasks and functions are readily available and easy to find, making the user experience hard to beat. Setting everything up requires no special plugins, add-ons, or integrations.
monday.com offers the simplicity of most collaboration software options on the market, with the addition of the complete functionality users need to manage all aspects of their projects, including reporting and finances. This is what puts monday.com head and shoulders above most of the competition.
What Asana offers
When it comes to ease of use, one of the biggest components I look for is how long it takes me to understand the core functions of a program without any outside instruction.
With project management software, I test adding new tasks, creating task due dates, adding team members to those tasks, messaging teammates about task details, uploading resources to those tasks, and moving those tasks along a project workflow.
If I'm able to figure out those core functions in under three minutes without any outside instruction, then I classify a project management tool as "easy to use." Asana is one of those project management tools.
When I spoke with one of Asana's lead developers, she told me Asana prides itself in providing a project management software that's accessible to as many people as possible, and it shows.
Asana takes a more traditional route than monday.com with its user interface, which has a single left-side menu that lists all key destinations, such as the home dashboard, messaging inbox, and task lists. It would be hard to get lost while using Asana.
Part of what makes Asana so easy to use is its pared-down functionality. It offers no reporting or financial management features and is instead built as more of a collaboration tool than a complete project management software.
However, considering Asana's philosophy for software development, once it decides to add these features, I'm sure the engineers will do their best to maintain the same level of simplicity. We'll have to wait and see.
Results
There's no denying that both monday.com and Asana are easy to use, but when it comes to bridging that gap between simplicity and functionality, Monday.com is the clear winner.
monday.com gives you collaboration, task management, financial management, and reporting functions all in one user-friendly package, and that's hard for Asana to beat.
---
monday.com vs. Asana: Pricing
This was tough since both software options are a little pricey. However, one option offers a simpler pricing model that's easy for buyers to understand.
What monday.com offers
monday.com's pricing is a little more complex than most project management software options. Rather than offering a few tiers and pricing out the software based on users, monday.com takes a slightly different approach.
Its pricing tiers are separated into four categories:
Basic: Unlimited project viewers, unlimited boards, iOS and Android apps, 5 GB file storage limit, 1 week activity log limit, and 1 dashboard limit
Standard: All previous features plus 50 GB file storage limit, unlimited activity log, 4 guest accounts, timeline view, calendar view, advanced search, custom forms, integrations access, and 3 dashboard limit
Pro: All previous features plus unlimited file storage, unlimited guest accounts, time tracking, chart views, formula columns, private boards, and 10 dashboards
Enterprise: All previous features plus 25 dashboards, audit logs, user session management, advanced account permissions, one-on-one training, and a dedicated customer success manager
Of course, each tier is more expensive than the one before it, but the pricing differences don't end there. monday.com further breaks down its pricing by nine different user counts.
monday.com adds up quickly once you start adding more features and users. This isn't the most expensive project management tool I've seen, but it certainly isn't the cheapest, either.
What Asana offers
Asana's pricing is also a little steep. Fortunately, it starts with a free option for up to 15 users. It offers plenty of functionality in its free version that you'd have to pay for in other project management tools.
However, once you want to start using the features that make Asana unique, such as timelines, Workload monitoring, and portfolios, you'll need to break out your wallet. Asana's per-user, per-month pricing structure isn't cheap:
Basic — Free: includes task lists, Kanban boards, calendars, app integrations, up to 15 users
Premium — $9.99/user per month with annual contract: includes all previous features plus timelines, advanced searches, and custom field creation
Business — $19.99/user per month with an annual contract: includes all previous features plus portfolios, Workload, forms, automatic proofing, and Adobe Creative Cloud integration
Enterprise — Pricing negotiated with the client: includes all previous features plus user provisioning, data exporting, custom branding, and priority support
Results
While monday.com offers lots of customization when it comes to pricing, I have to award this category to Asana because of its free option and the considerable functionality that comes with it. That's a huge value, and it's easy to upgrade if you decide your team needs to.
---
monday.com vs. Asana: Integration with other software
Sometimes it isn't what your software can do, it's how many programs it can do it with. We all use multiple tools to complete our work on a day-to-day basis, and the easier it is to streamline those tools, the better. So, which software plays better with others?
What monday.com offers
monday.com offers tons of useful integrations to help you perform and track your daily project tasks with your team, including:
Funnily enough, monday.com even integrates with Asana.
What Asana offers
Asana also offers plenty of different app integrations that'll help you manage any aspect of your projects, including some not covered by Asana's core features. Some of these integrations include:
Adobe Creative Cloud
Dropbox
Microsoft Outlook
Slack
Google Calendar
Everhour Reporting
Trello
Mailchimp
And many others
Results
Both tools offer lots of integration, but monday.com gets the nod thanks to its ability to integrate with other popular project management tools like Asana and Jira. It seems as though monday.com not only wants to make integrations easy, it also wants to make your experiences with other project management software a breeze if you plan on using more than one platform.
---
monday.com vs. Asana: Getting started
Both Asana and monday.com offer very simple startup processes that take only minutes to complete once you visit their sites.
What monday.com offers
On monday.com, all you have to do is click "Get Started" on the homepage, enter your email in the pop-up field, and you're off and running. It was easily the shortest startup time I've encountered thus far for a project management tool.
As for onboarding content, monday.com walks you through the basic functions of the software right at startup, such as creating tasks and adding team members to your project.
If you're looking for additional help, monday.com offers plenty of guides to help you learn more about each of its features.
What Asana offers
Asana's onboarding is also very simple and quick. Once I visited the website and entered my information into the free trial form, I was sent an email welcoming me to use the tool. Asana's onboarding content consists of guides for getting started, onboarding your team, managing/planning tasks, and use cases to help structure your experience.
Results
This one's a tie! monday.com's startup process is quicker, but only by a minute or two, which is hardly enough to make it a definitive winner. Both tools offer lots of help and onboarding content to get you started.
---
How They Compare: Monday.com vs. Asana
| | Monday.com | Asana |
| --- | --- | --- |
| Task Lists | | |
| Gantt Timeline Charts | | |
| Shared Team Calendar | | |
| File Sharing | | |
| Communication | | |
| Budgeting | | |
| Time Tracking | | |
| Invoicing | | |
| Outside Integrations | | |
| Resource Management | | |
---
Which software is better?
The winner of this comparison couldn't be more clear. Both of these platforms are high-quality project management products, but when it comes to features, support, integrations, and ease of use, Monday.com has a clear edge over Asana.
It's hard for Asana to compete with a tool that can do everything it can do — and more — at the same level of simplicity, and that alone is enough to give the nod to Monday.com, one of the best Asana alternatives.