So much depends on a good launch.
The onboarding process is each employee's first impression of your company and the beginning of their employee experience. An orderly, thoughtful process can help an employee settle in and feel valued. The opposite is also true: Neglect the details, and you neglect the employee.
You can also create administrative and legal problems if you don't complete new hire paperwork accurately.
So what are the new employee forms you need to complete during the hiring process? Use this article as a checklist to assemble a hiring packet that covers all the bases.
---
Form I-9
Employees must fill out Form I-9, Employment Eligibility Verification, after receiving a job offer and on or before their first day on the job. The form is provided by the U.S. Citizenship and Immigration Service (USCIS) and Internal Revenue Service (IRS).
The I-9 can't be requested before the job offer; this is to prevent discrimination based on citizenship or residency status.
Form I-9 confirms an employee's identity and authorization to work in the United States. You are responsible for examining one or two original forms of identification according to the requirements prescribed on the form.
A passport or a combination of driver's license and Social Security card are examples of acceptable identification. You must complete and sign IRS Form I-9 within three business days of the employee's first day at work and keep it in the employee's records.
---
Form W-2
You must enter every employee's name and Social Security number (SSN) in Form W-2 during hiring. Ask employees to show their Social Security cards if they are available.
If an employee can't produce a Social Security card, you can verify the employee's name and SSN online.
---
Form W-4
Depending on your location, you will have a different set of tax forms for new employees to manage.
New employees should complete and sign IRS Form W-4, Employee's Withholding Certificate, on their first day to determine how much you should withhold from their paychecks for federal income taxes. Make the form effective on the employee's first pay date.
Form W-4 was updated for 2020 to reflect changes from the 2017 Tax Cuts and Jobs Act. The main change is that it no longer includes withholding allowances.
W-4 tax forms on file for existing employees remain in effect until the employee has a change in withholding. Use the updated W-4 for new employees and for future status changes.
Form W-4 includes worksheets employees can use to determine the best federal withholding level for their circumstances.
It's best not to give employees advice about their withholding levels. Instead, direct them to the worksheet, to these Form W-4 frequently asked questions, or to the IRS tax withholding estimator.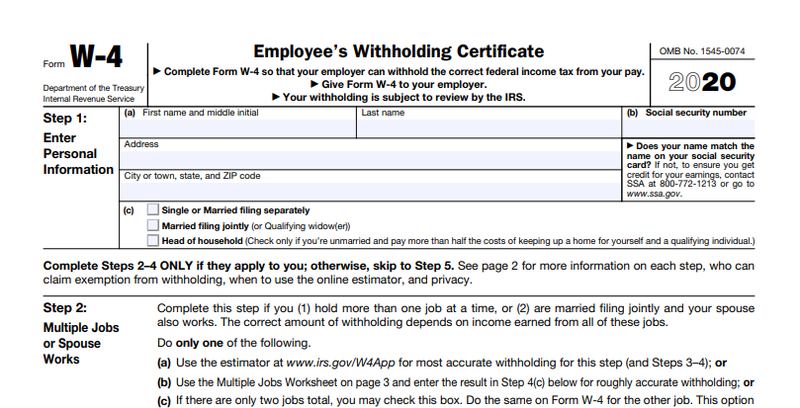 ---
State and local tax forms
Among states with income taxes, Colorado, New Mexico, North Dakota, Pennsylvania, and Utah rely on the federal W-4 for state tax withholding. The rest require filing a separate state tax withholding form.
Yet, as is often the case with taxes, it's not quite that simple. Pennsylvania doesn't require a W-4 for state income taxes because it has a flat tax rate of 3.07%.
Yet the state requires employers to complete and submit a Residency Certification Form for local taxes. Pennsylvania also has a special W-4 that applies only to pension and annuity payments.
You may also be required to complete forms for new hires concerning city income tax withholding. For example, the City of Lansing, Michigan, requires new hires to complete Form LW-4 for that purpose.
Be sure to check for any required local and state tax forms where you do business.
---
Employee handbook
You should review your company's employment policies with new hires as part of employee orientation. Your policies should also be outlined in your employee handbook.
Following orientation, employees should sign a form verifying that they have received and have read the handbook and agree to abide by your human resources (HR) policies.
---
Benefit forms
Another critical onboarding task is making formal benefit offers, reviewing the options, and having employees sign all of the relevant forms.
Even if an employee chooses not to participate in a plan, you need documentation of the benefits you offered and the employee's selections.
---
Contracts
You may have a signed offer letter in hand before onboarding. The letter should clearly state the terms of the employment relationship such as at-will employment versus contract employee.
If you have any further contracts such as non-compete agreements, you should ensure that they're signed and kept in the employee's file before work begins.
---
Onboarding plan
The final form that every employee should receive is an onboarding plan. This should include:
Tasks for the first day and the first week
Meetings and training scheduled during that time
Independent tasks the employee can complete as time permits and a means for tracking progress
Directions for accessing technology and systems the employee will be using
A company directory with instructions for reaching out with questions
Surveys or scheduled check-ins to see how the employee is doing
---
HR software makes onboarding easy
HR software can make all aspects of employee onboarding easier by providing the forms you need, storing employee documents, and automating many steps for your staff and for your new employee.
Software also makes it easy to track key HR metrics such as recruitment, retention, and satisfaction to inform HR strategy.
Here are some outstanding choices.
1. Zoho People
Zoho People provides onboarding workflows you can customize for each employee. These include a basic employee profile, employment forms, documents and policies, and a checklist to track onboarding tasks.
Documents can be electronically signed and stored in the employee's online file. Zoho even includes a password-protected onboarding module for job candidates that can be converted to employees upon hiring. Pretty seamless!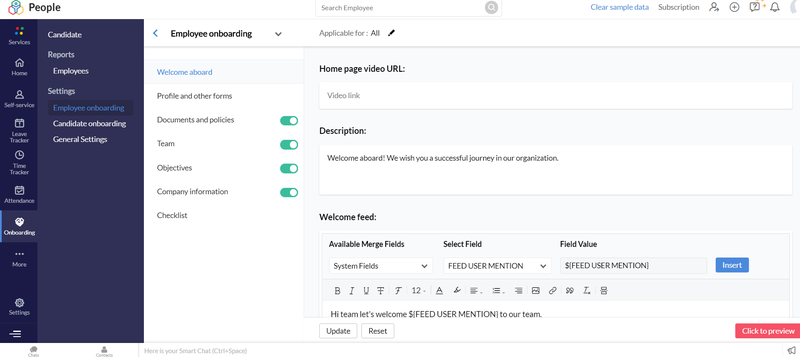 2. Namely HR
Namely HR also provides a simplified, paperless onboarding process. Its centralized document hub is populated with forms that flow automatically into payroll and benefits. Its flexible onboarding tools can be customized for a more personal employee orientation.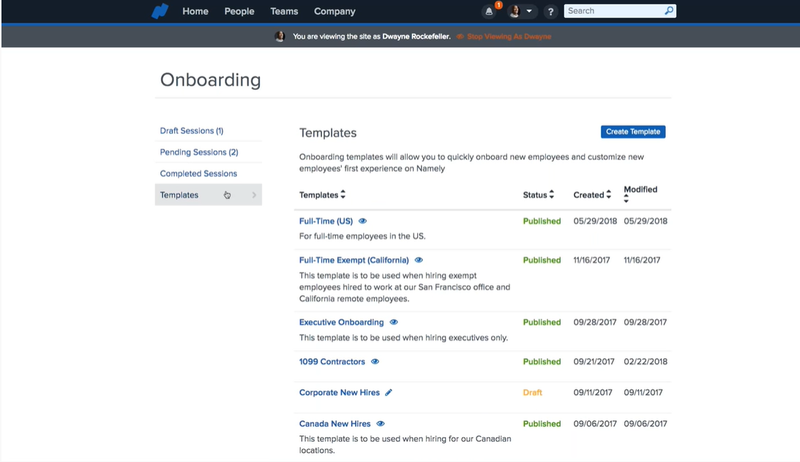 3. BambooHR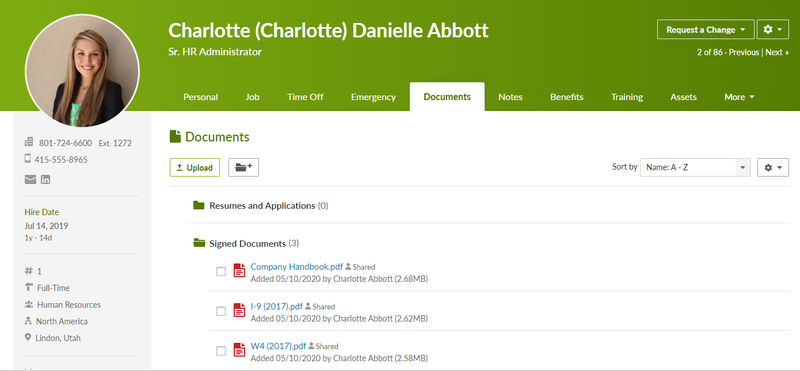 BambooHR is another great software option for cutting routine onboarding paperwork down to size. It includes a fully automated onboarding process with customizable pre-boarding packages to let you set up new hires in advance.
Bamboo includes all the employment forms you need ready for digital signing, storage, and tracking in the employee's file.
---
A good launch
A professional onboarding process that covers all the required employee forms is critical to getting employees off on the right foot.
In addition to showing employees that your company is professional and organized, a proper welcome tells new employees you're excited to have them on board. That's the most important part of launching them on their journey with your company.