Email newsletters may seem old-fashioned these days, but they're still a vital marketing tool. A recent U.K. study found that for every British pound spent on email marketing, the average return was BP42. That's astounding.
But many small businesses are lost when it comes to creating e-newsletters. Some people think that they'll get tossed in the trash and therefore are not worth the effort, or they just don't know how to go about starting one and convincing their customers to sign up.
It's true that getting people to subscribe to newsletter emails takes a lot of work, so it can't be an afterthought.
This guide will break down some of the secrets of small business email marketing and share ways to create an e-newsletter that will be a winner.
---
Overview: What is a newsletter sign-up form?
Businesses use an email newsletter sign-up form to connect with customers and promote the company and its products in the process. By getting people to complete and submit an email newsletter form, a company creates a list of interested individuals who may buy products from the company in the future.
The business can then send regular newsletters with helpful information on topics of interest to their subscribers, further building a relationship with them and increasing brand recognition and trust.
This in turn increases the likelihood that these customers will buy from them in the future. It also provides an avenue for companies to drive sales by advertising products or offering exclusive deals. Companies may offer incentives for email signups, such as discounts or coupons.
---
What to consider when creating a newsletter sign-up form
Before you make a newsletter and create a sign-up form on your website, you should answer the following three questions.
What is my goal?
Be intentional when creating an email newsletter — don't just wing it. Ask yourself what you're hoping to accomplish. Maybe you just want to increase your email captures.
Or perhaps you're looking to generate leads. Or you might want a new way to advertise your products. Whatever you choose, settle on an actionable goal with hard numbers and a deadline, and then let this goal guide your newsletter's content strategy.
What kind of content should be in it?
With a goal in mind, it should be clear what kind of content you should produce.
For example, if you're trying to build your email list, focus on content that aims to help your customer solve a problem rather than sell one of your products — e.g., if your customers are sales professionals, feature content in the newsletter such as "five new closing strategies."
But if you're looking to promote your products, feature content in the newsletter highlighting new releases and deals.
What deals can I offer?
Ultimately, a newsletter is about increasing revenue for your company even if you're taking the slower route (e.g., building the email list) rather than straight up selling products through the newsletter.
However, it's always a good opportunity to offer a deal to your customer base, so think about what kind of exclusives and specials you could offer through the newsletter that would excite your customers, even if it's just a note at the bottom. Everyone likes an exclusive deal.
---
6 strategies to increase your newsletter sign-ups
So, you know you want to create a newsletter, and you have a solid goal you can build on. How do you go about getting customers to sign up for an email subscription? Use these six strategies to build your newsletter's audience.
1. Make signing up easy and lucrative
Prominently feature the signup form on your website. Include the form beneath every piece of content you produce. Use a newsletter email pop-up to put the form right in your customers' faces (without being annoying, of course).
And entice your customers by offering something in return — a 20% discount on a popular product, for example, or maybe exclusive access to a new product a week before it officially launches. Consider using the "double opt-in" tactic to make sure they really want to sign up.
2. Produce great content
The best thing you can do to get (and retain) subscribers is to fill the newsletter with great content that keeps them coming back. Don't just throw press releases or advertising copy into the newsletter, which will just come off as spam to your clientele.
Put some effort into understanding what your customers want and create content they will value and absorb, which prompts them to open your newsletter rather send it immediately to the trash — and, eventually, encourages them to hit that unsubscribe button.
3. Send them early and often
Everyone's worried about spamming their customers' inboxes so they don't send newsletters out often, but this is a mistake.
Customers regard emails as spam when they don't offer them anything of interest, but if you are working hard and producing a solid e-newsletter, be in your customers' inboxes as often as you can realistically churn out good content.
While it's bad to clog their email with low-quality spam, it also doesn't help your business to be invisible to them because you don't produce enough newsletters.
4. Include interactive features
Draw your customers into your newsletters by offering interactive features. Create a contest, or request their input on future product development.
Get them involved in your company on a deeper level, and more people will want to sign up for your newsletter because it gives them access to so much more than simply popping by your website to buy a product every now and then.
5. Keep it short and simple
Nobody wants to read a big, long e-newsletter, so keep your newsletter short and focused. Include only two or three quality items. Your entire newsletter should be digestible in a couple of minutes at most, with options to click through to read more if they choose.
6. Focus your branding
Your newsletter should be tight and focused, not just in terms of the amount of content but also in terms of the branding. Keep it limited to just two or three brand colors so it advertises your company through appearance alone and doesn't distract with a presentation that looks too busy.
Use your logo prominently and avoid straying off-topic with your content — make sure it is in line with your brand's message and amplifies it rather than distracts from it.
---
3 successful newsletter examples
So what does a solid newsletter look like in practice? The following three examples may help you come up with your own newsletter ideas.
Washington Wizards
This e-newsletter below does a good job of branding — it is simple, focused, and heavily uses the brand's colors. The newsletter also includes an ad for a "mystery gift card" with a $50 purchase in the team's store.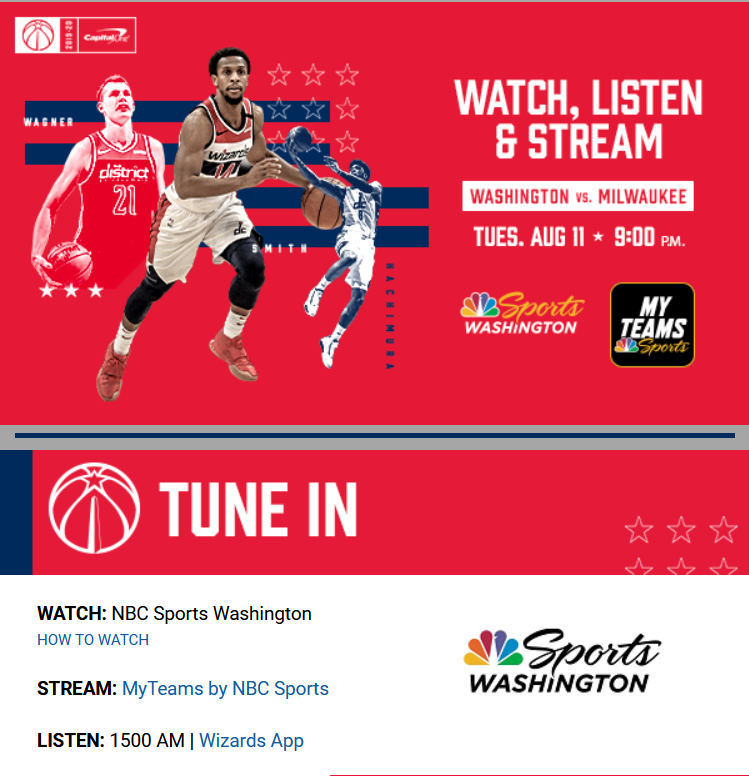 24PetWatch
This newsletter prominently features an offer, plus some content promoting products tied to a timely event — "Check the Chip Day."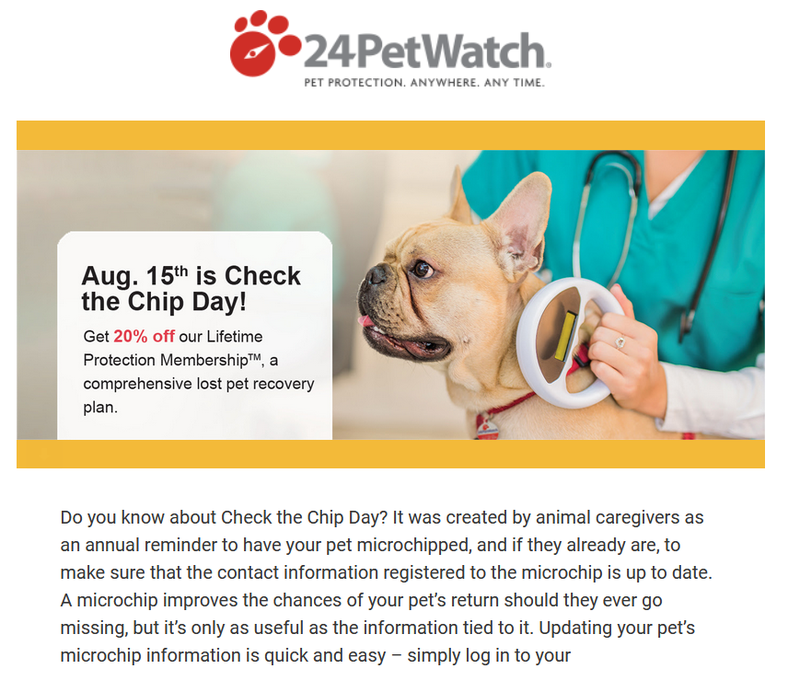 Stitch Fix
Clothing subscription service Stitch Fix goes interactive in its e-newsletter by making a pitch for former customers to give the company another try in exchange for a waived fee.
The newsletter also includes invitations to update a customer's profile for better matches and to play the "Style Shuffle" as a short break from their day.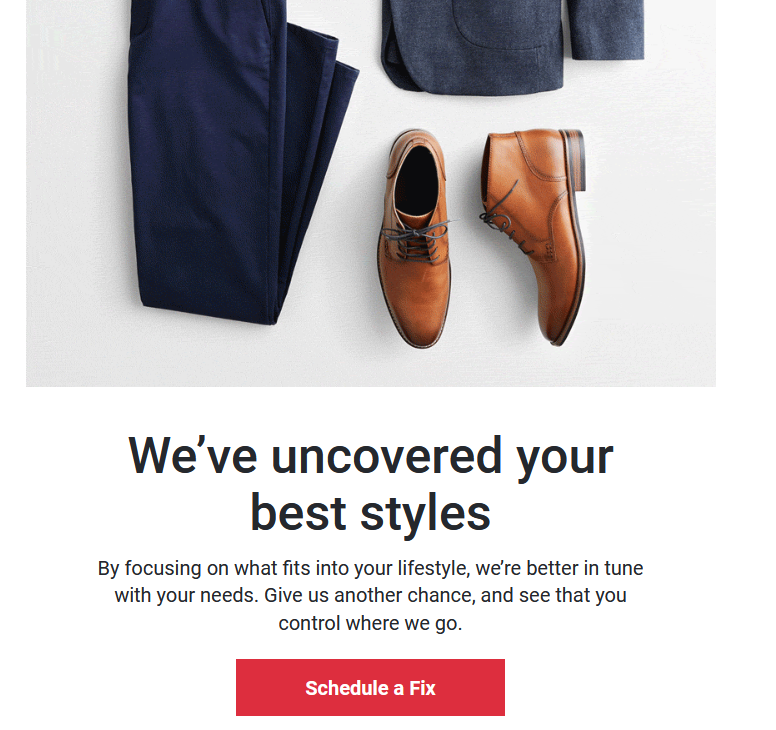 ---
Struggling with design? Use email marketing software
If you want your email marketing campaign to make an impact on your audience, it needs top-quality design, and that's likely something you can't do on your own. Go hunting for email marketing software that fits your business.
A solid software platform, combined with some of the newsletter best practices above, will help you take your business to the next level.