Nextiva's reliable VoIP service is worthy of any business that needs to build up its communication systems. But how does VoIP work beyond the basics of providing voice communication through the internet? Beyond a business phone number? In Nextiva's case, it's a comprehensive platform for everything you need to conduct communication inside and outside the office.
Signing up to Nextiva's most basic account will provide you with unlimited calling, unlimited peer-to-peer video conferencing, and up to 10 extensions. It's essentially a business communication system in a box. The only thing it's missing is the bubble wrap.
---
Who is Nextiva for?
Like all VoIP providers, Nextiva is for any business that needs to uncouple itself from a traditional phone system. Nextia builds its features off of "sites," or individual groups of phone numbers that you can organize based on every company "site" in use.
You might take that to mean Nextiva is solely for large companies, or that your company needs thousands of remote workers to justify using Nextiva.
However, if you only have one company site, don't sweat it. You can simply run a lower pricing tier for now and work off that one site. Nextiva also offers low-cost pricing tiers if you run only internal collaboration for now.
In the most basic offering for this cloud-based phone system, you'll have 10 total extensions to work with. From there, you're free to explore the Nextiva features.
---
Nextiva's features
Nextiva offers some very helpful features to help you organize your phone system.
Auto Attendant
If you're sick of leaving late-calling customers out to dry, your favorite feature will be the Auto Attendant. This is the recording you create for incoming calls during off-hours. You can set separate greetings for business hours and off-hours, though you'll have to go through different steps depending on whether you're using a Nextiva phone or not.
This feature could be a little more robust. An autoresponder is about the customer experience, after all. It's not something you'll have to deal with. Unfortunately, the Nextiva Professional account includes only one free recording or recording file for your Auto Attendant, and the Enterprise account includes only three. Both are limited to 50 words or fewer.
If you want additional options like music, additional words, or revisions, you'll face additional charges.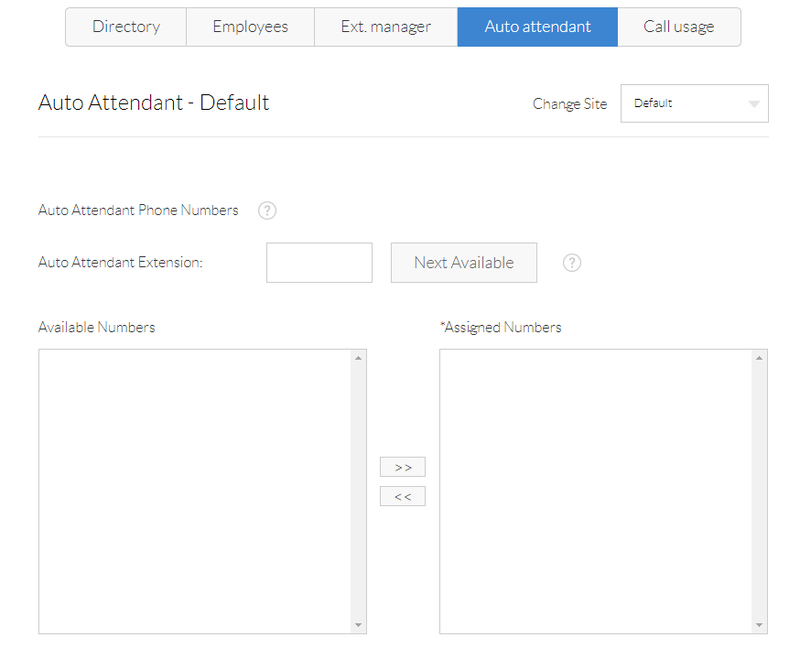 Conference "bridging"
Conference "bridging" is a fancy term for connecting multiple speakers on a single call. Even those of us without VoIP services are capable of doing that.
However, where Nextiva succeeds is in creating a simple way to conference your users together for company tele-meetings. As the business owner, you'll be able to manage the following:
Dial-in phone number for the event
Extension
Conference ID/nickname
What happens (tone, etc.) when a caller joins the meeting
A quick word of advice: Conference "bridging" is a neat little feature, but it's by no means a reason you should buy your own VoIP service.
Simultaneous Ring
Where VoIP providers like Nextiva thrive is in real-world features like Simultaneous Ring. This is critical for salespeople who need to be out in the field but don't want to lose touch with what's going on with their desk phone.
Nextiva's Simultaneous Ring feature is easy to use: You simply activate it for the appropriate phone number. And you can automatically deactivate Simultaneous Ring when you're on a call already, ensuring that you're free to focus on the person on the other end of the line.
Call Center Wizard
If you're intimidated by the amount of setup and customer support you might need to get your system up and running, the Call Center Wizard simplifies everything.
One issue here is that your Call Center Wizard will have differing superpowers, depending on your pricing level.
Basic: Features include call queuing and setting up your internal policies for incoming call distribution.
Pro: Features include the basic features, as well as signing in and out and utilizing a supervisor dashboard for management.
Enterprise/Premium: Features include all of the above, as well as silent monitoring. This is most appropriate when you have a lot of incoming customer support calls and need to monitor quality.
The Nextiva app
Any online collaboration and communication tool needs an effective app. Online, you'll find that Nextiva's app tends to get so-so reviews. The reliability of the desktop features makes Nextiva a strong candidate for any company with a physical presence.
However, in many cases, simply using Simultaneous Ring may be an even better option for connecting the mobile experience with Nextiva at the company's physical location.
---
Nextiva's ease of use
Nextiva was a bit of a trick to set up and navigate. Even many of its own supporting documentation offers two options: the legacy dashboard and the sleeker, more modern dashboard.
If you have to resort to multiple options just to explain a simple feature like Simultaneous Ring, there's room for improvement.
One of the most effective communication strategies is to minimize the potential for complications. The simpler, the better. If you're a small business setting up your first VoIP system, it's easy to see how you could get lost during an initial adjustment period. But when it comes time to add something like an extension, it's a simple matter of inputting your chosen extension and connecting it to the proper user.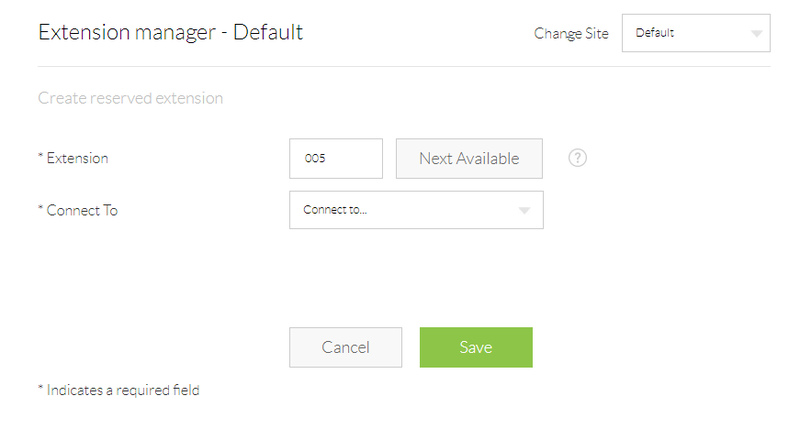 ---
Nextiva's pricing
Nextiva offers a free trial that lets you poke around their system and experiment with using features such as auto attendants. It will also give you a professional business number you can start using right away.
The good news here is that even the smallest pricing tiers offer the following:
Unlimited calling
A free toll-free business number
Unlimited video conferencing (peer-to-peer)
Outlook and Google contacts integrations
However, don't take the flat fees quoted on Nextiva's pricing page at face value. Pricing will fluctuate based on the number of users you have and your length of commitment. Here's what you'll need to know about the various pricing tiers for its full Communicate & Collaborate features.
Essential: $17.95/month and up per user. The Essential tier gets you the features listed above — and not much else. Note that the $17.95 quoted here is a bare minimum if you have 100+ users on a prepaid 36-month commitment.
Professional: $21.95/month and up per user. This is more appropriate for teams, giving you everything in "Essential" plus unlimited conference calls of up to 40 participants. This is also the tier where you'll receive 24/7 customer support.
Enterprise: $31.95/month and up per user. Now you'll have everything in the Professional tier plus unlimited participants in conference calls, additional toll-free minutes, call recording, and voicemail transcription.
An additional pricing tier, Ultimate ($52.95/month and up per user), is available if you need to run customer surveys and automate pipeline management.
What if you don't need all of the bells and whistles because your business doesn't have a lot of customers yet? There are separate pricing tiers if you just want to use the tools available with the Collaborate option.
Essential: $0.00/month. Unlimited video calls and screen sharing and free team collaboration.
Pro: $6.99/month per user. Essential features, plus meetings of up to 250 and unlimited team workspaces.
Enterprise: $9.99/month per user. Pro features and Essential features, as well as recording meetings and additional phone/live chat support.
---
Nextiva's support
This is where Nextiva makes a good first impression. The customer support features are at their most valuable when you're first setting it up. Since this is when you'll do the most troubleshooting as you get your team set up with VoIP and each worker's extensions, you may spend most of your time engaging with support on the front end.
Once you enter the Professional tier, ongoing customer support will be available 24/7. However, the VoIP services are reliable and straightforward to use, which should minimize customer support needs in the long-term.
How using Nextiva can benefit your business
If you're just getting started out, the responsive customer support and reliable service is a great introduction to VoIP. But even beyond that, you'll likely enjoy the following:
Bringing together a remote team. Nextiva's features are uniquely suited for a team of remote workers. You can organize your phone systems by company "sites," for example, which makes management more intuitive.
Sales-friendly features. Nextiva is a great platform for businesses that have a lot of customer-facing business. On-the-go salespeople can link offices and mobile phones easily, never missing a call.
Internal collaboration. As customer-facing as Nextiva is, it offers everything you need for internal collaboration, from group chats to team task-tracking. Nextiva conference calling may impact the price you pay, but it's a reliable way to interface.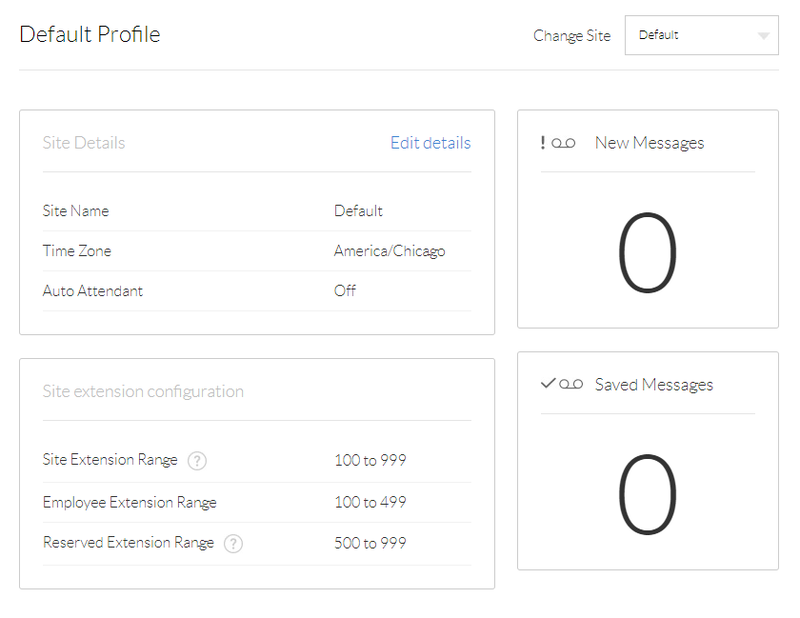 ---
Are you ready to run Nextiva?
Nextiva isn't the most intuitive solution for your communication needs. It sometimes feels like a strange mix of small business-friendly pricing with features designed for large enterprises.
However, if you have the patience to build a full communication platform for your business from the inside out, Nextiva will reward you with reliable service, consistent customer support, and robust features that make it easy to run an entire company of remote and in-person employees online.
---
Frequently Asked Questions for Nextiva
What is Nextiva, exactly?
Nextiva is a VoIP and online collaboration tool provider that essentially gives you everything you need for a complete, company-wide communication infrastructure. It also has different pricing tiers and plans to suit large enterprises or smaller companies.
That answer depends on far too many variables for one direct response. But here's what you'll need to know: Nextiva separates pricing based on Communication & Collaboration or simply Communication features. If you only need internal communication tools, you can run Nextiva for free within your company. But if you have a lot of client and customer-facing calls, prices will likely exceed $20/month per month.
What are the major advantages of Nextiva?
If you have the budget and the demand for it, you can use Nextiva as an "all-in-one" enterprise solution for calling, collaboration, and managing just about everything in terms of communication within your business. Its reliability can be a solid long-term investment if you need to empower salespeople to communicate externally.

To get started with a VoIP and all-in-one communication system, visit Nextiva's site today.
To get started with a VoIP and all-in-one communication system, visit Nextiva's site today.
The Motley Fool has a Disclosure Policy. The Author and/or The Motley Fool may have an interest in companies mentioned.