Nonprofit work starts with passion for a cause. Nonprofit organizations form to address social and environmental issues, champion the arts, support critical health research, and much more. Because of the role nonprofits play in communities, they receive special incorporation and tax statuses within their states. As a result, they're expected to maintain a high level of accountability to their donors and the public that they serve.
Bylaws for nonprofit organization administration are a critical element to maintaining public trust. They're also legally required for nonprofits to maintain their incorporation status. If you're interested in nonprofit administration, learn what nonprofit bylaws are, best practices for creating them, and some of the most common 501(c)(3) bylaws.
---
Overview: What are nonprofit bylaws?
Establishing nonprofit organization bylaws is a key step in how to start a nonprofit. They document how your board will operate and govern the nonprofit. They anticipate potential operational conflicts and outline how those disagreements will be resolved. Bylaws for nonprofit work also ensure you're meeting applicable state laws to remain in compliance with your incorporation status.
In many ways, nonprofit bylaws are similar to bylaws other for-profit boards, local church groups, or student governments might use to hold their meetings. They offer agreement on the parliamentary procedure of a meeting, including rules, ethics, and customs. However, they should also be specific to your nonprofit's goals and requirements.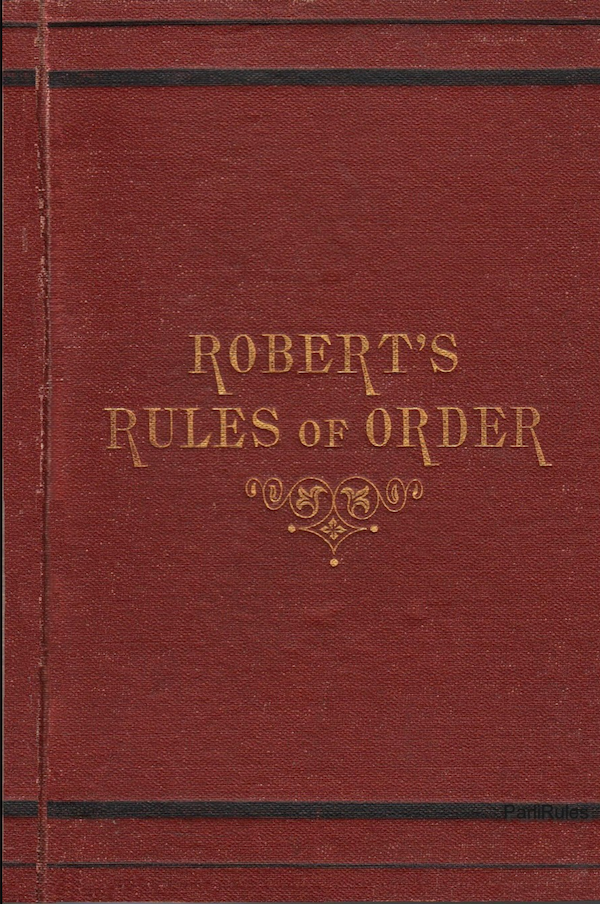 ---
4 nonprofit bylaws best practices
There are a few best practices to keep in mind when developing your nonprofit bylaws. These will ensure your bylaws are accurate, transparent, and remain current.
1. Get professional help
As flattering as it is to have you reading this article to begin your journey toward creating your nonprofit's bylaws, please don't mistake this piece for legal advice. Nonprofit bylaws are legally binding and a board can be held liable for breaching them. Therefore, it's best practice to seek professional legal advice when forming yours.
If you're lucky, you might have a lawyer on your board of directors who can help you parse out all the subtle nuances between using "shall" versus "may" versus "must" versus "can." There may also be low-cost or pro-bono lawyers in your area who can walk you through your state's not for profit corporation law, and answer any questions you might have around how your responsibilities differ from an S corporation.
State laws can dictate some of the details of your bylaws, such as the minimum number of board members you're required to maintain. Rather than feel overwhelmed trying to make sure you've met all legal responsibilities pertaining to your bylaws, invest in professional help.
2. Include only your basic foundations for governance
Since nonprofit bylaws are legally binding, they should include only the fundamentals for your operation, like how frequently your board will meet and how membership will make decisions. You want to avoid including anything that is likely to change frequently, such as how many fundraisers you'll hold each year or exact titles for staff positions you'll hire.
Also, lean toward being general over specific. For example, rather than say your board will meet every second Tuesday of each month at 5:30 p.m. in the main conference room located at 555 Nonprofit Way, just say your board will meet monthly. Keeping bylaws general allows for needed flexibility in scheduling and strategic planning.
Include topics that regularly change and other nuanced details in your organizational policies rather than your nonprofit bylaws.
3. Be transparent about your bylaws
Build trust with your supporters by being transparent about your bylaws. The public should have easy access to your bylaws to help hold your nonprofit accountable in its operations. You can house them on your website, and may even consider announcing them on your nonprofit social media as you kick off your incorporation. Strong bylaws establish your nonprofit brand as one donors can trust with their money.
4. Conduct periodic reviews for any needed updates
Even though bylaws include only the basics of how your nonprofit operates, they may still need adjustments over the years as your nonprofit scales. Plan to review your bylaws as a board around every two years to see if you should vote on any amendments.
---
Common provisions for nonprofit bylaws
While your nonprofit board bylaws will be unique to your organization, this section serves as a nonprofit bylaws checklist of sorts to help you review common provisions to include.
Another way to explore model bylaws for nonprofit organization governance is by reviewing those of other established nonprofits. Look for nonprofits that are well-known and nationally respected to see how they govern their operations. You can also review the table of contents for the bylaws of nonprofits within a similar field as yours to get an idea of what to have in yours.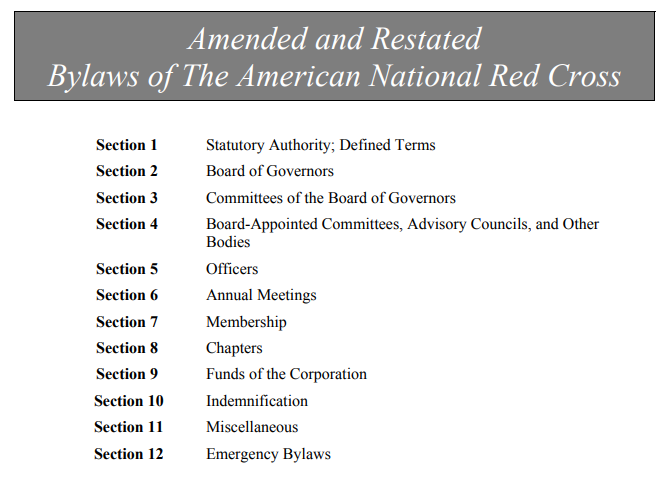 1. Name and purpose
Step one should be making it clear who the bylaws are for and what they'll let you accomplish. Make sure your bylaws include the name of your nonprofit organization and a description of your nonprofit's mission. The bylaw narrative on your nonprofit's purpose should match what's in your Articles of Incorporation.
2. Board member roles and terms
Next, you'll want to clarify the roles that will make up your board. List specific officer positions, such as president, vice president, treasurer, and secretary. Each should include a list of key qualifications and duties. For example, you might want to require that your president has previous experience with your nonprofit, either through helping with its founding, volunteering at an event, or serving in another board role.
You'll also want to specify the term lengths for each board role. These typically range anywhere from one to four years. Include details on how and when you'll hold elections, as well as how you'll process resignations or needed early terminations.
3. Meeting requirements
Your bylaws should provide a general sense for how often your board will meet, such as monthly or quarterly. Remember, this doesn't need to be specific, but you should know how many times you expect to meet over the course of a year.
Also include details on how many members need to be present to vote on decisions, how to call a special or emergency board meeting, and any critical notes on operations for remote meetings.
4. Board composition
Bylaws around your board's composition should include the required minimum and maximum number of members the board needs to have at any given time.
Different organizational structure types will also require different standing committees. Consider what board committees are important enough to have formally established in your bylaws, such as a finance committee.
However, as stated previously, it's important to not overdo it with formalizing committees. Include those that are fundamental to your operations in your bylaws and allow for affinity groups or other informal workgroups to form as needed for special projects throughout the year.
5. Bylaw review process
Change management models can help your nonprofit adapt through transitional, developmental, and transformational changes as you move from your first year of operations into fully scaling your mission. Part of being prepared for these changes includes formalizing the process for how you will review and amend your nonprofit bylaws.
Consider how often you'll review them, who will do the review, and how you'll vote on any changes. For example, maybe your board secretary is responsible for reviewing your bylaws once every two years and any suggested changes to them require a supermajority vote.
6. Conflict-of-interest policy
Your nonprofit exists to serve the needs of your target population, not your board members. You should have a policy regarding conflict of interest to formalize oversight and prevent the occurrence of your board members inappropriately profiting from their affiliation with your nonprofit. Check out guidance from the Internal Revenue Service for details on meeting this requirement.
7. Indemnification clause
Your bylaws should include an indemnification clause for your board members. "Indemnification clause" is a fancy, needlessly intimidating phrase that simply means your nonprofit will limit the personal liability of your board members should a legal issue occur.
Still confused? We'll try it another way. It means your nonprofit will protect your board members from loss or harm as the result of an unforeseen risk. It allows your board members to live with a bit less existential dread in their lives as they serve your nonprofit the best they can.
Ultimately, always remember the first best practice listed in this article and consult a legal expert to finalize your bylaws and help you through any legal jargon.
8. Dissolution procedures
The last thing you want to do when forming a new nonprofit — thinking about all the positive changes you'll soon bring into the world — is to consider how you'll dissolve it. However, this is an important provision to have in your bylaws. It doesn't mean you will dissolve your nonprofit someday, but it provides a framework for if you must.
Typically, these processes will cover how your nonprofit's assets will be used for tax-exempt activities in the case of dissolution. However, this is another provision that's ripe for running by a legal expert, as dissolution laws vary by state.
---
Establish nonprofit bylaws to outline the basic operations of your nonprofit board
Nonprofits are required to establish board bylaws upon formation. These detail your general operations and provide a framework for navigating potential issues that could arise. Review other nonprofits' bylaws to get ideas for drafting your own, but always make sure yours are unique to your organization and, ultimately, reviewed by a lawyer before finalizing.