Social media management is a fundamental marketing component for nonprofits. Platforms such as Facebook, Twitter, and Instagram can reach new supporters and raise awareness of your cause.
But it's harder than ever to cut through without spending huge amounts of money on social media content promotion.
The five ideas below are creative, cost-effective ways that you can harness social media's full potential to your nonprofit's advantage.
The 5 ways nonprofits can use social media to promote their causes and grow a following:
Tell stories
Make the most of emojis
Hijack hashtags
Give back to your audience
Follow the news cycle
---
1. Tell stories
People can't get enough of stories. A skillfully constructed narrative keeps people's attention, whether on a cinema screen or a smartphone screen. In particular, people love a good human interest story. Most companies know this. The problem is you need compelling material to make an engaging story.
Nonprofits have an innate advantage here. Their work affects people's lives, and these interactions are significant and important. Social media networks now provide more tools to help create narratives.
The Stories ad format on Instagram and Facebook is designed for this purpose, as the name suggests. Research has found that Instagram images containing faces attract 38% more engagement from followers than images without a face.
Charity: Water does an excellent job of curating their Instagram feed, with many striking visuals featuring people.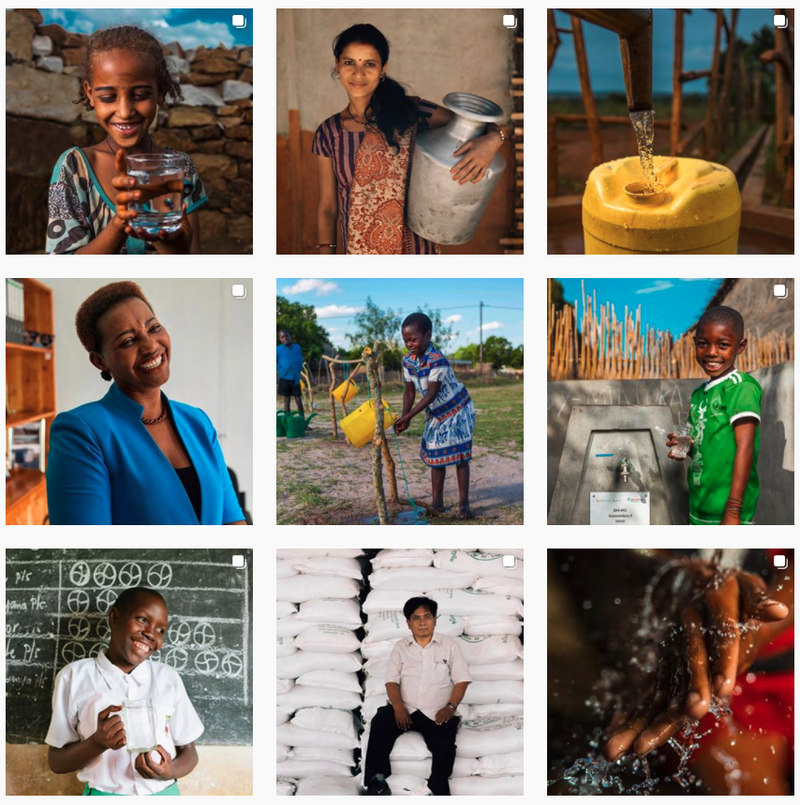 They also post videos on their IGTV channel, a popular way to connect with followers today.
You can create videos for a much lower cost than ever before, and it doesn't need to involve a large production team. What people crave more than anything is a sense of social connection, which you can achieve using a smartphone camera.
Speak to people who have been affected by your work and develop this insight into a social media campaign.
---
2. Make the most of emojis
Emojis have become the universal language of the internet. Each of the individual characters has the potential to go viral. The World Wildlife Fund used this knowledge to great effect in its #EndangeredEmoji Twitter campaign in 2015.
They promoted 17 emojis of endangered animals and asked their followers to tweet them. For each tweet, the user automatically donated a small amount of money to the charity.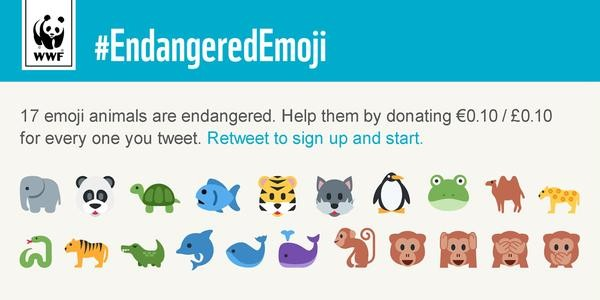 Over 59,000 people signed up to donate, and the campaign hashtag was tweeted over 500,000 times in the first month of the campaign.
This is a creative way to raise awareness and donations. It makes the audience feel like they are part of the campaign, plus they can choose their favorite emoji to post.
Nonprofits should take time to prepare standalone campaigns like this one alongside their usual social media content calendar schedule.
The WWF took the existing popularity of emojis and tied this to their own fundraising efforts. If you are abreast of the latest social media trends, your nonprofit should be able to pick up on similar ideas.
Use social media scheduling tools with advanced features like social listening to identify new conversations, shares, and purchasing behaviors. This will ensure that you can turn increased attention into increased donations.
---
3. Hijack hashtags
It takes a long time to grow an audience on social media. You need to post consistent, quality content for months before you start to gain traction. There are very few shortcuts.
You can still be clever in how you engage with trending hashtags, however. One nonprofit, WATERisLIFE, decided to turn the #FirstWorldProblems trend on its head.
Typically, this hashtag tells of people in richer countries who can't find a good movie to watch on Netflix, or who can't quite heat their pool to the right temperature.
There is a knowing sense of self-deprecation in these posts, but WATERisLIFE felt they clouded an important message. In response, they developed what has been one of the most successful Facebook nonprofit campaigns to date.
WATERisLIFE took real social media posts and had their staff at an orphanage in Haiti read them, then respond with their own problems.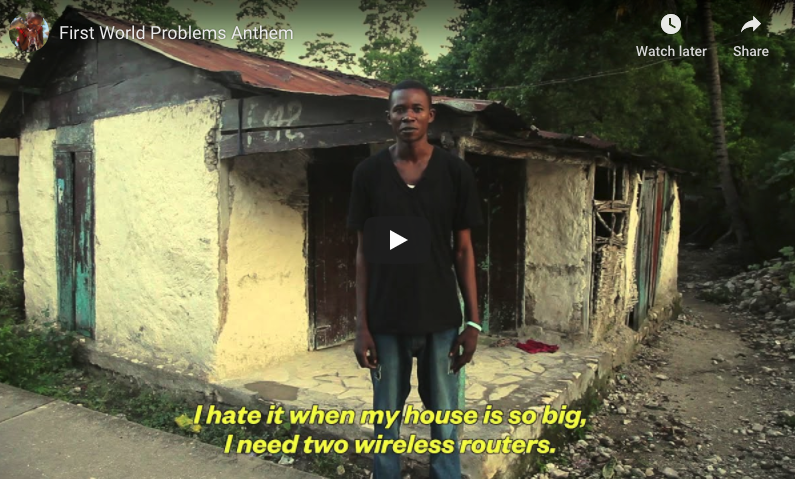 Naturally, this brought some perspective to first world problems. As WATERisLIFE CEO Ken Surritte noted, "A third of the world needs water." Proceeds from the campaign helped to drill six new wells and build a water treatment plant, too.
This provides a lesson for other nonprofit social media strategy managers. You can take a popular trend and steer the conversation in a different direction.
---
4. Give back to your audience
Nonprofit organizations rightly use social media to ask for donations, but they also need to give back to their followers. Some of these followers may already have received support from the organization.
For example, Planned Parenthood posts frequently on Instagram about its stance on issues such as universal health care. It directly addresses its audience and makes clear how followers can receive the support they need.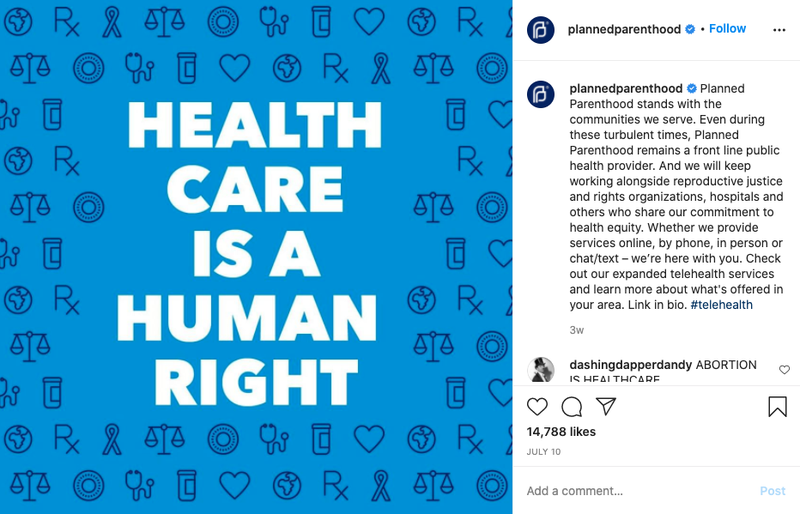 You can give back to your audience in other ways.
Try running contests that ask followers to like and share your posts for a chance to win. You can incorporate a quiz about your nonprofit's area of focus to keep it relevant to the organization. This is a tried and tested social media campaign for nonprofits that increases followers and engagement.
---
5. Follow the news cycle
Social media is the ideal platform for instant reaction to news headlines. As stories break, interest surges, which can be used to your nonprofit's advantage. Monitor your industry's news closely by setting up alerts. You can do this within any free social media scheduler.
You should also prepare your own resources within your social media marketing plan, so you can link back to your content when relevant stories arise. This ensures that you are channelling the audience's attention back to your cause.
It's important to engage with your followers when they react to your posts. You can use Facebook's Messenger for Business tool to keep the conversation going, once interest in the initial story subsides.
This social media strategy helps turn your fans into social media ambassadors.
---
In summary: Social media for nonprofits
There are numerous benefits of social media for nonprofit organizations. You can attract new followers, educate people about your cause, and raise donations.
In a competitive market, you need to have clear ideas on how you will use social media management tools to your advantage. Everyone is on social media, so how will you stand out?
The five ideas we've discussed in this article should give you plenty of food for thought.