Traditional employee appreciation and recognition initiatives such as celebrating wins, organizing team lunches, and acknowledging anniversaries are important for showing your employees just how much you value them.
As part of an employee management strategy, they can help improve employee engagement levels, and in turn, increase employee retention.
These initiatives don't need to always follow the run-of-the-mill classics, however. If you've ever seen The Office — and if you haven't, I recommend you do so immediately — you'll remember The Dundies, the annual awards given to employees. Among them were "The Fine Work Award," the "Whitest Sneakers Award," and my personal favorite, the "Extreme Repulsiveness Award."
Superlative awards are a great way of personalizing employee recognition initiatives for your team members. Depending on your company and organizational culture, you can get as creative and as personal as you like.
Let's take a look at 10 office superlative ideas you can work into your action plan.
10 fun and creative superlatives to award your employees:
The Buzz Lightyear Award
The Little Miss Sunshine Award
The Star Baker Award
The Mary Poppins Award
The Night Owl Award
The Iron Man/Woman Award
The Human Encyclopedia Award
The Trend Setter Award
The Michael Scott Award
The It's 5 O'clock Somewhere Award
---
1. The Buzz Lightyear Award
This award is a spin on the traditional award for the employee in the workplace who always goes above and beyond for both their colleagues and superiors. This employee can't do enough for others, and in doing so, helps raise office morale and employee engagement.
From ideas to increase productivity and efficiency to helping colleagues solve problems or meet deadlines to always being the first one to volunteer to clean the staff kitchen or take time to help someone, this person knows just what it means to be a team player.
"To infinity...and beyond!"
---
2. The Little Miss Sunshine Award
Every office has one person who, no matter what, has a perpetual smile like a Cheshire cat.
A veritable ray of sunshine, this person deserves this award for their positivity in the face of adversity, and for helping create an atmosphere of optimism, enthusiasm, and cheerfulness, all of which lift office morale and help maintain a welcoming work environment.
---
3. The Star Baker Award
This award goes to the person who can't stop, won't stop feeding the office with their delightful homemade treats.
Of course, they bake cakes for birthdays, but they don't draw the line there. Everyone gets excited when they see this person coming into the office holding a Tupperware container that undoubtedly contains cookies, cakes, pies, and other sweet treats to delight the office.
---
4. The Mary Poppins Award
Just like Mary Poppins' bag, this person has everything you need conveniently stashed in their desk drawer, saving you all from dashing to the pharmacy or store during your lunch break.
Sewing kit? Nail file? Extra set of cutlery? Ranch dressing? This person's seemingly bottomless desk contains everything you could ever need and more. Ask, and you will more than likely receive.
---
5. The Night Owl Award
For the emails sent at 2 a.m., the Asana tasks completed at 3 a.m., and the office hours worked long after everyone else has left for happy hour, this award goes to the person who always burns the midnight oil.
This award also recognizes that not everyone's productivity levels are the same at the same times of day (and night!).
---
6. The Iron Man/Woman Award
Gym bag perpetually under the desk: Check.
Protein shake atop the desk: Check.
The rustle of a trail mix bag when it's deadly silent: Check.
This award goes to the person in your office who's dedicated to keeping fit and healthy — the one who dips out every lunchtime and returns glowing, the one whose rogue gym sneaker might trip you up now and then, and the one who desperately tries to coax the rest of the office into weekend "fun runs" (we're good, thanks).
---
7. The Human Encyclopedia Award
This award is for the office know-it-all, the one everyone wants on their pub quiz team, the one who reads Wikipedia before bed every night. It is for the employee everyone turns to when they need an answer to a tricky question.
Some HR software, like Zoho People, lets you give out badges and employee awards to your team's stars, including, yes, the human encyclopedia.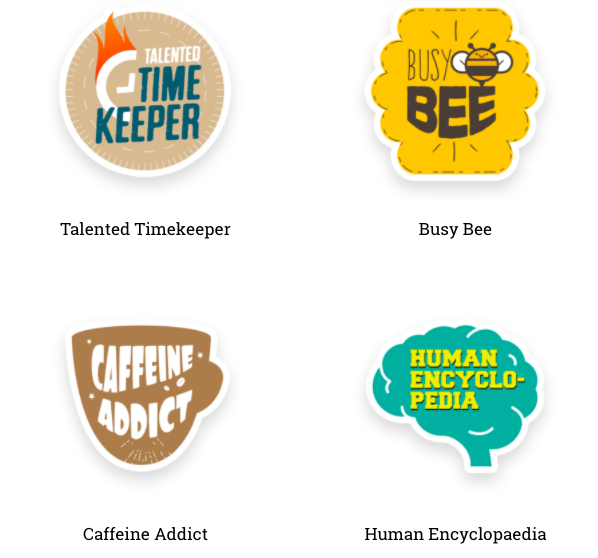 ---
8. The Trendsetter Award
Whether it's their style, or knowing the best new cocktail bars and restaurants to go to in the area, this person is the coolest cucumber in the office.
---
9. The Michael Scott Award
Back to The Office. Every office has a Michael Scott of varying degrees (although we'd hope more of a Michael Scott in his later years…). Maybe their terrible jokes land on deaf ears, they're far too quick to rely on the "that's what she said" quip, or they just love a goofy prank, this one's for the person who makes everyone laugh, both at and with them.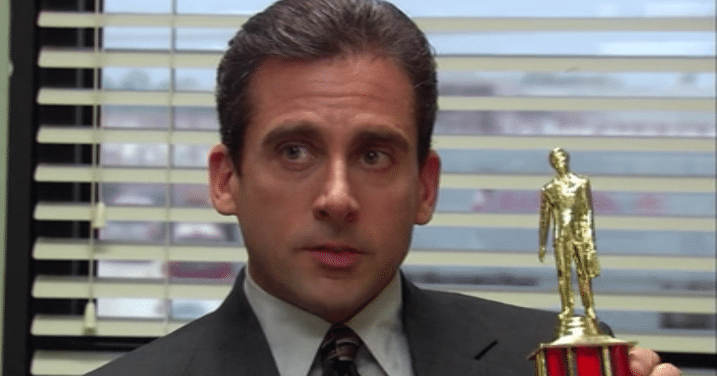 ---
10. The It's 5 O'clock Somewhere Award
This person always has an action plan for after-work activities. They're the ones who scope out new bars for happy hours, reserve the tables for new restaurants, and book the Christmas parties. Of course, these activities are all in the name of "team building."
---
Add joy to your employee recognition awards with funny superlatives
Funny work awards are a great way of injecting humor and personality into employee recognition initiatives, which your employees will appreciate and remember for a long time.
When you're thinking of your next employee appreciation initiatives, recognize that everyone brings something different to the office with funny certificates and awards designed just for them.