Part of choosing the best POS system for your business is comparing what systems can offer in terms of POS features, pricing, customer support, and determining how easy the software is to use.
PayPal is one of the most well-known payment processors, while Square is a very popular POS solution in the retail and restaurant industry, but which one can help support small businesses best?
This article helps you weigh up PayPal Here and Square to see which solution might be the best fit for your small business.
---
Paypal Here vs. Square: An overview
The main distinction between PayPal Here and Square is that Square is a feature-rich solution offering retail-focused functionality, such as inventory and customer management and sales analytics tools, while PayPal Here's core function is accepting and processing payments.
Both solutions offer POS features, but that doesn't mean that they're interchangeable. Let's start by looking at what kind of business each solution is designed to serve.
Who is Paypal Here for?
At its core, PayPal Here is designed for businesses who process online payments. However, it can process in-store card and mobile payments, too, via a tablet or smartphone. This makes it a good fit for small businesses who need to process payments from both in-store and off-site locations.
Because PayPal Here offers only basic POS features, it's not suitable for large businesses who need a comprehensive suite of business tools.
Who is Square for?
Square is a free mobile POS app that processes payments and then some. Aimed at small and mid-sized businesses, Square allows retailers to sell from anywhere with a centralized POS system, and offers users a rich catalog of free features, such as inventory management and sales reporting.
In terms of POS hardware, Square provides users with their first Square card reader for free (but does offer other equipment, such as POS terminals, at a cost), and is flexible with regard to businesses who want to "bring-their-own-device."
---
Paypal Here vs. Square: Features
We've already established that PayPal Here and Square are quite distinct in terms of how comprehensive their package of POS features are, but let's dive into exactly what each solution offers.
What Paypal Here offers
PayPal here is primarily a payment processor that offers basic POS functionality, such as:
Invoicing
Inventory management (This is limited to tracking quantities and building a library of items. To access more comprehensive inventory management features, users need to integrate with

Shopventory

.)
Customer management (limited to reviewing transaction histories, importing and editing contact information, and reaching out to customers from the app.)
Offline mode
Dashboards and reports
To access PayPal Here and these features, users need a PayPal Business account.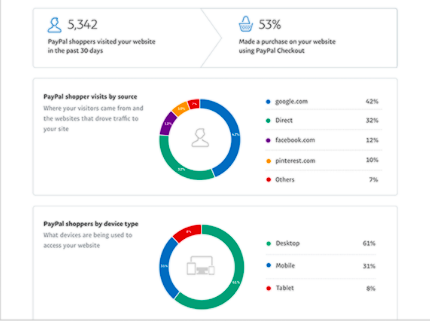 What Square offers
Square offers a laundry list of strong POS features within a free app:
Inventory management
Customizable dashboard
Sales analytics
Offline mode
Advanced reporting
Multi-location management
Customer management
Invoicing
Aside from its inventory management feature, which might not be powerful enough for merchants with large inventory numbers, this is an impressive list of features for a free mobile point-of-sale app.
Users who want to enhance their POS solution can upgrade to features such as customer loyalty, gift cards, e-mail marketing, team management, and payroll.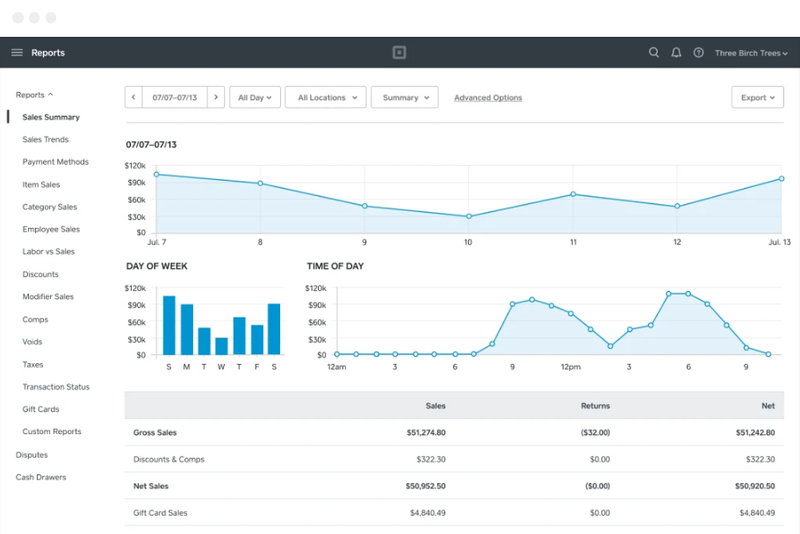 Results
There's almost no competition here. Square beats out PayPal Here for offering a large suite of powerful business management tools within a free app. Ultimately, PayPal Here's features aren't robust enough to be considered a full POS system.
---
Paypal Here vs. Square: Support
The importance of customer support can't be overstated. Not being able to quickly get in contact with support might mean halting sales until the issue is resolved.
What Paypal Here offers
PayPal customer support offers a variety of options, including in-app help, live chat, phone support, and an extensive help center.
The help center includes a resolution center to submit cases, a PayPal community forum, and a message center, a secure mailbox that allows for communication between users and PayPal.
The help center also contains a search function that provides answers to common technical and business queries.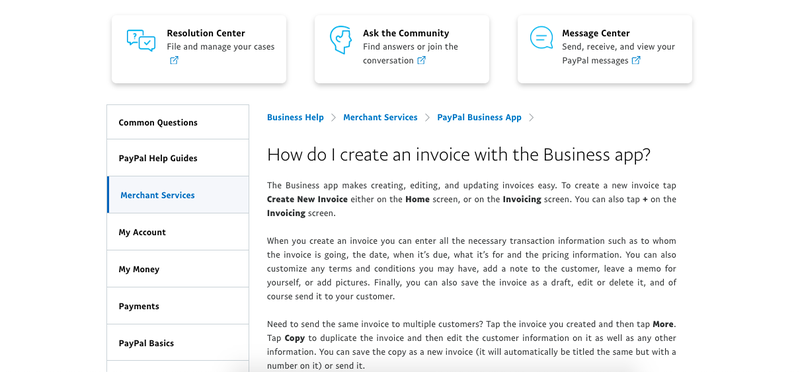 What Square offers
Square offers an online knowledge base that contains a huge selection of troubleshooting articles, a community forum, and e-mail and phone support. However, Square's phone support service is offered only Monday to Friday from 6 a.m. to 6 p.m. Pacific Time, and Square does not offer a live chat option.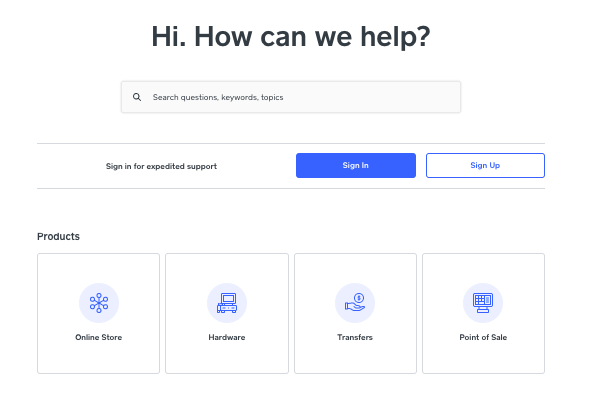 Results
PayPal Here wins this round due to Square's lack of live chat functionality.
---
Paypal Here vs. Square: Ease of use
Most merchants want a multifunctional, yet simple, POS tool to use. How do PayPal Here and Square stack up in the ease-of-use category?
What Paypal Here offers
PayPal Here is very beginner-friendly and straightforward to use. PayPal has a three-step setup process. Once you've signed up and downloaded the app, you choose which PayPal card reader you'd like to use. Once this has arrived, you connect it to the device you want to use via Bluetooth.
There's no steep learning curve when it comes to PayPal Here. All actions are completed from within the app, and those who are already familiar with PayPal will see how easy it is to use its tools.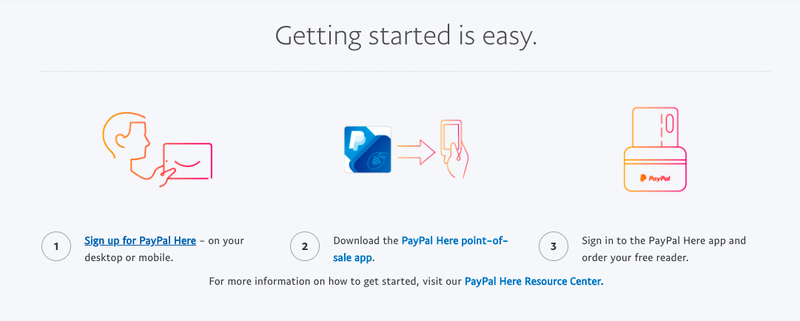 What Square offers
Square's best characteristic has to be its ease of use and customizability.
From Square's main dashboard, users have everything they need to manage sales at their fingertips. The dashboard is uncluttered, user-friendly, and fully customizable to each user's needs.
Don't need to see refund information? Simply remove the widget from the home screen in a drag-and-drop fashion. You can then add in any feature widgets you do want, in any order you like.
Everything you need to manage your payments is held and displayed in one sleek, centralized system. Even if you don't have prior experience with a POS system, you'll soon learn to navigate Square's platform with ease.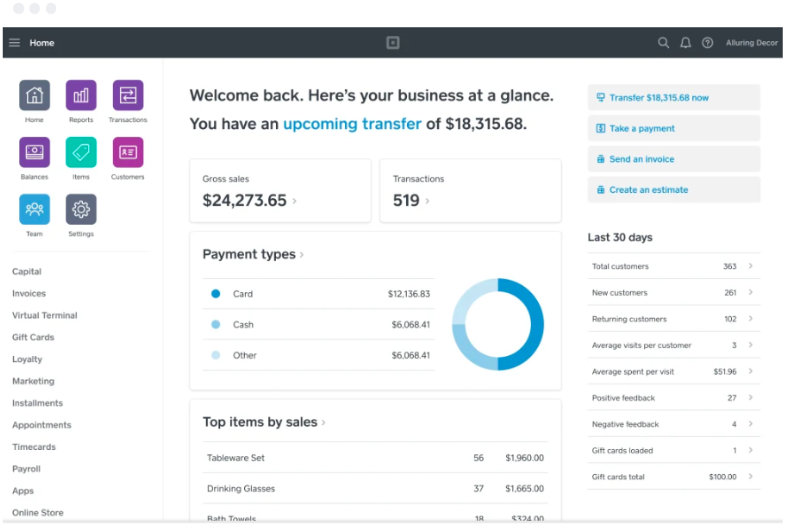 Results
There's no clear winner here. While it could be argued that PayPal Here's lack of features makes it easier to use, we're calling this round a draw, as both systems are intuitive and effortless to use.
---
Paypal Here vs. Square: Pricing
What we like about both solutions is that they make their pricing details public and transparent. But which solution edges out which in this pricing battle?
What Paypal Here offers
PayPal Here doesn't charge monthly subscription fees, but it does charge a fee for every transaction made.
Here is a breakdown of PayPal's payment processing fees:
2.7% of the total transaction value fee for card swipes and inserts in the United States
3.5% of the total transaction value plus $0.15 for keyed-in transactions
2.9% of the total transaction value plus $0.30 per online payment
What Square offers
Square also charges payment-processing fees for each transaction and does not charge a monthly fee.
Here's a breakdown of Square payment processing fees:
Square credit card processing costs 2.6% of the total transaction value + $0.10. This includes all swiped, dipped, and tapped payments
Keyed transactions cost 3.5% of the total transaction value + $0.15
Online payments cost 2.9% of the total transaction value + $0.30
Square even throws in your first card reader for free.
Results
Though there's not much to it, we can't fault a free app that offers such powerful features and overall lower fees per credit card transaction. Square wins this round.
---
Paypal Here vs. Square: Integration with other software
Integrations help merchants take their businesses to the next level. Let's see which solution offers the best integrations offering.
What Paypal Here offers
PayPal Here also offers users the chance to utilize their "partner solutions," which are essentially pre-integrated apps such as Salesforce, Shopify, and QuickBooks, to support their businesses.
While the partner solution marketplace is welcome, it's not as extensive as that of many of its competitors.
Additionally, PayPal Here's Software Development Kit (SDK) enables third-party merchants to integrate PayPal Here's POS solution in their app.
What Square offers
Square integrates with a range of business software, including but not limited to:
Accounting software, such as QuickBooks and Xero
E-commerce software, such as Magento
E-mail marketing software, such as MailChimp
Scheduling software
Form-builder software
Delivery and order software
Marketing and analytics software
The solution offers an extensive catalog of integration choices, which are great for centralizing business operations.
Results
Not all businesses are created equal, so merchants need a wide array of integrations to complement their POS system. Since Square offers more integration categories than PayPal Here, Square takes this one.
| | Paypal Here | Square |
| --- | --- | --- |
| Inventory management | | |
| Advanced reporting | | |
| Multilocation management | | |
| Customizable dashboard | | |
| Offline mode | | |
| Customer management | | |
| Invoicing | | |
| Free virtual terminal | | |
| Free mobile card reader | | |
| Extensive hardware options | | |
---
Overall, Square wins out as the better solution for small businesses
While PayPal Here and Square are both payment processors, that's where most of the similarity ends.
While both are suitable for small businesses, Square offers small businesses significantly more features and usability, with lower card transaction processing fees.
PayPal Here is a good solution for businesses who conduct the bulk of their business online, while Square is a fit for those looking for a low-cost (free!) solution that can offer them rich features for operating both online and in-store sales.
Ultimately, Square is the better option for small businesses because it doesn't offer just simple payment processing, but provides a rich, integrated, omnichannel POS solution at a great price.