Whether you're paying employees for the first time or are looking for a payroll application that is better suited to your needs, finding a product that's right for you can be an imposing task. To help in your decision-making, we took a look at a variety of payroll applications, some basic, others full-service.
We've looked at both on-premise and online applications at all price points, including one free application. So read our reviews, try out a few demos, and find the payroll application that's perfect for you.
Here are our top picks for the best payroll software:
The 7 best payroll software for your business
Keep in mind that our best may not be your best, so do your research, and keep downloading those demos to get a better idea of which applications you're comfortable with.
That said, here's our choice for the best overall payroll software.
1. Best overall: OnPay
Ideal for small businesses and restaurants that want full-service payroll for one low price, OnPay includes a lot of extras such as HR tools, free direct deposit, multistate payroll capability, mobile accessibility, and an employee self-service feature, which includes lifetime access. But what really stands out is their product support, as every support employee is trained by the American Payroll Association.
This software option is better suited for small businesses with a lot of hourly employees, as there is no option to run payroll automatically, even for salaried employees. However, payroll is easy to run and requires little data entry.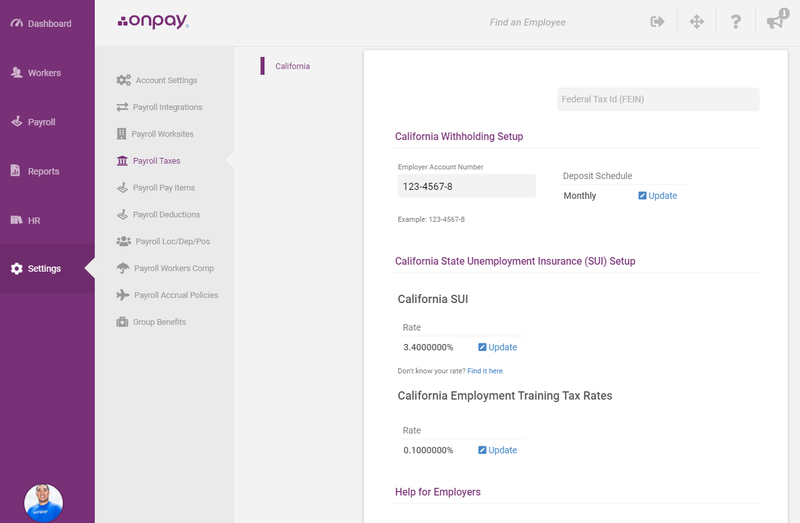 Best of all, with their all-inclusive plan, you won't have to worry about paying extra for additional features, or scaling up to a more robust plan as your business grows, since you'll have access to the features and functionality you need from day one.
Quick look at OnPay
Here are a few aspects that make OnPay a good full-service payroll option for your small business.
Features: Full-service payroll processing, mobile access, multistate payroll, employee onboarding and self-service, and solid integration options are available in OnPay for a single monthly fee. In addition, they offers a variety of HR resources including HR templates, offer letters, compliance tools, and access to an HR resource library.
Pricing: OnPay pricing is transparent right from the start. There is a monthly fee of $36 and a per-employee fee of $4. That's it. No hidden charges, no add-ons, no upgrades necessary.
Support: They will migrate your current data to the their application at no cost, assist with initial setup, and set up integrations with third-party applications. As an added bonus, the OnPay support team really knows payroll, since they're trained by the American Payroll Association.
Benefits: There are many benefits, but transparent pricing, multistate payroll, and easy (and free) accessibility to HR tools are just a few of them.
Read The Blueprint's full OnPay review
2. Best value: Payroll Mate
Payroll Mate is an on-premise payroll software you can purchase and download directly from the Real Business Solutions website.
Designed for businesses with 75 employees or fewer, Payroll Mate makes it easy to get started in payroll. While I would recommend that you have some knowledge of payroll processing prior to using Payroll Mate, the application does a good job guiding new users through various processes such as setting up your business or adding new employees.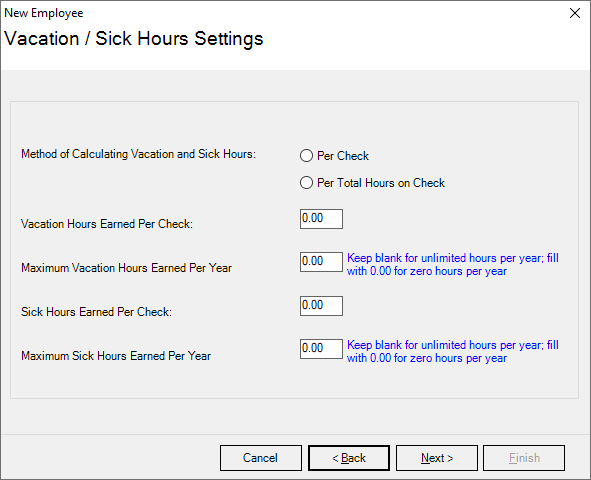 While this software will process all of the necessary payroll reports, you are responsible for filing those reports and making the required tax deposits by the deadline, which may scare some less-experienced business owners.
Unfortunately, Payroll Mate can only be used on Windows operating systems, so Mac users will have to look elsewhere.
A quick look at Payroll Mate:
Here's a quick summary of what Payroll Mate offers:
Features: You can run payroll for multiple businesses or locations, it handles multiple pay frequencies, and it supports employee direct deposit.
Pricing: Payroll Mate pricing can't be beat, running $119 for the year. An add-on direct-deposit module is also available for $95.
Support: The software includes numerous tutorials and wizards and offers free technical support via telephone, email, or chat.
Benefits: The pricing structure makes it affordable for even the tightest budgets, with one low payment and no monthly fees. A variety of add-on modules are available to increase product functionality.
Read The Blueprint's full Payroll Mate review
3. Best features: Gusto Payroll
There's a reason some of the most popular accounting software applications such as QuickBooks Online and FreshBooks integrate with Gusto. Loaded with features designed to make your life easier, this software can be a good payroll solution for both accountants and for a business of just about any size or type, with pricing being the only possible drawback.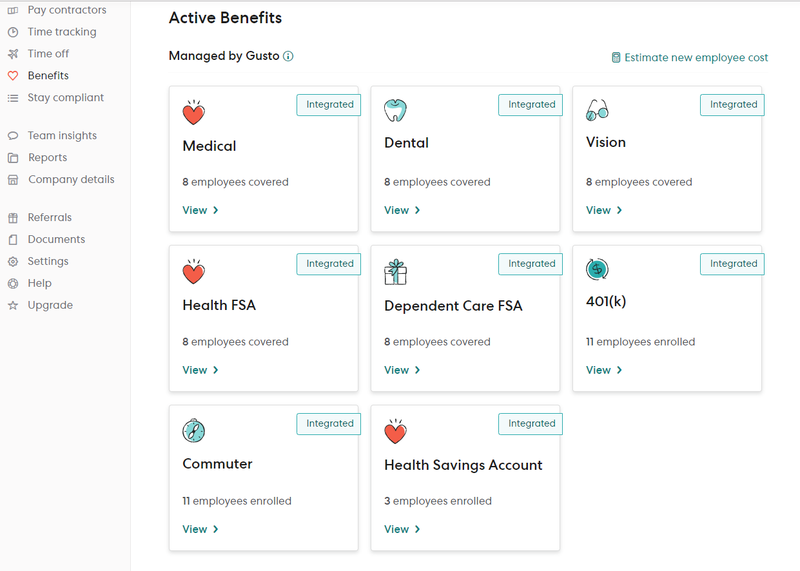 Highly recommended for business owners who know absolutely nothing about payroll processing, this software does all of the hard work for you, letting you concentrate on running your business. Their supports direct deposit at no extra cost and will process, file, and remit any payroll taxes due to the appropriate agencies.
In addition, Gusto includes benefit administration and a variety of HR tools and resources, though they do come at an extra cost. For smaller businesses, Gusto can be the best choice, but as your number of employees goes up, so does the cost of the software, which can put it out of reach for some.
A quick look at Gusto Payroll
Here are a few things that set Gusto apart from the crowd:
Features: They handle everything from new hire reporting to contract worker payments. New employees can onboard themselves in Gusto, and former employees can access pay stubs and W-2s online. Another great feature is AutoPilot, which will run payroll automatically.
Pricing: The software offers three plans: The first two plans carry a $39 monthly base fee, and the last plan charges a whopping $149 base fee each month. Tack on the $6-$12 per employee fee each month, and you can see how pricing can get out of reach fairly quickly.
Support: Gusto offers telephone, email, and chat support along with a searchable knowledge base where you can find answers to many of your questions.
Benefits: Flexible payroll schedules, unlimited pay runs, an intuitive user interface, and complete payroll tax processing are just a few of the benefits offered.
Read The Blueprint's full Gusto Payroll review
4. Best for beginners: RUN powered by ADP
I think we can all agree that ADP might know a thing or two about payroll.
The company has taken its 70 years of experience and created a product designed especially for small businesses with 49 employees or fewer. The result, RUN Powered by ADP, offers easy online payroll processing, with four plans to choose from.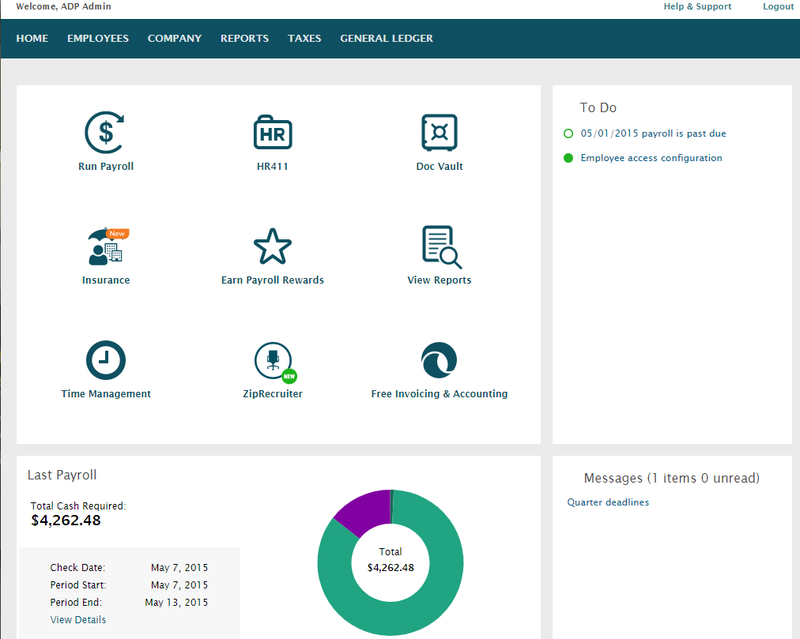 The product's extensive use of wizards makes it easy for anyone to use, even those running payroll for the first time. The user dashboard offers easy access to all payroll-related features, and a handy to-do list pops up on screen as a nice reminder to complete necessary tasks.
RUN Powered by ADP can get expensive — it's difficult to obtain exact pricing from ADP — but for payroll novices, it can be worth the cost.
Quick look at RUN Powered by ADP:
Here are just a few reasons your small business should take a second look at RUN Powered by ADP:
Features: They offer four plans to choose from, with all plans offering direct deposit, mobile payroll processing, payroll delivery, and payroll tax processing, filing, and remittance. In addition, you can pay contractors in RUN Powered by ADP, and the product offers the Prior Payroll Amounts Wizard, which makes it easy to enter prior payroll totals.
Pricing: With four plans available, there are a lot of pricing options to choose from, although it's nearly impossible to pin down ADP on what the final cost will be. Pricing for 10 employees typically runs between $150 and $180 a month, though that can vary widely.
Support: Support is available for both payroll administrators as well as employees, with separate options and resources available for both. Toll-free support is available as well as online help and a FAQ page.
Benefits: They are a solid payroll application designed by industry leaders. The application also includes numerous add-on options that can increase the functionality of the application tremendously, but be prepared to pay more for those options.
Read The Blueprint's full RUN Powered by ADP Payroll review
5. Best free option: Payroll4Free
Who says you can't run payroll for free? With Payroll4Free, you can process a complete payroll for your business online at no cost. For a small monthly fee, this software will also process and file your payroll taxes.
A good fit for businesses with limited room in their budgets for payroll services, Payroll4Free also offers a good selection of features you may not expect from free payroll software, including direct deposit and an employee portal.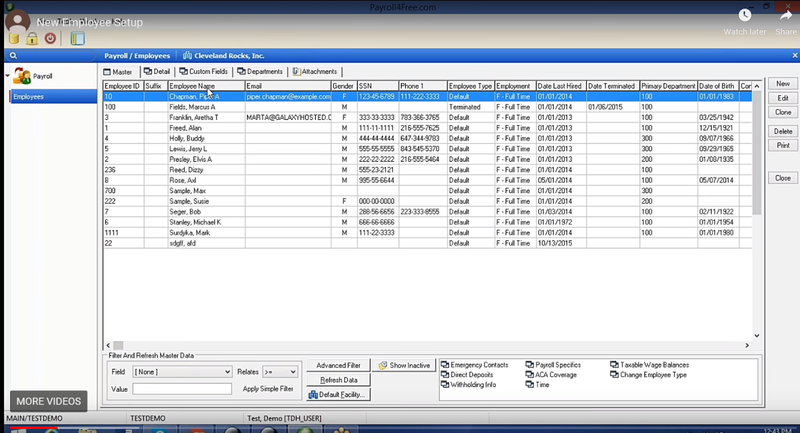 There are some downsides to this option. It has an outdated user interface and uses ads on its pages, which is why the product is free. It also has a fairly complicated onboarding process. But in the end, if you are looking for payroll processing at a low (or no) cost, Payroll4Free might be for you.
Quick look at Payroll4Free:
If you have a hard time believing payroll processing can be free, it may be even more difficult to believe that it can also be done well. Check out what this software option has to offer:
Features: They don't skimp on features, offering free direct deposit, a free employee portal, and tax processing, filing, and remittance for a low cost. Payroll4Free also pays contractors and processes year-end forms such as W-2s and 1099s.
Pricing: It's free. However, if you have Payroll4Free file your payroll taxes for you, there is a charge of $12.50 per month.
Support: Includes free telephone and email support.
Benefits: Having access to a solid payroll application that is 100% free is the biggest benefit, and one that's hard to beat.
Read The Blueprint's full Payroll4Free review
6. Best for new users: Patriot Payroll
Of all the things a new business owner needs to do, running payroll may be one of the scariest.
After all, you don't want to accidentally pay your employees too little, or too much. On top of that, you have to make sure your payroll reports are processed correctly and filed timely, with the correct amount of tax remitted. Who wouldn't be nervous?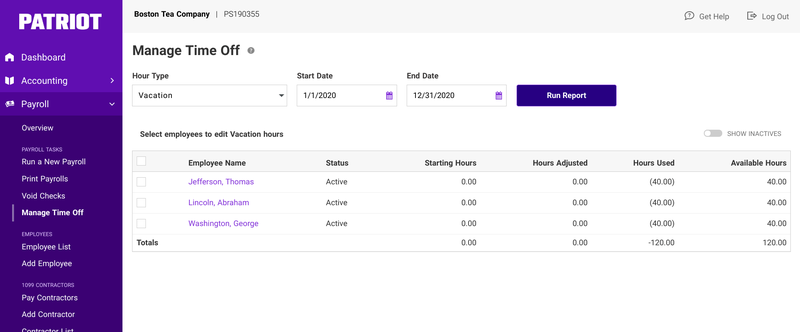 .
Patriot Payroll seems to make all of that disappear. An intuitive user interface, minimal data-entry requirements, and a three-step payroll process lets even a complete novice run payroll with ease. Ideal for small businesses with fewer than 10 employees, this software provides all the necessary features and functions a payroll application should have.
There are some downsides, such as the inability to pay contractors and a lack of flexibility when it comes to pay rates for employees, but for those running a straightforward payroll, Patriot Payroll may be a good option.
Quick look at Patriot Payroll:
Here are some things that make Patriot Payroll stand out:
Features: They offers free direct deposit, an employee portal, the ability to track paid time off (PTO), along with good add-on options that streamline the payroll process.
Pricing: The Basic plan is $10 per month plus a $4 per employee fee, while the Full-Service plan, which includes tax processing, filing, and remittance, runs $30 per month, plus a $4 per employee fee. The optional Time and Attendance module is $5 per month, while the Human Resources module is $4 per month, each with a $1 per-employee charge added. Both are worth the cost.
Support: Patriot Payroll offers toll-free phone support along with email and chat support during regular business hours. In addition, the Payroll Help Center includes short training videos, a searchable knowledge base, and a guide for getting started.
Benefits: If you want payroll to be quick, painless, and accurate — and include necessities like direct deposit and an employee portal — then this may be the product for you.
Read The Blueprint's full Patriot Payroll review
7. Best for SMBs: Paycor
Paycor is a fully integrated Human Capital Management (HCM) solution that also includes full-service payroll processing.
Paycor is a cloud-based application and is designed for small to mid-sized businesses that are looking for solid payroll capability along with excellent employee and HR management features.
The software does offer a small business payroll option designed for businesses with 10 employees or less, but it scales up nicely for mid-sized businesses as well. Its payroll application is solid, with features such as direct deposit, employee self-service, document storage, and a robust mobile app offered in all plans.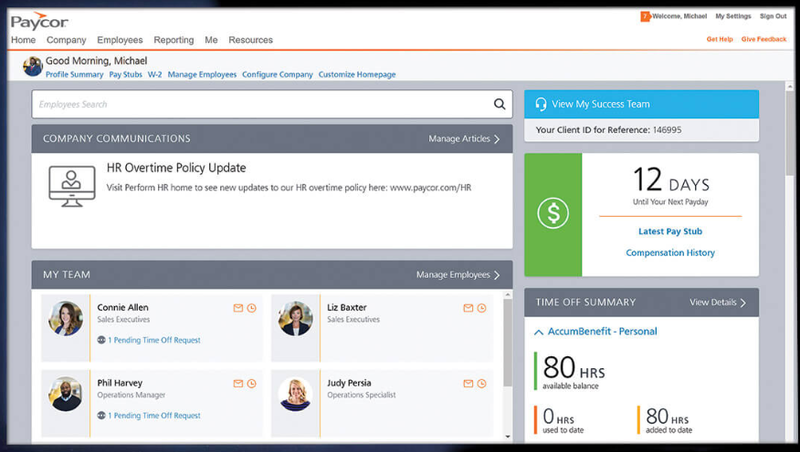 However, Paycor truly shines in the HR management arena, offering one-on-one access to HR professionals, downloadable HR templates and handbooks, as well as recruiting tools and application management capability.
Though slightly lacking in payroll-related tools and resources, the software offers an astonishing number of HR resources and compliance tools, including videos, webinars, white papers, and guides. While it's useful for small businesses, Paycor truly shines when used by mid-sized businesses.
Quick look at Paycor:
Paycor offers a lot of great features for small to mid-sized businesses. Here are just a few.
Features: It offers a small business payroll option designed for businesses with 10 employees or fewer, but it can also scale up to perform for mid-sized businesses with more complex payroll and HR needs.
Pricing: The software offers three small business plans, starting at $99 month for the Basic plan, with the Complete plan running $199.00. This is the cost for up to 10 employees. Businesses with additional employees can obtain a custom price quote from Paycor.
Support: Paycor offers toll-free support as well as online access to numerous tools and resources. You can also contact a local Paycor office for assistance, if desired.
Benefits: It has an affordable payroll solution for small business owners starting at $99 per month, with the ability to scale up to a more robust plan if necessary. But perhaps the true benefit of using Paycor is having complete access to its HCM resources, which are all designed to keep your business in compliance today as well as in the future.
Read The Blueprint's full Paycor review
What The Blueprint looks for in a great payroll software
Before you purchase a payroll application, it can be helpful to answer a few questions that can lead you in the right direction.
What's my budget?
Do I need online access, or will an on-premise application be okay?
Am I comfortable filing my own taxes?
Do I need to pay contractors?
Do I need access to HR resources?
Once you answer these questions, your search for the "perfect for you" payroll application will become a lot easier.
Purchasing payroll software, like purchasing any software application, requires a lot of research and a little bit of luck. There are lots of choices.
If you're familiar with how to do payroll and are comfortable taking on the majority of the work, there are numerous payroll software applications available. However, in recent years, more businesses have turned to full-service payroll applications for their payroll processing needs.
Unlike payroll services from 20 years ago, which handled everything from employee setup to entering hours worked, payroll systems today require you to be involved in the process, entering employee information, calculating and entering hours worked, and ensuring the correct pay information has been entered.
Once you provide these details, the application takes care of the rest, printing paychecks, processing direct deposits, and calculating and filing federal and state payroll taxes.
Here are a few things to consider before you select a payroll application for your business.
1. Is it do-it-yourself or full-service payroll?
If you've been processing payroll for employees for years, do-it-yourself payroll software may be right for you.
One of the benefits of traditional payroll software is that it's typically much less expensive than full-service payroll. However, payroll software applications also require you to manage deductions, administer benefits, and handle your own federal and state tax reporting, including form submission and tax remittance.
If you're new to payroll, full-service payroll may be a much better solution for you. While you'll still want to familiarize yourself with all of these payroll processes, much of the heavy lifting is done for you.
2. Is it easy to use?
Many payroll applications, from standard software applications to full-service payroll providers, offer a demo. Don't underestimate the importance of trying out as many applications as you can prior to making a final decision. Unlike other software applications, most payroll applications offer many of the same features and functions; the main differences have more to do with how those features and functions are presented.
When trying out a demo, here are a few things to ask yourself:
Am I comfortable navigating through the application?
Is there a way to do less data entry?
Can I easily find what I'm looking for?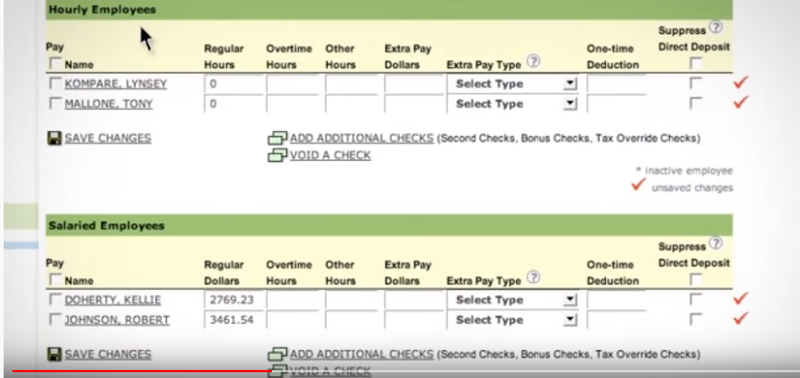 For instance, with Sure Payroll, just check the box next to a salaried employee's name to pay them. There's also an option to add extra pay or one-time deductions from the same entry screen, which can save you a lot of time.
3. Will the software process and pay quarterly taxes?
Taxes are the main reason people use full-service payroll, with new business owners frequently confused by the various forms, agencies, and deadlines involved.
Most importantly, the IRS does not take late tax payments lightly, and being penalized for a late deposit or two can seriously screw up your budget. My recommendation for everyone learning how payroll works for the first time is to use full-service payroll that will handle payroll taxes, including remittances, for you.
As a business owner, there are a lot of things you need to worry about. The IRS shouldn't be one of them.
4. Can my employees access their payroll stubs?
Years ago, when I was buying a house, I remember requesting a year's worth of pay stubs from my employer.
Today, most full-service payroll products allow your employees to log into the application and download current and historical pay stubs, along with W-2s and any other employee-related documentation. It's great for them, and it can save you a lot of time, too.
5. How much does it cost?
While cost should not be the sole determining factor when deciding whether to purchase a software application, for small business owners typically on a tight budget, cost can realistically be a major factor.
While there is free payroll software available, the majority of payroll applications have an annual fee or a monthly cost.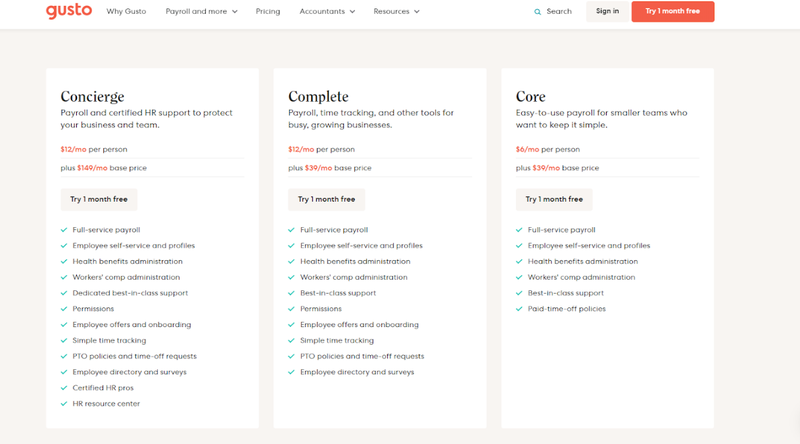 While you'll always pay more for a full-service payroll application than you will for traditional payroll software, it's up to you to determine the cost level you're comfortable with and decide accordingly.
Payroll doesn't have to be scary
If your business is growing, and you find yourself needing to manage payroll, congratulations! Fortunately, there are more payroll applications available than ever before, giving you more options to choose from. Remember, managing payroll doesn't have to be scary.
Just make sure you're using the right payroll application for your business. If you're not sure where to start, check out The Blueprint's comprehensive payroll software reviews.
Frequently Asked Questions
Is there a difference between payroll software and full-service payroll?
Although the two terms are frequently used interchangeably, payroll software is usually installed on your desktop or workstation computer. Many payroll software applications have moved to the cloud in recent years, though.
The biggest difference between payroll software and full-service payroll is that if you use traditional payroll software, you'll be the one to process and file federal and state tax forms and remit tax payments to the proper agencies, whereas full-service payroll will handle this for you (though timely filing remains your responsibility).
Can I pay contractors using my payroll software or service?
Most full-service payroll products let you pay your contractors at the same time you run payroll for your employees. This feature is a little harder to find in traditional payroll software applications.
Can I pay employees in more than one state?
Usually yes, you can, although there are some payroll software applications that only handle state taxes for select states. If you pay employees in more than one state, be sure you can process the required state payroll taxes as well.