As a small business owner, you need to wear many hats. One of the most important hats (at least to your employees) is the payroll hat.
Payroll processing can be intimidating to anyone, especially if you've never had to manage payroll or process payroll taxes.
That's where Gusto comes in.
Designed for those initially overwhelmed by the thought of preparing payroll, Gusto offers a variety of tools and resources designed with small businesses in mind.
---
Who is Gusto for?
Gusto is designed for small business owners who wish to automate the entire payroll process, and it's a particularly good fit for small businesses such as local restaurants that are paying employees for the first time.
Gusto is also a good fit for businesses that would like administrative management for employee health and retirement benefits, or that are looking for easy access to human resources (HR) tools.
Though Gusto features are certainly robust enough for mid-sized businesses, pricing can be prohibitive for businesses with more than 20 employees.
---
Gusto's features
Gusto offers all of the features you need, including the following:
New hire reporting
Flexible payroll schedules
Unlimited off-cycle and bonus payrolls
Contractor payments
Multistate payroll capability
Gusto also supports direct deposit at no additional cost.
If you have more than 10 employees and you're using another payroll service, or are learning how payrolls works for the first time, no worries: Gusto personnel are available to help you with the initial setup process.
In addition to helping you learn how to run payroll, Gusto also includes healthcare and retirement plan administration as well as complete access to HR professionals and resources through its Concierge plan.
Those using the Complete and Concierge plans will also have access to time-tracking capability within the application, and managers can use their smartphones or tablets to run payroll from anywhere.
Below are some additional features you'll find in Gusto.
1. Employee onboarding
I think this is one of Gusto's most important features, particularly for small business owners who may not have as much time to spend on payroll and personnel-related details as they may like.
Gusto allows your new employees to access the system (with your permission) and onboard themselves. You'll have to enter them into Gusto yourself to get them started, but once you supply basic details, including an email address, Gusto will email the employee directly.
This allows them to complete the onboarding process themselves, which includes completing contact information and filling out a W-4 and direct deposit details.
2. Process tax forms
The No. 1 reason businesses use a payroll service is to help with payroll taxes. Processing and filing tax forms and the related remittance is time-consuming at best, and it can be confusing for those processing payroll for the first time. Gusto files all related tax forms and remittances, including:
Form 941: This form reports wages, taxes withheld from employees, your (the employer's) portion of Social Security and Medicare tax, as well as the total tax deposit required.
Form 940: This form is filed annually and reports all wages, tax liability, and payments that have been made under the Federal Unemployment Tax Act (FUTA).
Form W-2: This form is provided to your employees at year end, and it reports all wages, tips, and other compensation received throughout the year. W-2s also have to be processed with the Social Security Administration.
In addition to these forms, Gusto also processes 1099s for any contract employees you may have, as well as both state and local taxes for all employees.
3. Handle pre-tax benefits
Along with medical, dental, and vision administration, Gusto can also administer additional benefits such as 401(k) plans, flexible spending accounts, health savings accounts, 529 college savings, and life and disability insurance.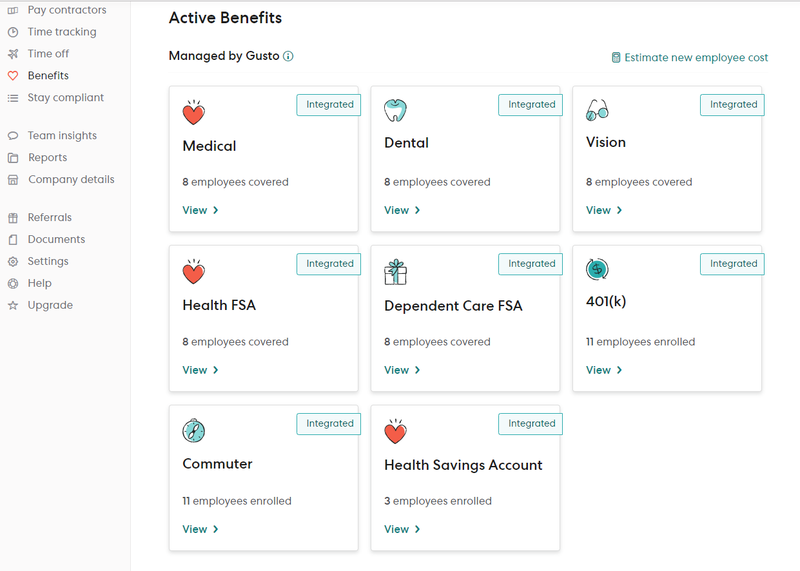 Each benefit integrates with its respective administrator, making it easy to manage information from one location.
4. AutoPilotⓇ payroll
If your business runs the same payroll with little change each pay period, AutoPilot is for you. AutoPilot lets you run payroll automatically at designated intervals without any action required from you. All you need to do is create the payroll information that will be used for each payroll, enable AutoPilot, and you're all set.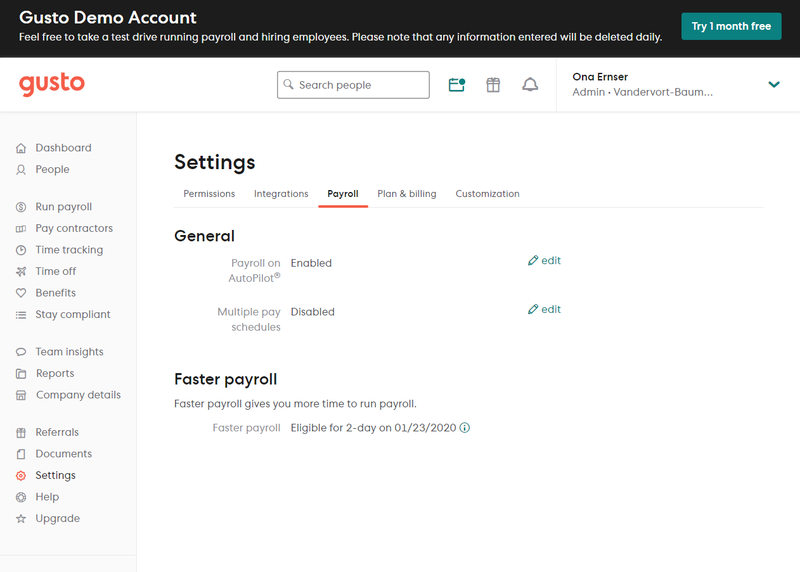 Payroll will process automatically one day before the deadline, so you'll have 24 hours to make any changes if they're needed. Changes made after the 24-hour period will be applied to the next payroll cycle. Unfortunately, you won't be able to pay your contractors using AutoPilot.
5. Digital pay stubs
Along with accessing their personal contact information, your employees can sign into their accounts to view digital pay stubs.
Each pay stub provides a wealth of information, including gross earnings, total taxes, benefits and deductions, and time off that has been used as well as accrued, along with the check amount. In addition to pay stubs, employees can also access year-end forms like their W-2s.
Employees will receive an email when the latest stub is available to view or download, and even former employees will have continued access to their historical pay stubs and W-2s.
6. Reporting
Gusto offers good reporting options, including a complete payroll journal, year-to-date employee earnings, an employee summary, a benefits report, a contractors report, and time-off balances.
Reports can be customized by year, and you can choose the data you wish to include in the report, which can be grouped by employee, state, or work location. Reports can be exported as a CSV file for further customization or saved as a PDF.
7. Account integrations
Gusto is a great payroll software for accountants because integrates with small business accounting applications such as QuickBooks Online, FreshBooks, and Xero, making it easy to track all of your payroll-related expenses directly in your accounting software application.
In addition, Gusto also integrates with popular timekeeping software such as TSheets, When I Work, and Homebase.
---
Benefits of Gusto
Most of the best payroll software solutions offer similar benefits to those provided by Gusto, including federal and state tax processing and remittance, flexible payroll schedules, unlimited payroll runs, and direct deposit capability.
However, the difference between applications is usually how these features are presented.
Gusto is designed with the end user in mind and is a great payroll solution for those charged with handling payroll for the first time. Gusto is also great for business owners who don't have a lot of time to spend on payroll but still want access to a long list of features.
---
Gusto's pricing
Gusto offers four plans — Basic, Core, Complete, and Concierge — with a monthly per-person fee assessed, along with a standard monthly fee. All plans offer full-service payroll processing.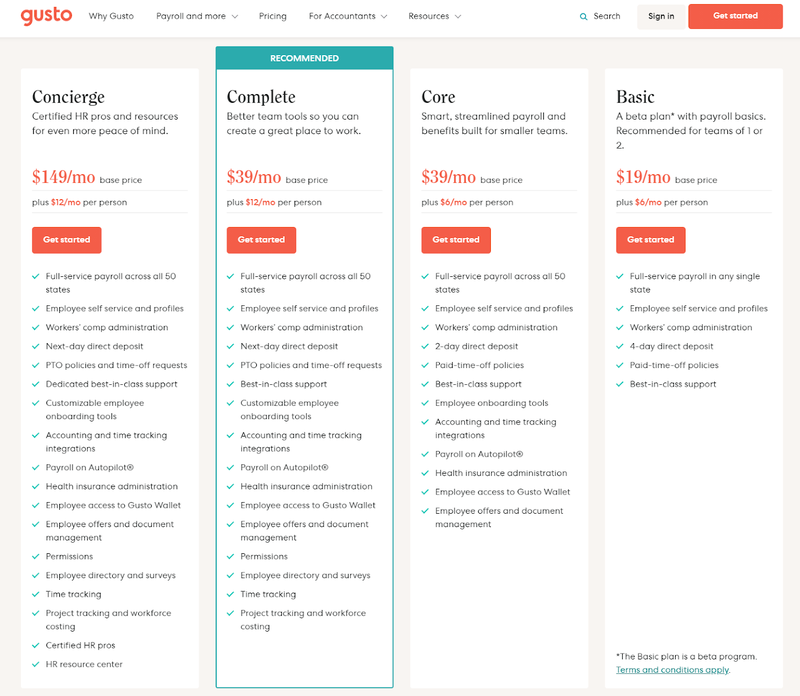 Though the cost is initially within reach of very small businesses, the fee structure can become rather expensive for businesses with more than 20 employees.
You should also be aware that you'll be charged for all active employees whether that employee is paid or not.
Basic: The Basic plan offers full-service payroll for a single state, as well as an employee self-service option, plus a four-day direct deposit.
Core: The Core plan includes full-service payroll along with employee self-serve capability, small business health insurance administration, and workers' comp administration.
Complete: Along with all of the features found in the Core plan, the Complete plan also includes product permissions, employee onboarding, PTO and time off requests, and an employee directory. The Complete plan is probably the best solution for small businesses.
Concierge: The Concierge plan is ideal for small businesses looking for a virtual HR department. Along with all of the features from the Core and Complete plans, the Concierge plan functions as a virtual HR department, offering access to certified HR pros and the HR Resources Center, which offers assistance on everything from hiring requirements and offer letters to employee termination.
---
Gusto's ease of use
Gusto representatives have stated that based on a 2018 survey of over 600 Gusto customers, 85% stated that Gusto is easier to use than their last payroll provider.
We can see why.
Gusto features an intuitive interface that even new users will have no trouble navigating. The dashboard displays reminders to complete pending tasks, such as approving time-off requests or completing new employee offer letters.
A vertical menu bar to the left of the screen provides you with quick access to all of the features found in Gusto, including easy access to the help center, where users can find detailed instructions on system setup.
You can also upgrade to a more robust plan directly from the dashboard if you wish. Remember, if you find yourself overwhelmed, Gusto personnel are available to help throughout the entire setup process.
---
Working with Gusto support
Gusto offers telephone, email, and chat support during regular business hours. In addition to the support options available, Gusto offers a searchable knowledge base.
You can access additional information and step-by-step instructions for a variety of topics ranging from initial product setup to accounting and integrations. A FAQs page is also available.
---
Gusto works for you
If you think nothing is scarier than running a small business, try making an error on an employee's paycheck.
If you want a payroll service that does most of the work for you, offers benefit administration capability, and gives you access to HR tools and resources, Gusto may be the payroll service you've been searching for.
---
Frequently Asked Questions
Can Gusto handle payroll for all 50 states?
The Core, Complete, and Concierge plans can handle payroll for all 50 states, while the Basic plan will only process payroll for a single state.
Can I pay contract employees in Gusto?
Yes, although not with Gusto's AutoPilot feature; it must be done manually.
Can my employees view their pay stubs online?
Yes, your employees will be able to access both current and historical pay stubs, with former employees being able to access their pay stubs as well. Employees can also access their W-2s.
Combine your small business payroll and HR needs with Gusto. Get started with a free one month trial today.
Combine your small business payroll and HR needs with Gusto. Get started with a free one month trial today.