There are a lot of payroll software applications on the market today that we have had the opportunity to review. Some are do-it-yourself applications that offer good payroll capability but place tax filing responsibility squarely on your shoulders.
Other services offer Human Resources (HR) tools and multistate payroll, but those features typically come at an additional price.
That's not the case with OnPay. With OnPay's online payroll service, you can get the payroll features your small business needs for a single monthly fee.
---
Who is OnPay for?
OnPay is optimally designed for small businesses, though the application can scale up nicely for mid-sized businesses as well.
OnPay offers a single plan, with all of the application's features available in that single plan, making it suitable for a staff of 10 or a staff of 50. OnPay also offers multistate payroll, so you can pay employees in more than one state at no additional charge.
OnPay is a better fit for businesses with a lot of hourly employees, since an auto-pay option is not offered in the application at this time.
---
OnPay's pricing
OnPay's price structure is one of the most transparent in the industry. A monthly rate of $36 and a $4 per-employee rate, and that's it. You'll know upon sign-up exactly how much you'll be paying each month, and that will only change if you add or terminate an employee.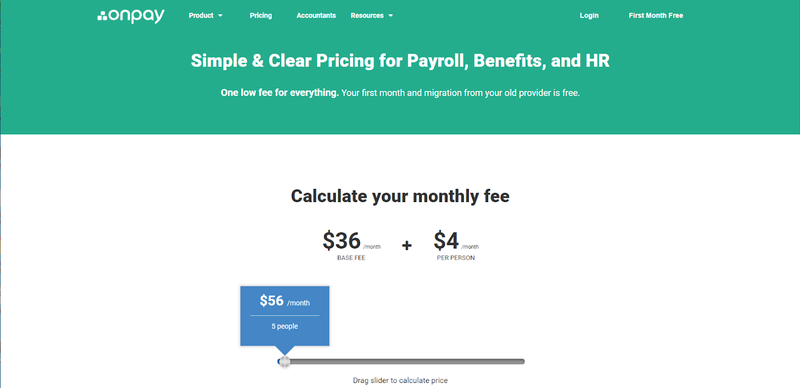 ---
OnPay's features
In our review, we found OnPay's feature list to be very impressive. Here are just a few of the features available:
Unlimited payroll runs
Payroll taxes filed and remitted
Mobile accessibility
Lifetime accounts for all employees
Six levels of user permissions
In addition, OnPay offers free direct deposit, with options to pay your employees by debit card or paper check as well. Both employees and contractors can be paid in the software, with direct deposit available for contractors.
Through OnPay, you can sign up for and administer health and dental benefits, with plans available in all 50 states. You can also add supplemental insurance such as life, vision, and disability at any time. Workers' compensation administration, along with access to a pay-as-you-go workers' compensation policy, is also offered in the software.
The application processes year-end W-2 and 1099 forms, which you can print and distribute to your employees, or have OnPay print and distribute these forms for a small fee.
The employee files in OnPay contain personal information such as a short bio, start date, current compensation, and current deductions. A list of recent paychecks is also available for viewing.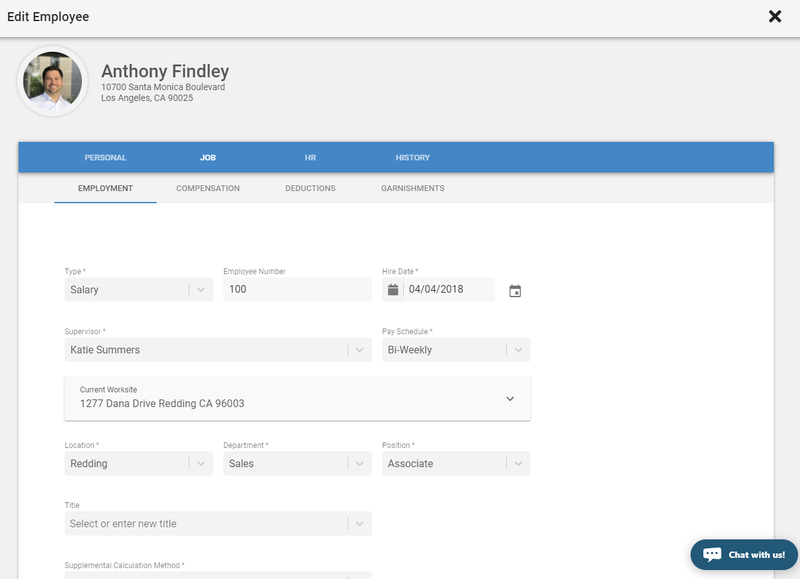 In addition to personal and job-related details, the employee file also includes the employee's completed W-4 and I-9, along with HR-related documents such as annual reviews or write-ups and banking information for direct deposit.
OnPay offers good reporting options, with more than 40 payroll and tax-related reports available, though report customization is fairly limited in the application. Reports can be exported to Microsoft Excel if customization is important, and any report can be saved as a PDF.
Multistate payroll
If you have employees in more than one state, there's no need to pay an extra fee, since OnPay offers payroll for all 50 states at no additional cost.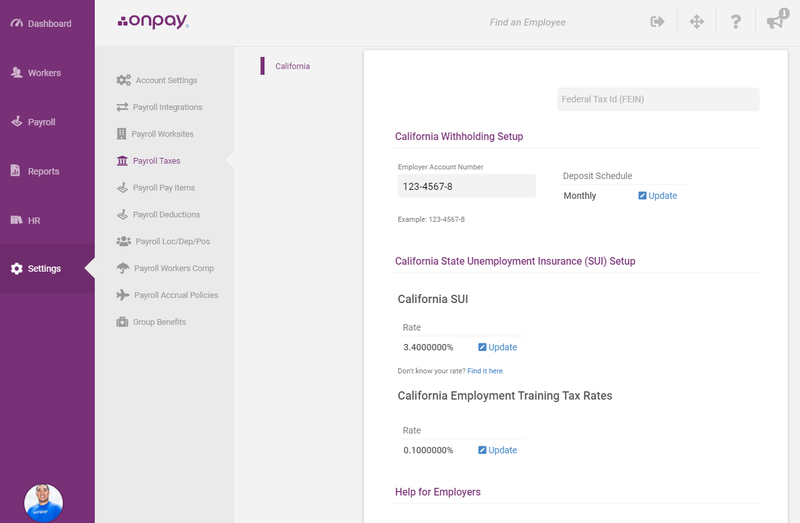 You'll just need to add the state(s) where you have employees, your state tax account number, and the current state unemployment insurance (SUI) rate, and OnPay does the rest, including calculations, filing, and remittance. OnPay also includes a free payroll tax calculator and information on tax rates for every state.
Employee onboarding and self-service
OnPay gives you the option to enter new employee information yourself, or task your new employee with the onboarding process. Just check the "Invite Employee" box and enter a valid email address for your new employee; the software will then send them an invite via email that requests their assistance in the setup process.
You can also add tasks for your new employees to complete, such as filling out tax documents and their I-9s.
Once onboarded, employees can access their accounts at any time in order to view current and historic pay stubs, view and download year-end tax documents such as W-2s, update personal information, enroll or disenroll in benefits programs, and even change their tax withholding information through the self-service feature.
HR tools
OnPay's HR tools offer a variety of handy resources every small business can use, including:
Employee offer letters
PTO approvals and time tracking
HR templates
Organizational chart creator
Compliance tools
Direct messaging
State new hire reporting
HR resource library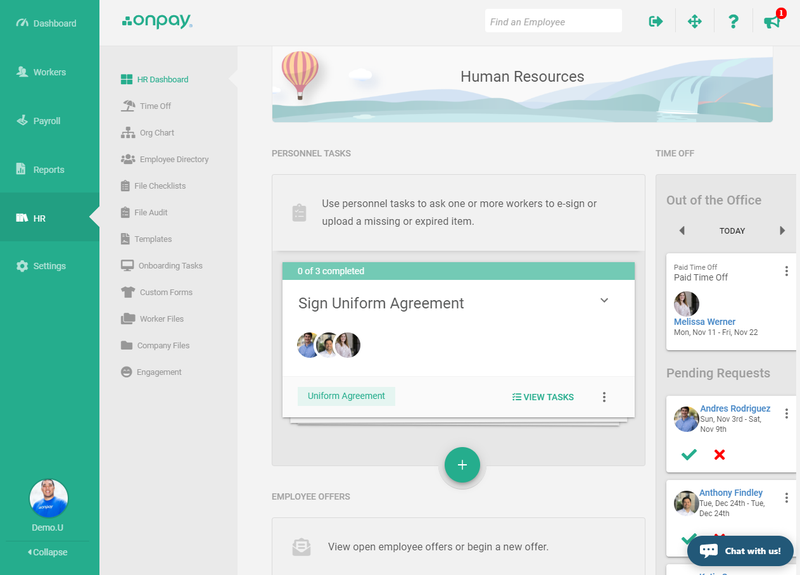 The dashboard lets you view outstanding personnel tasks and displays a list of out-of-office employees, along with pending requests that need to be completed. Like the payroll dashboard, the HR dashboard is fully customizable, so you can display only the information you need to see.
Multiple pay rates and schedules
OnPay does not tie you to any set payroll schedules or employee pay rates, so if you want to run commission checks or year-end bonus checks, you can do so at no extra cost.
You can also assign multiple rates for your employees, and the paycheck calculator will automatically calculate overtime hours for those employees when necessary.
Integrations
OnPay offers integration with a variety of third-party accounting, time-tracking, HR, and retirement applications, including:
FreshBooks (coming soon)
TSheets
Humanity
Deputy
Think HR
Poster Elite
Guideline
Vestwell
OnPay offers complete sync capability with these applications, reducing the amount of duplicate data entry needed.
---
OnPay's ease of use
It is easy to run payroll with OnPay.
The application offers easy navigation from the user dashboard, displaying details about your team of employees, recent pay runs, the next scheduled pay run, and any important upcoming dates and outstanding employee offers in an easy-to-read format.
An employee search function is at the top of the screen, and the vertical menu to the left provides access to all system functions.
During the initial setup process, you can have OnPay enter your existing payroll data, or you can choose to complete the process yourself. OnPay can also assist you with importing existing data from another application if necessary.
To start a payroll run, just choose the employees you want to pay, then import hours from your time-tracking application (if you're using one) or enter the hours worked for each employee. If you're paying salaried employees or contractors, you won't have to enter any information, but you will have to enter hours worked for your hourly employees. When done, review the totals and approve the payroll.
New users shouldn't worry since all of the features and functions in OnPay are easy to find, but if you do get lost, just click on the question mark at the top of the screen to access the knowledge center.
---
Working with OnPay support
OnPay offers excellent support options, including free account migration and setup for new users. OnPay support can also help you set up integrations with third-party applications. When you do contact support, you can be confident in their ability, as they're trained by the American Payroll Association.
The software offers toll-free telephone support during regular business hours, as well as email and chat support. Emergency support is available on weekends, and the comprehensive knowledge center is accessible via the OnPay website or from within the application at any time.
If you ever decide it's not right for you, OnPay makes cancellation quick and easy. Just email or call OnPay support (hello@onpay.com, 877-328-6505) and let them know you'd like to cancel the service. It doesn't matter if you have a trial or a paid account, OnPay lets you cancel anytime with no penalties or fees.
---
Benefits of OnPay
There are plenty of benefits to using OnPay, starting with its transparent pricing. There are no hidden fees or extras attached. Another benefit is the ability to pay your employees how you want, when you want. You can have salaried employees and hourly employees, and you can assign multiple pay rates to your employees.
Using OnPay, you'll also have access to HR tools and resources as well as excellent product support — all for one affordable fee.
---
Is OnPay the best choice for you?
Suitable for even the smallest business, we found in our review that OnPay really shines for small and growing businesses with a high percentage of hourly employees or who have employees in multiple states. However, if the majority of your employees are salaried, you may benefit more from an application that includes an auto-payroll option.
---
Frequently Asked Questions for OnPay
Is everything included in OnPay's pricing structure?
Yes. Full-service payroll processing, including filing taxes, direct deposit, contractor payments, HR tools, and multistate payroll are all included in the cost.
Can my employees enter their own information in OnPay?
Yes. Your employees can enter their own personal information, sign required forms, and fill out paperwork all using the employee self-service option, where they can also access pay stubs, W-2s, and tax information.
Will OnPay integrate with any time-tracking applications?
OnPay integrates with a variety of time-tracking applications including TSheets and When I Work.

A top-notch payroll software, OnPay provides extensive and intuitive payroll and HR features.
A top-notch payroll software, OnPay provides extensive and intuitive payroll and HR features.