Patriot Payroll from Patriot Software is an easy-to-use payroll software designed for small businesses.
The software is available in two versions, Basic and Full-Service, with both versions offering free direct deposit, a free employee portal, and free payroll setup.
---
Who is Patriot Payroll for?
Patriot Payroll is ideal for small and growing businesses. Patriot Payroll offers quick onboarding, with the company handling all initial payroll setup and data entry, including entering historical payroll data for all of your employees.
While the Basic version is suitable for very small businesses, if you're looking for someone to handle filing and depositing of federal, state, and local payroll taxes, you'll want to look at the full-service option.
Either way, the product is easy to use, nicely automates the entire payroll process, and offers time and attendance and HR add-ons that can be useful for your small business.
---
Patriot Payroll's features
Patriot Payroll offers a good selection of features that are all designed to streamline the payroll process for you, with free payroll setup topping the list. Patriot Payroll offers multiple pay rates for employees, and also includes direct deposit capability at no cost.
Mobile accessibility is available without the need to download a mobile app, and the streamlined payroll processing feature can be automated even further when using Patriot Payroll's optional Time and Attendance module, which lets employees punch in or manually enter hours worked, with the hours populating automatically. Patriot Payroll also allows you to pay contract employees if necessary.
The time off accruals feature lets you set up rules for tracking employee time off. You have the choice to allow time off to accrue for a specific number of hours worked, with the option to not accrue time off for hours not worked, such as vacation, holiday, and sick days.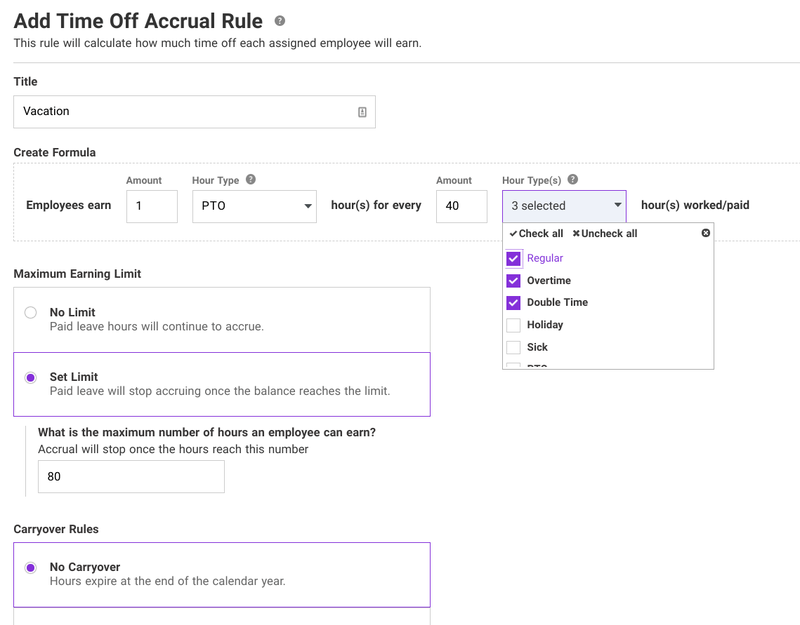 Once you determine the formula that you wish to use, you can assign the rule to all of your employees. This feature not only lets you track time off, but it allows your employees to see how much time off they have available at any time.
Employee portal
One of the handiest features any payroll application can offer is an employee portal.
Beneficial for both you and your employees, the employee portal allows your team to bypass you with any changes they may need to make. Using the portal, your employees can:
View pay stubs
View and edit personal information
Change federal tax withholdings
View or change direct deposit information
View and download W-2 forms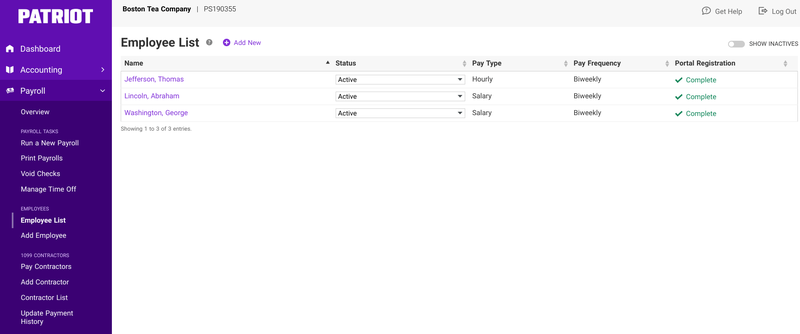 Just check the appropriate box while entering new employee information, and your employee will receive an email with instructions on how to complete portal registration.
Reporting
Patriot Payroll offers a good selection of payroll related reports, including a Payroll Liabilities report, Tax Collections, Tax Deposits, Payroll Details, and a Payroll Register.
Businesses that purchase the Time and Attendance and HR reports module will have access to additional reports such as a Time Summary, a Birthdays report, an Employee Census, a New Hires report, and a Service Anniversaries report.
Reports offer little customization capability, but all reports can be downloaded and saved as a PDF if desired.
Optional modules
Although they're optional, Patriot Payroll's Time and Attendance and Human Resources modules offer a lot of value for a small amount of money. The Time and Attendance module lets you eliminate time clocks altogether, since your hourly employees can enter their hours directly via the time punch system, and salaried employees can enter their time manually.
At the end of the pay period, you'll be able to review and edit the time cards, approve them with a check mark, and send them on to payroll with a single click. This eliminates the need to enter time manually to pay your employees, and cuts down on payroll entry errors tremendously.
Another benefit: If you use the Time and Attendance module, your employees can stop asking you how much vacation and sick time they have and view their hours for themselves in the employee portal.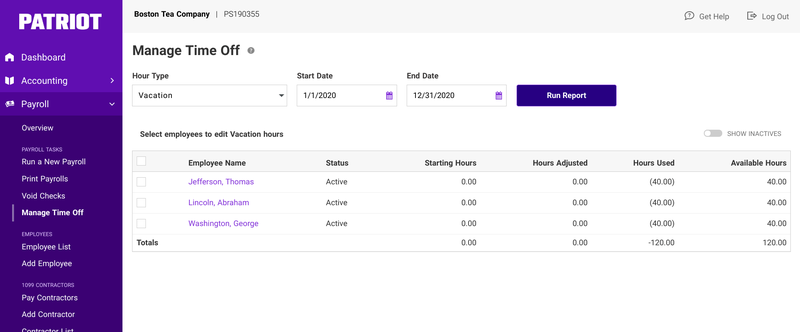 You might also want to consider the Human Resources module, which allows you to safely store all employee files online for easy electronic access. You can also upload a variety of employer documents for employees to access, including a company handbook, blank W-4 forms, benefit information, and other documents.
---
Patriot Payroll's ease of use
Patriot Payroll is a great solution for small businesses, particularly those that have never run payroll before. The payroll dashboard offers easy access to complete payroll processing, where you can also add a new employee or view all current employees.
A vertical menu bar to the left of the screen displays all of the features available in Patriot Payroll, including any optional modules such as Time and Attendance and Human Resources.
When you enter a new employee, you can add pay information, taxes, and advanced tax settings, along with deductions and contributions as needed. The entire payroll process is easy, with limited data entry needed in order to process payroll; even if you're not using the Time and Attendance module.
When you're ready to run a payroll, just access the Run a Payroll feature, enter employee hours and overtime, and move to the next step, which provides an overview of payroll totals. Once payroll is approved, you can choose to run payroll immediately or come back later to complete the process.
---
Patriot Payroll's pricing
Patriot Payroll offers two plans: the Basic plan, which runs $10 per month, with each employee costing an additional $4. The Basic plan is ideal for businesses that are comfortable filing their own taxes. The Full-Service plan, which runs $30 per month, plus an additional $4 per employee, offers all of the Basic plan features along with tax processing, filing, and remittance. Both plans include the following features:
Free product support
Free payroll setup
Free direct deposit
Free employee portal
Mobile access without an app needed
Printable W-2s
Time-off accruals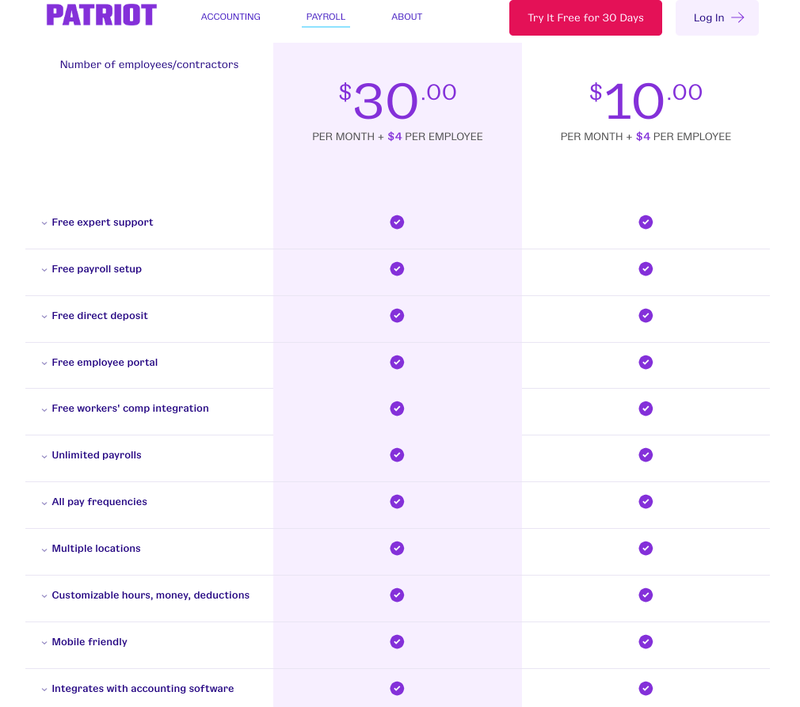 In addition, the Time and Attendance module has a base fee of $5 per month, with a $1 per employee fee, while the Human Resources module has a base fee of $4 per month, with a $1 per employee fee. Both are worth the cost.
---
Working with Patriot Payroll support
Patriot Payroll does offer good product support options, with toll-free support available during regular business hours.
You can also contact support via email or chat if desired. In addition, the Payroll Help Center offers an excellent selection of help resources, including a searchable knowledge base, a state payroll guide, and easy access to short training videos.
---
Benefits of Patriot Payroll
For new business owners, small businesses, or restaurants that are running payroll for the first time, Patriot Payroll can be a lifesaver. Designed for ease of use, the product offers all of the necessary features a good payroll application should have, including direct deposit, an employee portal, and limited data entry required.
It doesn't come with a lot of bells and whistles, which is okay, since small business owners are likely more concerned with paying their employees properly and filing payroll taxes correctly.
There are also a lot of help and support resources available in Patriot Payroll, though you likely won't need them, since the product is so easy to use.
---
Deciding if Patriot Payroll right for your business
If you're a small business owner with fewer than 10 employees, you'll probably have a great experience with this software. The answer becomes a little less clear if your business is on target for growth.
Luckily, you can visit Patriot Software's website and log into their self-guided demo to get an idea of how the program works and if it would be suitable for you before purchasing.
---
Frequently Asked Questions
Will Patriot Payroll pay my payroll taxes?
If you purchase the Full-Service plan, Patriot Payroll will process, file, and pay your payroll taxes. If you purchase the Basic plan, you will be responsible for all tax filing and remittance.
Does Patriot Payroll integrate with any timekeeping applications?
Patriot Payroll offers its own timekeeping application, which integrates with the payroll product and can be purchased for $5 per month.
Does Patriot Payroll include an employee portal?
An employee portal is included in the application at no additional cost.

Get payroll up quickly with minimal set-up and onboarding with Patriot Payroll.
Get payroll up quickly with minimal set-up and onboarding with Patriot Payroll.
---
How Patriot Payroll Compares