Paychex Flex is a payroll software that was originally founded in 1971 as an alternative to payroll behemoth ADP.
Today, Paychex serves more than 670,000 users, and has grown to more than 100 locations nationwide. To better serve the small business community, Paychex created Paychex Flex, designed specifically for small businesses.
This payroll solution is scalable, with a variety of plans and add-on options available, all designed with the small business owner in mind.
---
Who is Paychex Flex for?
Paychex Flex is designed for businesses of any size and has three plans to choose from.
Paychex Go is a good fit for small businesses with up to 10 employees, while Paychex Flex Select is designed for between 10 and 49 employees. For larger companies with between 50 and 1,000 or more employees, Paychex offers Paychex Flex Enterprise.
Of these options, Paychex Flex Select is the most popular choice for small business owners.
Because of its robust mobile app, Paychex Flex is also a good fit for business owners on the go or those who use a phone to conduct business.
---
Paychex Flex's features
The features available to you in Paychex Flex depend on the plan you purchase. Both the Select and Enterprise plans include integration with HR, payroll, and accounting software applications. A link to popular accounting software applications, such as QuickBooks Online, Sage Intacct, and Xero, is also available in the Enterprise application, with Paychex Go users paying extra for access to this feature.
Other features found in the top two plans include a free mobile app, access to a dedicated payroll specialist, and employment and income verification services. Features reserved for the Enterprise plan include a Workers' Compensation Report, State Unemployment Insurance Services, and Custom Analytics and Reports, as well as Employee Onboarding Essentials, Employee Screening Essentials, and HR Administration.
Contract employees can also be paid in Paychex Flex, with year-end W-2s and 1099s processed by Paychex Flex for a small fee.
Features available in all three plans include:
Online payroll
Payroll tax administration
Employee self-service
New hire reporting
General ledger reporting
W-2 and 1099 processing
HR and business forms
Labor compliance poster kit
Direct deposit
24/7 phone and chat support
Payroll for all 50 states
In addition, Paychex Flex offers a variety of other services, including HR Records, Hiring and Onboarding, Time & Attendance, Recruiting & Applicant Tracking, Benefits Administration, and Reporting and Analytics.
Mobile app
Hands down, one of the best features in Paychex Flex is its mobile app. The mobile app provides access to many of the features found in the online application, including the user dashboard, where you can enter, review, and submit payroll information.
You can also access employee records, view benefits and retirement account activity, and view your last payroll from the mobile app.
Flexible pay options
All Paychex Flex plans offer free direct deposit for your employees, as well as an option to pay your employees with a pay card.
Paper checks, check signing services, and a check logo service are included in the Select and Enterprise plans, with an option available to add these features to Paychex Go at an additional cost.
Payroll tax administration
Most small business owners will tell you that the number one reason why they use a full-service payroll software is for calculating, filing, and paying payroll taxes.
No need to worry about that in Paychex Flex, as all four plans offer complete payroll tax administration as well as new-hire reporting, though the State Unemployment Insurance Service is only available in the Pro and Enterprise plans.
Employee self-service portal
The employee self-service portal lets you save a lot of time by providing your employees access to all of their personal information, as well as complete access to current and prior period pay stubs. The self-service portal also provides employees with access to tax documents, such as their W-4, and they can manage their vacation and sick time from the portal as well.
Paychex Flex Onboarding Essentials
Available only in the Enterprise plan, the Onboarding Essentials feature allows your employees to complete the entire onboarding process themselves, helping to ensure accuracy while saving you a lot of time in the process.
Reporting
Standard reporting options are available in Paychex Go and Paychex Flex Select plans, with both plans offering all essential payroll reports. For more advanced options, the Analytics and Reporting option found in the Paychex Flex Enterprise plan provides you with access to more than 160 standard reports that are fully customizable.
Additional services
In addition to full-service payroll, Paychex Flex offers a variety of other options that your small business may be interested in, including the following:
Time and attendance
HR services
Hiring services
Employee benefits
Business insurance
Finances and payments
Startup services
These services are all designed to integrate with the payroll application and will need to be purchased separately.
---
Paychex Flex's ease of use
Paychex Flex offers easy system navigation from the user dashboard, which displays summary information such as Quick Reports, Current Payroll, and Last Payroll, along with access to frequently used functions that include adding an employee or viewing an employee list.
A vertical menu bar to the left of the screen gives you easy access to all features, including the payroll center, as well as any optional modules purchased.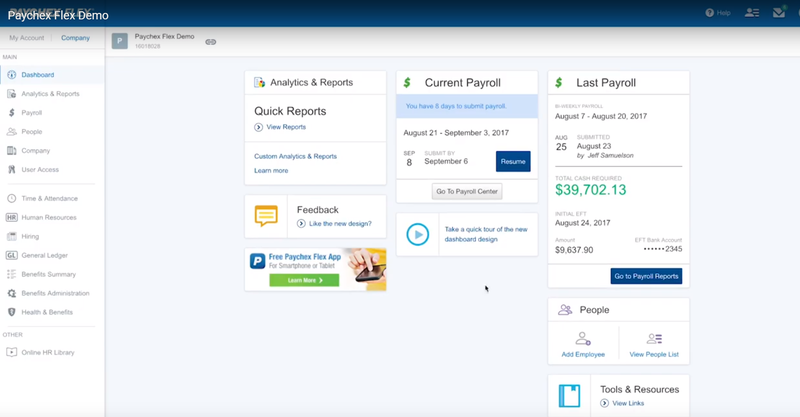 Paychex Flex handles all initial product setup. Once set up, you can call into Paychex and submit your payroll information through their automated system or enter payroll data in the application. The payroll entry screen resembles a grid and is designed to make payroll entry quick and painless.
Here, you can choose to pay any or all of your employees, add hours worked for hourly employees, and add bonus information as well as vacation and sick pay hours.
Payrolls can be reviewed and edited before processing, and you can opt to automatically print payroll reports such as a payroll register or tax liability report after each payroll run.
---
Paychex Flex's pricing
Paychex Go, which is designed for up to 10 employees, starts at $59/month, with a $4 fee per employee assessed as well. Add-on options are extra. Pricing for both Paychex Flex Select and Paychex Flex Enterprise are available directly from the company upon request, with an option to request pricing available on the Paychex Flex website.
In addition to the subscription, you'll also have to pay a setup fee.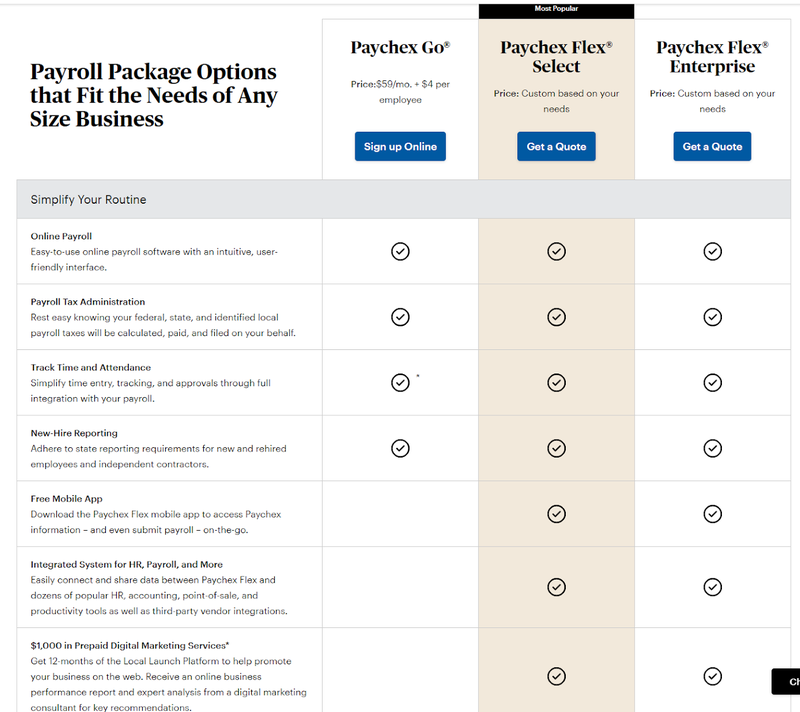 Most of the features in the more expensive plans are also available as an add-on option, although you'll have to check with Paychex for pricing information. You'll also pay more if you add additional features, such as Time and Attendance, HR, and Employee Benefits Administration.
---
Working with Paychex Flex support
Paychex Flex offers 24/7 phone and chat support, with separate support pages available for payroll administrators and employees.
You can also access Paychex Flex help from within the application. There are various ways to contact product support, including logging into the Paychex Flex support page to request assistance.
You can also use its toll-free number or contact local support through the Paychex Flex support page. Select and Enterprise users are assigned a dedicated payroll specialist to help with initial product setup and then serves as a single point of contact for any payroll or tax issues that may arise.
---
Benefits of Paychex Flex
One of the biggest benefits to using Paychex Flex is the availability of complete payroll tax administration in all four plans, giving even the smallest business access to complete payroll tax filing and remittance.
Another benefit is the ability to scale up to a more robust plan, or even just add a few of the services you desire to your current plan. However, this same flexibility can be expensive, and those on a tight budget may be better served by a product with a different pricing structure.
Other benefits include the comprehensive mobile app available for Paychex Flex, which allows you to perform all of your necessary payroll functions from your smartphone.
---
Is Paychex Flex the solution for your small business?
Paychex Flex could be a great right payroll application for your business. All four pricing plans offer easy online payroll preparation, free direct deposit, and complete payroll tax administration.
There is also a long list of add-on options available for businesses to choose from, and support options are solid. However, Paychex Flex's a-la-carte menu can become very expensive very quickly, so smaller businesses with tighter budgets may want to look at a more inclusive application.
---
Frequently Asked Questions
Will Paychex Flex take care of my payroll taxes?
Yes, all Paychex Flex plans include complete calculation, filing, and tax remittance service.
Can I pay employees in more than one state?
Yes. Paychex Flex offers payroll services for all 50 states.
Does Paychex Flex offer a mobile app?
Paychex Flex's mobile app is one of the best to be found in payroll applications, allowing you to enter payroll information and review and run payroll directly from your smartphone.
---
Which one is right for you?
---
How Paychex Flex Compares
The Motley Fool has a Disclosure Policy. The Author and/or The Motley Fool may have an interest in companies mentioned.