Everyone likes free stuff, and small business owners are no exception. That's why Payroll4Free is a pleasant surprise.
Who wouldn't want to learn how to do payroll free? Another pleasant surprise is that the application offers a decent selection of features typically found in more expensive payroll software applications, such as an employee portal, direct deposit, and completed tax forms (which Payroll4Free will file for you for a small monthly fee).
With that being said, Payroll4Free is not for everyone.
---
Who is Payroll4Free for?
Payroll4Free offers online payroll services for small businesses with fewer than 25 employees.
You can use Payroll4Free if you have more than 25 employees, but you will have to pay a monthly fee. With a good selection of features and online accessibility, Payroll4Free can be a great, no-cost (or low-cost) payroll application for small businesses on a tight budget.
It's also a terrific option for very small businesses just starting out.
Best used by small businesses with relatively straightforward payrolls, Payroll4Free is not your best option if you need to pay your employees multiple pay rates, or if you need to be able to run payroll from your mobile phone.
---
Payroll4Free's features
Payroll4Free remains free for up to 25 employees, with a monthly fee assessed if you exceed that number. It also charges your business a small fee ($15/month) if you opt to have Payroll4Free file and pay your payroll taxes.
You can also opt to use Payroll4Free's bank in order to fund direct deposit, though Payroll4Free notes that most of its customers choose to use their own banks for direct deposit.
You can import data from a time clock into Payroll4Free, and the application also lets you export payroll data directly to your accounting software application. Payrolls must be processed manually each pay period as there is no automatic pay option available in Payroll4Free, and the application is not able to handle employee reimbursements, nor does it offer mobile access.
The one major gripe I have with Payroll4Free has nothing to do with its features or functionality but instead is about the initial setup process, which the software completes for you.
While that may sound convenient, you need to supply them with the following documentation:
Signer setup form, including Social Security number
New employee setup form
W-4 for each employee
State withholding certificate for each employee
Copy of voided check for the payroll account
Copy of IRS SS-4 form
Having Payroll4Free set up the initial application does not save you any time, and I don't like sharing a copy of an employee's W-4 with anyone, even a payroll vendor, since it contains sensitive personal identification information.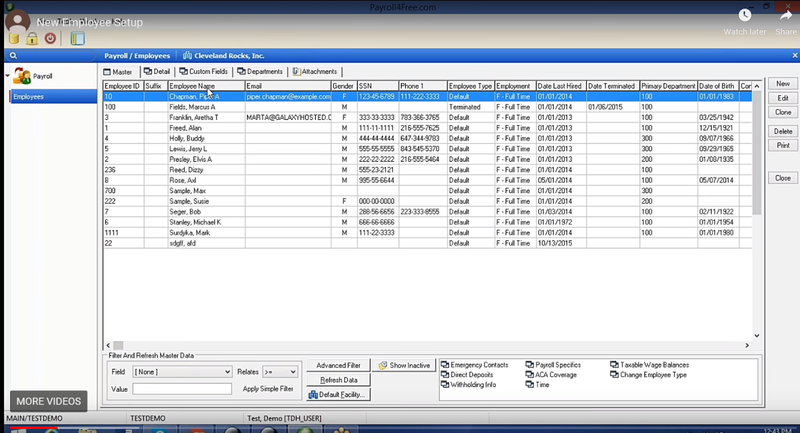 Payroll4Free uses a grid-style data-entry screen throughout the application. The grid provides a nice view of all of your employees, but there are no individual employee records available to track additional information.
There are a few other notable features in Payroll4Free.
1. Optional tax calculations and forms
The main reason businesses choose to use full-service payroll is for tax preparation and filing purposes. While this is an optional feature in Payroll4Free that you have to pay for, the cost is so low that there's no reason not to take advantage of it.
If you choose not to use the tax service, you will still have access to the completed forms, which you can file on your own. You will also be responsible for paying the taxes on a timely basis.
2. Pay employees and contractors
Payroll4Free lets you pay both employees and contractors, with the option to pay contractors available in the new employee setup screen. If the new hire is a contractor, you can choose to process a 1099 at year end versus a W-2, which is a nice feature, particularly for a free program.
An added bonus: If you opt to have Payroll4Free handle your payroll taxes, it will also take care of both W-2 and 1099 processing.
3. Employee portal
One of the most useful features found in Payroll4Free is the employee portal, which provides your employees with access to both current and historic pay stubs as well as year-end forms such as W-2s. The portal also lets your employees view their current vacation and sick time totals as well as make updates to their personal information.
4. Reporting options
Payroll4Free does offer good reporting options, with users able to view and print reports that detail earnings, taxes, benefits, accrued time off, and detailed payroll journal reports. Reports offer little in the way of customization capability, but they do include all of the details you need for your business.
5. Integration tools
While there is no direct integration available in Payroll4Free, you can easily export payroll data from the application into a variety of popular accounting software applications. As mentioned earlier, you can also import time clock data directly into Payroll4Free.
---
Payroll4Free's ease of use
Aside from slow onboarding, navigation in Payroll4Free is easy. The application uses a slightly outdated interface with a small menu bar at the top of the screen and a series of tiles representing all payroll-related features. Clicking on the desired tile will take you to a grid-style entry screen where you can add employees, enter hours, and process payroll.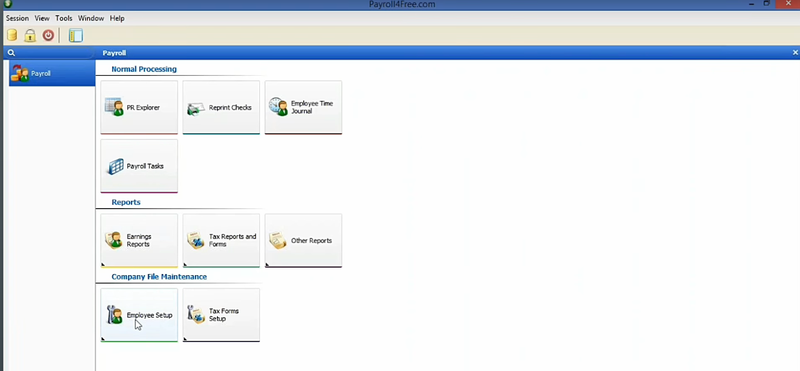 There is no option to run payroll automatically, so you'll have to input the hours worked each pay period, even for salaried employees. The employee grid offers a nice view of all employee details, and you have the option to pay your employees with direct deposit or by check.
---
Payroll4Free's pricing
Payroll4Free is free. If you choose to use the optional tax-filing service, which will file all tax-related reports and remittances for you, the cost is $15 a month — still quite affordable.
The only other fee involved is if you need to pay more than 25 employees, but at that point, moving to a different payroll application would likely be a better idea.
---
Working with Payroll4Free support
A really nice feature Payroll4Free offers is its free telephone and email support, particularly in light of the fact that the application itself is available at no cost. Access to additional help resources is also available from within the application.
---
Benefits of Payroll4Free
It may be difficult to wrap your head around the idea that a business provides payroll services free for up to 25 employees. I know it was for me.
However, slow onboarding aside, Payroll4Free truly does offer a solid payroll option at no cost, with a lot of really useful features including direct deposit, an employee portal, and the ability to import and export data to a variety of third-party software applications.
Another handy feature is the ability to outsource payroll tax processing, including remittances, to Payroll4Free, albeit at a small cost.
While Payroll4Free may not be for everyone, it's certainly worth considering, particularly for those operating on a limited budget.
The downside is that while it's nice that Payroll4Free handles product setup, that actually makes it more difficult for small business owners, as they still have to complete an employee information sheet for all employees as well as provide other legal documents to Payroll4Free.
---
Actually run payroll for free with Payroll4Free
If standard payroll services are not in your budget, Payroll4Free is definitely worth considering. It offers a good selection of features that small businesses could certainly use. Just be sure to read the rather lengthy legal disclaimer before you sign any agreements. One final word of caution: The software contains ads, which helps make it free, so be sure to take that into consideration.
---
Frequently Asked Questions for Payroll 4 Free
Is Payroll4Free really free?
Yes, it really is free payroll software. The software includes ads in the application that help to pay for it. However, if you want to use Payroll4Free's bank for direct deposit or have it process and pay payroll taxes for you, you will be charged a small fee.
Can I use Payroll4Free on a Mac?
Yes, you can, although you will have to be running Windows on your Mac in order to access the application.
Does Payroll4Free integrate with any accounting software applications?
While there is no direct integration, Payroll4Free does offer excellent import and export capabilities, so you'll be able to export payroll files to your accounting software application. You can also import data from a time clock system directly into Payroll4Free.

If you have 25 or fewer employees, use Payroll4Free to run your company's payroll, well... for free!
If you have 25 or fewer employees, use Payroll4Free to run your company's payroll, well... for free!
---
How Payroll4Free Compares