Established in 1949, ADP is perhaps the most recognizable payroll processing company in the world. In addition to payroll software, ADP also offers benefits management and integrated HR solutions. RUN Powered by ADP is their small-business payroll application, designed for businesses with one to 49 employees.
---
Who is RUN Powered by ADP for?
RUN Powered by ADP is an online payroll application that can be used from a desktop, laptop, smartphone, or tablet, so you can run payroll anywhere.
Designed specifically for businesses with fewer than 49 employees, RUN's intuitive navigation and use of wizards make it a good option for business owners with little or no payroll or accounting experience.
Budget-wise, RUN Powered by ADP can be affordable for businesses with 10 employees or less, but it can become very expensive as employees are added or additional features purchased.
---
RUN Powered by ADP's features
RUN Powered by ADP currently offers four plans: Essential; Enhanced; Complete; and HR Pro, with the Complete and HR Pro plans offering numerous HR related features.
All RUN Powered by ADP plans include W-2 and 1099 processing as well as complete tax filing and remittance. In addition, all plans offer multiple ways to process payroll, including from your computer, using your mobile device or by taking advantage of ADP's telephone payroll feature, which lets you use your landline to submit employee hours. RUN Powered by ADP will also deliver payroll to your business, and new hire reporting is included as well.
Direct deposit is included with all plans, and you can connect RUN Powered by ADP to your accounting software to track your payroll expenses. If you find your business growing at a faster pace than you may have anticipated, you can easily move up to one of ADPs other payroll applications.
Those worried about unauthorized system access should be aware that ADP security is top notch, with multi-level user authentication, 256-Bit SSL information transfer, physical security, and proprietary data protocols used in all applications.
Prior payroll amounts wizard
This is a great tool if you're migrating over to RUN Powered by ADP mid-year. While it's always best to start a new payroll system at the beginning of your fiscal year, sometimes that's not possible.
However, RUN Powered by ADP makes it easy to enter prior payroll totals using the Prior Payroll Amounts Wizard, which helps to ensure that all year-end payroll forms and reports will be accurate.
New employee onboarding
Once an employee is hired, they can receive access to various payroll and HR documents through the Employee Access option, which allows them to view and complete necessary employment-related documents such as a W-4 (or W-9 for contractors).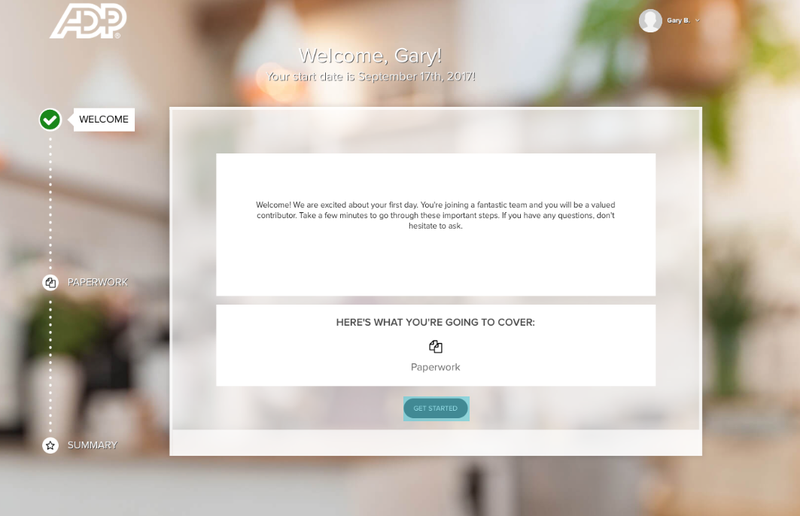 While there, they can also complete their portion of the I-9 form, provide banking information for direct deposit, and read and acknowledge any company policies; all before they even start, saving both of you a lot of time in the process.
The employee access feature also allows employees to access paystubs and year-end forms such as W-2s and 1099s.
Pay employees and contractors
You can set up and pay both employees and contractors in RUN Powered by ADP, with direct deposit available for both. At the end of the year, RUN Powered by ADP will also produce W-2s for employees and 1099s for contractors.
File and pay all the required taxes
The majority of businesses that opt for full-service payroll do so because of taxes. Processing the correct payroll reports, filing those reports with the correct tax agencies, and remitting payroll taxes on a timely basis can feel overwhelming to small business owners, particularly those who are paying employees for the first time.
RUN Powered by ADP takes care of all tax filings and remittances for you, and also processes year-end forms such as W-2s and 1099s.
HR features
While only available in RUN Powered by ADPs Complete and HR Pro plans, the extra cost can be beneficial if you want access to features such as the Employee Handbook Wizard, various HR forms and documents, HR tracking capability, and the handy Document Vault, which doubles as an employee personnel file and can store confidential employee and HR related documents online.
Reporting options
RUN Powered by ADP offers an excellent selection of reports in a variety of categories including Payroll, Taxes, Benefits, and HR, with custom reporting options available as well.
Report parameters can easily be updated and reports refreshed to see the latest totals, and you can print any report for your records, or export it to Microsoft Excel for customization if you wish.
Add-on options
ADP offers a long list of add-on applications that can be used with the core payroll application, including:
401(k) Retirement Services
ADP Check Printing and Distribution
ADP Time & Attendance
While these options can save you a lot of time, it's ultimately up to you if the added cost is worth the time saved.
---
RUN Powered by ADP's ease of use
Run Powered by ADP includes an easy-to-navigate dashboard that provides quick access to all payroll and add-on features. Below the dashboard icons is a graph that displays totals for the last payroll, current bank account balances, and a to-do list.
A menu bar at the top of the screen offers access to employee data, reports, taxes, and your general ledger (G/L), if you're integrating RUN with your accounting software. RUN Powered by ADP currently integrates with QuickBooks Online, Wave, and Xero, along with other applications.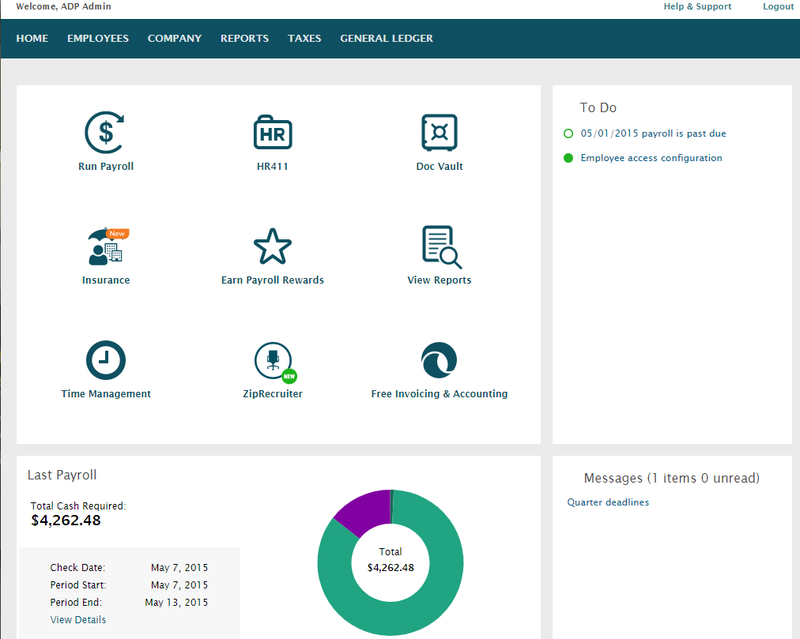 Clicking on one of the menu options will display a grid with all available features listed. RUN Powered by ADP makes good use of wizards, with the Company Setup Wizard guiding you through the entire company setup process, while the New Hire Wizard helps with employee and contractor setup.
One of the nice things about the setup process is that you can partially complete the process and when you're ready to continue, just click on the Complete tab, where the New Hire Wizard opens to where you left off.
---
RUN Powered by ADP's pricing
RUN Powered by ADP offers four plans, all designed for between one and 49 employees. The Essential plan is designed for very small businesses and startups that just need basic payroll, while the Enhanced payroll plan includes wage garnishment capability and State Unemployment Insurance (SUI) and labor law posters.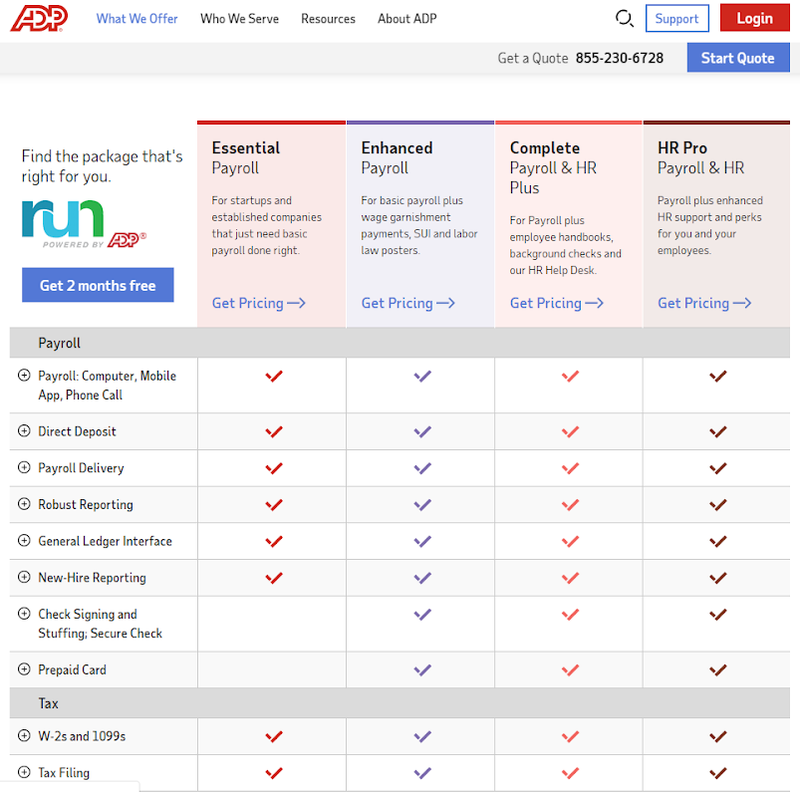 Both the Complete and HR Pro plans include HR resources such as the HR Help Desk. Pricing varies, typically running between $150–$180/month for 10 employees, but keep in mind that many RUN Powered by ADP features are add-ons, which will add to the final cost.
There are numerous specials run throughout the year, so it's best to talk with a company rep to obtain accurate pricing for your business, though they are very closed-lipped when it comes to providing pricing, so be prepared if you contact them for a quote.
---
Working with RUN Powered by ADP support
ADP offers support for both employees and payroll administrators, with separate support options available, depending on your role. For administrators, a FAQ page is available, and you can access support using the password provided to you once your subscription is finalized.
A toll-free number is available, with different numbers offered for each of the ADP products available. Online help is also available in the application and help and support options can also be accessed from within the application.
---
Benefits of RUN Powered by ADP
RUN Powered by ADP offers you a solid payroll application from a payroll leader with years of experience to back it up. This alone can make the cost of RUN Powered by ADP a worthy investment for your small business.
Access to numerous add-on applications, excellent reporting options, good HR resources, and easy integration with your accounting application are some additional benefits you'll enjoy while using RUN Powered by ADP.
---
Deciding if it's worth the cost
All ADP payroll applications, including RUN Powered by ADP, are more expensive than most of its competitors, and while ADP is one of the premier payroll service providers, there are several market competitors that provide many of the same features.
Difficulty in getting ADP to commit to a specific price can also be frustrating, but in the end, may be worth it.
---
Frequently Asked Questions for RUN Powered by ADP
Does RUN Powered by ADP file and pay payroll taxes?
Yes, it does, though you will have to purchase the Enhanced plan if you'd like ADP to also process SUI.
Is a mobile app included in RUN Powered by ADP?
Yes, a mobile app for both iOS and Android devices is included in all plans.
Is phone support available?
ADP offers phone support for both payroll administrators and employees, so both can contact the company with questions or concerns.
---
Which one is right for you?

Use RUN Powered by ADP to easily run payroll for companies of 50 employees or less.
Use RUN Powered by ADP to easily run payroll for companies of 50 employees or less.
---
How RUN Powered by ADP Compares